Reducing contamination risks could become a key selling point for hotels. From mobile concierge services to touchless elevators, tech could help make hotel guests feel safer and more comfortable.
The Covid-19 pandemic has hit the hospitality industry particularly hard, with closed borders, social distancing, and travel restrictions slashing the number of travelers.
As governments start to ease these measures, many hotels are hoping to coax travelers back by redoubling efforts to disinfect high-touch surfaces and rearranging furniture to allow for more space in the lobby.
While these changes may help boost travelers' safety and confidence in the immediate future, longer-term solutions will rely on contactless, self-service, and automation tech to reshape the guest experience.
Below, we highlight 6 technologies that can help hotels create a safer environment for guests and employees alike.
In addition to reducing contamination risks, these technologies will help hotels personalize the guest experience, automate operations, and create ancillary streams of revenue.
While some of these solutions are expensive today, growing adoption across multiple industries — including in restaurants, offices, and airports — could help bring costs down in the near future.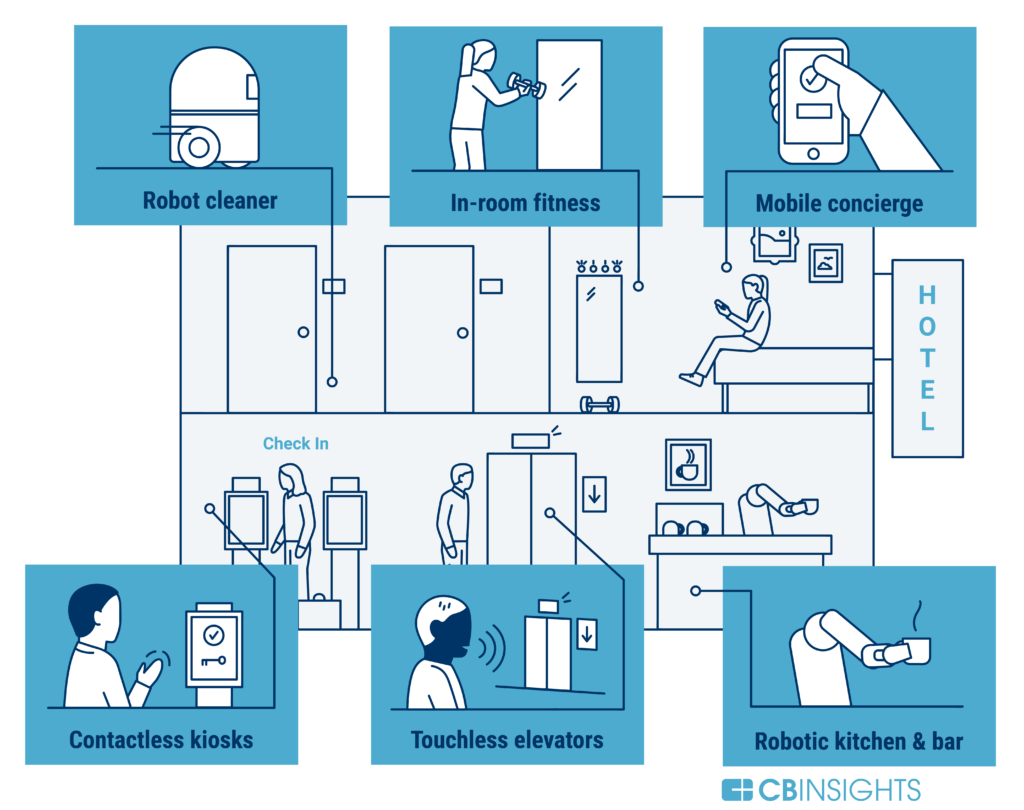 Robot cleaner
Hotels could look to robots that perform continuous cleaning and sanitation to help keep guests and employees safe. For example, startup Xenex Disinfection Services produces robots equipped with pulsed xenon ultraviolet (UV) technology to disinfect facilities and high-touch equipment.
Self-cleaning handles and adhesive covers could also contribute to keeping hotels as germ-free as possible.
In-room fitness
Shared amenities like the hotel gym may become features of the past.
Hotels could look to partner with fitness tech startups to offer guests access to workout apps on their smartphone, as well as live training sessions on smart TVs or connected devices like Mirror, based on room size and price tier.
This could provide yet another communication channel for fitness-related brands — active wear, supplements, etc. — to target audiences.