We visualize where leading tech companies are placing strategic bets on healthcare startups across clinical research, genetics, drug delivery, and more.
View an interactive version of this post here.
---
Healthcare is an enormous — and inefficient — industry. 
In the US, healthcare represents 19% of national GDP, but 20% – 25% of healthcare spending is waste, according to some research estimates. 
These inefficiencies are visible across the industry: there are over 175K medical coding professionals working to ensure doctors and hospitals get paid; the average cost of bringing a new drug to market is now a whopping $2.5B; and the cost of employer-based coverage is now over $20K a year. 
Across the globe, growing markets, expensive inefficiencies, and increased demand for better healthcare make the industry a ripe target for leading tech companies globally. 
Last year in the US, investors poured a record $11B+ into digital healthcare startups — a 16% uptick year-over-year. This year has seen big rounds go to companies innovating across health insurance (Clover Health raised a $500M Series E), genomics (Ginkgo BioWorks raised a $290M Series E at a $4.2B valuation), pharmacies (Capsule raised a $200M Series C), and more.
Meanwhile the world's second-largest economy, China, is investing significantly in healthcare as a national priority as the population ages and demands better care. The country kick-started this effort with the 2009 New Healthcare Reform and the Healthy China 2030 Action Plan. Consequently, the Chinese healthcare market is growing at a 17% CAGR, according to the World Health Organization. 
As the sector evolves, health-focused companies aren't the only ones interested in the digital health space. In 2019 YTD, leading tech companies have invested in 38 digital health companies, on track to match record-breaking 2018 levels (49 companies).
Below, we dive into where the top 10 big tech companies investing in digital health are placing their bets. 
Please find our methodology at the end of the post.  
View an interactive version of this post here. 
Investor strategy trends
The most active tech giants investing in digital health startups (based on the number of portfolio companies) are Google, Microsoft, and Tencent. While these three companies represent over 70% of digital health deals made by our big tech cohort, their investment focuses and strategies vary.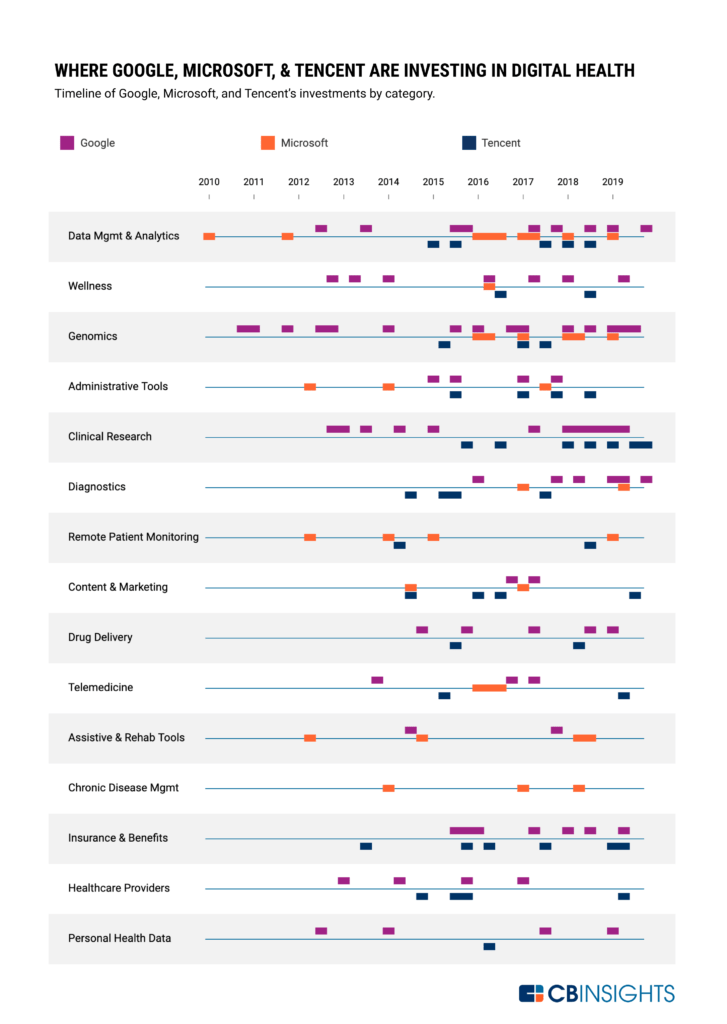 Google
Google (Alphabet) is the undisputed leader in digital health investment, with 93 deals to 57 portfolio companies. The company has made over 70% of its digital health investments through its corporate funds, Google Ventures, CapitalG, and Gradient Ventures. 
Other "moonshot" subsidiaries such as Verily Life Sciences invest in companies that have a direct link to their projects. For example, Verily, which focuses on health data tools, invested in personal health records upstart Ciitizen. 
Google's accelerator/incubator programs, such as Google Launchpad Accelerator, have invested in 17 digital health companies. 
The top categories where Google is placing its healthcare bets are Genomics (18 deals), Clinical Research (15), and Insurance & Benefits (12). 
Portfolio companies like 23andMe, Flatiron Health, and Freenome collect massive amounts of patient data and use advanced AI/ML techniques to drive meaningful insights and commercialization — a strategy not too different from how Google built its search empire. Google is also an investor in some of America's most valuable private health insurance upstarts, Oscar Health and Clover Health. Both companies boast the use of advanced data analytics and innovative patient engagement models to differentiate from their much larger competitors. 
Although the company didn't invest in any Remote Patient Monitoring companies directly, Google made its first bet earlier this year through a $40M acquisition of Fossil's smartwatch R&D assets. Remote patient monitoring capabilities will be crucial to Google's healthcare strategy going forward, especially in clinical research. Verily has already used its Study Watch product for multiple studies. 
Microsoft
Contrary to Google's approach, the majority of Microsoft's investments originated from its accelerator/incubator programs, such as Microsoft ScaleUp & Microsoft AI Factory. These programs actively work with digital health companies at their earliest stages. To date, these programs count 35 digital health companies as graduates. Many went on to raise additional funding, such as SWORD Health, Genoox, KenSci, and SigTuple. Microsoft's venture arm M12, on the other hand, typically participates in later-stage funding, such as the pre-IPO round in chronic disease management company Livongo Health and population health management platform Innovaccer's growth round. 
As Microsoft pivots its healthcare strategy from personal health data to enabling large healthcare organizations to store and make use of their data, its investments have also pivoted. The majority of its investments since 2016 are in Data Management & Analytics and Genomics companies.  
Tencent
China's Tencent Holdings is the third most active big tech investor in digital health. The company invested in 40 unique companies in 52 financing events. Given the company's customer base, 31 of the investments are in China.
Notably, 18 of the investments are US-based, reflecting Tencent's international ambition. The rest of the investments are in India-based companies. Tencent is known to be a prolific corporate investor. The company has made over 700 investments as of 2018. The corporate entity completed 84% of its digital health investments, and the company made the rest through its AI accelerator program. 
Given Tencent's company-wide mandate to deepen its business-facing capabilities, the two top investment categories by deal volume are Clinical Research and Administrative Tools. Interestingly, Tencent is the category leader in Medical Content & Marketing. With 1.1B monthly active users on Tencent's WeChat platform alone, the company offers valuable customer acquisition channels to these companies.
Other
Other big tech companies that have backed at least 5 digital health companies since 2010 include Intel, Samsung, Alibaba, Amazon, and Comcast.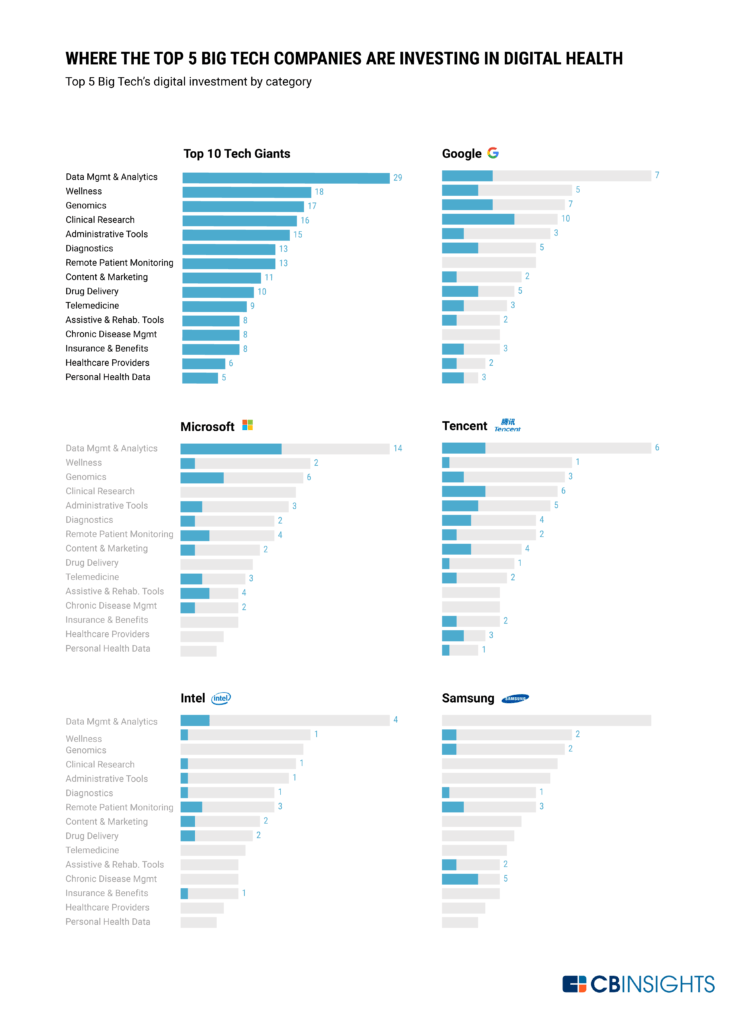 Comcast is a unique investor on this list as the only telecom company. The telecom giant spends roughly $1.3B per year on healthcare for its 225,000 employees and families. As a result, it has invested in upstarts such as Accolade, K Health, and Shine to improve the healthcare experience for employees & better control healthcare spending.
Although Apple is not included in our cohort of the top 10 tech giants investing in healthcare (due to lower investment numbers), the company has pursued an acquisition-focused strategy for its digital health investments and has bought 3 digital health companies to date.
These acquisitions align with Apple's healthcare mandates around personal health data management & monitoring. For example, Apple acquired the personal health record company Gliimpse, which became the foundation of Apple's innovative "Health Records" feature.
Gliimpse's CEO went on to start Google-backed Ciitizen, another personal health record company that focuses on serving cancer patients.
Investment trends by category
Tech giants' areas of focus within digital health have shifted over the years as new technologies emerge and regulations evolve.  
Last year saw a peak in the number of digital health deals by tech giants. Clinical Research was the top deal category for the year, though the pace of investment here has cooled off in 2019 YTD. The Chronic Disease Management category only saw 1 deal in 2018, but due to deals backed by Korea's Samsung, that deal volume has ramped up in 2019. 
In 2019 YTD, Data Management & Analytics companies have received the most funding by deal amount. Imaging-focused companies, such as Airdoc, Riverain Technologies, and Wanlicloud, as well as population health management platform Innovaccer, have received significant funding from tech giants. 
Notably, Telemedicine startups received the most funding from tech giants in 2016, just before utilization surged in 2017. The surge was likely due to regulatory & payment tailwinds, such as expanded insurance coverage & state payment parity laws. 
Eight companies have received funding from at least 2 tech giants, including GRAIL (backed by Google, Tencent, and Amazon), Practo Technologies (Google and Tencent), and CognitiveScale (Intel and Microsoft).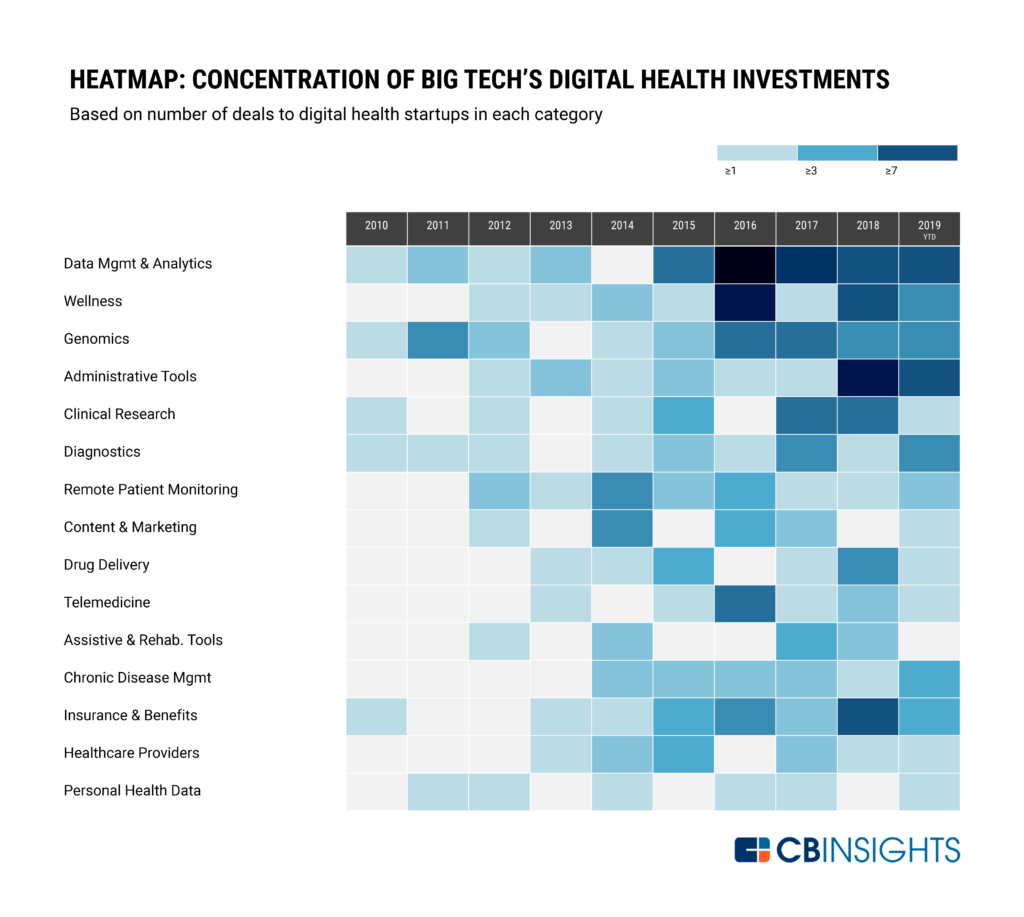 Since 2012, global tech giants have invested most heavily in digital health companies focused on Data Management & Analytics, Wellness, and Genomics (based on the number of companies backed in each category).
Looking at investments by the number of deals to each category, Genomics overtakes Wellness to claim second place.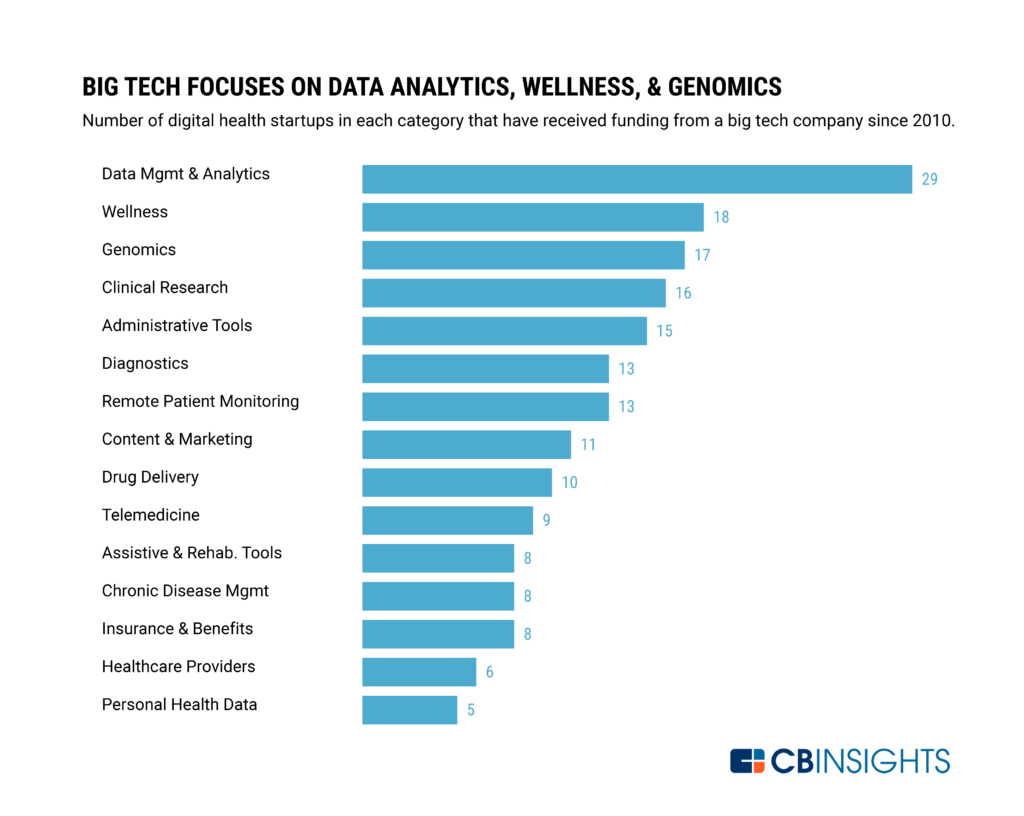 Content & Marketing companies focus on building communities and creating content (often user-generated) with the ultimate goal of commercializing the traffic for healthcare companies. Companies in this space include aesthetic medicine platform SoYoung, surgeon-focused website Weiyi, and Outcome Health, which offers products like educational health content, waiting room media, and more. 
Startups developing Assistive & Rehabilitation Tools use technology to assist people with disabilities and help patients restore functional abilities. For example, SWORD Health, which went through Microsoft's ScaleUp program, markets a digital physical therapy tool. 
The Drug Delivery category includes startups focused on the pharmaceutical supply chain.
---
We define digital health to include companies in the healthcare space that use technology and software as a key differentiator. Investment activities shown include acquisitions. For this report, we analyzed investments and acquisitions made by 10 leading tech companies investing in healthcare (including their respective investment arms): Google, Microsoft, Tencent, Intel, Samsung, Alibaba, Amazon, Comcast, Facebook, and Cisco. These investors were selected based on a number of criteria, including market cap, tech focus, and quantity and quality of healthcare investments. Data is as of 10/28/2019. 
If you aren't already a client, sign up for a free trial to learn more about our platform.