Our graphic shows every billion-dollar acquisition made by Facebook, Amazon, Microsoft, Google, and Apple, from Amazon's $13.7B purchase of Whole Foods to Facebook's recent $1B bet on customer management platform Kustomer.
In the last 30+ years, the FAMGA tech giants — Facebook, Amazon, Microsoft, Google, and Apple — have collectively made over 800 acquisitions. Even amid the Covid-19 pandemic, they have continued to write checks. Among this cohort, Apple and Microsoft tie as the most active acquirers since the start of 2020, with 9 acquisitions each.
These acquirers have deep pockets, and some of their biggest checks have been written for high-profile companies such as career platform LinkedIn (acquired by Microsoft for $26.2B), chat app WhatsApp (Facebook, $22B), and video-sharing platform YouTube (Google, $1.7B).
Not all of these acquisitions have been unqualified successes. Microsoft ultimately wrote off its $7.2B Nokia deal, while Google paid $12.5B for Motorola Mobility (its largest acquisition to date) — only to sell the unit off for a quarter of its acquisition price 2 years later.
Still, other major bets have helped these tech leaders expand into new markets, product lines, and tech horizons.
Using CB Insights M&A data, we made a visual timeline showing every $1B+ acquisition made by a FAMGA company. 
Please click to enlarge.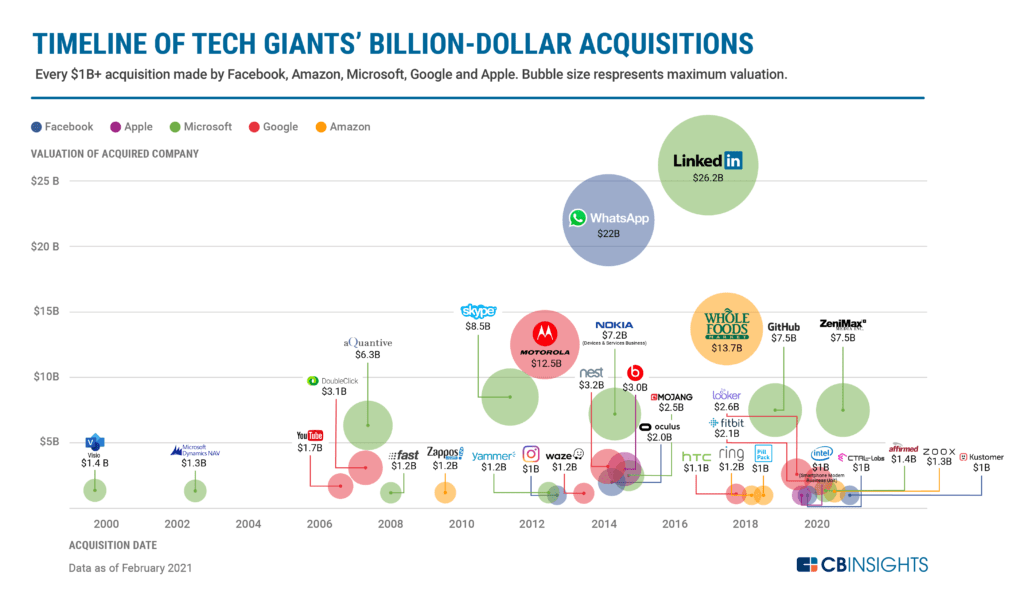 KEY TAKEAWAYS 
Collectively, FAMGA has made 32 $1B+ acquisitions.

Microsoft has made 12 $1B+ acquisitions, the most among these tech giants, followed by Google, with 8, then Facebook and Amazon, which tie at 5 each. 

Apple has the least number of $1B+ acquisitions, with only its $3B acquisition of Beats Electronics and its $1B purchase of Intel's smartphone modem business. 
Microsoft's $26.2B LinkedIn acquisition is the largest FAMGA buy, followed by Facebook's $22B WhatsApp deal and Amazon's $13.7B purchase of Whole Foods. 
Microsoft's acquisition of Visio Corporation in 1999 was the first $1B+ acquisition by a FAMGA company. 
The most recent billion-dollar FAMGA acquisition was CRM platform Kustomer, acquired by Facebook for $1B in November 2020. 
If you aren't already a client, sign up for a free trial to learn more about our platform.