We launched CB Insights' Market Map Maker to help organizations more quickly understand markets using visual storytelling.  Now with Smart Image Positioning, your analysts can spend more time doing analysis and less time mindlessly positioning images.
Market maps are a great way to tell visual stories.
But if you've ever built a market map, the following pain should ring a bell.
You've just finished version 1 of a market map in Powerpoint and your boss says:
"What about these 5 companies?  Can you include add them on the market map?"
You dutifully say no problem while inside your stomach is turning as you know that what should be a simple request will be needlessly time-consuming.
And thus begins a thankless game of Sisyphean Tetris where you contort, resize and move images around to create the ideal layout. Adding insult to injury, this is after you'd already spent way too much time trying to get the images positioned correctly the first-time around.
We are glad to announce that the time analysts waste doing this over with the launch of Smart Image Positioning in our Market Map Maker.
Introducing our "easy button" for image positioning
We've now automated positioning of company names on the market map canvas using something called the Binary Tree Bin Packing Algorithm.
Yes – it's all quite complicated, but the good news is that it all happens behind the scenes and you just get a better product that saves you time.
To take advantage of Smart Image Positioning, just press the grid icon within a section of your market map (pro tip: you can hold shift and click on the icon to see various layouts for the image until you find one you like).
Here's how it looks in action: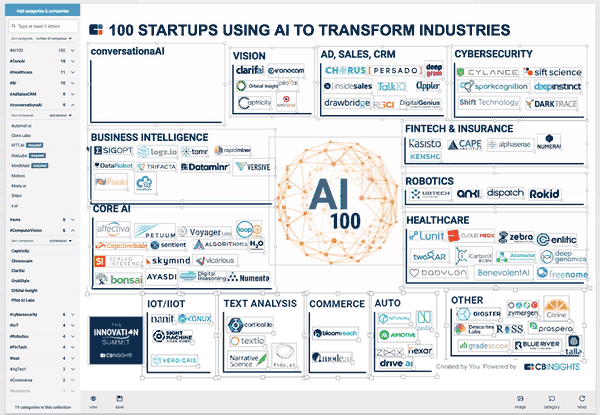 Steal our Expert Market Maps and use Smart Image Positioning to quickly make them your own
With Smart Image Positioning, you can take the Expert Market Maps created by CBI Intelligence Analysts and quickly edit them and add companies you'd like to see on them.
And you can tell your boss you did all the work 🙂
So in a matter of minutes, you can take our Expert Collections and make them your own.  
In fact, we've added a ton of new Expert Market Maps for clients across a broad array of areas including:
Of course, you can click into one of your private collections and go to the Market Map tab.
BTW, we also made it easier to present interactive market maps to executives or your team directly from CB Insights.  No more static paper-based market maps with a detailed appendix of each company.  Check out more on presentation mode here. 
If you  don't currently have access to Market Map Maker and are a client, chat with your Customer Success Manager.