An analysis of emerging pop culture trends using the CB Insights Memetic framework.
Over the last few months, our intelligence unit has been working hard to identify the biggest trends to watch in auto & mobility, retail, AI, wellness, and more.
Now we're serving up the stuff you really care about: pop culture.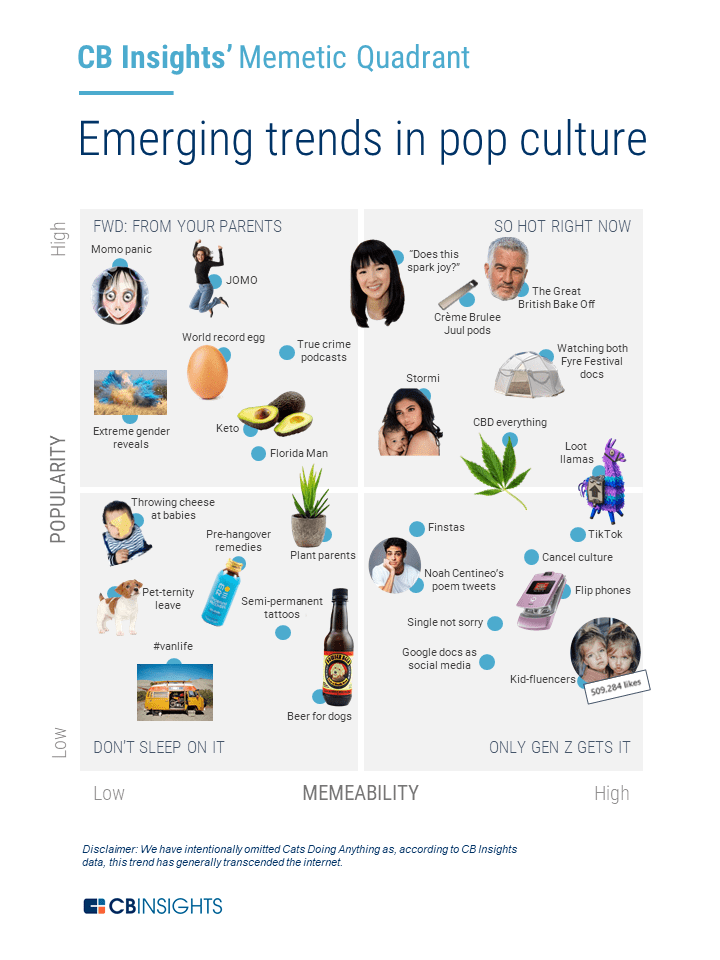 FWD: FROM YOUR PARENTS
high popularity & low memeability
JOMO — Cancel your plans, curl up with your streaming subscription, go to bed an hour early — and embrace the Joy of Missing Out.
True crime podcasts — Everyone's a detective now.  
Keto — If you haven't heard about the high-fat, low-carb diet taking the internet by storm, you probably still have bread in your pantry.
Extreme gender reveals — Is it a girl? Is it a boy? Is it a wildfire? Launch a grenade at these pastel, dynamite-filled balloons to find out.
World record egg — A picture of an egg has a record-breaking 53M likes on Insta. Don't ask us why.
Florida Man — It's a bird! It's a plane! It's a man who attacked his roommate with a slice of pizza! It's a man who turned himself in for killing his imaginary friend! It's a man who tried to use a taco as ID! Florida Man.  
Momo panic — The creepy online urban myth that an unsettling chicken lady with long dark hair will pop up during your kid's YouTube videos and convince them to harm themselves. We've heard this one before, and we promise you're safe…as long as you forward the video within 7 days.
SO HOT RIGHT NOW
High popularity & high memeability
The Great British Bake Off — There is nothing more soothing than watching polite Brits fret about the lamination on their pastry dough.
Watching both Fyre Festival docs — Well, the Netflix one has all that sweet, sweet marketing footage, but Hulu has the Billy interviews. Your move, HBO.
CBD everything — CBD is the non-psychoactive component of marijuana, and we're putting it in everything. Beer, gummies, coffee, oil, lotion, acai bowls, pet treats, bath bombs… but like…can you put CBD in more CBD, man?
Creme Brulee Juul pods — Congrats Juul, you haven't made smoking better — you made dessert worse.
Loot llamas — This rare Fortnite piñata does something special. We're not sure though, because we're totally not nerds.
Stormi — The youngest of the Kardashian-Jenner dynasty is coming for you. This baby's first birthday party cost more than you will ever be worth.
"Does this spark joy?" — The newest excuse to cut anything and anyone out of your life, thanks to Netflix star and tidiness guru Marie Kondo. Somehow, though, you still have 6 water cups on your nightstand.
ONLY GEN Z GETS IT
low popularity & high memeability 
TikTok — These 15-second videos showcase the most bizarre corners of the internet, including hundreds of gummy bears singing an Adele song, and children pretending to eat their fingers to Kidz Bop Evanescence covers. Snapchat, beware.
Kid-fluencers — These 4-year-olds make 7-figure salaries unwrapping toys on YouTube and modeling clothing brands on Instagram.
Flip phones — The mid-2000s tech must-have is making a comeback for those nostalgic for the days of T9 and pink Razer phones.
Single not sorry — Young people are consciously uncoupling from the social myth that singlehood is undesirable. Because let's face it: going to the movies alone is the f'n best.
Finstas — Your "friends" follow your Instagram. Your best friends follow your finsta ("fake insta"), a private account where you post the most personal content. Like memes about your crush and face swaps with your dog.
Google docs as social media — Passing notes has gone digital for elementary and middle school kids who use Google Docs instead of paper airplanes.
Cancel culture — Gen Z is putting their money with their mouth is, calling for boycotts of people, events, and organizations deemed problematic or unacceptable. Don't agree with it? Then don't buy it, don't share it, don't follow it on Twitter. (See: Logan Paul.)
Noah Centineo's poem tweets — Everyone's Netflix boyfriend has a deep soul: "Love has no requirements. Thats what makes it Love. If your Love for another carries requirements, it is not Love, but a counterfeit version." Wow.
DON'T SLEEP ON IT
Low popularity & low memeability
Pre-hangover recovery pills — Tired of the terrible morning after? Just drink this shake made out of burnt pieces of wood at the beginning of your night, and you too can pound 8 tequila shots and wake up feeling a-okay. (This is not medical advice.)
Throwing cheese at babies — As we were all thinking Tide Pod eating was the most dangerous internet meme, older siblings started #cheesed.
Beer for dogs — Now your pup can also go up on a Tuesday. Beer for dogs does not actually contain alcohol — but the drink may include barley and pork. Mouthwatering.
Plant parents — We can't afford a kid. We can't afford a dog. We can afford a little ficus or a potted aloe.   
#vanlife — Rent prices what they are, living in your car makes you boho instead of hobo. And at $10,000 per Insta post, you'd be dumb not to move into your van and travel the coast.
Semi-permanent tattoos — Millennials can't commit to anything these days. Introducing: press-on tattoos that will last for longer than a shower but disappear in time for Grandma's birthday dinner.
Pet-ternity leave — The newest perk for working adults is PTO when you adopt a new fur-baby. Up next: cat-mitzvahs, dog debutantes, or Mardi Paws?
All of us at CB Insights wish you a very happy April 1.