Using machine learning, Patent Analytics lets you understand competitor product strategy and priorities as well as which emerging technology areas are poised to break out.
In March of 2018, Walmart launched Eden, an intelligent food system, to track the freshness of produce. If you were watching Walmart's patent activity, you would not have been surprised.
Seven months prior to Eden's launch, Walmart filed patents outlining a system that could track the freshness of produce from farm to stores.
Per the patents, the system's "three-dimensional scanning" would present visuals of in-store items to online shoppers, creating what the patent calls a "Fresh Online Experience."

Using topic modeling as part of CB Insights Patent Analytics, we spotted Walmart's rapidly growing patent focus on supply chain management, commerce websites, and retailing, which became the backbone of its Eden offering. And we did this 3 quarters early.
Patents are a leading indicator of competitor strategy and priorities — but the volume, variety, and velocity of patents has made them historically unusable.
To frame the challenge, just look at the graph below.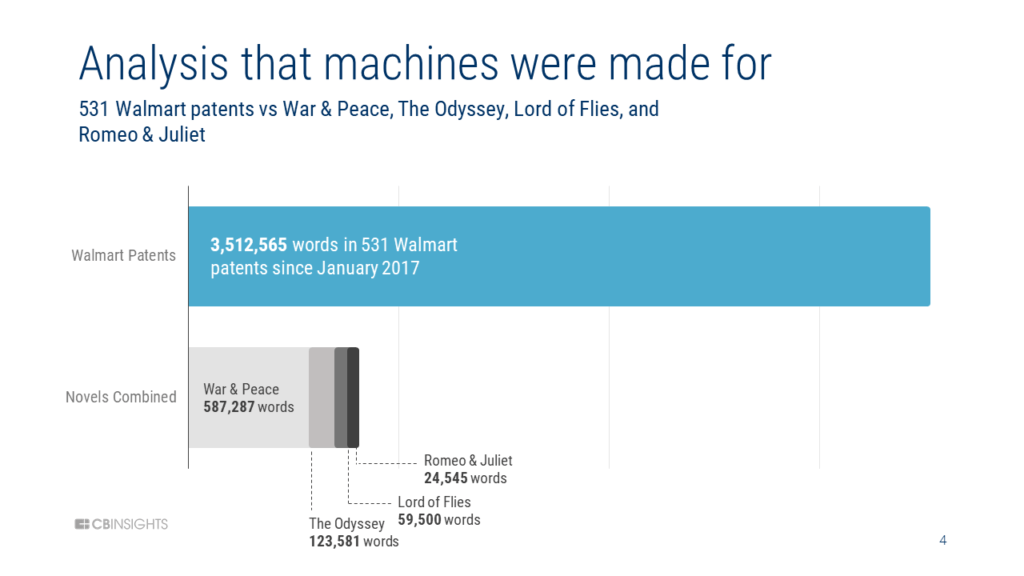 Since 2017, Walmart has filed for over 500 patents.
Those patents contained 7,026 pages and 3,512,565 words.
War & Peace, The Odyssey, Lord of the Flies, and Romeo and Juliet combined have 794,913 words. So reading all of Walmart's patents is like reading all 4 books 4.5x each.
Good luck with that.
Reading, analyzing, and visualizing patents was a problem made for machine learning. It is simply beyond human cognition.
The screenshot below from Walmart's profile highlights the topics Walmart was focused on from Q1'15 to Q1'16. We see 15 supply chain management patents.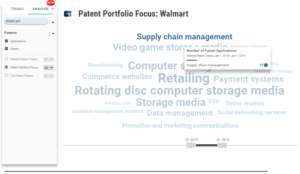 Fast forward to Q1'17 — Q1'18, and we see the number of supply chain management patents had more than tripled.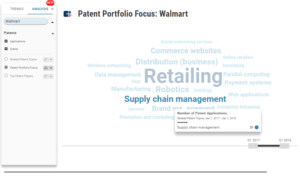 As we dug in further, we identified and wrote about one of Walmart's patents, which focused on a "Fresh online Experience" (highlighted below) and later turned into its Eden program.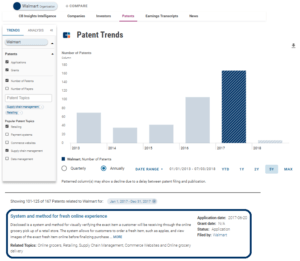 This highlights the power of patents. Patents provide predictive insights into competitor strategy, as in the Walmart example, and also into emerging technologies. 
With the new CB Insights Patent Analytics, we're taking patents and finally unlocking them.
Below are more ways patents provide predictive technology, market, and competitive intelligence.
Competitive intelligence: Walt Disney's product priorities
Patent Analytics provides a direct view into where your competition's best and brightest are focused, giving you an early view into the strategies they're pursuing and products they're building.
Take The Walt Disney Company's patent portfolio.

Disney has had a strong focus on "virtual reality" and interest in "video on demand services" as early as 2013, per its patents.
The volume of "video on demand services" patents, as well as virtual reality and 3D imaging, have increasingly grown ever since.
This begs the question: what is Disney building, or planning on rolling out?
Earlier in 2018, Disney announced a much anticipated on-demand video streaming service that will launch in 2019 as the company looks to better compete with Netflix, Amazon, and others.
And within the last two years, Disney has unveiled multiple virtual reality and 3D attractions — most recently Avatar, Flight of Passage, at its Animal Kingdom park in Florida. 

Using CB Insights Patent Analytics, we're able to see where companies are going next, thus receiving key competitive intelligence years in advance.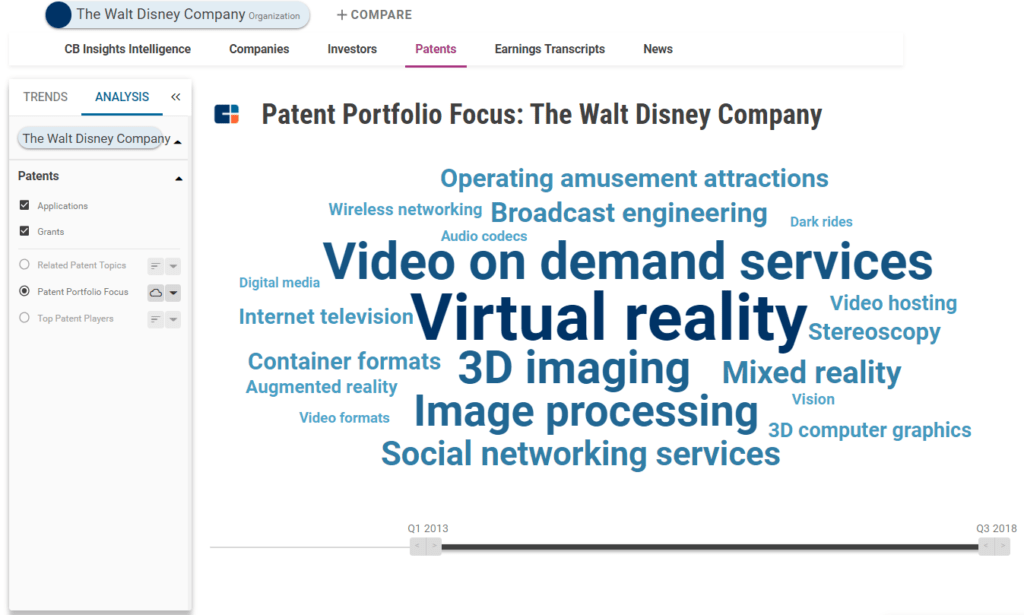 Technology intelligence: CRISPR breaking out
Patents are also a great leading indicator of emerging technology areas that are gaining momentum (or those which may be cooling).
Below, we used CBI Patent Analytics to compare the gene editing technology CRISPR vs. Car-T immunotherapy.
As the graph illustrates, there are points in time with heavy patent activity, like the spike of both CRISPR-focused patents and players in Q2'16.
Analyzing both the volume of patents and the number of players is key to determining what emerging technologies are seeing traction. Patent Analytics highlights the number of patent players in an area (aka how many organizations are filing patents in a particular space).
If the number of players entering a domain is increasing, that is a leading indicator of a technology category on the cusp of breaking out.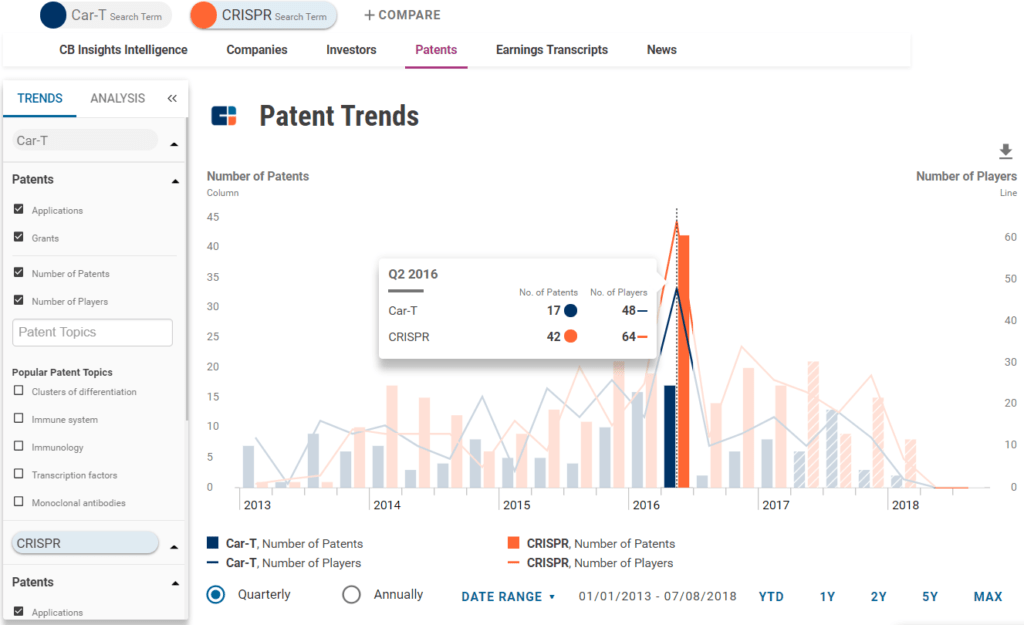 Market intelligence: Identifying autonomous vehicle-related topics
In addition to competitive intelligence, you can also leverage patents to understand what topics are associated with a particular technology.
For example, let's look at the autonomous vehicle space, which has grown dramatically over the past decade — from the DARPA Grand Challenge in 2005 to every major automaker and tech giant having an AV playbook.
Below, you can see the top patent players revealing competitive intensity in the space and see if competitors might have IP limiting your ability to launch products or grab substantial market share.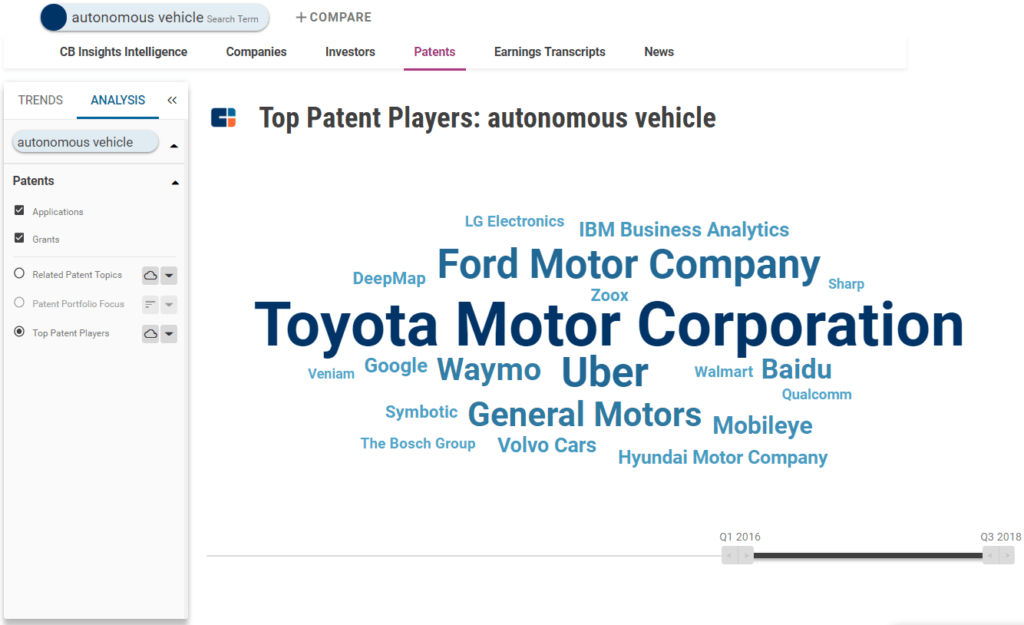 Using our machine learning-powered topic modeling, you can also quickly identify related patent topics, which highlight key concepts and potential products that you should be aware of. The ability to see adjacent topics can highlight additional product areas as well as adjacent technology fields you may wish to explore.
Here are the topics related to autonomous vehicles.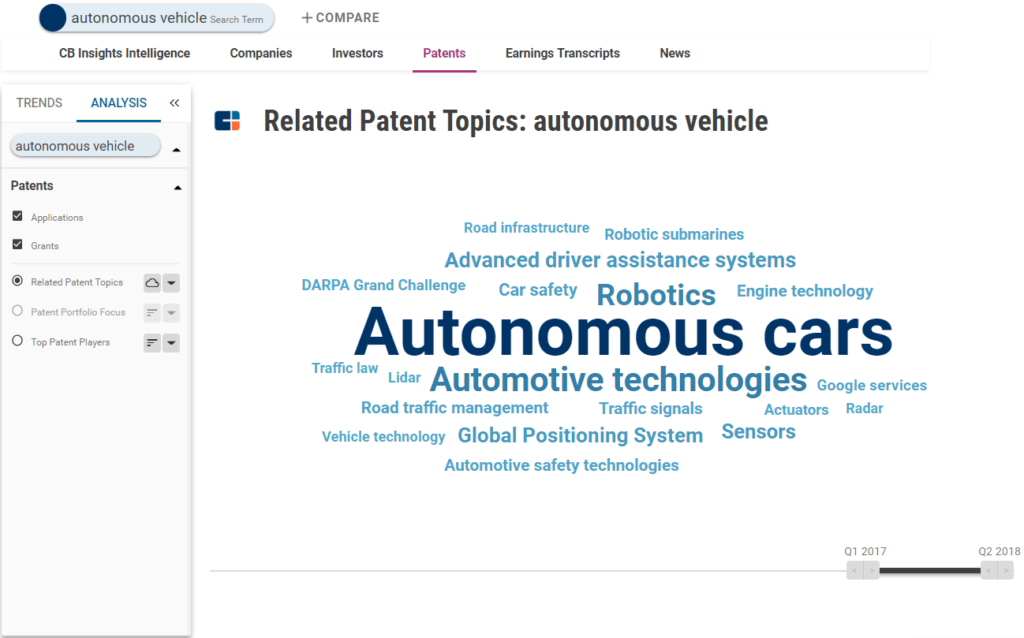 Network intelligence: Identify partners or acquisition targets
You can now see a company's financing and M&A history alongside its patent portfolio all in one place.
This enables you to simplify your due diligence when evaluating potential partners or acquisition targets.
LiDAR, for example, has been a key driver in the emergence of autonomous vehicles, helping vehicles see the road and other surroundings.
By simply typing LiDAR into CB Insights Patent Analytics, you're able to instantly identify key IP holders and potential targets.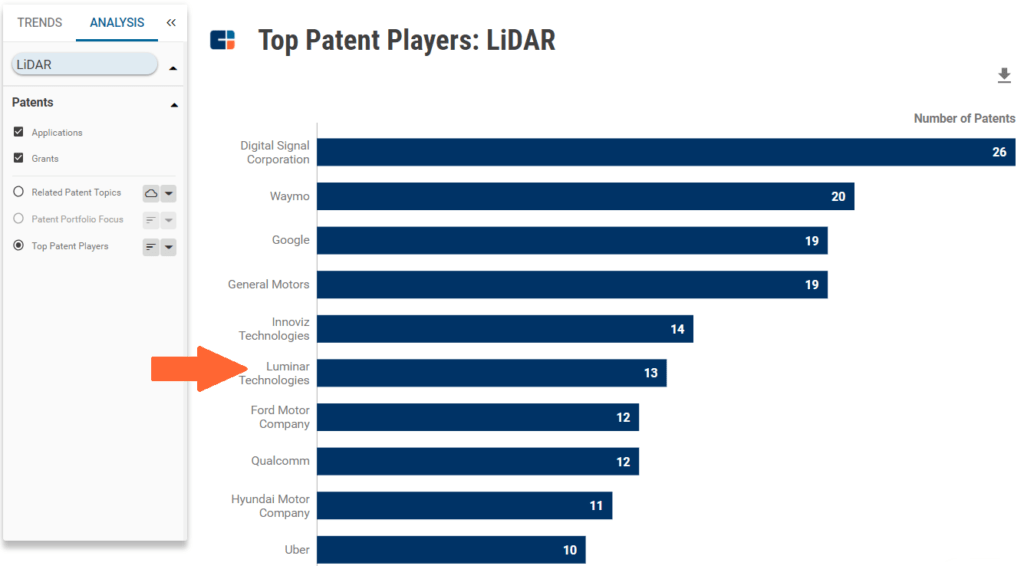 Luminar Technologies seems to be competing with much larger incumbents for LiDAR IP. If you go to its company profile, you quickly get a more holistic view into the company's health and potential.
A company's profile on CB Insights shows you not just its IP but other financial and non-financial signals that are indicative of whether it might be a good partner or acquisition target. This includes its Mosaic score, financing history, competitors, and any related research by our Intelligence Analysts.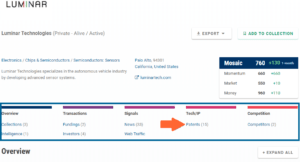 ---
If you aren't a client yet, click here to sign up for a free trial.
If you are a CB Insights client but don't have access to patents but would like to gain access, contact your dedicated customer success manager.