We've made our market maps more interactive so you can present them directly off CB Insights and answer questions on-the-fly during your meetings.
When you're presenting a market map you've created with the Market Map Maker, it's inevitable you'll get questions about companies you've mapped.  Things like:
"What does company X do?"

"How much funding has company Y raised?"
And with most market maps having tens or even hundreds of companies on them, it's impossible to know all these details immediately.
In a printed market map, this usually means details on each company are in an appendix to the deck requiring digging for information.
Now, with presentation mode in Market Map Maker, you can answer those questions easily.  By just hovering over a company name, you can instantly see a company description, total funding, date of latest funding and Mosaic score.  And if you want more details, you can simply click through to the full profile.
During meetings, simply log into CB Insights and go to your market map and hit present to view it in presentation mode and then dive into details of any company by simply clicking on a company's name.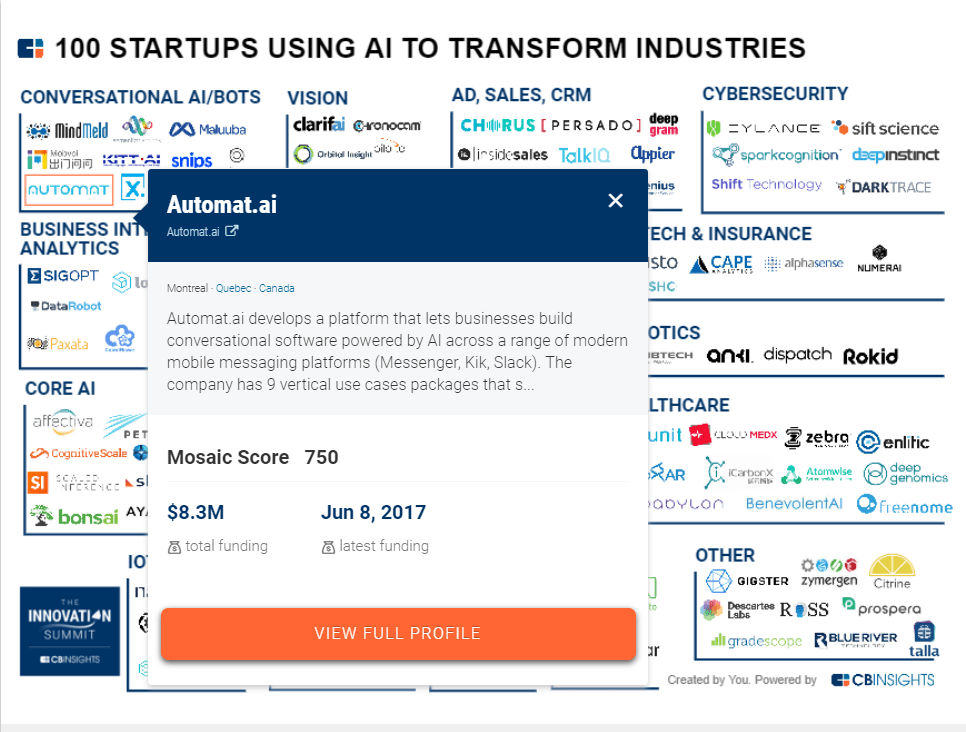 Steal our Expert Market Maps and use presentation mode to wow your team
With presentation mode, you can take the Expert Market Maps created by CBI Intelligence Analysts, edit them and use presentation mode to share with your team.
And you can tell your boss you did all the work 🙂
So in a matter of minutes, you can take our Expert Collections and you can make them your own.
In fact, we've added a ton of new Expert Market Maps for clients across a broad array of areas including:
Of course, you can click into one of your private collections and go to the Market Map tab.
BTW, we also made it easier to edit and add companies with Smart image Positioning in market maps. 
If you don't currently have access to Market Map Maker and are a client, chat with your Customer Success Manager.