If your team is responsible for researching emerging tech and making build, buy, or partner decisions, CB Insights' collaborative work management solution Collections will ensure everyone in your organization is on the same page so you can drive smarter, faster decisions.
67% of corporate VCs recently surveyed by CB Insights said multiple groups within their corporation have engaged with the same startup without any communication between groups.  
It happens surprisingly frequently, resulting in:
Wasted effort on duplicate diligence

Striking sub-optimal deals

Looking confused and disorganized with external partners/targets
The core of the problem lies in the fact that teams charged with making build, buy, or partner decisions in response to emerging technology don't have an easy way to manage their workflow.
Other teams at enterprise organizations have dedicated solutions to help them manage knowledge and make quick and strategic decisions: 
Marketing has Marketo

Sales has Salesforce

Finance has Oracle or SAP

HR has Workday
What growth teams have is a fractured set of tools that are not purpose-built for managing these decisions — spreadsheets, emails, Microsoft Sharepoint, etc.  
CB Insights has changed all that with the launch of Collections, the first collaborative work management solution purpose-built for teams responsible for managing their build, buy, or partner decisions.
Collections combines the flexibility of a CRM and the simplicity of a spreadsheet with real-time data on the companies, technologies, and markets you need to drive your strategic growth decisions.
Below, we break down some of the transformational features we've built into Collections to help you work smarter and faster.
---
CB Insights clients can access Collections as part of their paid subscription. 
If you're not a client, but are looking to transform how you manage important growth decisions, sign up for a free trial here.
---
Manage knowledge around enterprise build, buy, or partner activities in one place 
With Collections, you can easily associate startups with business units, tie them to key strategic priorities, and link contacts, keeping everyone in the enterprise on the same page. 
And as you develop relationships and record key insights or next steps, you can easily share any Collection and your notes with key stakeholders within and beyond your teams, simplifying your collaboration efforts and keeping everyone current and aligned.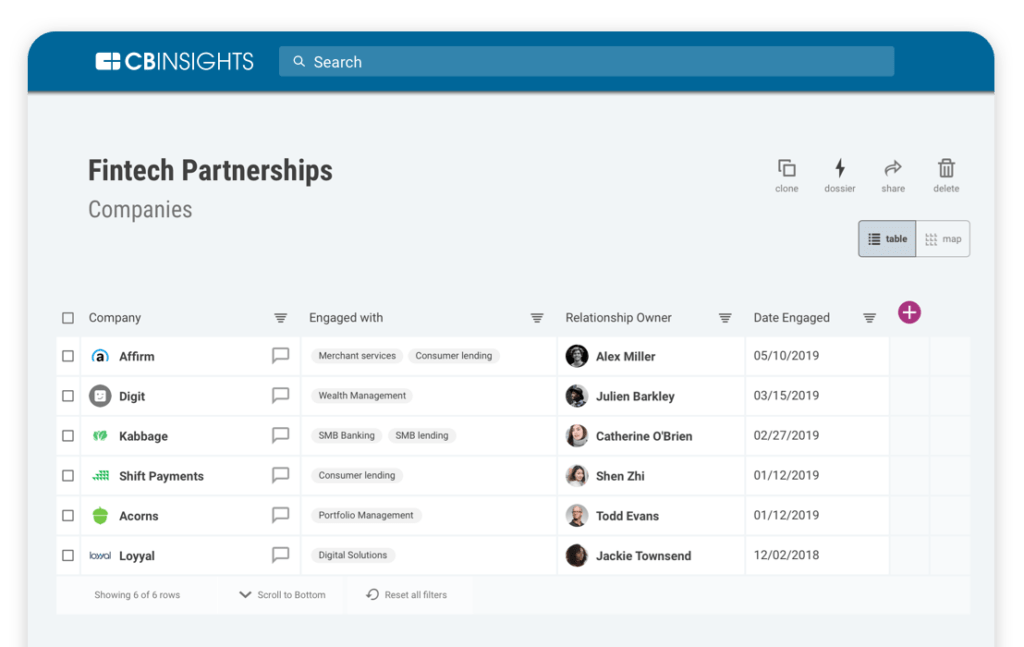 Eliminate data maintenance with real-time, fresh data on all the companies you're tracking
IDC data has shown that knowledge workers spend 2.5 hours per day finding information or recreating institutional knowledge.
The technology companies you are tracking in Collections are auto-updated with CB Insights data so you never have to worry about keeping that spreadsheet updated with funding, investor, competitor, geography data. Analysts should spend time doing analysis, not manually updating data in static spreadsheets.
Simply define the data points you care about when evaluating companies, add the companies you're tracking, and you'll get a real-time, accurate, and personalized view into the data that matters to you.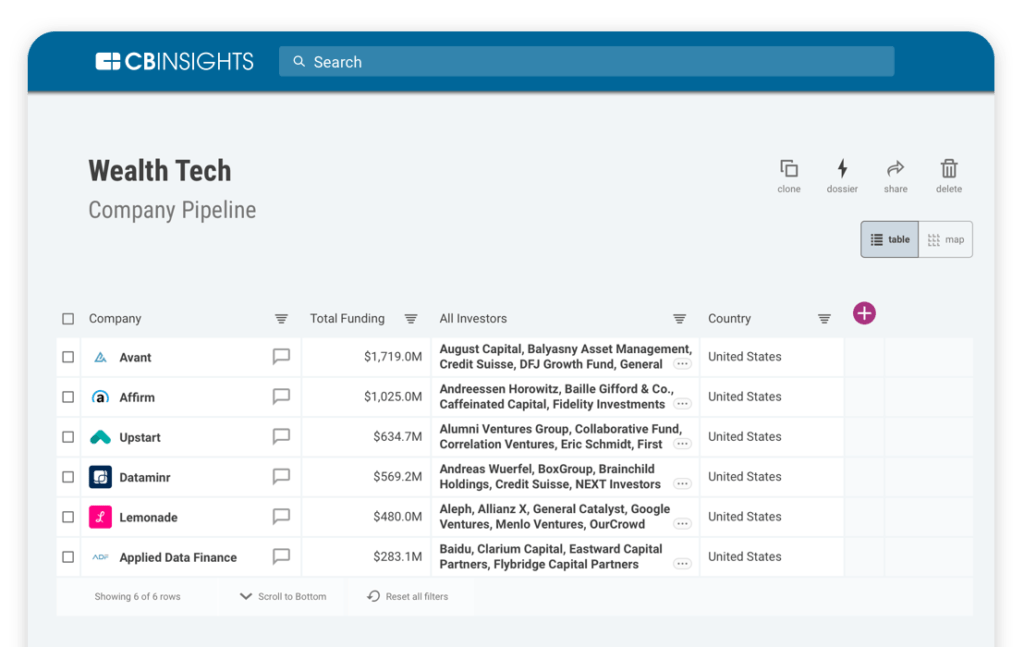 Understand where activities stand with a simple & visual view of your funnel
Whether you're evaluating companies for a potential acquisition, a minority investment, or a partnership, you need to know where the companies you're engaged with stand at every step.  
Since not everyone defines their company or research funnel steps the same, Collections allows you to easily customize, manage, and report on your funnel as you define it (as shown below).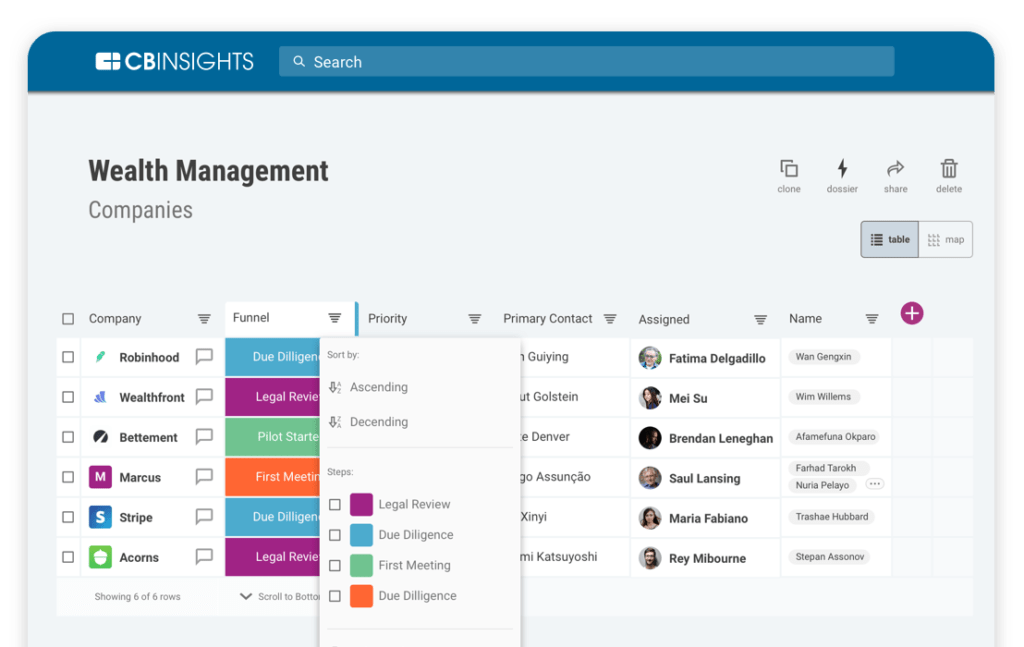 Get automated market maps and executive presentations to go from data to insight in seconds

While the nitty gritty of collaboration and managing the funnel is critical, you have to update the organization and executives on progress with presentations, market landscapes, and more.  
With Collections, this is no longer complex or tedious. 
You can automatically generate beautiful data visualizations and presentations including market maps and dossiers on any industry or target list with a single click. 
Our data science team has also created CBI narratives which are programmatic talking points that provide you with insights on trends automatically, freeing you from tedious work explaining graphs and creating headlines and bullets.
And the beauty is that all of the data updates in real-time, so your presentations and reports stay accurate and ready at the press of a button whenever you need them.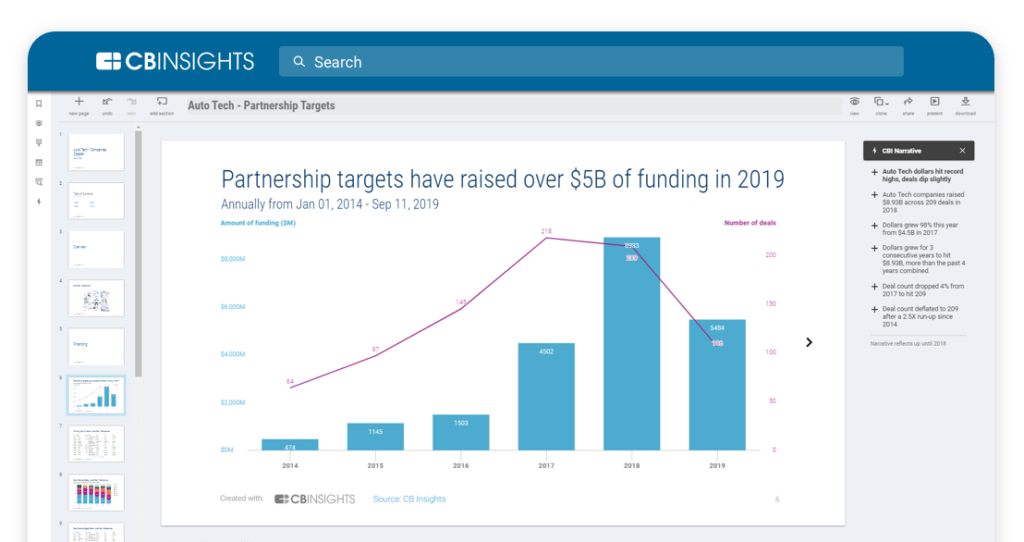 Get started quickly with tailored templates for every use case
We worked closely with our clients to build a library of templates tailored to your most common goals and needs ranging from:
Dealflow tracking

M&A pipeline tracking

Partnership pipeline

Market mapping

Competitive intelligence
Simply select the template most related to your team's goals and customize it to work the way you do.
Always know where to focus with a priority heat map
To keep your team focused on the right opportunities, ruthless prioritization is key. Within Collections, it is easy to visualize your priorities and also assign owners so each member of your team knows what they should be working on, as shown below.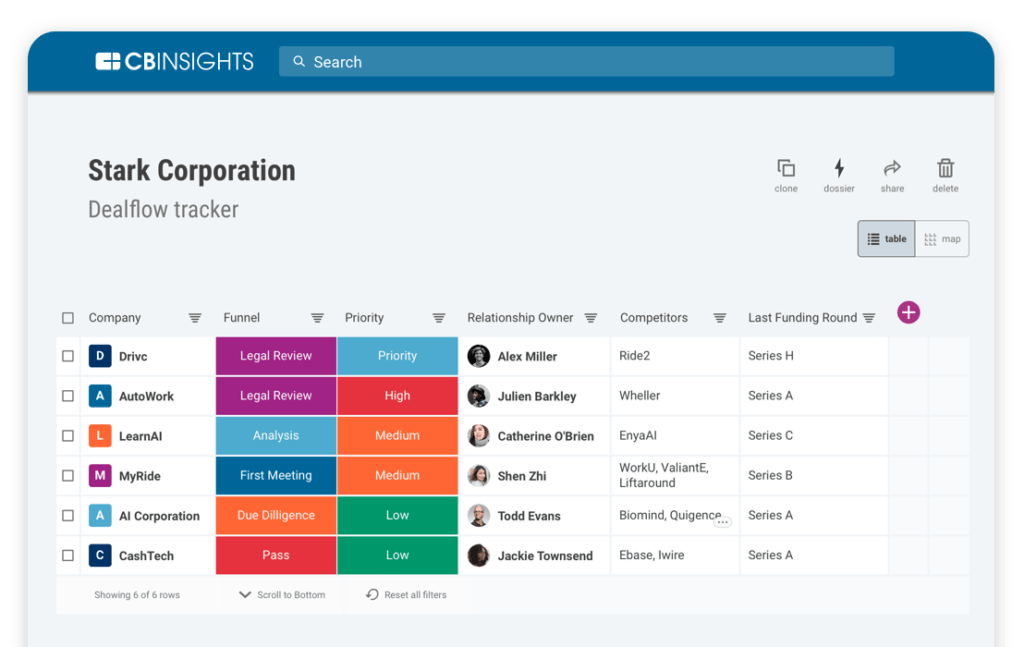 Now What?
Researching emerging technology and making build, buy, or partner decisions with startups are no longer strictly driven by IT.  
Now, a wide variety of groups need to enable growth using technology. They include: 

Corporate VC

M&A / Corp Dev

Digital Transformation

Corporate Innovation

Corporate Strategy

Technology Scouting

Competitive Intelligence

Partnership & Business Development



All of the growth teams in an enterprise can use Collections to stay current, aligned, and informed, not only on what their individual teams are doing but how other groups are engaging with the same technology companies across the enterprise.
CB Insights clients can access Collections as part of their paid subscription on both web and our mobile app available on both the Apple App Store or Google Play.
If you're not a client, but are looking to transform how you manage important growth decisions, sign up for a free trial here.