Designed for people who aren't designers, Stories combines stunning market landscapes and data visualizations to make your ideas memorable.
Studies have shown that 90% of the information transmitted to the brain is visual, and data is 42% more effective in convincing people when it is presented visually.
In fact, CB Insights' business has been built on a combination of data and visual storytelling.
Today, we're giving our clients a way to create presentations that will let them use visual storytelling to bring their ideas to life.
Introducing Stories.
Stories lets you easily inform, inspire, and influence your team directly in the CB Insights platform.
Make your ideas pop with data visualizations
Creating Stories is easy… no data wrangling or design skills are needed.
Simply head to "Stories" in the left-hand navigation bar, and click "Create a new Story".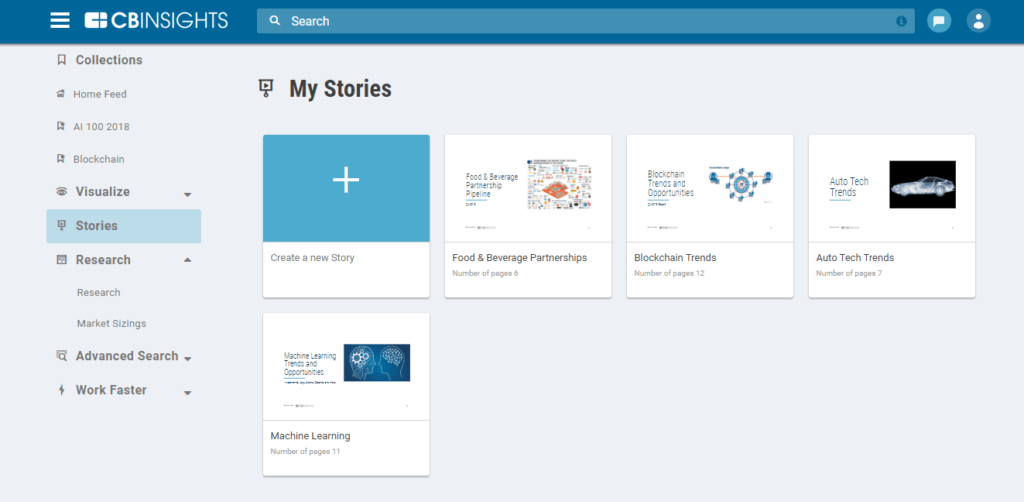 Now you can grab data from all over the platform and bring it into your Story.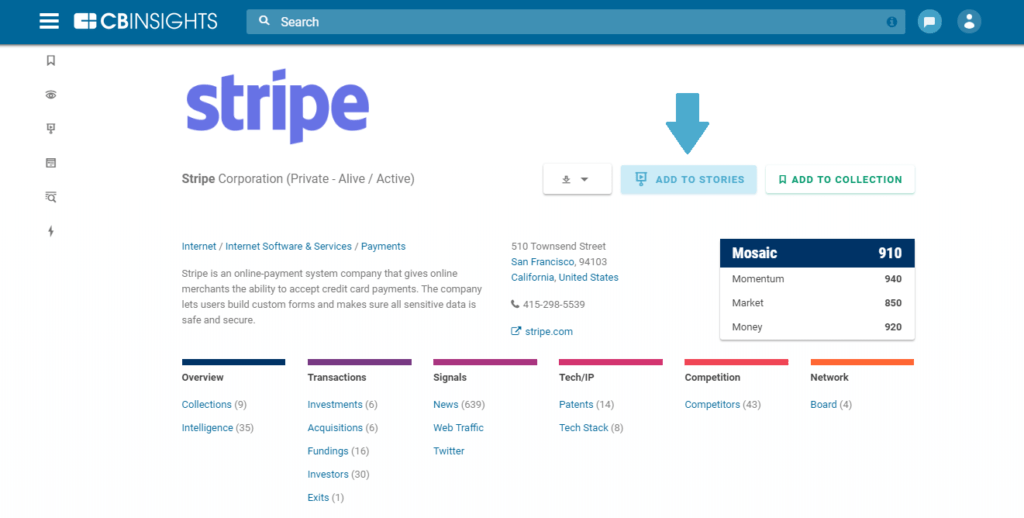 Gather company pages, table pages, chart pages, and more by selecting those items and clicking "Add to Stories".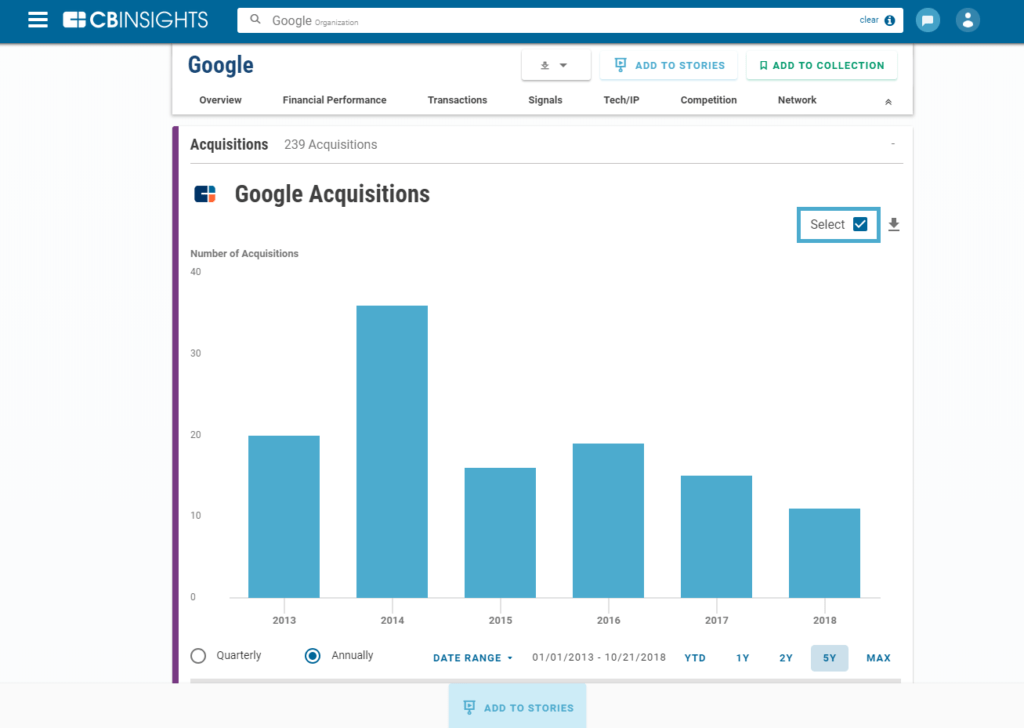 Yes, you can even add your favorite market maps, too.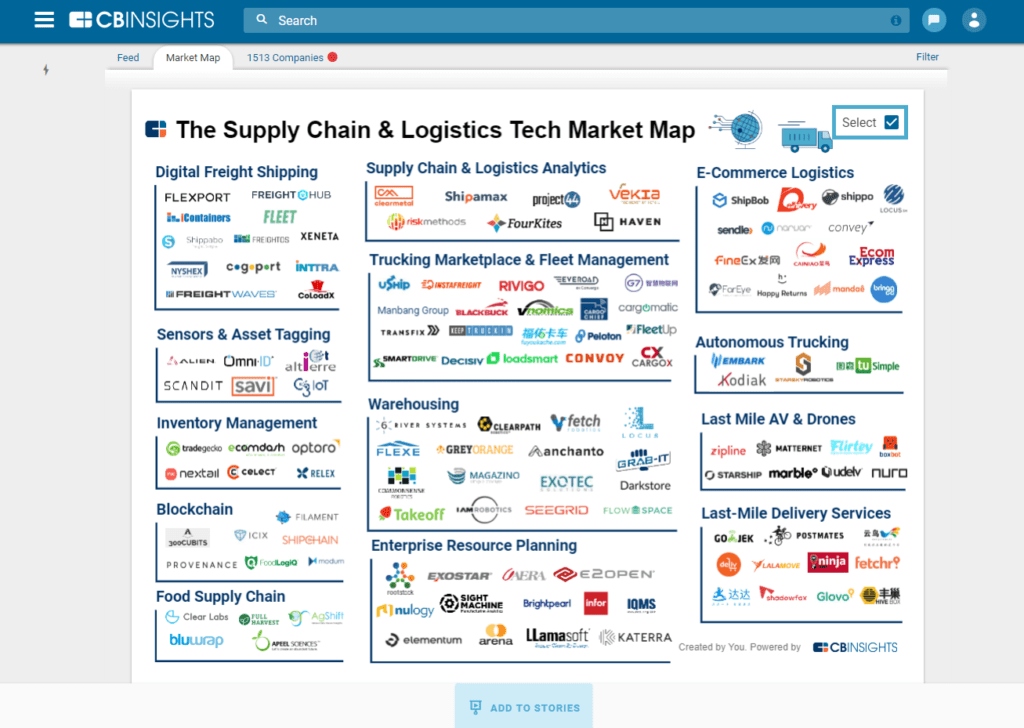 Once you are working on a Story, input your own additional text and images into blank templates by clicking "New Page" in the top left corner.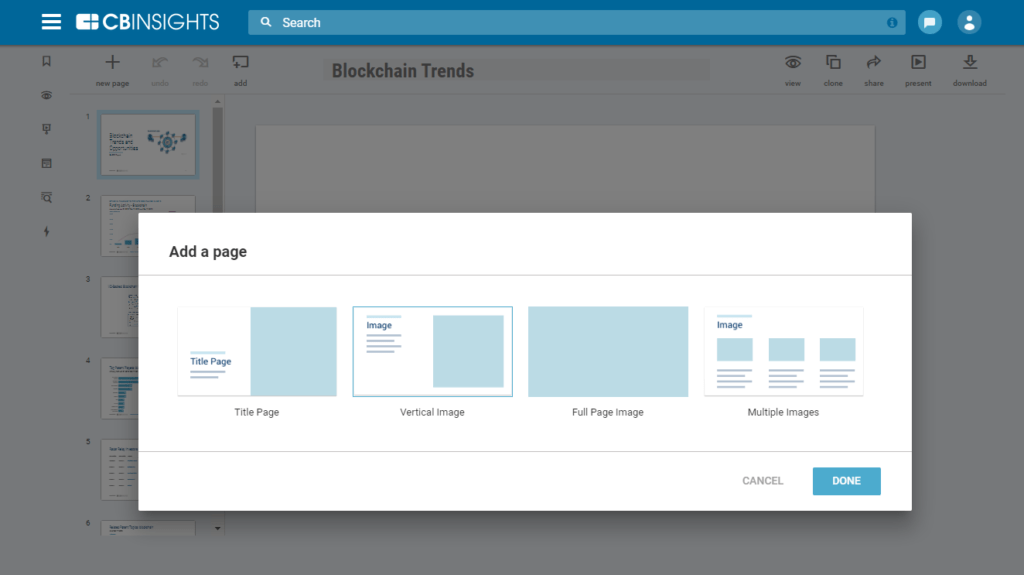 Share your Stories with teammates by giving them view or edit access to gather feedback on your ideas and build your narrative together.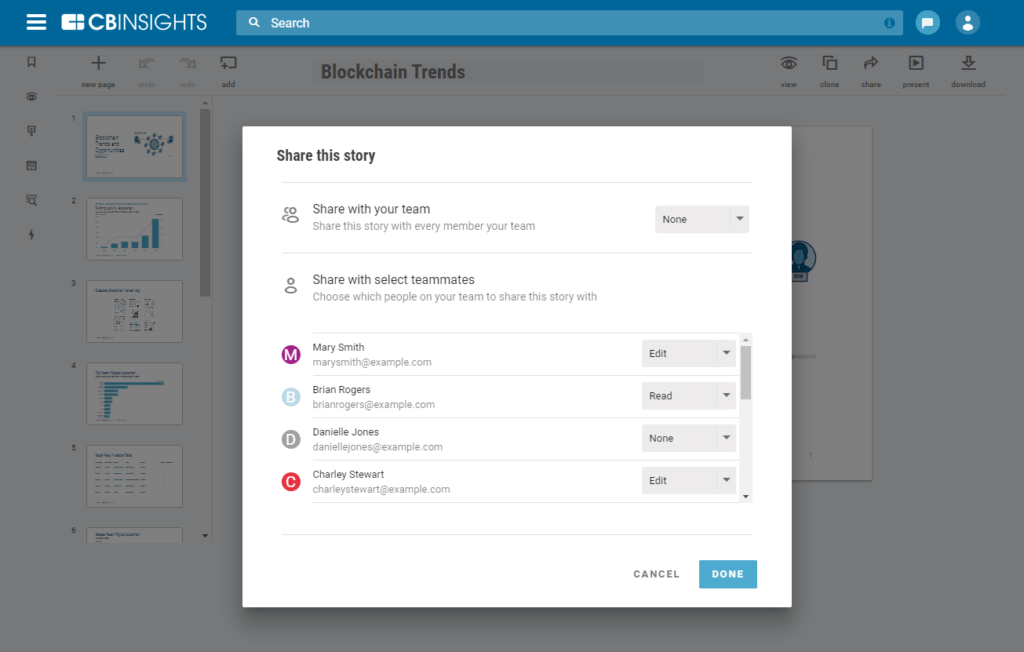 Go from data to insight in seconds
Stories helps you quickly create a compelling narrative on anything including:
Markets

Competition

Technology

Disruptive startups
Build a beautiful Story showcasing your top 20 partnership or investment candidates.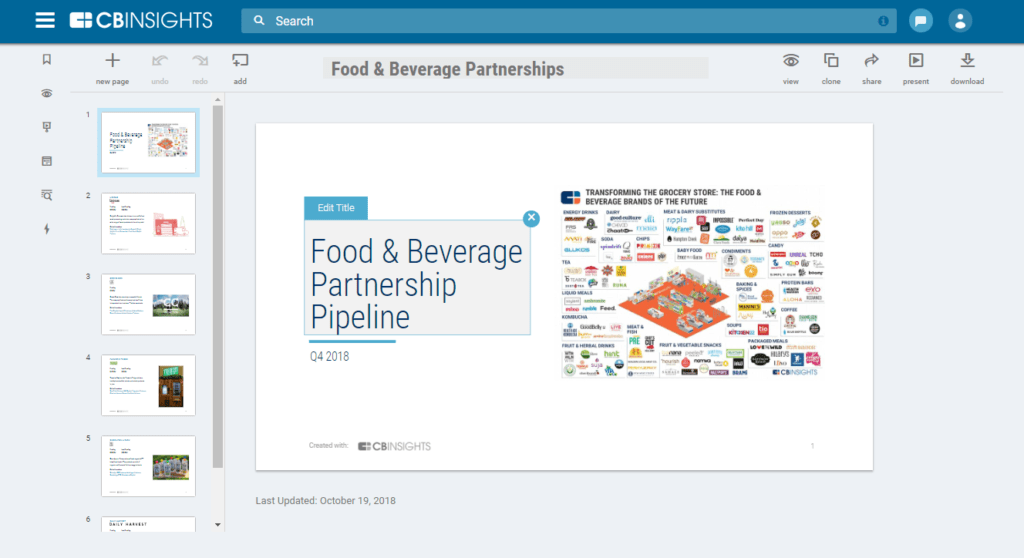 Make a compelling Story highlighting an emerging trend when your manager needs an urgent dossier, without crunching data for hours in Excel.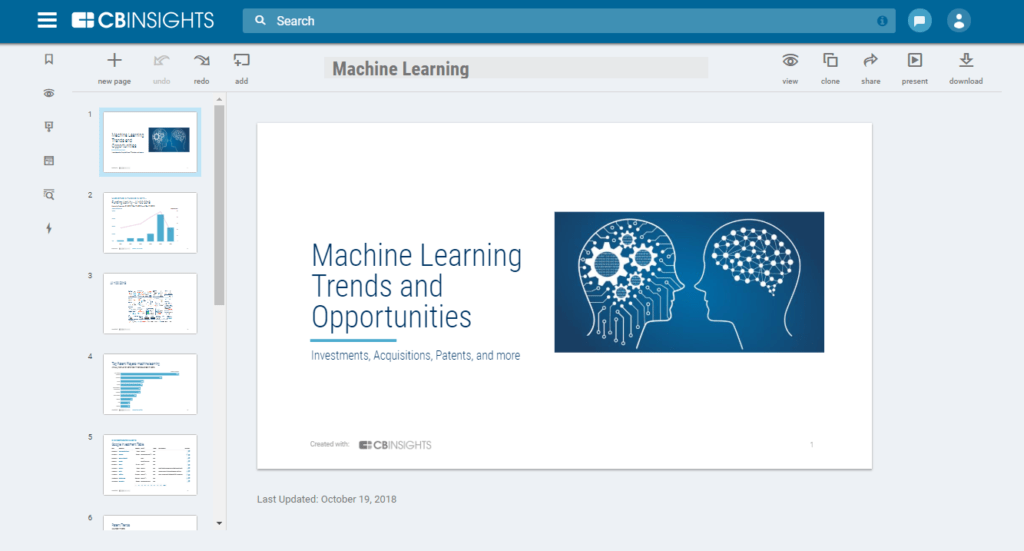 Refresh important data, charts, and graphs automatically
Stories keeps everything up-to-date for you so you can focus on communicating your greatest ideas.
Power your monthly reports with live data from CB Insights, avoiding tedious work and errors from manual updates.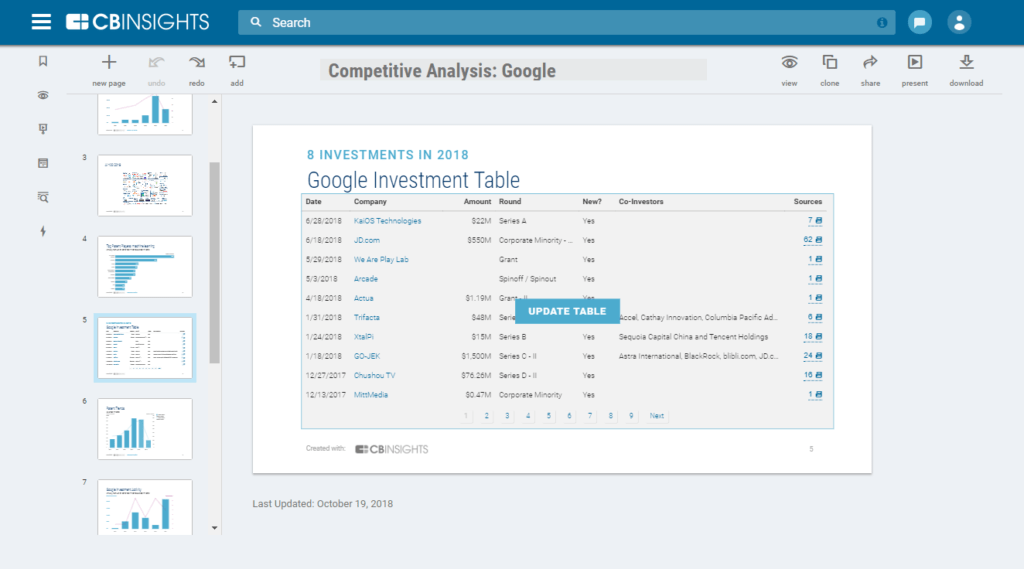 Pages in Stories are also interactive, even while in presentation mode.
Click logos on market maps to view CB Insights profile summaries.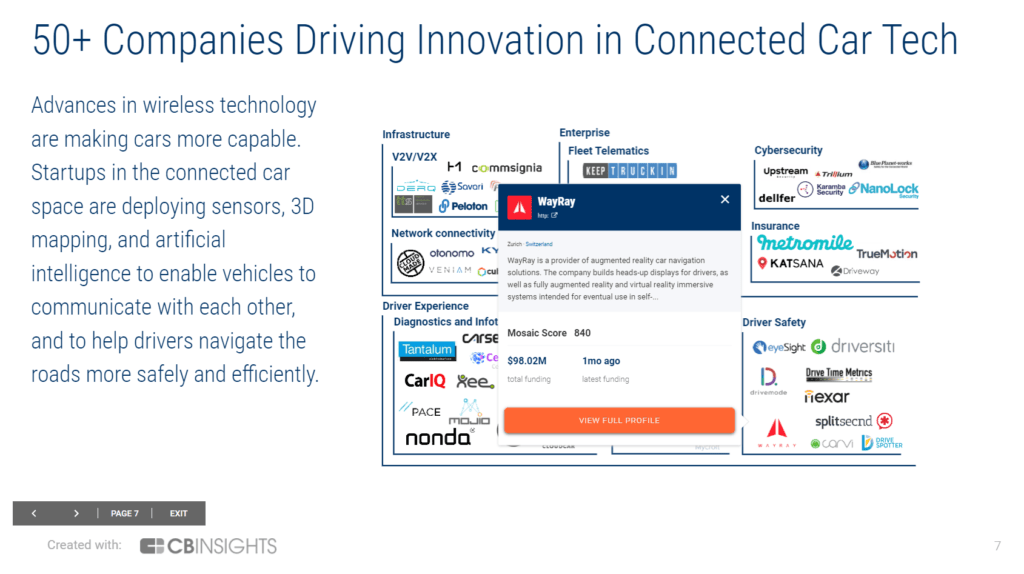 Hover over funding charts, patent word clouds, and more to view that data in more detail.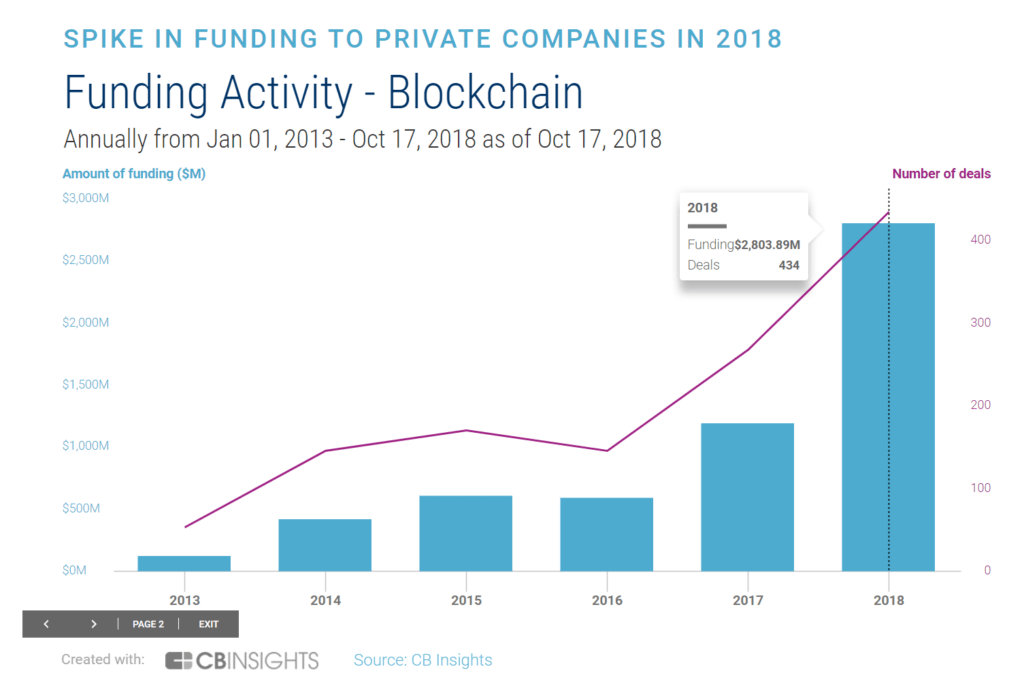 It's time to tell better stories
Watch the video below to learn more about using Stories to create beautiful, interactive, data-driven presentations:
If you are a client, Stories is now enabled on your account, so login and create your first Story with your team today. Reach out to your Customer Success Manager if any questions.
If you are not a client of CB Insights and are tired of tedious data janitorial work and manual slide design formatting, sign up for a free trial here to try Stories today.