In this short interview, Olivier Guillaumond shares how ING is rapidly transforming banking through fintech partnerships and investment in new technology.  

How does ING approach innovation and emerging technology?
The financial services industry is quickly evolving as customers now expect seamless, relevant, personalized, and instant mobile/digital services from their bank. This requires all players to look for innovative ways to stay ahead in order to offer their customers the best possible service.
Our approach starts with the customer, which is why ING has a dedicated fintech team to scout, test, and set up contracts with best-in-class companies. ING has more than 100 fintech partnerships around the world, and we continuously evaluate each partnership to ensure maximum impact. We're also continuously monitoring the emergence of new technology. For example, we have a specialized distributed ledger technology (DLT) team that is reviewing the activities in the digital asset/blockchain space.
Describe how you go about evaluating technology markets and/or companies.
Evaluation is done based on first understanding the customer and business needs and requirements, i.e., what are the actual problems we are trying to solve for. We then conduct due diligence with the relevant company/technology, which includes evaluating knock-out criteria such as data-sharing, compliance, or reputational risk. It is also important to have the internal risk and technology stakeholders onboard with the vision and a clear understanding of what is needed to implement.
Technology-wise, we have learned that to make partnerships effective, smart integration is key. Therefore, more and more, we are scouting for modular capabilities, instead of monolithic solutions. In the end, the company needs to make a positive impact so we always look at the business case and how it will bring value to our customers.
What's your go-to CB Insights tool?
Research Reports combined with Market Maps. When we start looking into a new topic for scouting, Research Reports provide a birds-eye view on any value space, with the key players, financing round figures, and peer activity. Coupled with Market Maps of the latest tech companies, we are able to quickly build a snapshot of any fintech landscape and prioritize innovation opportunities.
This allows us to initiate conversations with our business stakeholders and decision makers about their goals and challenges, how peers are tackling these, and which potential fintech partners could support us and how. It also gives us a forward looking view into every aspect of our business which helps us be quick and accurate when deciding where and how innovation should be prioritized at ING.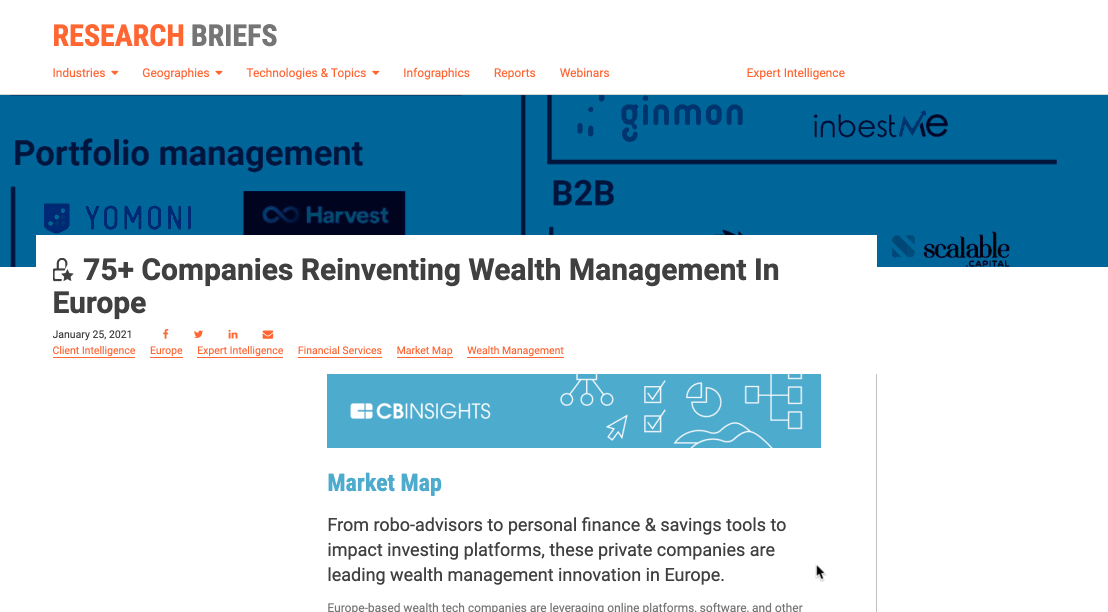 Where do you see your space going?
Financial services will continue to rapidly innovate with increased collaboration across big tech, fintech companies, and corporates/institutions in order to meet customer needs. This is continuing to disrupt the status quo and will move us into new ways of working, collaborating, etc.