The partnerships that organizations enter provide immense insight into where competitors, markets, and new technologies are going next. But that information has been messy and largely invisible — until now. Introducing Business Relationships on CB Insights.
Understanding business relationships among a set of healthcare companies provides immense corporate intelligence into a variety of key areas. At present, our clients are using it to:
Below, we will discuss each of these areas and also share how we acquire this data via two methods:
If you are a CBI client and want to learn more about our new healthcare business relationships data, please contact your CSM.
See competitor priorities, strategies, and areas of expansion

To execute their strategies and explore new markets, companies are regularly making build, buy, partner decisions. Increasingly, companies have realized that relationships with 3rd parties are valuable in acquiring resources, competencies, and technologies that can advance their strategic priorities and keep them ahead of the competition. In fact, exclusively building in-house is a strategy that organizations have realized is foolish.  
This is corroborated by the data. In a 10 year global study of 162 companies conducted by professors at Insead and University of Toronto's Rotman School of Management, researchers found "conclusively that firms using all the resource acquisition methods outperform those with a narrow approach."
With this migration away from exclusively building in-house, understanding the partnerships, alliances, JVs, licensing agreements, and vendors a competitor is using provides insight into their priorities.
Apple's shift toward clinical wearable applications

This past September, Apple dropped a bombshell, announcing that the Apple Watch Series 4 would include fall detection and an FDA-cleared ECG (Electrocardiography) sensor to record heart activity and identify irregular heart rhythm.
Three months later the ECG app on Apple Watch went live, marking the first direct-to-consumer product allowing customers to take an ECG directly from their wrist.
While this novel integration came as a shock to many, we can use business relationships data and patent filings to show that Apple's clinical wearables strategy had been in the works for years.
After initially filing a patent for conducting EKGs via a wearable device in 2016 (granted in August 2018), Apple began working with American Well and Stanford University in late 2017 to test smart watch heart monitoring capabilities.

Apple had been increasing their attention on clinical-focused wearable strategy for years by inking key partnerships with the likes of:
Aetna (2016)

— which recently merged with CVS to subsidize the purchase of Apple Watches and distribute watches to Aetna employees


Zimmer Biomet (2018

) — to track knee and hip replacement recovery, recording data accessible on mobile and Watch

Here, we see that Apple's shift toward clinical-grade wearables and data capture could be seen by watching its earlier patents and business relationships. (Note: Patent Analytics are also on CB Insights)
Assess traction of healthcare startups
While financing events can indicate momentum, they are episodic and infrequent. As a result, visibility into a company's partnership, vendor, and other business relationships provides a more dynamic view into a company's traction and even may highlight future financing activities.
A lack of business relationship momentum can be indicative of companies that are not gaining traction.  
An example where business relationships highlight traction and momentum is digital therapeutics startup Pear Therapeutics.
Founded in 2013, Pear used their Seed VC round from 5AM Ventures to begin building out their prescription drug therapeutics portfolio.
Pear formed initial relationships with Ehave and the National Space Biomedical Research Institute (NSBRI) established by NASA, picking up traction before securing a $20M Series A in 2016.
Using business relationships data from Pear's profile we can uncover additional relationships it developed in 2017 with prestigious educational institutions like Dartmouth College and Columbia University as well as government agencies such as the US Food & Drug Administration (FDA).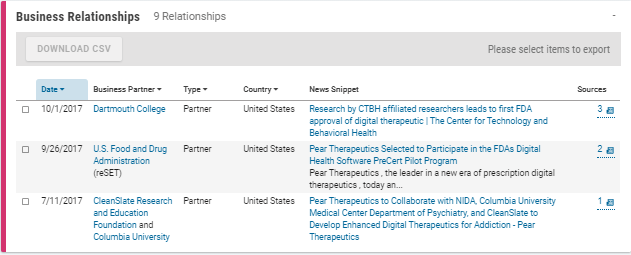 Pear joined the FDA's Digital Health Software Pre-Cert Pilot Program after becoming the first Prescription Digital Therapeutic (PDT) cleared with data demonstrating improved outcomes of abstinence and treatment retention in patients with Substance Use Disorder (SUD).
Following this milestone, Pear eventually secured a massive $50M Series B from investors like Temasek, EDBI, and Novartis, as seen below on the company's CB Insights profile.



Getting the attention of Novartis, specifically its Sandoz division, has been massive for Pear, which has gone on to form multiple partnerships with Novartis, the most recent resulting in the FDA clearance of Pear's smartphone app therapy for opioid use disorder.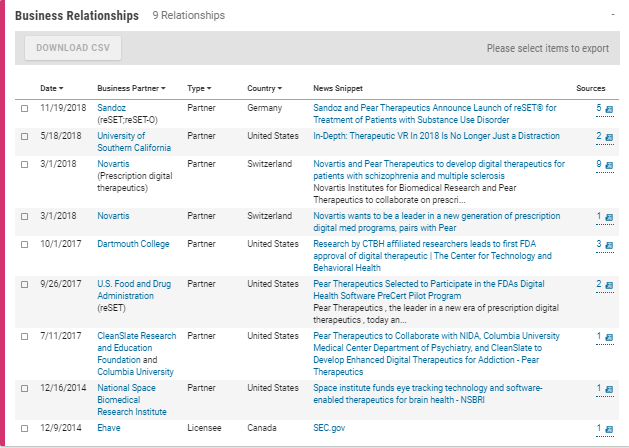 These relationships have not only bolstered Pear's product offerings, which continue to expand to new diseases, but have also helped it strategically position itself as a legitimate leader in prescription digital therapeutics, as evidenced by the quantity and diversity of the business relationships it's struck.
Riding this momentum, Pear raised a $64M Series C in January 2019, with Novartis also participating in the round. Beyond business relationships being a leading indicator of traction, the increasingly tight relationship with Novartis may also suggest future M&A interest from the firm if Pear's products continue to gain traction.
Pear's multiple relationships (partnerships, joint product development, and investment) with Novartis may serve as "social proof" for other pharma giants, signaling that it's a good, viable potential partner. However, it could also be the case that the tight link to a pharma competitor, Novartis, makes Pear an unsuitable partner, making finding other similar companies in the digital therapeutics space more desirable. In that case, some of the similar companies on the Pear Therapeutics profile that could be interesting include this one and this one.
Predict future M&A transactions

Prior business relationships, especially those to explore a new market, technology, or use case, can often lead to future M&A.
And so tracking business relationships closely may reveal future M&A activity.
We'll illustrate how below, with an example from Roche. But first, it's also interesting to note that prior relationships also suggest that M&A transactions between the firms tend to be at higher valuations.
In a study entitled "Prior Relationships and M&A Exit Valuations: A Set-Theoretic Approach," professors at Ryerson University in Toronto and the University of Manitoba in Winnipeg conducted an empirical investigation into the effects that prior relationships between buyer and target firm have on the purchase price paid. They found "that specific combinations of prior relationship type are positively associated with higher prices. These results suggest that relationships at different levels of analysis can act to mitigate information asymmetries in a value-creating manner and may provide practitioner guidance on strategies to increase value in M&A exits."
In other words, getting involved early on with companies that have pre-existing business relationships can give you more ROI in the long run, as their value will likely increase over time.
Below is a small case study of Roche, which ultimately acquired partners.
In June of last year pharma giant Roche acquired Foundation Medicine for $2.4B, greatly enhancing its personalized medicine strategy.
If we rewind the clock a few years, we can use the CB Insights platform to uncover Roche's multi-pronged strategy, shown below, starting in 2012 with an early Series B investment from Roche Ventures, followed by strategic partnerships and greater stakes in 2015 and 2018. Roche then completed the chain of events with an acquisition in summer 2018.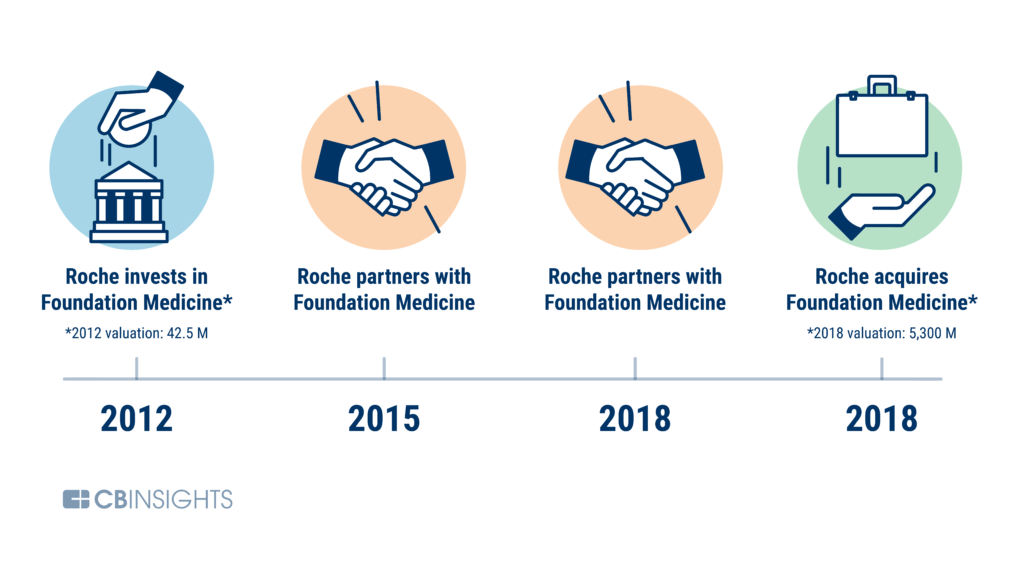 Pictured below you can see Roche's initial 2012 investment from venture arm Roche Venture Fund, both 2015 and 2018 partnerships, and finally, the Foundation Medicine acquisition — all from Roche's CB Insights profile, which brings together investments, M&A, business relationships, patents, and other datasets, enabling cross-data relationship identification.
Investment

Partnerships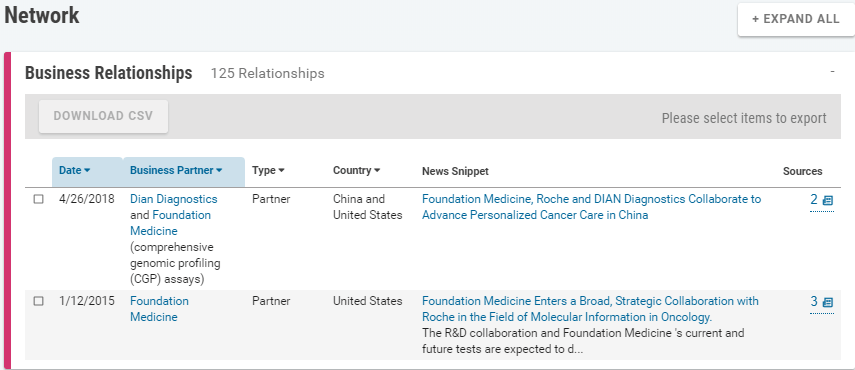 Acquisition

Roche took a similar approach with diabetes management startup MySugr, starting with a Roche Venture investment in 2015, strategic integration partnership in 2016, then acquisition in mid-2017, making mySugr the core of Roche's digital diabetes management strategy.
Investment

Partnership

Acquisition

As the above illustrate, tracking Roche's partnerships provides a view into its future M&A pipeline, as is the case for many corporations.
Understand future healthcare industry trends
When we see healthcare company business relationships coalescing around a new technology or business model, especially a nascent one, it can reveal healthcare trends worth paying attention to. Conversely, some hyped up trends see little in the way of substantive business relationships, suggesting they may not actually be gaining steam.
An example of an area within healthcare where we're seeing heightened interest based on business relationships is neoantigen vaccines.
Neoantigens are proteins found only in cancer cells that scientists are working to flag for a patient's immune system, so that the immune system will attack those cells and leave healthy cells alone.
The business relationships in the neoantigen vaccine area highlight increased interest in this area by pharma giants, which are teaming up with startups at an increasing pace. Pharma players making moves in the space as revealed by their business relationships include:
Merck

Amgen

Bristol-Myers Squibb

Sanofi
And we can see what each has done in the business relationships section of their profiles.
Merck has made the most bets thus far on the viability of neoantigen vaccines, with ongoing partnerships with 3 neoantigen companies.
In fact, it's formed multiple relationships with Moderna Therapeutics alone, starting with a 2015 strategic agreement that recently expanded to include other products, as seen below.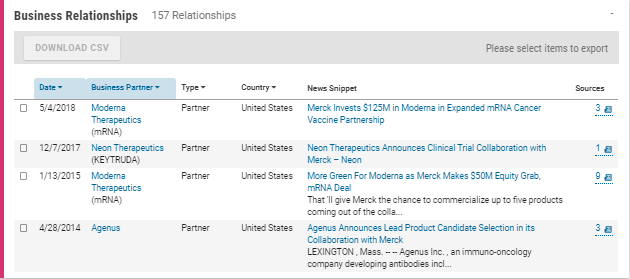 Amgen has doubled down on Advaxis with both a license and partnership.

Bristol-Myers Squibb has formed separate partnerships with Neon Therapeutics and Gritstone Oncology.

And Sanofi formed a licensing agreement with BioNTech back in 2015.

The clustering of business relationships in this specific area identifies neoantigens as an emerging industry trend worth watching, and one where there is real interest, as we discussed in this research brief.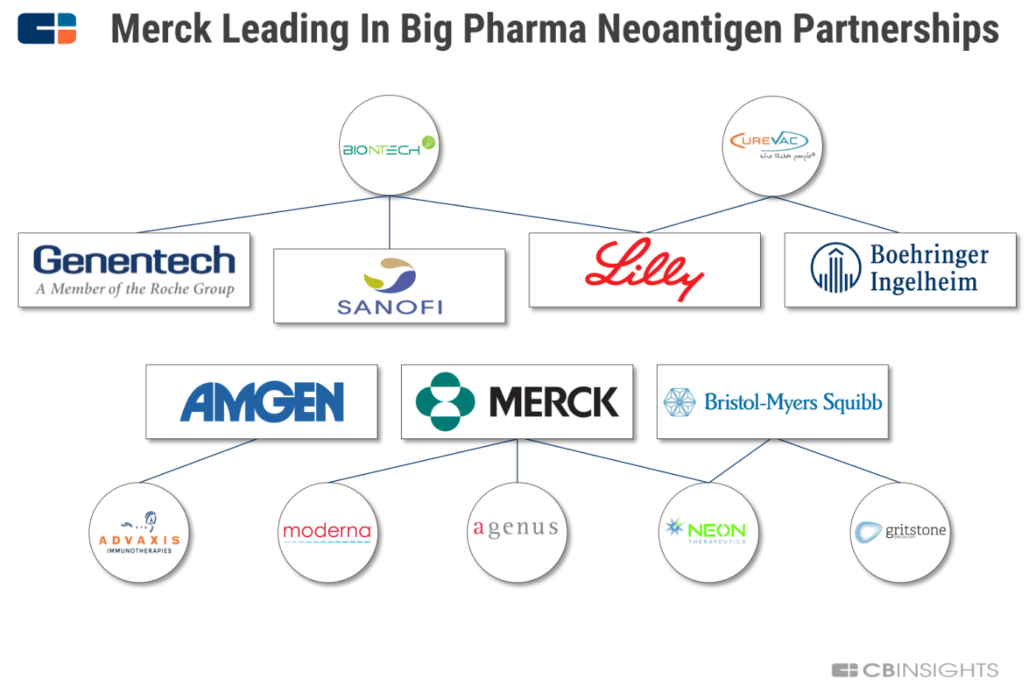 Analyze vendor health & relationships for supply chain decisions
From a supply chain and vendor due diligence perspective, healthcare business relationships can provide valuable insight.
In some instances (as we discussed in the Pear Therapeutics example above), existing relationships with competitive peers or similar-sized companies may create a quick filter that suggests viability of a company or its technology.  
At other times, especially on something highly strategic or proprietary, you may want a partner or vendor who hasn't worked with your peers, in order to secure a competitive advantage.
Understanding the web of healthcare business relationships can help you do both. And by combining Business Relationships data with other signals on CB Insights, you can get a holistic view of a company's health. These other signals include:
Investment and financing history (individually and vs. peers)

Mosaic score

— This is our National Science Foundation-backed score for private company health

Media chatter
For example, let's say your team surfaces Sharecare, an online health and wellness engagement platform you're assessing as a potential vendor.
You want to quickly understand:
Who has invested in the company?

Who has the company worked or partnered with in the past?

How healthy is the company?
On the Sharecare CB Insights profile (below), you can toggle between important health signals like Fundings, Business Relationships, and Mosaic score (note: a score over 900 is a very good sign, as Mosaic scores are out of 1000).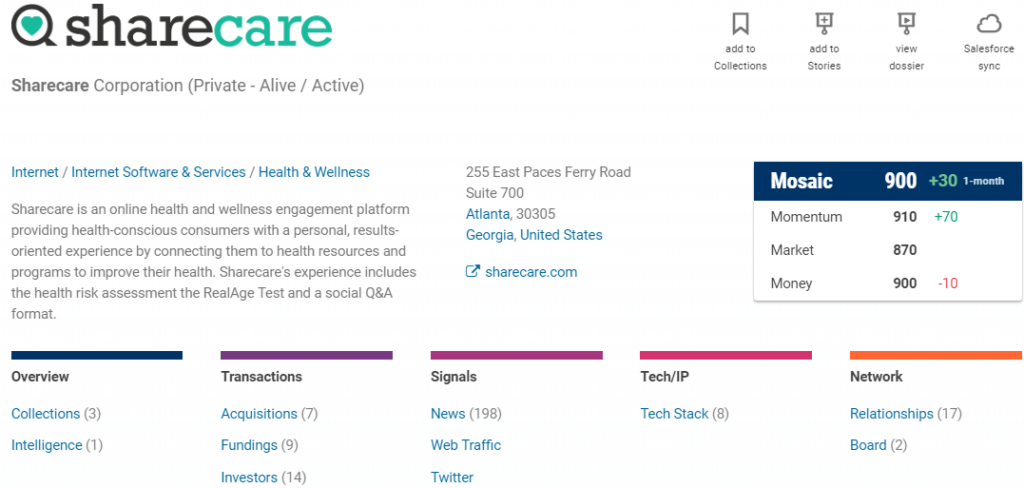 If we unpack Sharecare's business relationships, it becomes apparent it's been collaborating with big names like CVS Health, Walmart, Blue Cross and Blue Shield, and Emory Healthcare on everything from providing access to Sharecare's personalized mobile and web-based platform to offering digital pharmacy saving cards, as seen below.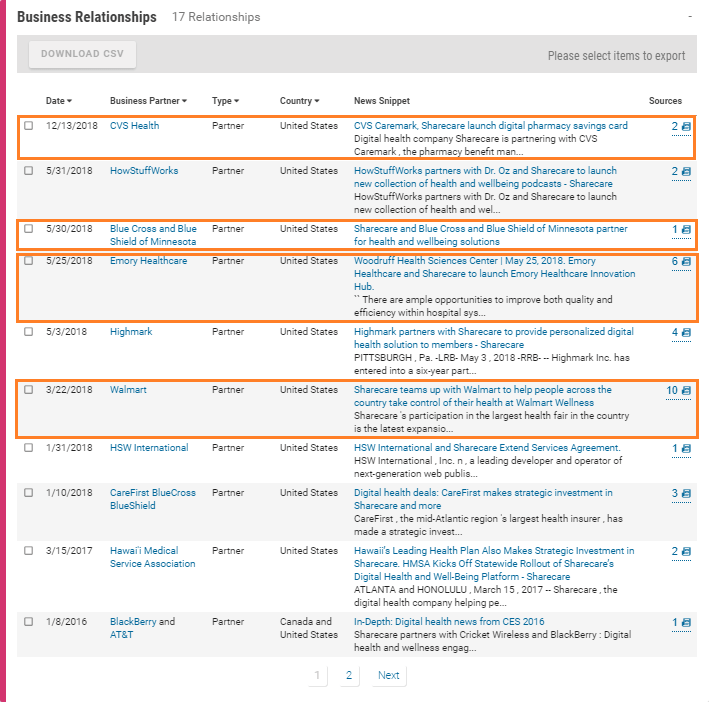 These relationships, along with the aforementioned signals, give you a complete view into the health of the company, as well as of any existing relationships that might present challenges for you in working with a potential partner or vendor.
Armed with the Business Relationships tool, the normally laborious process of narrowing a potential partners or vendors to a shortlist should become infinitely easier.
We will dig into how we acquire healthcare business relationship information below.
If you're a CB Insights client and want to learn more about our new healthcare business relationships data, reach out to your Customer Success Manager with any questions.

If you are not a client and want to understand potential partners, competitor strategy, and emerging healthcare trends faster and better, sign up for a free trial here.
How do we acquire healthcare business relationship data?
We acquire this data in much the same way we acquire most data on CB Insights.  
Part of it is user submitted, i.e. companies submit their business relationship data to us via The Editor.
And the other part is technology-driven. As background, we think of companies as organisms that have various life events. Those events include financings, exits, media mentions, and executive hires and departures, as well as the striking of business relationships.
When a company has a life event, they usually leave a "breadcrumb" of this event.  Sometimes, the event might just be the addition of their logo to an investor's website or a press release or blog post on their own website, and in some cases, these events garner media attention.  
Our goal is to follow those breadcrumbs.
In the case of business relationships, usually, this information resides in an unstructured format in the form of a sentence or two within news articles, press releases, or other textual data on the business' website.
Utilizing natural language processing and machine learning, we've built technology to detect these life events and extract useful information from them.
In essence, our system:
Gathers data by crawling relevant websites and news articles

Classifies these sources into various life events including business relationships (along with M&A, investment, hiring, etc.)

Extracts structured data appropriately based on the life event; for example, for business relationships, it has learned patterns to identify partner names, dates, relevant article snippets, etc.
In order to improve our machine learning models for the classifier and extraction capabilities over time, we have created ways to collect user input on business relationship classification and extraction (screenshot below). The feedback from this tool is used to improve the underlying algorithm over time.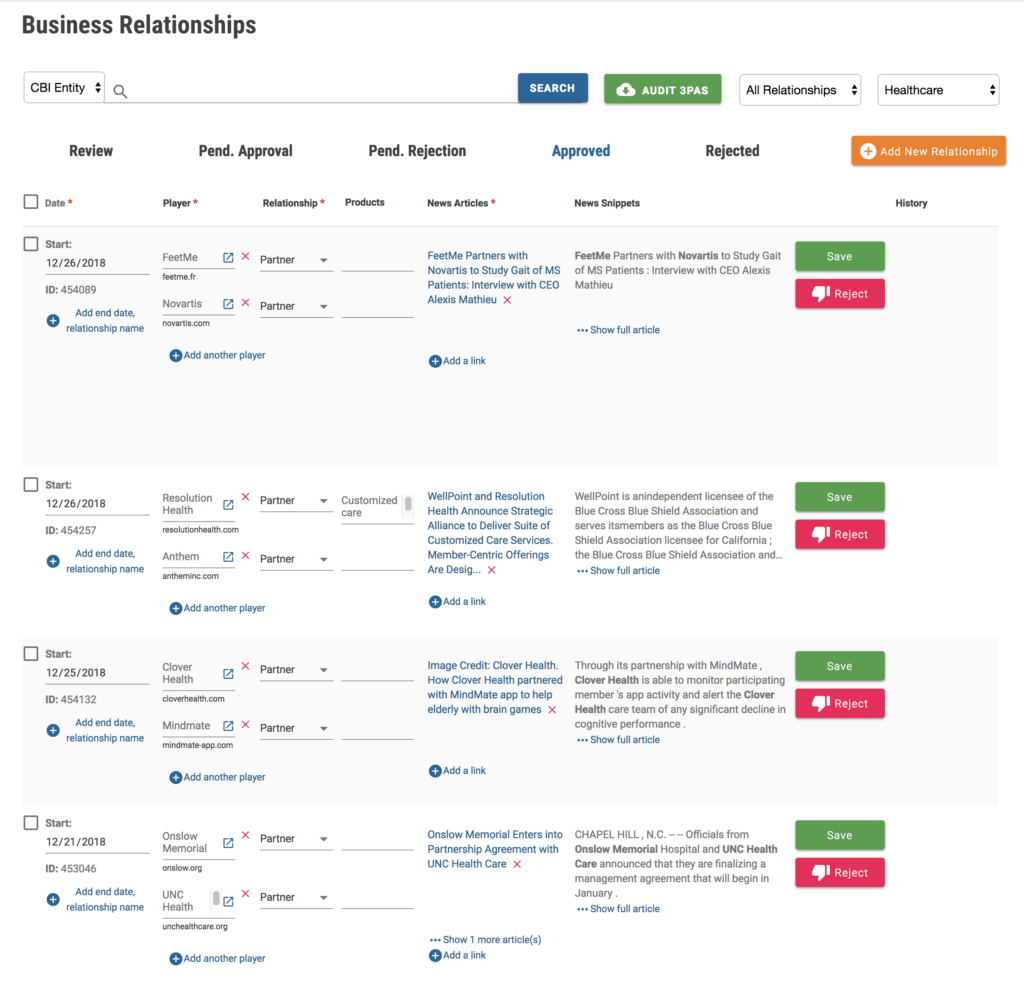 If you'd like to learn more, we discussed our ability to acquire company-submitted data and perform complex algorithmic data extraction at length in this post on CB Insights' data flywheel, aka data network effects.