Projects included a new kind of podcast, the Dewey Decimal System for dealmaking, Collections onboarding, and more.
At CB Insights, one of our mottos is "experiment to win."
It's a value we embraced at our first Hack Day in 2016. And we're happy to say that, even as we've grown, we've held onto that spirit of experimentation — as shown by our 6th Hack Day, held earlier this month.
So what exactly is Hack Day?
Very simply, 4 times a year employees have 24 hours to work on anything they want.
At the end of the 24-hour period, teams present their projects to the rest of the company, and we all vote on the most impressive, most useful, and most creative projects.
This time around, we found that a lot of our projects focused on 3 main categories: improving our clients experience, helping CBI'ers increase our tech-world savvy, and buildling our (happy, helpful, humble, and hungry) company culture.
Read on to see what we dreamed up in 24 pizza-fueled hours.
Improving our clients' experience
Many of our Hack Day projects centered on improving the platform for our clients, whether by making it easier to navigate, keeping our podcasts fresh, or keeping account managers in the loop when their clients are mentioned in the news.
A more helpful Help Center
Team: Marketing
Project: Toby and Julia gave our Help Center a serious revamp, so clients have an easy place to find answers to FAQs and can contact CB Insights with additional questions.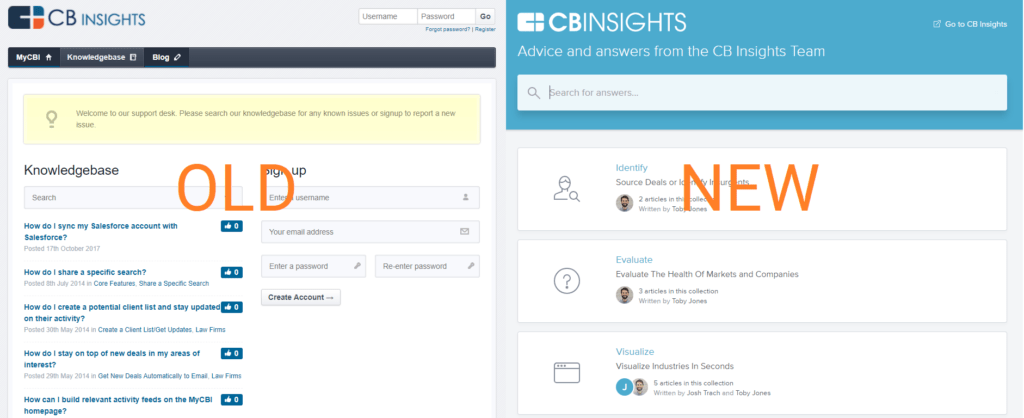 In addition to giving the Help Center a sleeker, more intuitive look, Toby and Julia added new content about how to make the most of the CB Insights platform, offering simple explainers on topics like how to use our Top Search function, evaluating market health, visualizing industries, and more.
Podcasts with analyst commentary
Team: Intelligence Unit & Events
Project: The CB Insights podcast, A Conversation With…, features conversations with leading innovators, executives, and investors in the tech world.
With Future of Fintech 2018 just around the corner (June 19 — 21), Drew and Lindsay decided to update one of our previous podcasts, a conversation with Robinhood co-founder and co-CEO, Vladimir Tenev, to make our podcast content more relevant and insightful for our listeners.
Lindsay gave updates on Robinhood, such as its latest funding, launch of a crypto exchange (something Tenev hinted at in the original podcast), customer growth, and more. She also offered more context on the industry at large, and hinted at what we should watch for when we host Tenev at our next Future of Fintech conference.

(Since Hack Day, we've updated two more podcasts with analyst commentary. You can check out our interview with Kristo Käärmann, CEO of Transferwise, here, as well as an interview with Othman Laraki, co-founder and CEO of Color Genomics, here.)
Client news mention alerts
Team: Engineering & Business Development
Project: To make sure we're offering our clients the most relevent and tailored tools we can, we like to stay up-to-date on what they're up to.
One way we do this is by tracking news mentions. For Hack Day, Amit and Ryan created a system to automatically notify our account owners when one of their contacts is mentioned in the news.
To find mentions of clients, they looked at news articles to identify proper nouns in articles using a part-of-speech tagger. Using this information along with data we already have about what companies are being mentioned in the news, they were able to match names and companies.
Then, using the Salesforce Process Builder, Amit and Ryan set up a system that sends an alert to the account/lead owner for a particular person.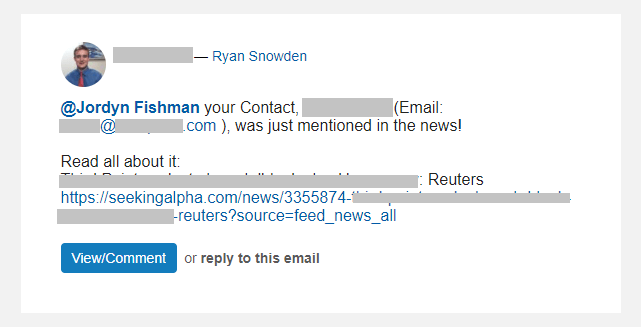 For the teams list, we maintain a historical list of all articles that have mentioned an individual as well.
(Note that we're collecting huge amounts of data here. For more on our data collection strategy, check out The Cruncher.)
Introduction to collections
Team: Business Development
Project: Collections are one of our platform's most powerful tools. They allow users to learn more about industries. They can use collections we've created (everything from AI in Healthcare to Oil & Gas Tech to Groceries), or create their own that they can share and analyze with their teammates.
To help clients make the most of this tool, Rob created a user-friendly collections onboarding process.
The program prompts users to enter information like their name, job function, and topics they're interested in:

Based on this information, the program then searches for companies the client may be interested in putting into a new collection.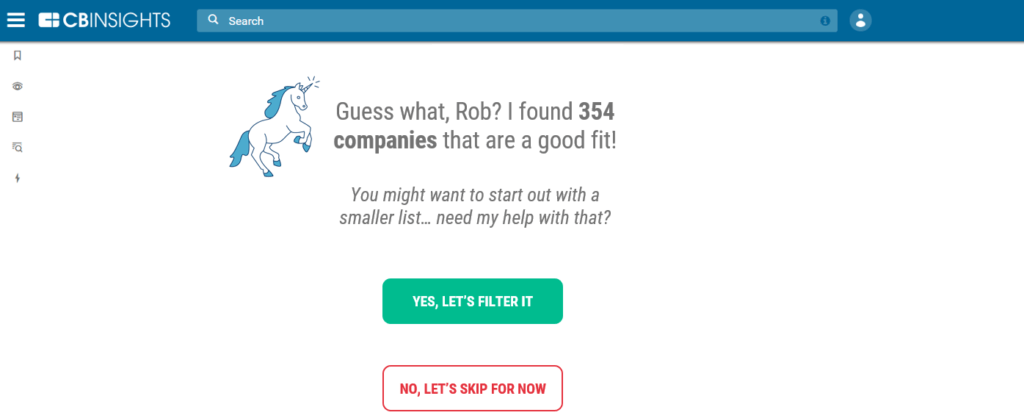 From here, users are prompted to narrow results based on company location or funding round. When their final collection of companies is complete, they can name the collection, and invite teammates to view and collaborate on it.
Boosting our industry knowledge
A handful of projects focused on the tech industry at large, from new ways of parsing public data to a new system for numbering private deals.
The Uknow game: Learning more about the startup space 
Team: Engineering
Project: Inspired by Microsoft's Semantris, a word association game powered by machine learning, Shisi, Yunfei, and Prakash put together a game to help players test their private company knowledge.
Their game, Uknow, asks users to choose a domain:
And then select the most relevant tags for companies in that domain: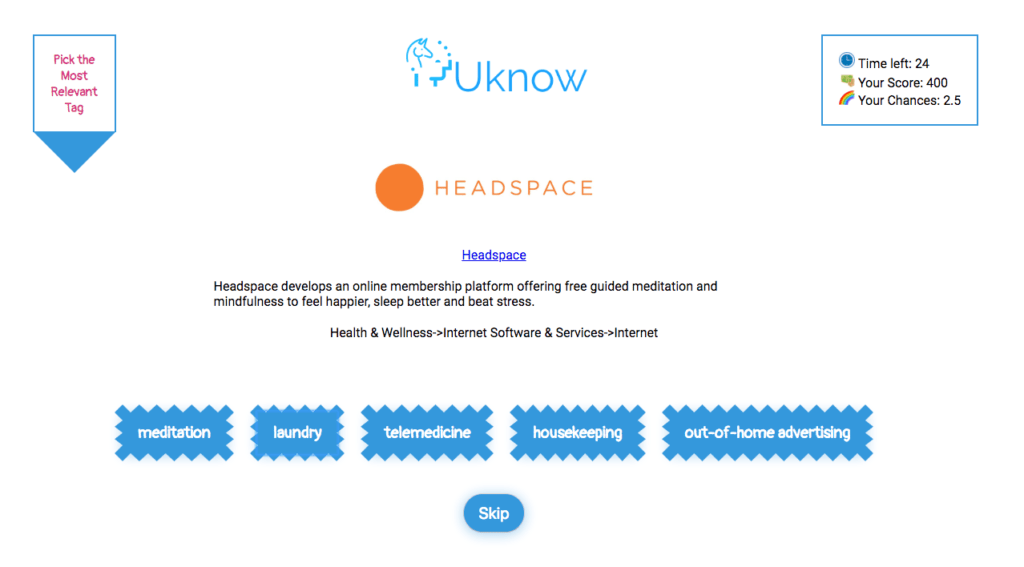 Uknow also serves a second purpose. Our engineering team has been working on a Tag Recommendation function, that uses an algorithm to assign hashtags to companies on our platform. They will now be able to use player records as feedback to improve this algorithm.
Spot the difference: MD&A in 10-K filings
Team: Engineering
Project: With earnings transcript analytics and public company data launching on our platform earlier this year, Alex looked at an important dataset for public companies: 10-Ks.
Specifically, he decided to look at the Management Discussions & Analytics (MD&A) sections in companies' 10-Ks, and created a program that compares current and past documents (highlighting new information in green, and deleted information in red) in order to see how a company's strategy is changing over time.
This tool allowed Alex to track trends over time, like Netflix's decreasing focus on DVD and increased focus on "Cloud" among the 14 biggest tech companies.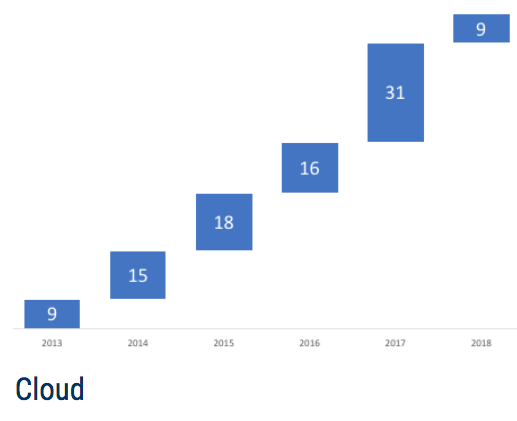 Project Decimate: the Dewey decimal system for private deals
Team: Customer Success
Project: Adi brought his background as an attorney into his Hack Day project.
In law, Adi was exposed to a lot of government systems (dockets, SEC filings, etc.) with specific numbering systems. He also noticed some private companies had their own nomenclature for categorizing information, and that doing so generated a "stickiness" for that companies' products.
With this in mind, Adi decided to create a new Dewey Decimal System-esque nomenclature for organizing private deals. His system included information like region, industry, subindustry, involved companies, and a specific identification number to distinguish deals from one another.
"One thing I really like about Hack Day is that you can go as broad or incredibly narrow with problem solving as you want, without any pressure." — Adi, Customer Success
Building our company culture
Finally, some of our projects focused on helping us get to know each other better, or were just plain fun.
Know Thy Neighbor update
Team: Engineering
Project: Julien has been working on the Know They Neighbor game/database to help us learn more about our colleagues for a few Hack Days now.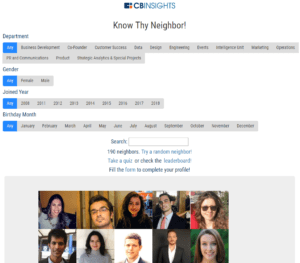 Updates from this latest Hack Day include the ability to sort through employee profiles by team, start date, and birthday month. Julien also added in important "About Me" info to employee profiles, like hometowns, favorite artists, and French fry preferences.
We've learned many important things from these profiles, like that Jonathan used to collect "napkins, as a kid," and if Anna were an Olympian, her event would be "standing over the kitchen sink at the end of the day, trying to drink all the water I forgot to drink during the day."
The coffee suggestion engine 
Team: Engineering
Project: At CB Insights, we take our coffee pretty seriously.
And because we're located in midtown Manhattan, we have countless options for where to go to grab a cup of joe.
Enter the coffee suggestion engine, built by Joel in engineering.
The engine looks at weather conditions like temperature, humidity, and air quality to create a weather score. The weather score then determines the radius of the search area for nearby coffee shops.
Sunshine and blue skies? Why not walk a few blocks to stretch your legs. Torrential downpour? Better stick to the cafe downstairs.
Are you interested in working for a company that values experimentation and real-time data-determined coffee recommendations? We're hiring.