Two leaders in CB Insights' Engineering department share what makes our startup one of tech's best places to work.
Bootstrapping is built-in to CB Insights' DNA. So even now — with a staff of 160+ — we still see our customers as investors.
To provide those customers with the highest ROI, we're committed to delivering the most valuable product in the entire intelligence industry.
Our talented engineering team makes that happen. From building new tools, features, and data feeds into the CBI platform to making our database architecture faster and more efficient, our experienced software engineers turn our product roadmaps into reality.
For engineers looking to make a direct impact on business goals and feel valued on the job from Day 1, our "startup for grownups" has a lot of advantages over the corporate scene.
As two of our senior engineers — Kanish Patel and Luigi Kapaj — explain below, our employee-friendly culture and commitment to constant improvement make CBI a standout workplace. Read on to learn why CB Insights is one of tech's top places to work as a software developer, and check out our open roles here.
Meet two master engineers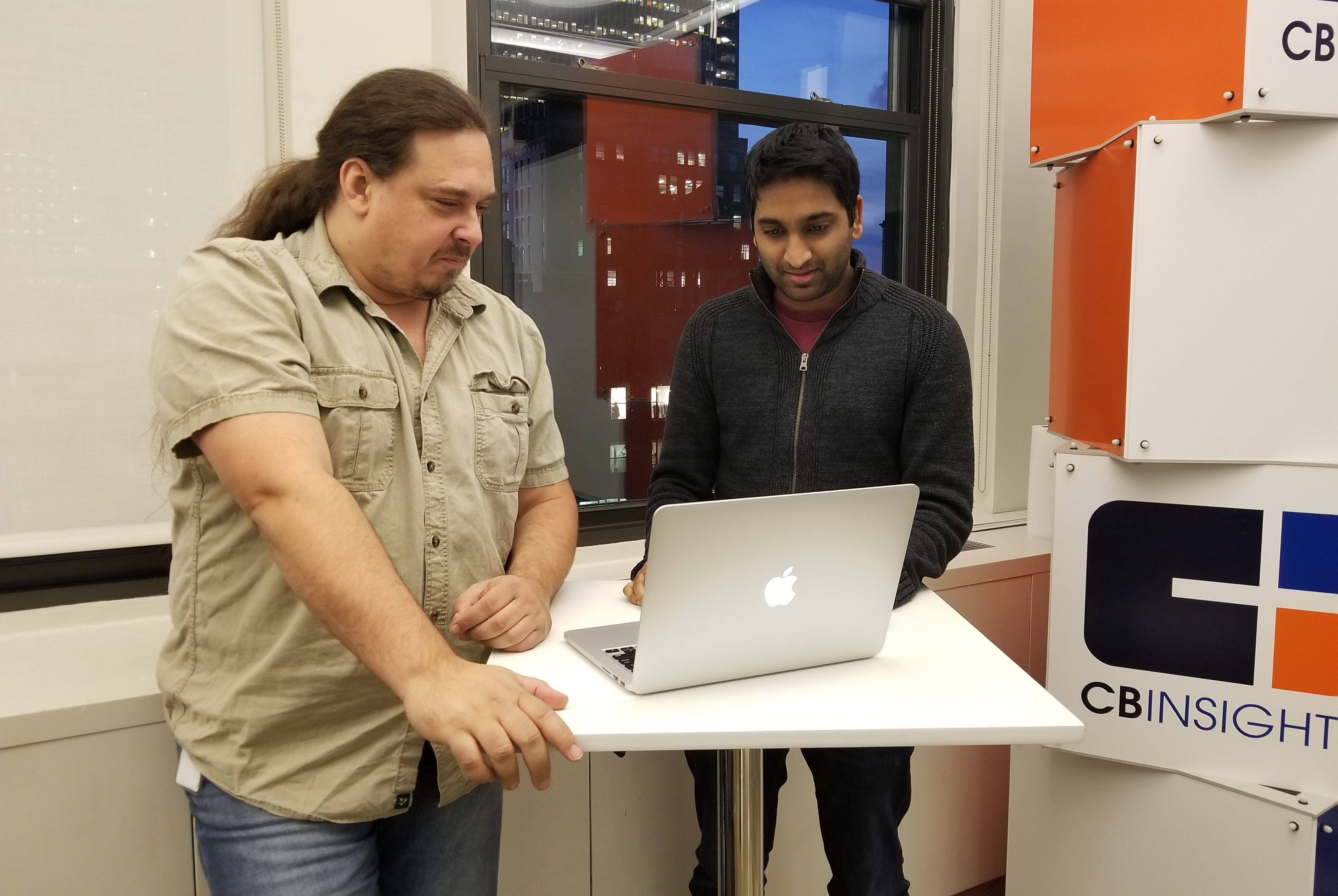 Luigi (at left) and Kanish (at right) work on different teams inside our Engineering function, and came to CBI with very different backgrounds.
Senior Software Engineer Luigi Kapaj has 25 years of experience building products for clients as varied as the Department of Defense and The New York Times. He works on the back-end of the CBI platform on team Can Not Reproduce — which (as Luigi says) "should give you an idea of the sense of humor around here."
As Lead Software Engineer, Kanish Patel leads the BIO team — which develops the CBI Research Portal and creates internal tools to improve our development workflows. He previously worked on web development and production projects for over 10 years in the marketing and advertising industry.
Why come to CBI?
Like most talented and experienced engineers, Kanish and Luigi had plenty of options for working at startups and established companies alike.
But VC-backed startups can be a gamble, which made CB Insights a unique, best-of-both-worlds opportunity: The fun, ambitious spirit of a startup with the business sense and stability of a company with far more history.
Engineers at CBI solve exciting industry problems, but they know our approach prioritizes revenue results, data quality, and product value over endless iteration.
Luigi: As much as I enjoy small company environments, I have a family and a mortgage (and generally hate job searching) so needed some level of stability. CB Insights has a solid business model and reputation, and solid finances as well. A safe bet with a promising future.
Kanish: The data science is what got me. All the work that goes into bringing the data into the platform is very impressive.
No-BS recruiting process
For top engineers, interviewing processes are often formulaic and frustrating: Corporate employers often assign prospective hires programming tasks to assess their skills, but throw in "gotcha" questions that engineers can't pass unless they know specific algorithms.
That dysfunctional approach can eliminate even a top-tier candidate on a rogue technicality. But it's not the way CB Insights operates. Luigi says that when he met the engineers at CB Insights, it was different.
Luigi: The initial screens were normal skill-level tasks, but the in-person interviews showed me this was a company full of bright and thoughtful people. They asked open-ended questions that had no singular "gotcha" answers, allowing me to demonstrate how I approach and solve problems.
Know how your work helps
Once they make the team, our engineers understand exactly how their efforts benefit the business. From enhancing platform functionality to streamlining workflows, CB Insights is committed to continually improving processes and systems on both the front end and back end.
As a SaaS startup with bootstrapped beginnings, we also understand how engineers work (and know what initiatives can help them do better).
Kanish: My team built the service templates being used by the other engineering teams. We put a lot of effort into ensuring that other engineers can focus on writing code for their service without having to worry about generic things like logging, database access, monitoring, or deployment.
Own architecture through implementation
Our company-wide commitment to helping (along with three other "Hs" you can read about here) means that from the moment our engineers kick off a project, they start receiving support and feedback from managers and colleagues.
The strength of the feedback loop allows CBI to give our software developers a strong sense of ownership with their work — which can be much tougher to get from a corporate employer.
From their earliest days here, our engineers get to contribute ideas and have their voices heard. And they take pride in seeing their projects through, from inception to launch.
Luigi: The Collections feed was my first big project here, and I was involved from the ground up — from architecting the project to implementing some core components. Most important was how much my input was valued, as well as the helpful feedback I got from my colleagues.
Access to C-level executives
CBI's commitment to building the intelligence industry's best platform starts at the top.
Our C-suite leaders founded the business on the principle that data is better than opinion, so they value high-quality data science and engineering excellence in every company objective.
That respect for the value of software development trickles down through the whole company. But even at 160+ employees strong, our senior executives still get their hands dirty — working closely with the development teams on priority initiatives.
Kanish: I'm looking forward to reworking some of our existing data architecture to make it more efficient and reduce data replication. Unlike at a big company, I'll have access to the top level of management as I lead the project; our co-founders Jon and Anand are very approachable and easy to talk to.
New technologies, endless learning
Growth and professional development are also core to CB Insights' ethos. Even for experienced engineers, educational opportunities abound at CBI: Kanish, for one, says he's learned a lot about containerizing in Docker, and how to implement service affinity well.
The learning opportunities extend to our tools, systems, and coding languages too. In addition to Docker/AWS, our engineers use Python, Consul, MySQL, Redis, React, and Go. Working with so many new and emerging tools helps our team members keep their skills sharp and at the forefront of where the engineering field is headed.
Plus, the continual improvement of our platform means there's no risk of getting bored.
Luigi: I love a challenge. Sometimes it's a personal one, like learning a new technology (or seven) for a task. Other times it's about creating something original or solving a problem. There is a thrill to doing something you did not know how to do before, and I get to do that here at CBI.
Culture is the key
With dozens of experienced engineers like Luigi and Kanish on the CB Insights team, there's no shortage of skilled computer scientists for our incoming developers to learn from.
That differs from plenty of other tech companies that often recruit engineers mainly on brand power (rather than on the strength of their data science, SaaS product, or business momentum).
And as CB Insights' engineers learn and accomplish tasks, their achievements are recognized and appreciated by coworkers and managers alike.
In fact, that's true across our entire company of 160+ employees and counting.
Kanish: Across the board, the team (not just engineering) is super smart and helpful. And the company events are lots of fun, and happen often.
Luigi: These are the type of people an engineer dreams of working with. CB Insights is a good company with good people.
If this sounds like the scene you're seeking for your next engineering role, check out open positions here and learn more about CBI's culture here.
---