Consumers are putting increasing pressure on CPG companies to reduce plastic waste. We look at the alternative packaging approaches gaining traction with brands and retailers. 
Efforts to improve sustainability are changing packaging.
More than 70% of consumers globally want companies to use more environmentally-friendly packaging, according to a Shopify report. CPG and retail leaders — including Nestle, Ulta, and Pepsi — are responding, with executive discussion of sustainable packaging on earnings calls soaring to all-time highs in 2021.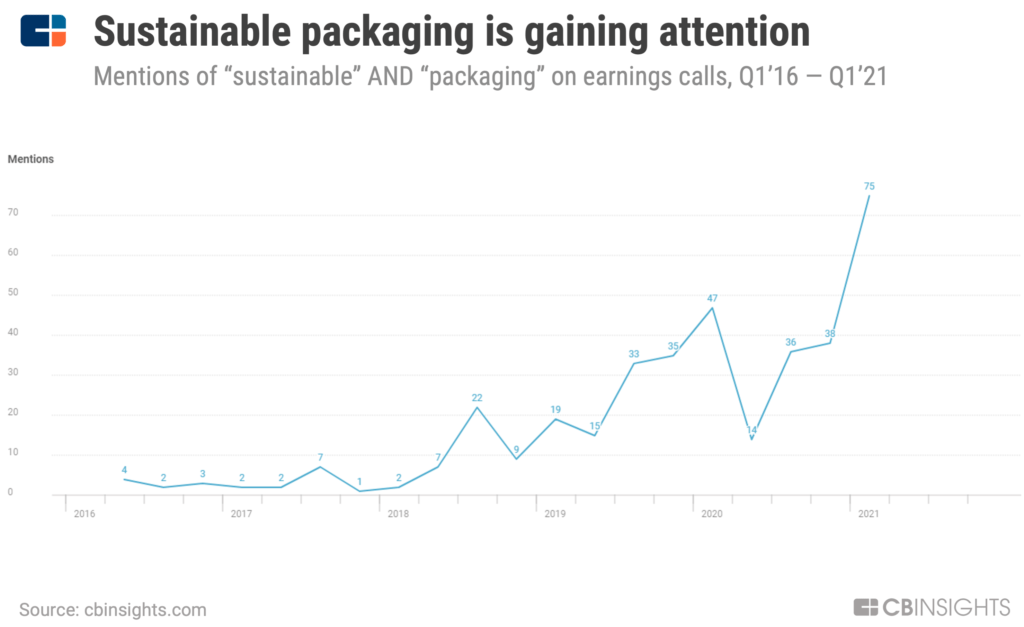 In these discussions, companies such as Henkel, Pernod Ricard, and Beiersdorf AG have identified a need to reduce single-use plastics in order to reach their sustainability targets. For instance, Henkel is transitioning its packaging to recycled plastics, reaching the benchmark of 50% of its products in 2020 — which translates into about 400M bottles made of 100% recycled plastics.  
There are 3 broad alternatives to conventional "virgin plastic" — plastic freshly produced from raw materials like petrochemicals — gaining traction for packaging: recycled plastics, biodegradable plastics, and paper and fiber-based packaging. These materials are set to take center stage in efforts to reduce the environmental impact of single-use packaging and help CPG companies better meet consumer demands.
KEY TAKEAWAYS
Among plastic packaging alternatives, rPET (recycled polyethylene terephthalate) packaging currently has the most traction,

with corporates like

Danone

,

Unilever

, and

Coca-Cola

adopting this material

.

rPET's key advantage is that the material can substitute conventional PET,  a plastic commonly used to make plastic bottles, without having to invest in new packaging equipment. 

Biodegradable plastics and paper and fiber-based materials are also gaining momentum, particularly in the food and beverage industry.

These materials typically break down in months, and improved versions of these materials are emerging that can better handle heat, abrasion, and water for retail use.

Capacity is below demand for plastic packaging alternatives. To help bridge this supply gap, corporations are partnering with startups to test new materials and production processes. Innovations like depolymerization could also help boost manufacturing capacities.