As customers expect more sustainability efforts from retailers, corporates and startups are leveraging blockchain, AI, and biotechnology to increase transparency and reduce the environmental impact of retail supply chains.
Supply chain sustainability is making headlines.
Walmart recently announced its plans to eliminate all waste to landfills for its operations in the US, Canada, Japan, and the UK by 2025.
Earlier this month, Levi Strauss released its goal to curb greenhouse gas emissions by 90% in the next seven years.
Moreover, news discussion of sustainable retail supply chains has grown considerably.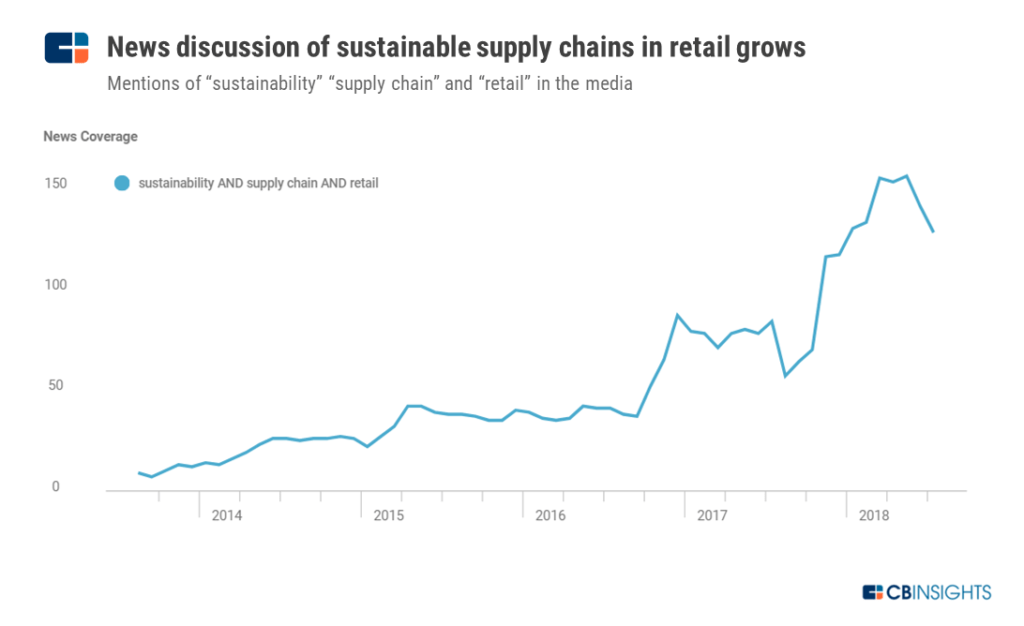 Over 63% of consumers expect companies to drive social and environmental change, according to a 2017 study by Cone Communications. Many larger retailers are making their supply chains more sustainable to boost public perception of their brands, cut out unnecessary operational costs, and ultimately benefit their bottom lines.
Luckily for these retailers, tech corporates and startups are offering sustainability solutions at many stages along the global trade supply chain — leveraging technologies like blockchain, AI, and biodegradable packaging.
In this brief, we explore some of these innovations, what stages of the supply chain they effect, and why it matters to retailers.