As consumers increasingly demand sustainability from brands, corporates are looking to make their supply chains more environmentally friendly.
Interest in sustainable supply chains is on the rise.
Media mentions of supply chain and sustainability have seen a steady increase since 2014.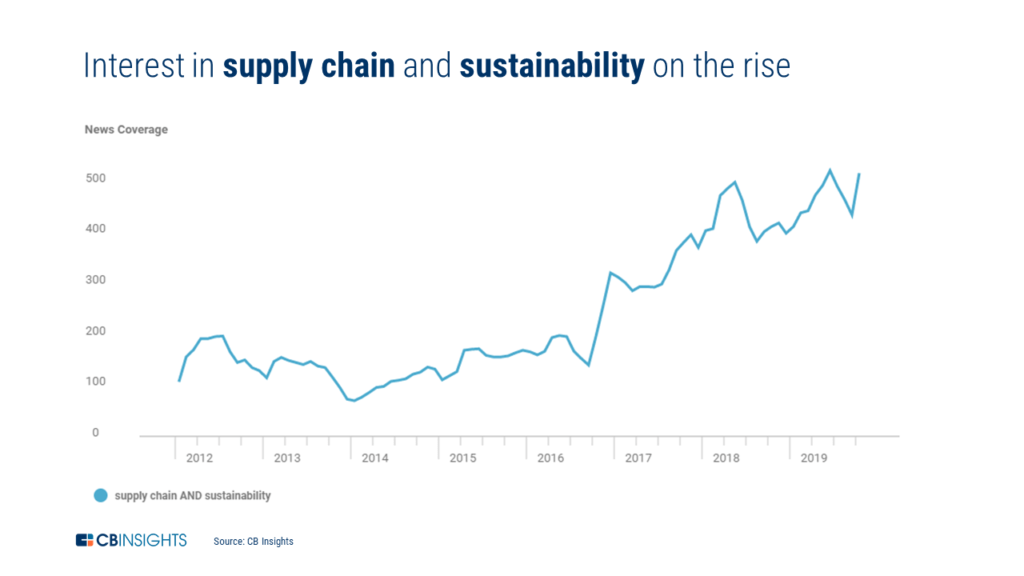 Moreover, CB Insights's corporate earnings calls transcript data shows that companies are focusing more on these topics as well.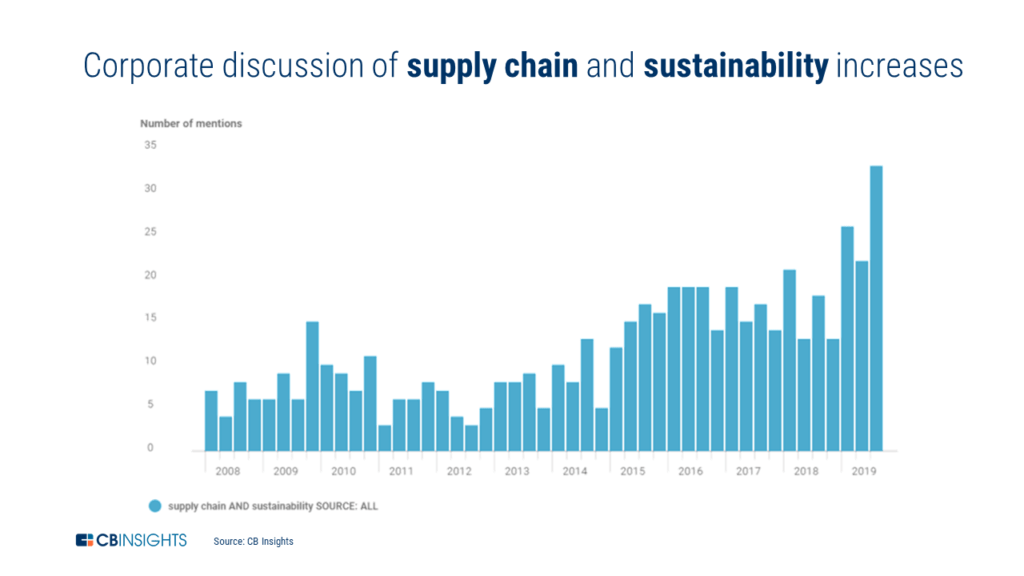 This isn't entirely surprising—recent studies point to how consumers are increasingly concerned about sustainability and how that may drive corporate change.
A recent consumer study from the Boston Consulting Group, surveying almost 3,000 participants from Brazil, China, the US, France, and the UK, found that 75% of consumer view sustainability as "very" or "extremely" important.
From the top down, government regulations are also playing a role in forcing businesses to make their supply chains more sustainable. For example, in March 2019, the EU voted to ban a wide range of single-use plastic products by 2021.
an opportunity for startups
This changing climate (no pun intended) has also created a burgeoning ecosystem of startups specifically working at the intersection of supply chain and sustainability.
There's Apeel Sciences, which uses plant extracts to create invisible, tasteless coatings that extend the shelf life of fresh produce. Apeel has raised $110M and partners with major retailers like Kroger.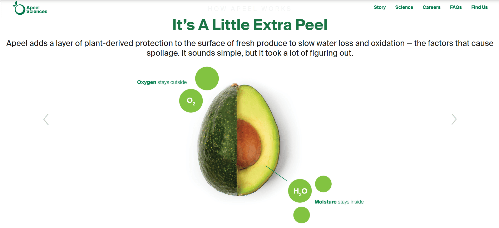 Source: Apeel Sciences
Then there's Nautilus Labs, a startup that offers an AI-powered analytics platform to help ocean vessels optimize fuel efficiency. Backed by Microsoft, the startup aims to help vessels reduce their fuel costs ahead of the International Maritime Organization's 2020 sulfur regulations.
And there's Genecis, a startup aiming to harness food waste to create biodegradable plastic that can be used as 3D printing filament or to manufacture items like coffee pods, straws, and other types of packaging.
These technologies are important to follow as their market opportunity is only poised to grow in the coming years.
If you aren't already a client, sign up for a free trial to learn more about our platform.