News Analysis
Sumo Logic's positive reception from public markets, the first major cybersecurity IPO of 2020, signals an increasing appetite for cloud-focused services.
Cloud-native cybersecurity provider Sumo Logic went public in mid-September. By the end of its first day of trading, the company's shares had increased by 22% to give it a valuation of $2.65B.
Sumo Logic provides companies with a platform for real-time monitoring of connected applications, devices, IT infrastructure, and more. The company also uses machine learning to help identify security threats and application performance issues.
With its focus on the cloud, Sumo Logic is well-positioned to tap into a strong appetite from investors for businesses that help manage cloud-based systems. Data warehousing company Snowflake and cloud software company JFrog both also saw big spikes in demand during their respective IPOs earlier this month.
Below, we look at the cloud landscape to understand what Sumo logic's IPO means for the broader space.
3 big takeaways
The continued digitization of traditional businesses is

a boon to companies that offer cloud services.
The market for cloud services could be large enough to support multiple big companies.

Enterprises are grappling with greater complexity and security challenges stemming from the rising adoption of cloud infrastructure.
Why this matters
Several trends are driving the momentum behind cloud-focused companies like Sumo Logic.
More companies are adopting

modern application architectures

(e.g., microservices and containers) to increase the speed and flexibility of application development and deployment.

As companies move to the cloud, they frequently choose

multiple cloud providers

while also maintaining some of their own infrastructure — making their systems more complex.

Companies face a

growing "attack surface" as they move to the cloud and deploy devices to support their operations, increasing their cybersecurity needs.

The

democratization of technology within companies is increasing as individual business units select SaaS solutions and developers embrace open-source services.

The perceived

value of data is growing as the volume of data being collected increases.
Reflecting these trends, several of Sumo Logic's competitors that aim to help companies manage these cloud systems have seen sizable exits in recent years.
For example, Datadog had an IPO in September 2019, Elastic went public in October 2018, and SignalFx was acquired for just over $1B by Splunk last year.
Sumo Logic and its peers are hoping to capitalize on ongoing digitalization efforts from enterprises, which in turn creates greater digital complexity and drives demand for more visibility and automation.
What competitors are doing in this space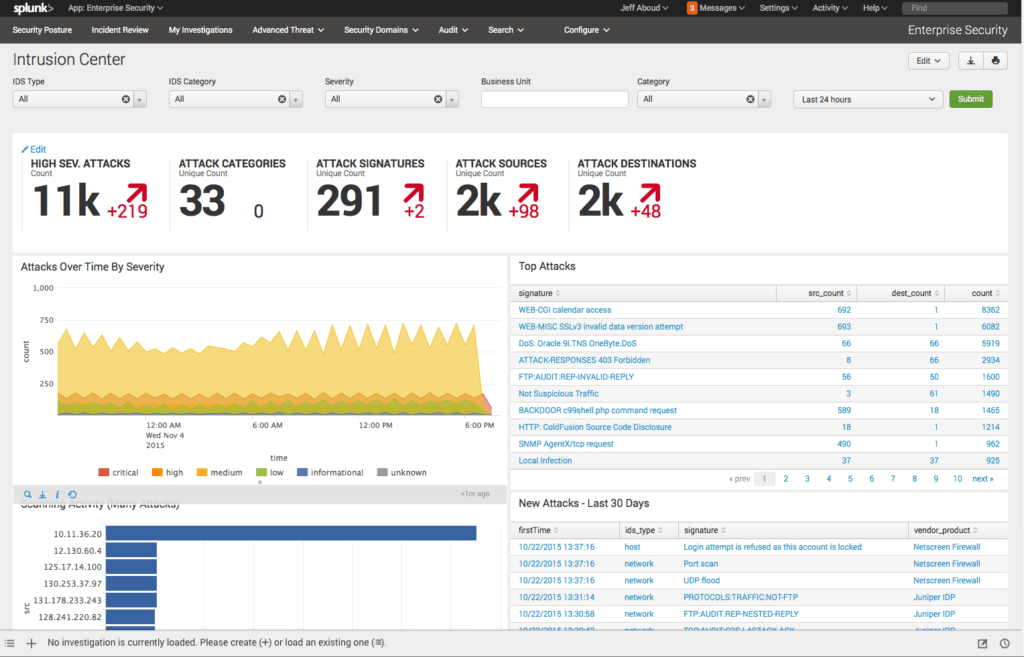 Source: Splunk
Sumo Logic's closest publicly-traded competitor is Splunk.
Both companies offer services aimed at analyzing operational data. However, Sumo Logic's product is SaaS and built specifically for the cloud, while Splunk is currently transitioning to a SaaS model. In the short-term, this may give Sumo Logic an edge with customers seeking a SaaS option.
However, Splunk is looking to differentiate itself in other areas.

Its cybersecurity offering is extensive, having acquired several cyber companies over the years, including Phantom Cyber, SignalSense, and Caspida.
Splunk also offers a high number of integrations with other services, including Slack, Rapid7, and Okta, among others.