Incredo's fresh capital and a partnership with CPG giant Ferrero signal growing traction for sugar alternatives. We assess the current state of the market using funding and headcount data.
Incredo, a prominent player in the sugar alternatives market, recently raised a $30M Series C round alongside announcing a development agreement with confectionary CPG giant Ferrero.
Incredo's products have captured the attention of both investors and CPG brands, who are keen to cater to the growing desire for sugar-free alternatives. A staggering 72% of consumers claim they want to reduce sugar from their diets. 
Responding to this demand, CPG leaders like Nestle have partnered with companies developing sugar alternatives on new product lines, while ingredient manufacturers like Kerry have begun to introduce their own solutions in the space.  
In this brief, we use CB Insights data to assess the sugar alternatives market. We look at the following data points:
Total funding

Top-funded companies

Headcount growth

Execution, Strength, and Positioning (ESP) matrix
Total funding
From 2019 to 2021, companies developing sugar alternatives saw funding grow year-over-year to reach a record-high $117M. However, the space raised just a single $3M round in 2022 — a historic down year for VC funding across the board. 
In 2023 so far, 2 companies have raised funding: Netherlands-based Fooditive (an undisclosed seed round) and Incredo. The renewed interest from investors suggests momentum could pick back up for the market.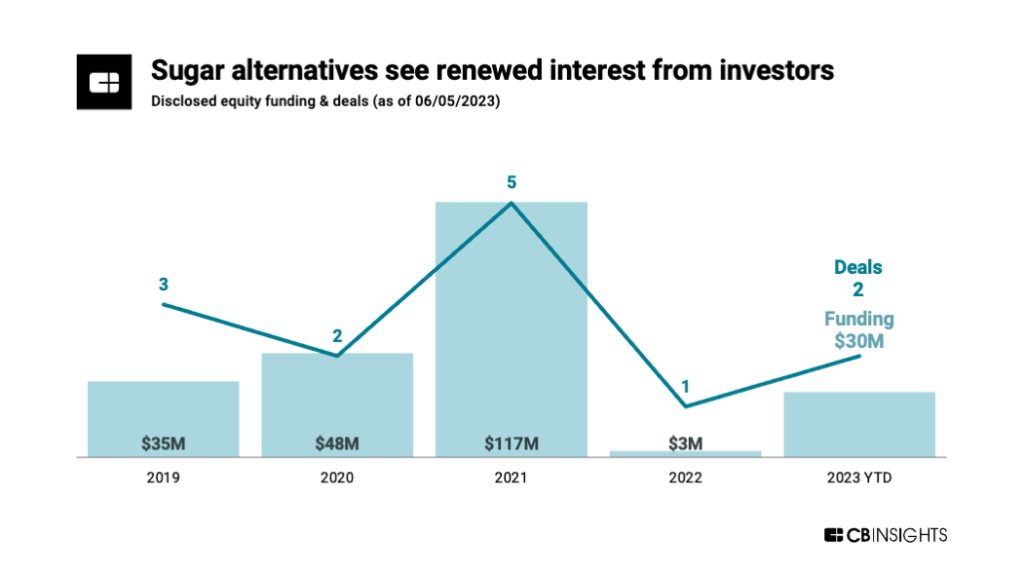 Top-funded companies