The American streaming giant is up against well-funded competitors that are attempting to capture the market with local content, corporate partnerships, and low prices.
Netflix's Q3'17 results revealed that the service has recently seen more new users sign up outside of the United States than in the company's home country, with international markets claiming 4.45 million new subscribes – more than 5X the 850,000 new users it signed up in the US.
Earlier this year, however, Netflix officials stated that Asia continues to pose the biggest challenge among its global markets, with chief content officer Ted Sarandos going on the record to say that the company plans to invest more time and energy in the continent.
In Southeast Asia in particular, an influx of smartphones has created a new set of consumers with the ability to stream content directly to their devices. Given the region's combined population of 650 million and this largely untapped market, Southeast Asia is attracting plenty of attention — and not only from Netflix, which is facing competition from services that are in many cases priced lower and that offer more localized content.
Streaming competitors in Southeast Asia can be broken down into three categories:
Southeast Asian streaming companies, including heavily-funded startups like Malaysian streaming service iFlix as well streaming services launched by television companies, such as Astro's Tribe.
American giants like Amazon Prime Video and HBO GO, which have largely focused on rolling out offerings in the region over the past year.
Competitors that are expanding into the region from other parts of Asia. This includes ViKi, which, while originally based in Singapore, was bought by Japan's Rakuten Ventures in Q4'13 and now operates across the region.
Using CB Insights data, we took a look at the top contenders in the Southeast Asia VSoD (video streaming on demand) market.
We define Southeast Asia to include Brunei Darussalam, Cambodia, Christmas Island, East Timor, Indonesia, Lao People's Democratic Republic, Malaysia, Myanmar, Philippines, Singapore, Thailand, and Vietnam.
 Southeast Asian Streaming Companies
HOOQ

HOOQ is a Singapore-based joint venture formed by Sony Pictures Entertainment, Warner Bros., and Singaporean telecommunications company SingTel. The trio of investors launched the company in Q2'15 with a $70M investment, and collectively invested an additional $25M in the company in Q1'17.
HOOQ first rolled out in the Philippines, Thailand, and Indonesia, and only launched in Singapore in Q4'16. Today it also operates in India.
HOOQ emphasizes local content, while its connections with Sony Pictures Entertainment and Warner Bros. has given the startup access to some of the media giants' titles. HOOQ's partnership with SingTel has also allowed it to offer bundled packages within the SingTel network.
The company charges around $1.40 for its weekly package.
iFlix
iFlix, a Malaysia-based streaming service, has raised $298M in total funding since 2015, making it the most well-funded local player in the Southeast Asia VSoD scene.
Among its investors are Beverly Hills-based Metro-Goldwyn-Mayer, Malaysian internet group Catcha Media, and Singaporean venture capital firm Jungle Ventures.
The startup's most recent round was just last quarter, when it raised a $133M Series C from investors Philippine Long Distance Telephone Company, New York-based Hearst Ventures, and UK-based subscription television service Sky, among others.
Although the service's original focus was Southeast Asia, it has now expanded into emerging markets beyond the region, including Nigeria, Kenya, and Ghana in Africa; Kuwait and Bahrain in the Middle East; and Pakistan and Sri Lanka in South Asia. Executives from the company have stated in interviews that Singapore, however, is not a target market, and iFlix instead focuses on emerging markets.
iFlix charges $2 – $2.50 per month.
Together, Malaysia's iFlix and Singapore-based HOOQ are Southeast Asia's most well-funded video streaming startups.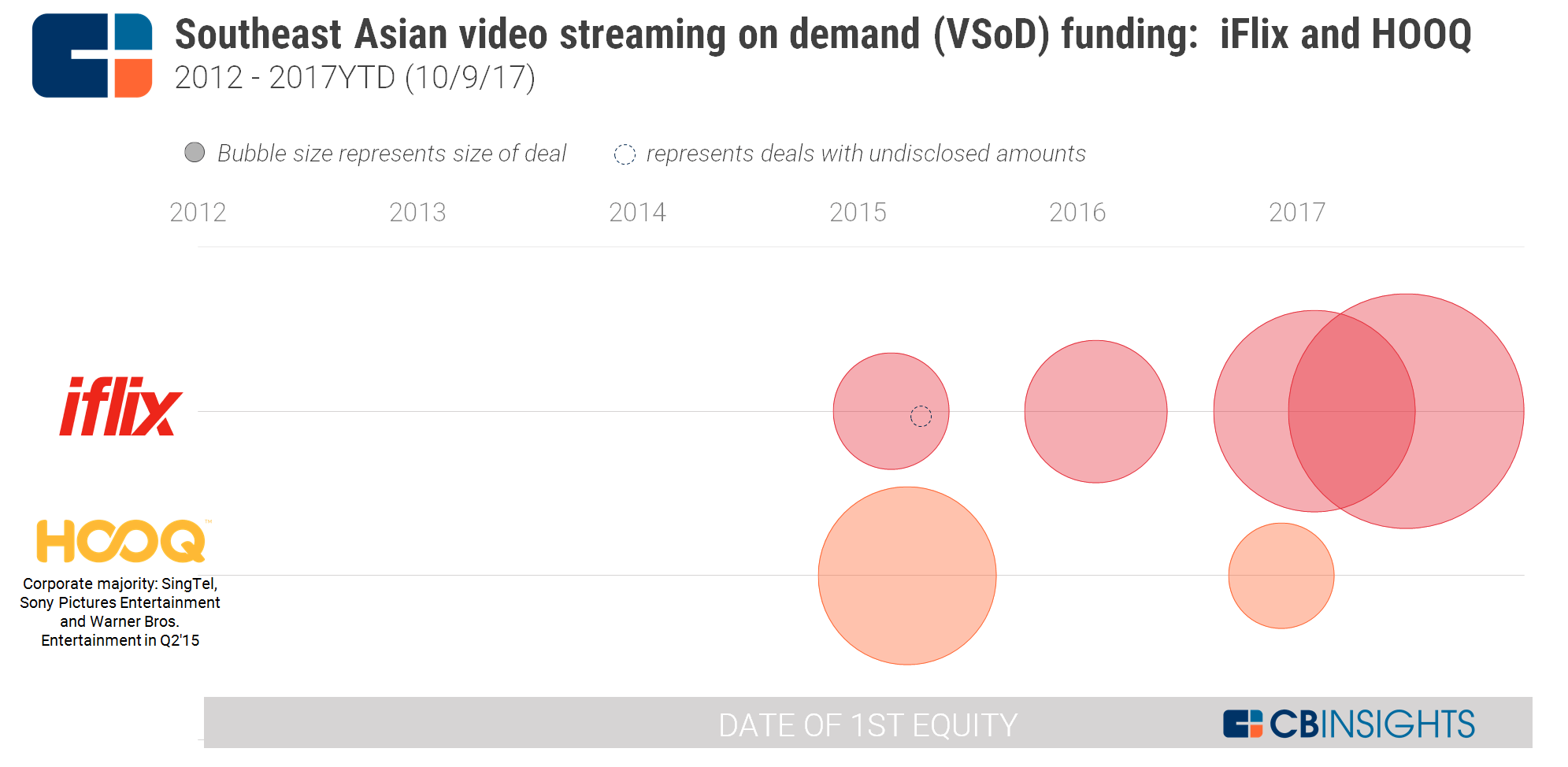 Tribe
Malaysian PayTV service Astro launched Tribe, a video streaming service, in Indonesia and the Philippines in Q1'16. In Q2'17, Tribe also launched in Singapore.
Tribe primarily offers pay-per-view television. Content includes live coverage of sports events and concerts, with a focus on Asian entertainment.
In Indonesia, Tribe launched in partnership with Malaysian telco Axiata, which operates an affiliate Axiata XL in the country. It is available exclusively in Indonesia for subscribers of XL Axiata for roughly $1.85 a month.
US Streaming Companies
Amazon Prime Video

So far, Amazon's video streaming service, Amazon Prime Video, has only launched in Singapore, where it first became available in Q3'17.
Amazon Prime subscriptions offer an array of features, such as faster delivery times, select discounts, and access to Amazon's video collection. The introductory price of Amazon Prime in Singapore was lower than US rates, at just $2.99 a month, with the full, non-discounted price at $5.99 a month.
Amazon may take a similar route of offering discounted rates if it launches its service in countries like Indonesia and the Philippines.
HBO GO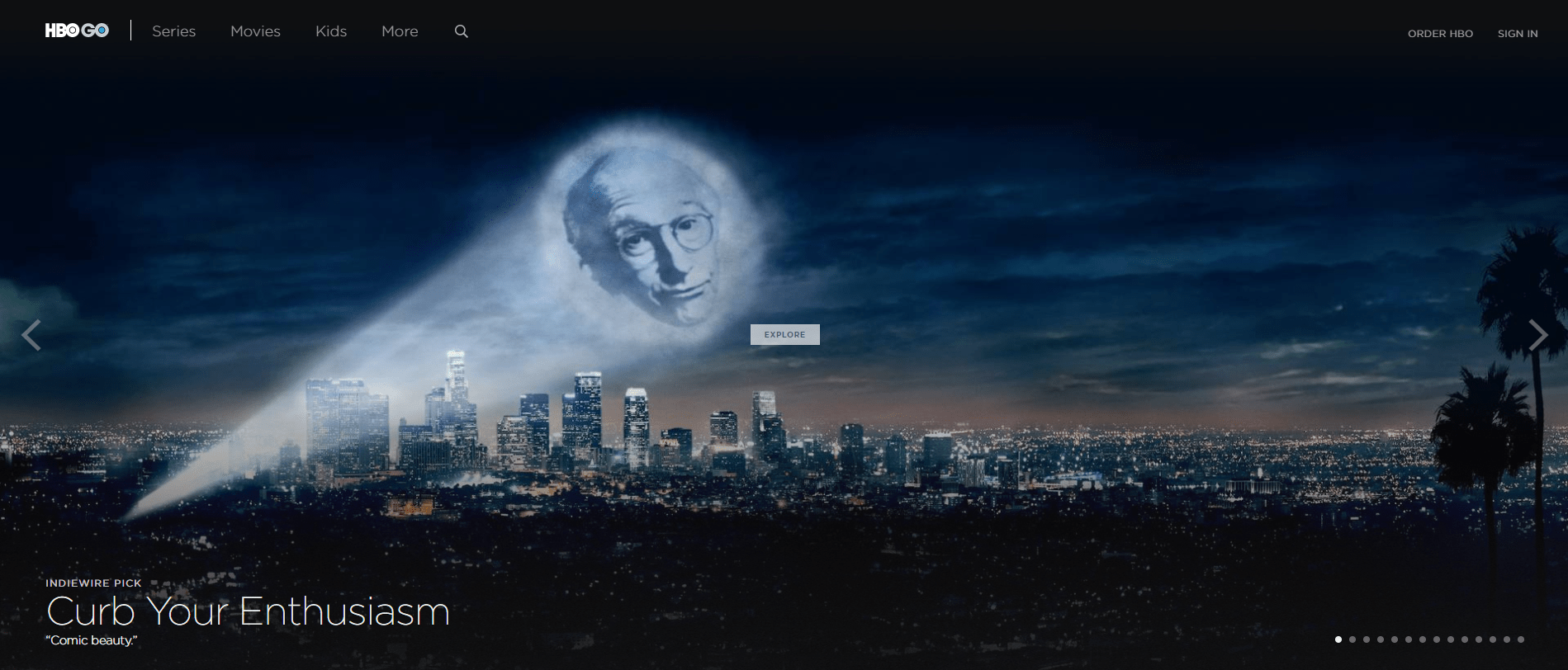 HBO's streaming service HBO GO is operational in parts of Southeast Asia, including Singapore and the Philippines.
In Singapore, HBO GO has partnered with Singaporean telco company StarHub, streaming its content on StarHub Go through a package that costs around $14/month.
In the Philippines, HBO GO has partnered with Filipino telco company Sky Cable Corporation. Sky Cable subscribers can access HBO GO for free.
Netflix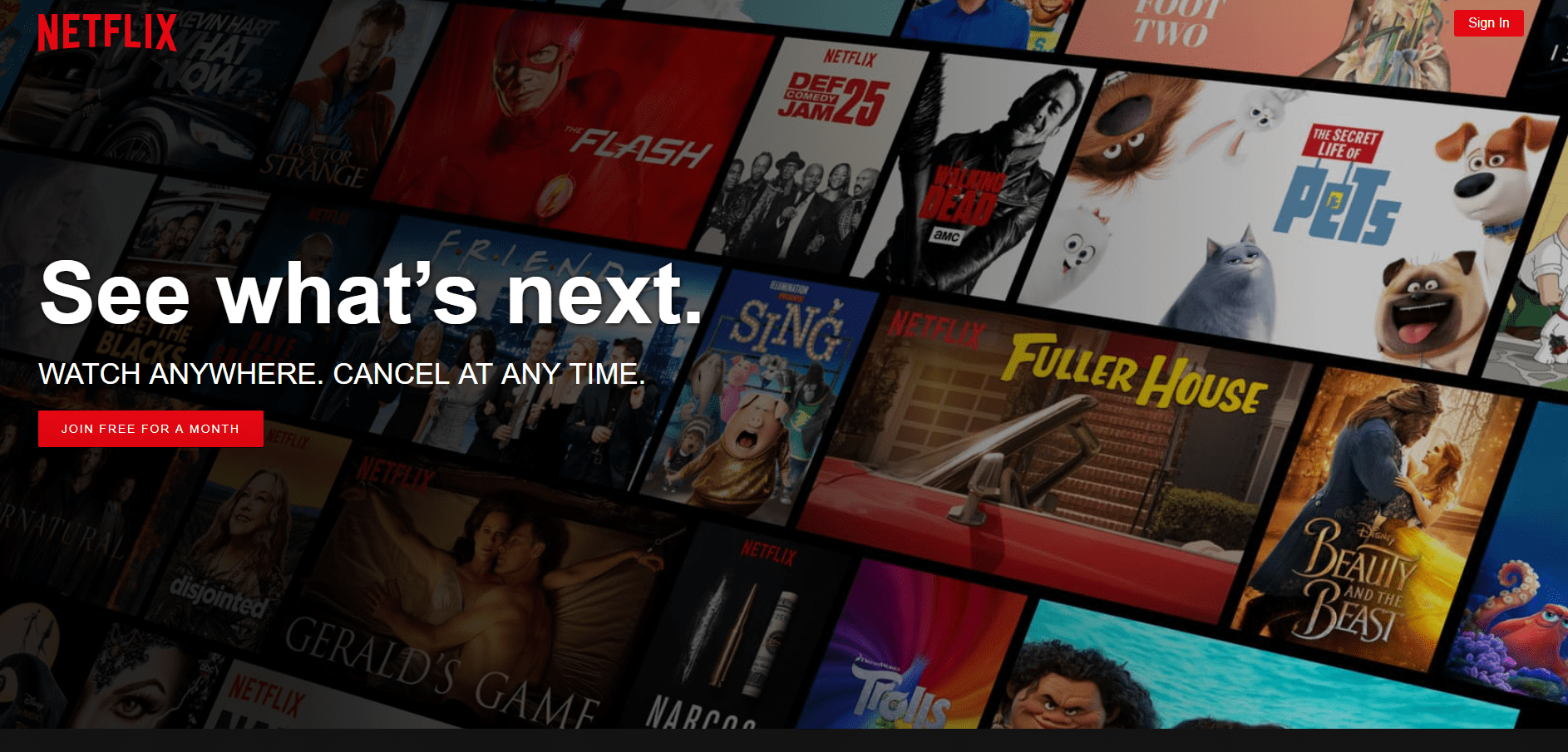 Netflix first moved into Southeast Asia in Q1'16, during a massive rollout in which the media giant launched its service in more than 130 countries, including Singapore, Indonesia, and Malaysia.
Soon after, Netflix was banned by Indonesian state-owned telecommunications service provider Telkom in January 2016, over concerns about objectionable content. Telkom only lifted the ban in April 2017, after agreeing to a partnership with Netflix.
Netflix continues to be the most expensive streaming option in these markets, charging nearly 3X the price of competitors like iFlix. Prices vary slightly across countries, with a basic subscription in Indonesia running at $8.29, while a subscription in Singapore costs about $10.98.
Netflix's content also differs across markets. In some countries, it has launched partnerships to provide local content— such as in Singapore, where Netflix has partnered with state broadcaster MediaCorp to add Singaporean Chinese-language shows to its service.
Competitors From Other Parts Of Asia
Catchplay

Taiwan's CatchPlay began to expand into Southeast Asia in 2016, launching in Singapore and Indonesia.
Part of CatchPlay's strategy has been to work closely with telecom companies in these markets. In Indonesia, CatchPlay has partnered with state-owned telecommunications service provider Telkom to provide its service exclusively to subscribers of Telkom's broadband service (Indihome), while in Singapore, CatchPlay works directly with StarHub TV, the only cable television operator in Singapore.
Unlike other services listed here, CatchPlay focuses specifically on movies. Users can buy movies individually, at around $2.50 per movie, or purchase unlimited subscriptions at around $10.99 a month.
ViKi

Singapore's ViKi has had a presence in Southeast Asia since its launch in 2007. Although it is technically birthed in Southeast Asia, Japanese e-commerce company Rakuten acquired ViKi for $200M in Q4'13, making it one of the largest exits in the Southeast Asian tech ecosystem. ViKi now operates across the globe, with customers in the United States as well as throughout Asia.
The company made its mark on the live-streaming ecosystem with its crowd-sourced subtitles, which are available in a wide variety of languages.
ViKi has received funding from several seasoned investors. Its Q4'10 Series A saw participation from Andreessen Horowitz and Greylock Partners, as well as Alex Zubillaga, who holds several executive level positions at Warner Music Group Corp.
Andreessen Horowitz and Greylock Partners both made follow-on investments in the company's Series B in Q4'11, which also saw first investments from BBC, Omidyar Network, and SingTel Innov8.
ViKi also partners with external sites like Hulu, Netflix, and MSN to stream its content, with an emphasis on offering Asian content.
ViKi charges $4.99 a month or $49.99 a year.
Viu
China's Viu launched across Southeast Asia in 2016, starting with an initial launch in Malaysia in Q1'16. It is operated by Hong Kong-based company PCCW International OTT, which also operates 2 other streaming brands across Asia and the Middle East: Vuclip and MOOV.
PCCW International OTT raised a $110M round from in Q3'17 from Taiwan's Foxconn Technology Company, China's Hony Capital and Singapore's Temasek Holdings. The round came in the same week as iFlix's $133M Series C.
Pricing for Viu varies across countries. In Malaysia, for example, Viu runs around $2.40 per month.
If you aren't already a client, sign up for a free trial to learn more about our platform.