Subscription styling startup Stitch Fix just completed a highly anticipated IPO. Will the company's data-driven model resonate with investors or will public markets fear just another subscription box?
Stitch Fix has — almost — become a household name. Launched in 2011, the startup offers subscription boxes of apparel and accessories curated by personal stylists for each shopper. Users can try on items at home, and return whatever they don't like in prepaid shipping envelopes.
In light of its IPO, Stitch Fix has pitched itself as a tech company, highlighting its algorithmic-based subscription model, which it uses to help identify shopper's style preferences and sizing.
Stitch Fix hit nearly $1B in revenue this year ($977M, to be exact). They also grew brand awareness to 41% in May 2017 among US women age 21-65 with incomes over $50K. This is up from 28% just six months prior, according to their S-1 filing.
Stitch Fix's valuation is set to pop
Below, we compare the private market valuation histories of Stitch Fix and high-end menswear brand Bonobos on a quarterly basis.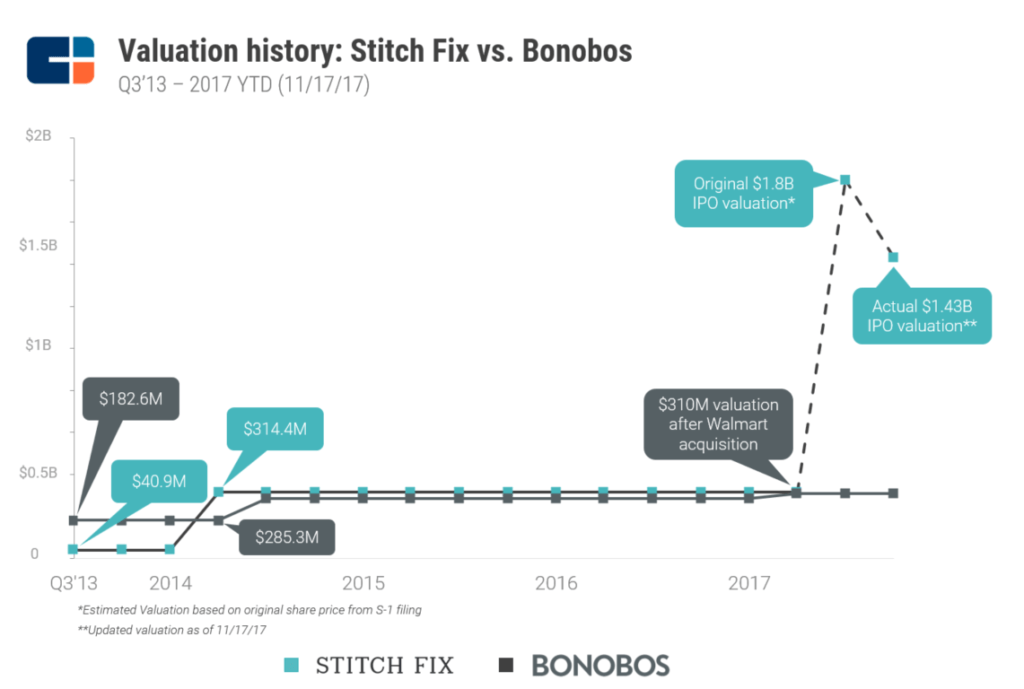 Stitch Fix faces many challenges inherent to the subscription box model (managing logistics, personalizing its boxes, retaining users, etc.). Subscription businesses have had a tumultuous history. Blue Apron's stock, for example, has fallen 72% since its IPO in June 2017. Companies in the space face challenges from high marketing costs to customer churn.
In addition, fashion incumbents have launched their own subscription businesses, and Amazon recently got into the space with Prime Wardrobe.
Likely in light of these trends, Stitch Fix initially lowered its planned IPO pricing, from the $18-$20 it originally proposed in its S-1 filing down to $15-$16, according to reports on 11/16. However, Stitch Fix shares ultimately began trading on Nasdaq at $16.90 on 11/17.
Though Bonobos does not employ a subscription model, both companies offer data-driven personalized styling services (Stitch Fix is purely online while Bonobos has both an online store and retail presence in the form of "Guideshops" for in-person custom fittings).
Stitch Fix was first valued at $4.75M after a Series A round in February 2013. Later that year, its valuation leaped to $40.9M in Q4'13. In June 2014, Stitch Fix raised a $30M Series C at a much higher $314.4M valuation.
Founded in 2007, Bonobos was valued at $182.6M at the time of Stitch Fix's first valuation of $40.9M in Q3'13 (this was based on a Series C – III round in Q1'13). The company's value increased to $285.3M in Q3'14 after a Series D financing of $55M. Earlier in June 2017, Walmart acquired Bonobos for $310M.
Bonobos and Stitch Fix have pursued two different exit strategies — get acquired or go public. While Bonobos can scale through Walmart-owned Jet.com's infrastructure, Stitch Fix will have to rely on IPO-generated funds to penetrate new markets and accelerate product development.
Stitch Fix's IPO could usher in a new era for subscription e-commerce and influence how other subscription companies combine data science, human judgment, and customer service to succeed in an increasingly competitive retail market.
Stitch funding history
Stitch Fix has raised relatively little capital compared to other recent startups that went public. It raised $46.8M, all in 2013-2014, and has not raised additional funding since June 2014. In contrast, Blue Apron raised over $256M prior to its IPO.
The chart below highlights Stitch Fix's funding history.

This limited funding history means Stitch Fix's equity ownership is concentrated in the hands of a few VC firms, which have a lot to gain in the event of an IPO. Currently, Baseline Ventures holds a 28% stake; Benchmark holds a 26% stake; and Lightspeed Venture Partners holds 12%. Baseline participated in Stitch Fix's Series A and C; Lightspeed invested in the Series A; and Benchmark led the Series B and followed on in the Series C. Founder and CEO Katrina Lake maintains a 16% equity stake, according to the S-1.
Venture debt firm Western Technology Investment is Stitch Fix's only other disclosed investor, having participated in its 2013 Series A.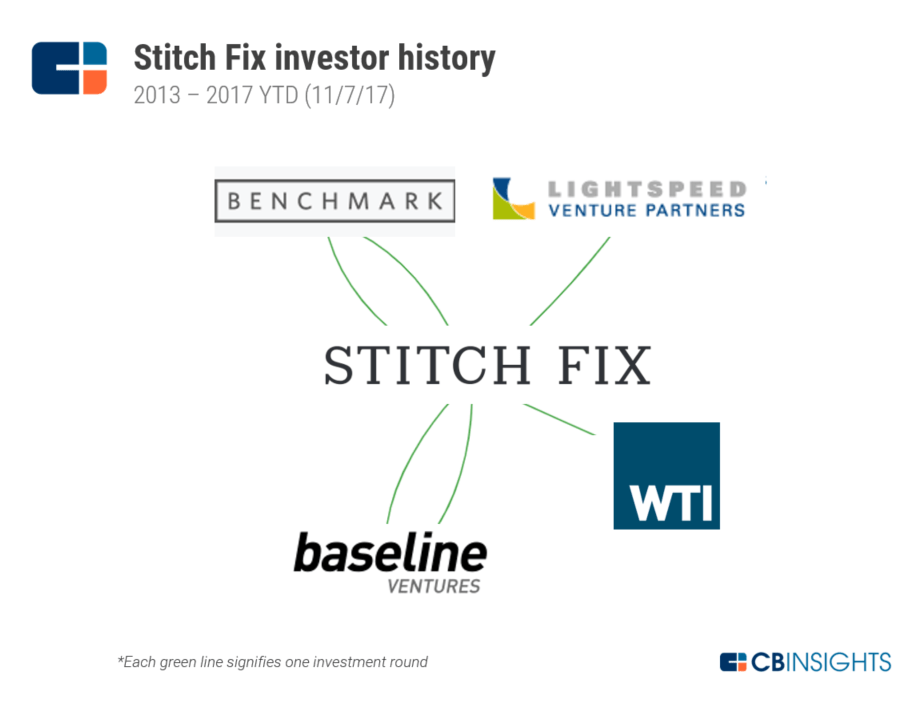 Higher price/sales multiple compared to e-commerce peers
We compared multiples of Stitch Fix and e-commerce peers including online furniture store Wayfair, which went public 2014, and Blue Apron, which went public earlier this year.
We calculated a 1.46x price-to-sales multiple for Stitch Fix, based on fiscal year 2017 sales of $977M and a market cap of roughly $1.43B.
The company had originally planned to price its 10 million shares in the $18 to $20 range, but due to concerns of competition and long-term growth, Stitch Fix ultimately priced 8 million shares with an opening share price of $16.90 a piece (up from an initial lowering of $15 to $16 per share according to aforementioned reports on 11/16).
This is slightly lower than Wayfair, which currently trades at a 1.6x multiple (based on trailing twelve-month revenue and a market cap of roughly $5.9B), and double that of Blue Apron, which trades at 0.73x (based on trailing twelve-month revenue and a market cap of roughly $582M, though we note its market cap may continue to contract).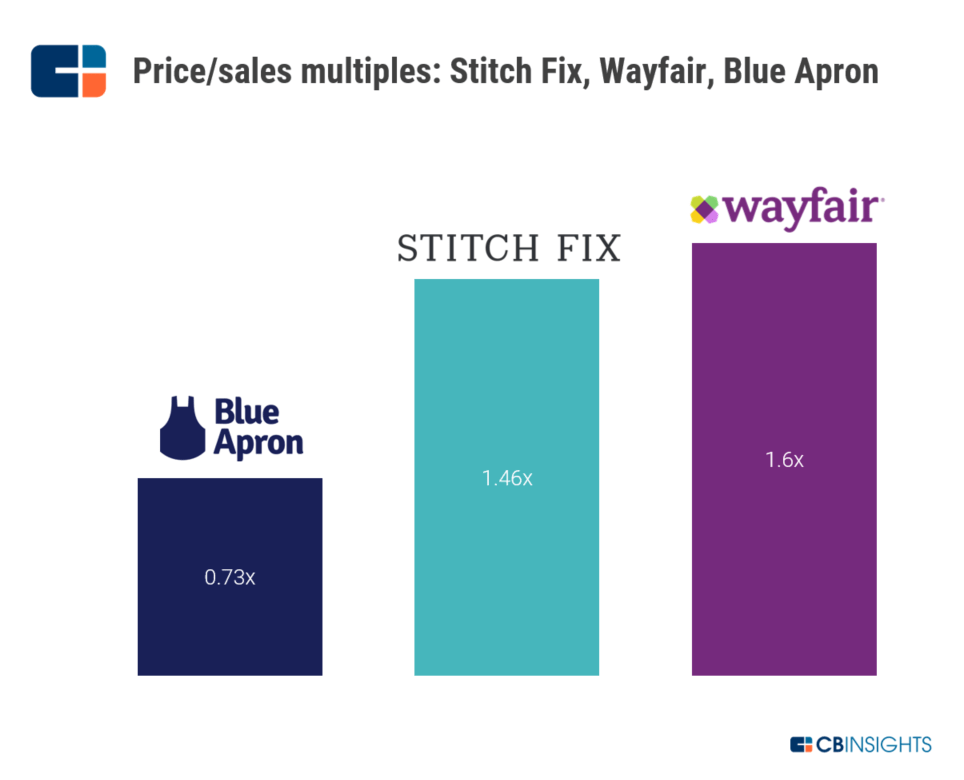 Steady revenue growth, but rising marketing costs
While its boxes include products from over 1,000 different brands, Stitch Fix has begun to use the shopper preference data it has collected over time to launch its own private label brands. Based on big data and consumer feedback, it has rolled out 8 women's brands and 9 men's brands to date.
Amidst this business evolution,  Stitch Fix raked in $977M in revenue in 2017, representing 34% growth from 2016. Despite concerns over decreasing revenue growth, the company has focused on maintaining steady growth and profitability over the growth-at-any-cost model boasted by many pre-IPO startups.
While the company reported net losses of $594K in 2017, it was profitable in 2015 and 2016, with net incomes of $20.9M and $33.2M, respectively.
Part of the pressure in 2017 was due to increased marketing spend. Stitch Fix spent $70.5M on marketing in 2017, a major increase from the $25M it spent in 2016, and the company plans to continue to increase its investment over time. Current marketing efforts include client referrals, affiliate programs, email, search engine optimization, and more.
Stitch Fix's marketing spend could make investors nervous, as Blue Apron faced public market pressure due to its reliance on paid marketing for customer acquisition.
However, Stitch Fix has been relatively successful at retaining consumers so far. In 2017, repeat customers drove 86% of revenue. Stitch Fix also highlights 85% of shipments resulting in direct client feedback (i.e., feedback provided to further explain shoppers' tastes) which it frames as a symbol of high user engagement.
At the same time, despite these high engagement rates, the filing indicates that average revenue per client is decreasing over time: an average client in a 26-week cohort in 2016 generated $335 in revenue in the first 6 months and just $489 over a 12 month period, a significant decrease in spending over time.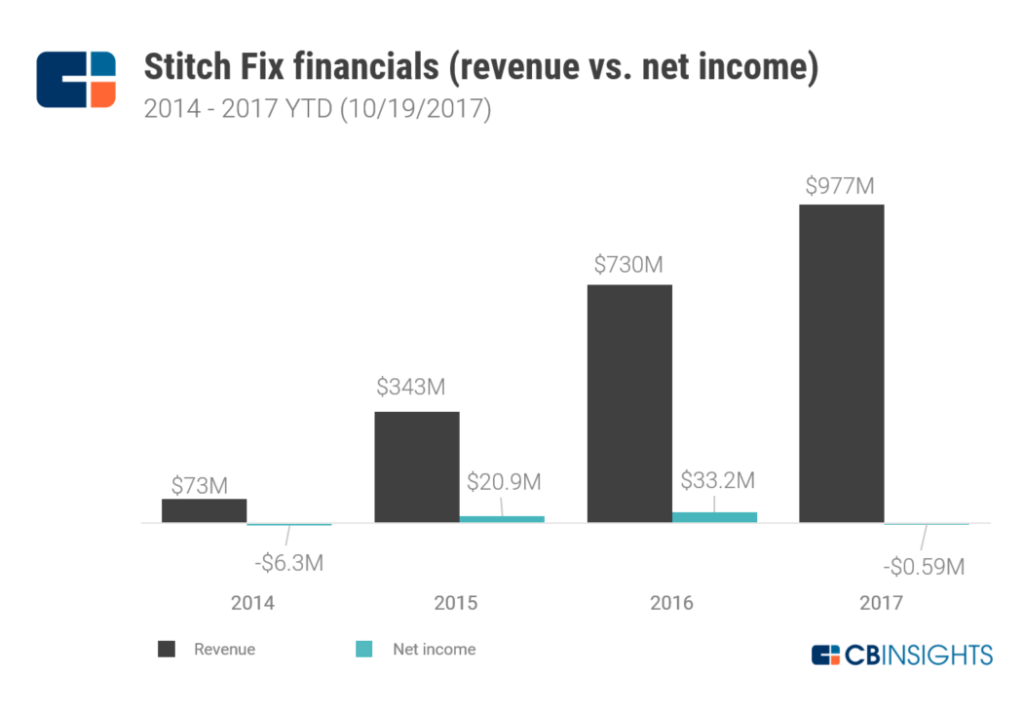 AI-powered personalization as a competitive advantage
With 64 S-1 filing mentions of "data science" (3 of which were "data scientists") and 74 mentions of "algorithms," Stitch Fix seems to have targeted a tech valuation, rather than an e-commerce valuation.
On Stitch Fix's blog, it emphasizes their algorithmic process in the graphic below.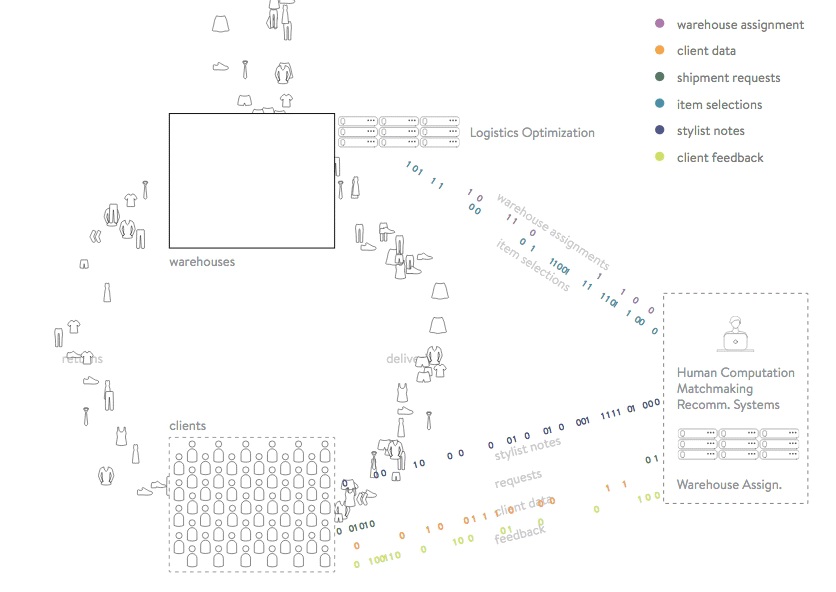 "Stitch Fix is the No. 1 competitor of Uber for data science talent in Silicon Valley…when a customer comes in to ask for a new Fix…we have a predicted keep score for every item in our inventory. Which is a level of analytics brought to this industry that's…one or two orders of magnitude above what everybody else is [doing]."

– Bill Gurley, General Partner at Benchmark Capital and member of Stitch Fix's Board of Directors
With 2,194,000 active clients as of July 2017, Stitch Fix has collected large amounts of data on their customers' style profiles. The filing notes that their algorithms capture 85 meaningful data points about a user's style profile including style, size, fit and price preferences, among other inputs.
To analyze all this data, Stitch Fix combines artificial intelligence and human stylists. It aims to offer personalization while collecting more and more market data over time.
As Stitch Fix diversifies the markets it serves (it added plus size styling this past February and men's services last August), maintaining and enhancing this level of deep personalization and client engagement will be crucial for client retention and company growth.
What does Stitch Fix's IPO say about the future of apparel subscription?
Stitch Fix's IPO will set the stage for future subscription e-commerce exits. Deals to subscription e-commerce companies have rebounded for the past couple of years, though this year they are on track to come in behind 2016.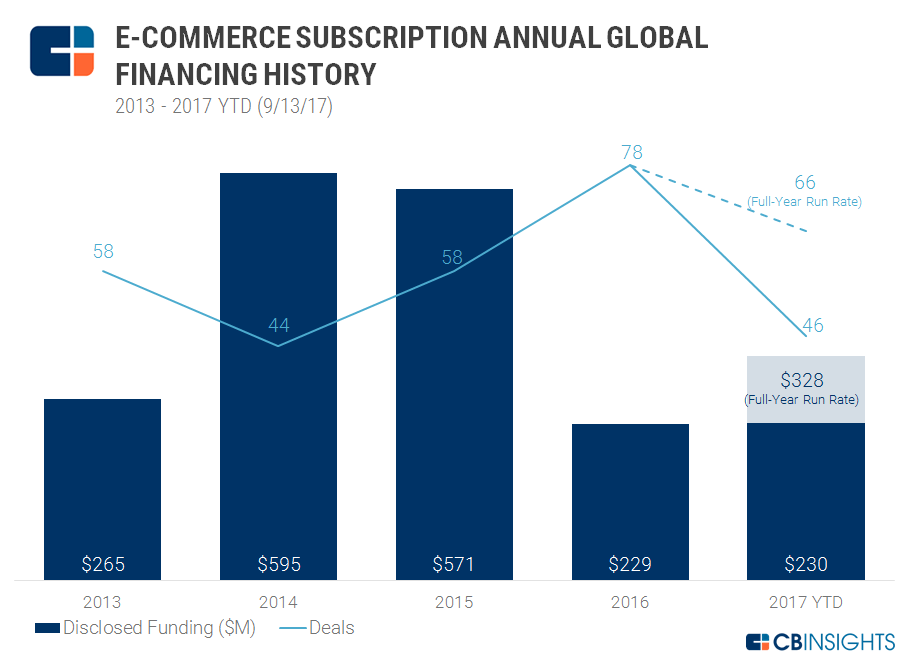 There's also been notable subscription e-commerce exit activity recently, including the acquisitions of beauty subscription startup GlossyBox by The Hut Group in Q3'17 and subscription pet care products startup Animalbox by Doctissimo in Q2'17.
While it initially curated products from hundreds of other brands, Stitch Fix more recently began using its customer preference data to design its own private labels. A huge piece of Stitch Fix's growth in recent years has been its launch of private-label brands, mostly in the mid-price range.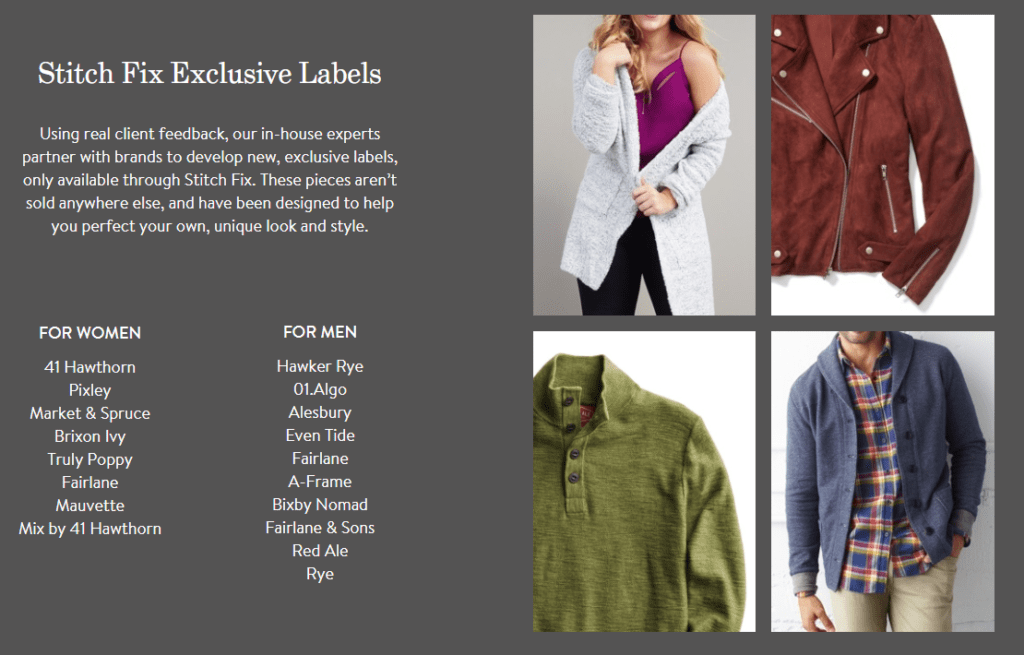 We've also seen increased media attention to apparel subscription services. With competition heating up in the apparel subscription space (M.M. LaFleur, Le Tote, Dia&Co, etc.), maintaining an edge is more important than ever.
To keep up, incumbent retailers like Ann Taylor and Old Navy are beginning to launch subscription services of their own clothing brands. Unsurprisingly, Amazon is also moving into this space with the recent launch of Prime Wardrobe.
Though these offerings differ from Stitch Fix's original curation model, established brands still have the potential to steal market share from Stitch Fix.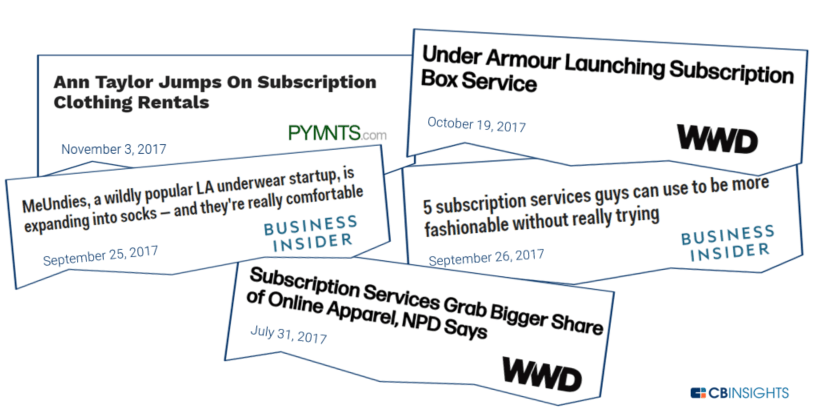 Prime Wardrobe, a free service that allows Amazon Prime members to try on clothes at home and ship back unwanted items, could pose a potentially massive threat to Stitch Fix (alluded to throughout the filing).
Blue Apron's stock suffered right after the announcement of Amazon's competing meal kit product and we could expect to see a correlation between Prime Wardrobe's growth and Stitch Fix's performance.
Revenue or customer churn issues could lead to similar Blue Apron post-IPO struggles for Stitch Fix. And from a larger market standpoint, consumers could drop off during an economic downturn, as subscription services fall into discretionary spending.
If you aren't already a client, sign up for a free trial to learn more about our platform.