Scientists screened a library of 100 million antibodies to find several that offer an easier way to reprogram adult cells into stem cells.
Stem cells are a special class of cells with the remarkable ability to develop into a wide variety of cell types. This means that any stem cell has the potential to become a specialized cell — a blood cell, brain cell, heart muscle, or bone cell.
This adaptability allows stem cells to play an important role in regeneration, or repairing damaged tissue. Stem cells are currently used in bone marrow transplants and hold promise in the treatment of everything from neurodegenerative disease to diabetes.
But while stem cell therapy has been hailed as a groundbreaking achievement in medicine, very few treatments have made their way to market, due to a number a risks and challenges surrounding their use:
The harvesting of stem cells from embryos can lead to uncontrollable growth and tumor formation; patients may reject foreign stem cells; there are risks associated with current methods of turning non-stem cells into stem cells; and accessing embryonic stem cells has been a source of controversy.
But a new study out of The Scripps Research Institute may have unlocked the key to converting adult cells back into stem cells — potentially avoiding many of the complications associated with harvesting embryonic stem cells and allowing for new avenues to stem cell treatments.
Historically, one of the only sources of stem cells were human embryos. But the field is also focused on turning adult cells back into stem cells, creating "induced pluripotent stem cells" (iPSCs) in the process.
Turning existing adult cells into iPSCs has the potential to offer patients a virtually unlimited supply of stem cells that are also matched to their specific immune system. Further, it would avoid many of the ethical issues that cloud the use of embryonic stem cells.
Traditionally, the reprogramming of adult cells into stem cells requires inserting the genes for four transcription factors (or proteins that affect gene expression) into adult cells. These transcription factors, which influence the transcription of DNA into RNA, are Sox-2, c-Myc, Oct4, and Klf4. However, this process is prone to error and can potentially damage the adult cell DNA to the extent that it becomes cancerous.
One theory that has been suggested as an alternative to directly inserting genes into adult cells is the use of natural pathways to induce changes in gene activity.
During early development, molecular signals from outside a cell (such as signals from antibodies) have the potential to induce lasting change on the inside of the cell, often resulting in altered patterns of gene expression.
To apply this idea to create stem cells, Kristin Baldwin, as associate professor at The Scripps Research Institute, teamed up with her colleague Richard Lerner, a pioneer in the development of antibodies used to discover new drugs and scientific methods.
In their study, the team, led by graduate student Joel W. Blanchard and postdoctoral research associate Jia Xie, screened a library of ~100M antibodies in an effort to discover a select few that could replace the need for Sox2 and c-Myc.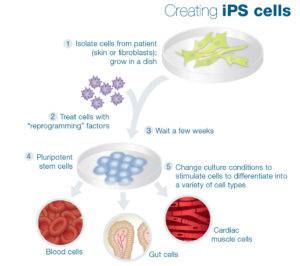 The team built large populations of mouse cells that contained Oct4 and Klf4 but not Sox2 or c-Myc, meaning the cells contained only half of the necessary four transcription factors required to turn adult cells back into stem cells. The researchers then added millions upon millions of different antibody genes to cells in the population. The cells would uptake those genes and subsequently begin to produce antibodies, which would in turn affect the cells' DNA — in certain cases, enabling the cell to produce the required transcription factors to turn it back into a stem cell.
Based on which cells began to turn back into stem cells, researchers were able to pinpoint which antibody proteins were capable of replacing the missing transcription factors. This means that rather than intrusively inserting the transcription factors into cells to alter them, researchers were able to facillitate a process in which the cells themselves produced antibodies that changed them from adult cells into stem cells.
Through this method, the researchers were able to identify two antibodies able to replace both Sox2 and c-Myc, as well as two additional antibodies able to replace Oct4. With implications across drug discovery and treatment, these antibodies may serve to provide a safe, simple, and effective method for turning adult cells into stem cells.
The authors are continuing their research, and are now planning larger, more involved antibody-screening studies using human cells as opposed to mouse cells.

Illustration shows the screening technique used to identify antibodies capable of replacing transcription factors. CREDIT: Department of Molecular and Cellular Neuroscience, Dorris Neuroscience Center, The Scripps Research Institute
To read more on cutting-edge genetic and cell technology, check out how a nanotechnology chip can alter cells to repair injured tissue.
---
The original study "Replacing reprogramming factors with antibodies selected from combinatorial antibody libraries" was published in the journal Nature in Semptember 2017. Full information is available here.
If you aren't already a client, sign up for a free trial to learn more about our platform.