Funding to stealth mode startups increased 140% year-over-year in 2020, as many companies chose to stay under the radar during Covid-19.
Deals and funding for companies operating in stealth mode – a phase of temporary secrecy regarding the product, brand, or other aspects of the business – have increased in recent years.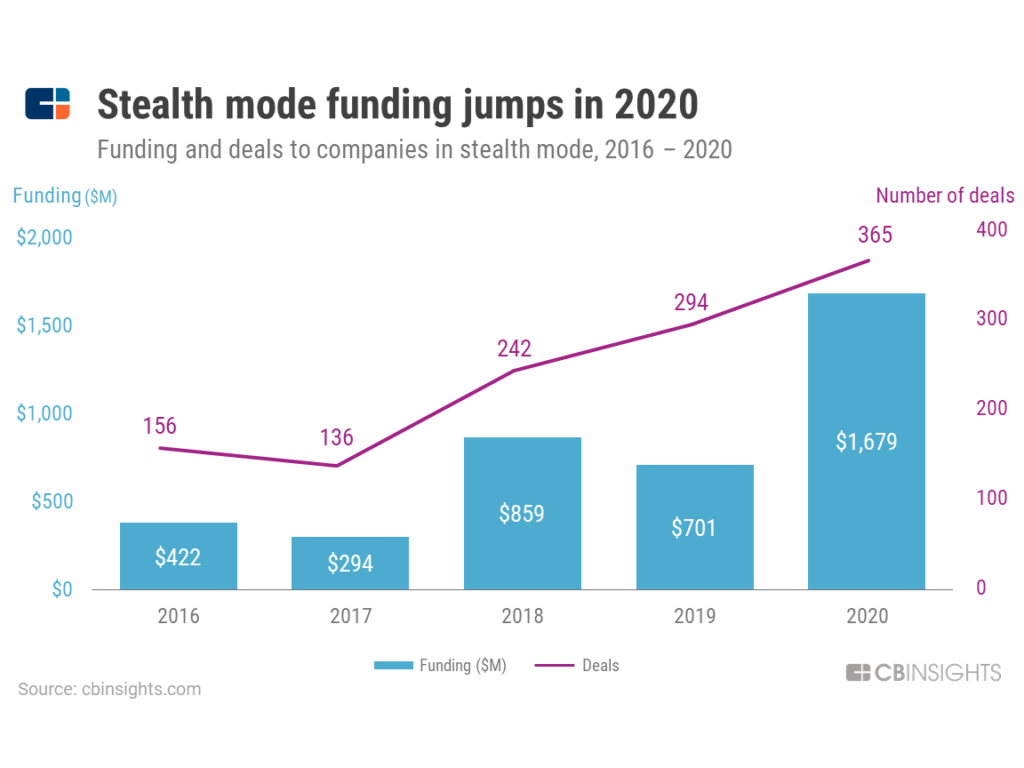 WHAT YOU NEED TO KNOW:
Healthcare and software companies are the stealthiest:

In the past 5 years, stealth mode healthcare companies have raised over $1.3B across 350 deals. During the same time, software companies have raised nearly $1.7B across 511 deals. 

NEA and Lightspeed are among the stealthiest VCs:

New Enterprise Associates

has invested in 8 stealth mode deals, with 3 in the past 2 years.

Lightspeed Venture Partners

have done 7 stealth mode deals, with 2 in the past year. Other stealthy VCs include

Versant Ventures

,

The Vertical Group

,

GGV Capital

,

Khosla Ventures

, and

Third Rock Ventures

.

United Stealth of America has the most stealth startups:

Deals in the United States represented 88% of all stealth mode deals over the past 5 years. California led the way with 282 deals, with New York (102) in a distant second.
WHAT'S NEXT?
Market uncertainty during Covid-19 may have influenced companies to stay under the radar. As the population is vaccinated and the pandemic wanes, we may see a number of stealth mode companies emerge.

However, this trend is likely to continue in industries that rely heavily on intellectual property. Startups in the biopharmaceutical industry – which currently has 70 companies in stealth mode – are particularly susceptible to analogous approaches by incumbents and competitors. 
If you aren't already a client, sign up for a free trial to learn more about our platform.