The NFT market has seen exponential growth in 2021. In order to capitalize on the demand, investors are giving more attention than ever to startups in the category. We explore the investment trends shaping the NFT space going into 2022.
2021 was, undoubtedly, the year of NFTs. 
Non-fungible tokens (NFTs) represent digital assets or virtual goods — which can range from images to songs to videos to tweets — that are verified through blockchain technology. In March 2021, digital artist Beeple sold an NFT of his work "Everydays: The First 5000 Days" for $69M through a first-of-its-kind auction at Christie's, driving unprecedented attention to the space.
The sale was followed by a number of highly-priced NFTs, including the sale of an 8-bit CryptoPunks artwork (produced by Larva Labs) for a staggering $532M in October. As sales drove more attention to NFTs, the capital followed, resulting in record-high funding and deals to startups enabling the creation, exchange, or sale of NFTs.
NFT funding has skyrocketed to $2.1B in 2021 YTD (as of Q3), marking a 6523% jump from 2020's full-year funding total, as detailed in our State Of Blockchain Q3'21 report. NFT deal activity has reached 104 deals as of Q3, up 593% from last year's deal count of 15.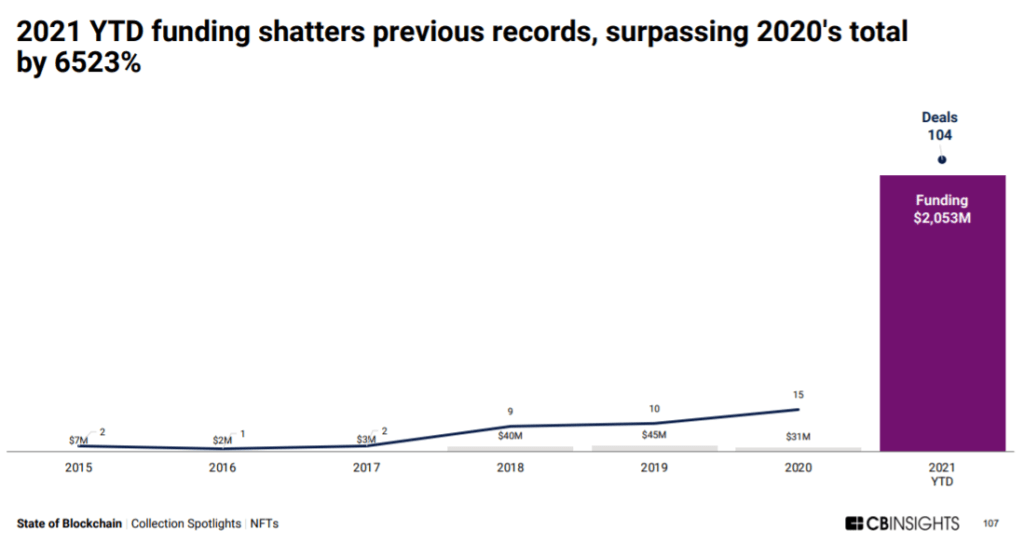 The flow of capital is spurring a wave of growth, resulting in new milestones and trends that are shaping the NFT industry of tomorrow. Below, we take a deeper look at some of these trends, including: 
A record Q3'21

for NFT startups, with companies in Europe and the US driving 77% of all funding

Dominant early-stage activity

, with seed/angel and Series A rounds accounting for 91% of all deals this year

A 450% jump in average deal size compared to 2020
NFTs hit all-time record for quarterly funding and deals
NFT startups raised a record-breaking $1.3B in Q3'21, up 329% QoQ and a staggering 7919% from the same time last year. They also saw record deal activity, with 46 deals in Q3'21 — up from 43 the prior quarter and just 3 in Q3'20.