The savings and brokerage app has raised over $75M from investors including Coatue Management, Breyer Capital, and Valar Ventures in two years and is quickly bringing on an underserved demographic.
One of the fastest-growing fintech startups in the US today is Stash Invest, or Stash. The New York-based savings and brokerage startup aims to make it easier for underserved, lower-income users to invest in the stock market.
Stash uses a micro-investing model, which means users can make more frequent investments at fractional dollar amounts. The small dollar amounts have brought in large number of first-time investors — especially millennials — who had previously stayed out of the market.
Stash's approach has gone viral among first-time investors who accounted for 86% of Stash's customers in July, including customers in lower-income brackets that cannot afford a traditional wealth manager and are hesitant to invest all of their savings at once.
We used CB Insights data and SEC public filings to dig into Stash's growth and key metrics.
A few highlights from our research include:
Millennial, first-time users are signing up: While the majority of millennials are skeptical of the stock market, Stash has had early success tapping this market. Stash said 86% of its customers in July were first-time investors.
Customer growth: Stash has 982,800 customer accounts averaging 1,194 account adds a day since receiving SEC approval. Client accounts skyrocketed following the launch of a B2B service, growing 531% in Q1'17. In October 2017, Stash reported the compmany has approximately 1.2M customers.
AUM growth: Stash has $125M of assets under management (AUM) with the average customer account at $127. While AUM per account is far lower than its competitors, Stash says new customers are growing their accounts at a faster and faster pace.
Product strategy: Stash's product differs from the typical robo-advisor by focusing on letting users invest very small sums, which appeals to people who would otherwise stay out of the market. The company has also emphasized financial education as a means of engaging users.
Next moves: Stash is launching a free bank account service through a partnership with an undisclosed bank, slated for Q1'18. This will allow customers to store their savings in an FDIC insured account and directly invest on Stash. Stash is planning on expanding into retirement services in Q4'17 and working on a desktop platform. This suggests an interest in going after an older demographic, and making sure Stash's existing customers can build retirement portfolios with the company. If Stash can expand its user base and keep its current users engaged, it could eventually pose a serious threat to incumbent robo-advisors.
Table of Contents
Client accounts
Stash has been in the market for less than 3 years and after an explosion of customer growth in 2017, the company now has approximately 982,800 client accounts, as of Stash's latest filing dated 8/15/17. As projected, Stash announced the company crossed 1.2M client accounts before the end of 2017.
Stash's target demographics are users that have less than $100,000 in assets. According to the latest census data, this is approximately 63% of Generation X and 86% of millennials, or roughly 109M people in the US.
It's notable that Stash is going after the millennial segment of the market because these are still some of the most skeptical investors. A 2017 Wells Fargo Millennial Study found that 53% of millennials would never be comfortable investing in the stock market. Stash has had early success tapping this market and, as of July when the company has approximately 850,000 customers, reported that approximately 86% of its customers were first-time investors.
Looking at Stash's customer account data over time, we see the company saw a big uptick in growth since Q1'17, with AUM growing 531% and customer accounts growing 493%. This was around the time Stash rolled out a micoinvesting B2B platform for small and medium-sized businesses (SMBs). As of the company's latest filing, there are approximately 347,000 firms that are registered with Stash to use the software, which partially explains hockey stick growth shown below in the client account chart and in the assets under management chart in the next section.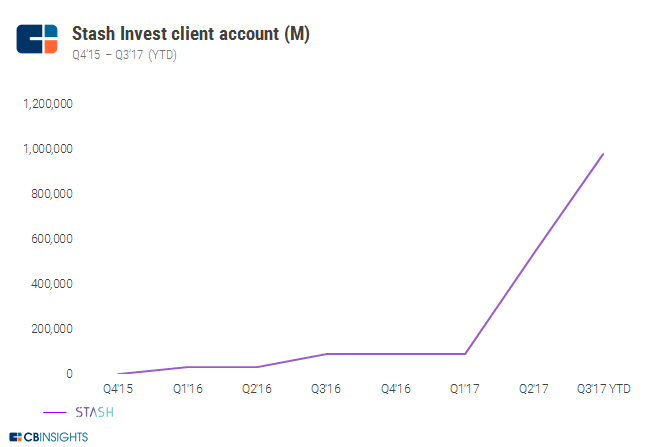 Assets under management (AUM)
Stash has approximately $125M AUM across 982,800 accounts, for an average account size of $127. Stash saw AUM jump significantly after launching the B2B platform in Q1'17.
Though AUM grew 5450% and average account size more than doubled from Q1'16, this is still very small in comparison to other startups in the robo-advisor space. For reference, Betterment manages just over $10B and has an account average of $28,459 (as of 7/28/2017), Wealthfront has nearly $7.49B, and an account average of $40,999 (as of 8/30/2017), and Acorns, the company's closest competitor, has $528M in AUM and averages $407 per account (as of 9/15/2017). Of note, Acorns was on pace to top 2M accounts by the end of 2017 however, between the beginning and end of Q3'17, they saw a significant drop in client accounts but a $46M increase in AUM.
Lower average account size is not surprising considering Stash's target demographic is lower-income customers. CEO Brandon Krieg has openly stated AUM is not a KPI they track as closely as others in the space.
"AUM is definitely not the KPI that we look at today. It puts too much pressure on us, it puts too much pressure on our customers. If we start measuring AUM, we're conflicted at that point."
-Stash CEO Brandon Krieg
Instead, Stash is focused on building out its investment products and points of engagement. This includes soft-launching a robo-advisor for retirement services that has a longer-term performance outlook than the current Stash account and adding a desktop platform to attract less mobile-oriented investors. Both of which could suggest the company is looking to expand into an older and wealthier demographic.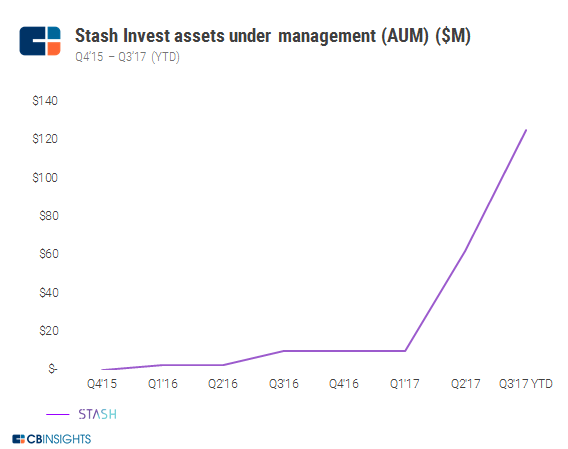 AUM by cohort
While Stash says that it is not focused on AUM per account, another way Stash is tracking its growth is by looking at average AUM across quarterly cohorts of new customers. What is interesting about the graph below is that the average AUM is increasing quicker with each cohort, partially evidenced by the steepness in the line.
Stash reports that, on average, clients 2x their account value by month 2 and 4x their account value by month 6, due to a combination of return on investment (ROI) of their portfolios, increasing the size of their base savings account through recurring auto investments, as well as additional manual individual contributions. However, it's important to note that the data does not state whether cohort retention is accounted for in the graph.
As we analyzed above in the client account chart, customer accounts are growing, so we know the average cohort size is increasing. What will be interesting to watch is if the average starting deposit shifts once Stash's retirement product launches. The graph below shows that the average starting investment is a static number between cohorts, ranging between $50-$100 whereas a retirement account typically starts with a larger lump sum.
A spike could signal a viable threat to existing robo-advisors. For customers already onboarded with Stash and who are looking for a retirement service, opting-in is easier than going to another robo-advisor. For those with an existing retirement account as well as a Stash account, they may consider transitioning to Stash's retirement service to manage their finances more centrally.