From on-demand consultations to digital health coaching, here's how startups are unbundling family medicine.
The role of the family doctor — and the traditional primary care experience — is being disrupted across a number of core functions.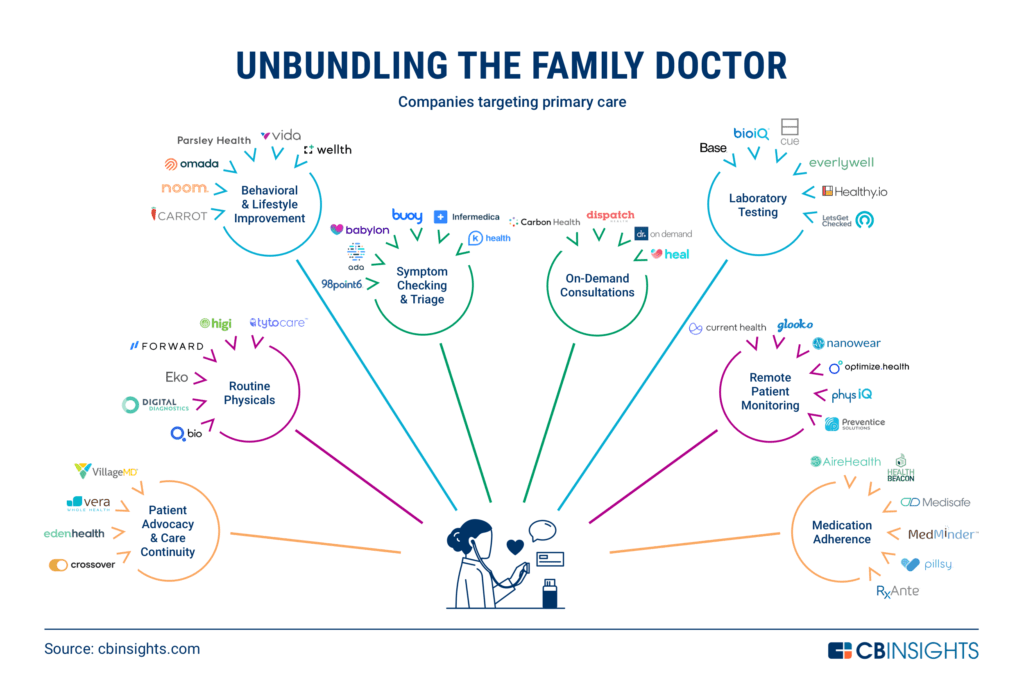 Note: Categories are not mutually exclusive. Companies were placed in the category that best represents their point of differentiation or primary value proposition. 
Primary care (or family) physicians play a vital role in the health of individuals, families, and communities at large. 
Serving both as the first point of contact and as dedicated, longitudinal care advocates, primary care physicians (PCPs) have an ongoing responsibility to their patients' comprehensive care needs — chronic, preventive, and acute — across care settings. Through these enduring partnerships, family physicians help patients make efficient use of the health system; adopt and maintain healthy lifestyles; and prevent, understand, and manage illnesses.
However, for years, primary care providers have been facing growing challenges related to access, physician burnout, and practice costs. The Covid-19 pandemic has further exacerbated these issues. 
According to a November 2020 survey conducted by the Primary Care Collaborative, 25% of primary care practices said their fee-for-service volume was down more than 30% from pre-pandemic levels, while 44% had to cut clinician salaries. Meanwhile, 57% of physicians reported they were experiencing health declines due to stress and fatigue. 
But the pandemic has also accelerated recent trends in how consumers seek out care. In recent years, consumers have gravitated toward solutions that more seamlessly and conveniently integrate aspects of primary care into their everyday lives. Social distancing guidelines implemented during the pandemic have fueled this shift further, especially toward digital and virtual care solutions. 
Below, we take a look at how startups are disintermediating and transforming the traditional primary care experience.
Category breakdown
PATIENT ADVOCACY & CARE CONTINUITY
As patient advocates, PCPs and their accompanying care staff assist patients in making decisions about treatment plans and the course of care. 
This ongoing, cooperative decision-making — known as care continuity — is one of the core tenets of primary care and has been associated with better healthcare outcomes, higher patient satisfaction rates, and more cost-effective care. 
However, achieving care continuity has become more challenging under traditional models of primary care as patients' care needs grow more complex, the health system gets more specialized, and data silos become more entrenched. 
To tackle these challenges, several startups have implemented new care models that allow more comprehensive care to be delivered directly within the primary care setting — and in ways that are more convenient and personalized for patients. In cases where secondary or specialty care is required, many of these companies also offer advocacy services to help patients navigate health networks.
Vera Whole Health

, for example,

delivers "advanced primary care" (APC) through onsite workplace clinics. While traditional primary care visits typically last 5-15 minutes, Vera appointments

range from 45 to 60 minutes

, giving physicians more time to examine and establish relationships with patients.

Vera claims its APC model can provide 80-90%

of the care a patient needs, limiting reliance upon outsourced urgent, emergency, or specialty care — which is where care continuity tends to be broken.

While

Crossover Health

and

Eden Health

provide similar offerings to Vera's employer marketplace, they've adopted hybrid in-person/online care models that allow patients to maintain 24/7 connectivity with their dedicated care teams. Eden Health's à la carte services closely mirror those offered under traditional primary care, while Crossover Health extends primary care to include physical medicine, mental health, health coaching services, and more.

VillageMD

, on the other hand,

partners directly with PCPs, providing the technology and care model they need to deliver value-based care. PCPs are supported by VillageMD nurse practitioners, pharmacists, mental health specialists, and dietitians, who help them address patients' medical, mental health, and lifestyle needs across different care settings.
ROUTINE PHYSICALS
Routine physicals are valuable opportunities for PCPs to strengthen relationships with patients, update patients' longitudinal health records, and potentially identify and address health issues before they become problematic. 
Historically, these visits have taken place in person, on an annual basis, and involve very basic physiological assessments. But technology is changing how, when, and where these exams can be done. 
Internet-connected examination tools are enabling everyday consumers to conduct parts of the physical exam from home, sharing the video or data feed with remote physicians in real time.
Notable examples include

TytoCare

's TytoHome (which includes a thermometer, otoscope, tongue depressor, and stethoscope) and

Eko

's DUO ECG + Digital Stethoscope.

Internet-connected kiosks, like those offered by

higi

, enable consumers to more conveniently and frequently perform routine health screens without having to visit a clinic. Placed in local grocery stores, pharmacies, and club stores, higi's free-standing health stations allow consumers to measure their vital signs and other biometrics that may help identify one's risk for common diseases like diabetes and heart disease. 
Some companies have incorporated these types of connected exam tools and biometric kiosks into direct-to-consumer preventive care services.
Forward, for example, offers a hybrid in-person/online membership. Members are first evaluated by Forward's Body Scanner (a biometric kiosk) to establish a biometric baseline, which is then combined with lab work

, medical histories, and physical examinations to create personalized preventive health plans.

Like Forward,

Q Bio

offers a "quantitative self" membership for preventive health, but it also incorporates whole-body MRI imaging and works alongside patients' care teams (instead of operating as a medical practice).
AI-enabled exam tools are also helping PCPs perform more advanced screening tests during routine physicals without altering or overburdening their existing workflows.
For example, Eko's DUO Stethoscope and

Digital Diagnostics

' IDx-DR retinal imaging system allow PCPs to automatically detect conditions like atrial fibrillation, diabetic retinopathy, and diabetic macular edema right at the point of care.
BEHAVIORAL & LIFESTYLE IMPROVEMENT
Family physicians are responsible for educating patients about and encouraging the adoption of healthier behaviors, whether to promote general wellness, prevent the onset of disease, or manage existing conditions.
In recent years, a flood of startups have entered this space to coach and counsel patients through these behavior changes. 
Digital programs like

Carrot

and

Noom

 help coach consumers through voluntary behavior changes, like quitting smoking or adopting more balanced diets. 

Other digital health companies like

Omada Health

,

Vida Health

, and

Wellth

have designed behavior-change solutions for patients with specific chronic conditions like diabetes, hypertension, and chronic pain. 

In contrast to these digital-only programs,

Parsley Health

offers comprehensive functional medicine — covering nutrition, exercise, mindfulness, sleep, and supplements — in a hybrid in-person/online format. 
SYMPTOM CHECKING & TRIAGE
Though "urgent care" may take on a slightly different meaning today due to the rise of urgent care clinics, the term actually refers to all non-emergency care needs that should be addressed within 24 hours. This covers everything from skin rashes, scrapes, and sprains to fevers, sore throats, and breathing difficulties. 
PCPs are supposed to be the first point of contact in these situations — primarily for care continuity purposes — while urgent care clinics are intended for when PCPs are unavailable. 
Regardless of the care setting, however, the purpose of these visits is largely the same: to evaluate a patient's symptoms and either provide a diagnosis and treatment or triage and refer the patient to a more appropriate care setting.  
Most of this process is "rule-based," meaning it's supposed to be done according to standardized clinical guidelines. For this reason, artificial intelligence (AI) is particularly useful in automating parts of the clinical decision tree. 
Startups like

Ada Health

,

Buoy Health

,

and

Infermedica

offer AI-enabled chatbots via mobile apps that help patients check the severity and likely causes of their symptoms on demand so they can make more informed decisions about whether to seek medical care. 

Others — like

Babylon Health

,

K Health

, and

98point6

— combine the power of AI with real doctors, allowing patients to conduct online visits with primary care doctors after interacting with a screening/triaging chatbot. 
ON-DEMAND CONSULTATIONS
Startups in this space have adopted business and care models that cater specifically to consumers' preference for on-demand or à la carte care — even if that means foregoing the 1:1 patient-physician relationship that's typical for primary care. 
Virtual care platforms like

Doctor on Demand

allow individuals to request, schedule, and complete live video visits with licensed physicians anywhere, anytime. This approach is especially useful in urgent care situations, helping patients get diagnosed and treated more quickly while also avoiding the costly expenses associated with an ER visit. 

Dispatch Health

also delivers on-demand urgent care, but instead of through traditional brick-and-mortar clinics or purely virtual interfaces, it dispatches medical professionals to patients' homes. By being physically present, Dispatch's care providers can assess a wider range of urgent care concerns while still helping patients avoid long wait times and high costs.

Carbon Health

and

Heal

, on the other hand, have adopted hybrid in-person/virtual models for on-demand care delivery. Carbon Health operates brick-and-mortar clinics but also allows patients to schedule on-demand video visits through its mobile app. Heal began as an on-demand house call service (similar to Dispatch) but has since expanded into on-demand virtual visits (similar to Doctor on Demand). 
LABoratory TESTing
PCPs frequently rely on in vitro (e.g. blood, urine, or saliva-based) tests to perform health screens, identify sources of intolerance or allergies, and diagnose infections like UTIs or the flu.
Depending on the specific test and the facility's on-site capabilities, a physician may perform an in vitro test directly at the point-of-care or send it out for processing at a third-party lab. 
However, it's now possible for patients to perform certain types of tests without having to make a trip to the doctor in the first place. 
Cue Health

is developing an automated, digitally enabled point-of-care testing platform that can be used to rapidly and easily detect common infections (e.g. influenza, upper respiratory infections, strep throat) at decentralized locations. During the Covid-19 pandemic, Cue partnered with the NBA to make point-of-care Covid-19 testing available on site within the Orlando "bubble." 
Startups like Healthy.io, LetsGetChecked, Everlywell, and Base offer direct-to-consumer lab tests that can be performed at home.
Healthy.io's smartphone-enabled urinalysis tests for UTIs and kidney health screening allow consumers to receive test results in minutes and

then

connect virtually with doctors to make appropriate treatment decisions. 

LetsGetChecked and Everlywell's tests, on the other hand, allow patients to collect samples from home and send them to affiliated laboratories for analysis. Results are shared digitally within a few days. Consumers can order anything from lipid and cholesterol panels to STD tests to food sensitivity tests.

Base's direct-to-consumer, subscription-based at-home testing service helps consumers monitor and make more informed decisions about their health. Its sleep, diet, stress, and fatigue tests help members learn about vitamin, hormone, and neurotransmitter levels. The accompanying mobile app guides them through diet, supplement, and lifestyle recommendations.
BioIQ offers a similar at-home testing service as Everlywell and LetsGetChecked, though it's available through health plans instead of being marketed to consumers directly.
REMOTE PATIENT MONITORING
Family doctors generally have limited information about how their patients are doing beyond what is observed or collected during clinical interactions. 
For example, a PCP caring for a prediabetic patient may have no insight into how physically active that patient is or how their blood glucose levels are trending between visits. The doctor can only base decisions off information reported and data collected during intermittent visits. That means the doctor risks missing the opportunity to proactively intervene if the patient's condition begins to decline before the next scheduled visit.
This also impacts physicians' ability to monitor patients with chronic illnesses and patients undergoing post-acute or post-surgical care transitions. Further, it hinders their ability to detect and diagnose conditions with sporadic symptoms (e.g. cardiac arrhythmias).
Remote monitoring solutions, however, can dramatically improve PCPs' ability to keep tabs on these populations without overwhelming their capacity or existing workflow. 
As it relates to post-acute or post-surgical care transitions,

Current Health

and

Nanowear

have developed full-stack remote monitoring solutions (including both hardware and software), while

PhysIQ

has developed a device-agnostic software solution. 

Several startups are working on solutions that help providers remotely monitor patients with chronic diseases.

Glooko

, for one, has an exclusive focus area (diabetes), while others like

optimize.health

can be adapted to a wider range of chronic conditions.

Wearable ambulatory cardiac monitors like

Preventice Solutions

' BodyGuardian can be prescribed for patients with suspected — but not yet diagnosed —  conditions. The continuous data collected from the device can help physicians detect symptoms that may not have presented during an in-person exam (e.g. atrial fibrillation). 
MEDICATION ADHERENCE
PCPs have a responsibility to educate their patients about prescribed treatment plans and to promote adherent behavior so they have the best chance of success. 
Unfortunately, PCPs typically have little insight into how patients are adhering to treatment on an ongoing basis, and therefore have little chance to intervene when patients fall behind.
A number of startups are trying to overcome this problem — either by enhancing the provider's ability to continually monitor and intervene or by offloading some of their responsibility.
Pillsy

and

RxAnte

offer enterprise platforms that allow providers to not only monitor when patients take their medications but also support their adherence through reminders and interventions. 

Medisafe

has developed what it calls the "digital drug companion," a mobile app that can be customized by biopharmaceutical manufacturers and offered alongside specific prescription medications. The app educates patients about treatment, encourages compliance, and monitors progress through interactive surveys.
Other companies have developed direct-to-consumer solutions.
MedMinder Systems offers a digital pillbox that helps elderly patients stay on track with prescribed regimens by sending reminders and sharing status updates with seniors' loved ones.
AireHealth and Health Beacon have developed solutions for patients that require specific types of treatments: AireHealth's connected nebulizer helps those with respiratory conditions, while HealthBeacon's Injection Care Management System aids patients requiring self-injections. 
If you aren't already a client, sign up for a free trial to learn more about our platform.