Solutions include AI-powered fact-checking and blockchain-backed content distribution.
The emergence of "fake news" — false stories that gain traction across the internet and social media  —  has become a major story since the 2016 elections. This spread of misinformation, amplified by high engagement, has impacted individuals and brands alike. Both Starbucks and Monsanto, among others, fell victim to fake news attacks in the last year.
Technology's role in the fake news crisis is huge and well documented — with companies like Facebook and Twitter under scrutiny for allowing the spread of false stories.
But a number of startups have emerged to combat trending misinformation. 
We used the CB Insights platform to identify 7 innovative companies that are fighting the good fight against fake news. Scroll through to read the full list, shown in descending order of disclosed funding.
---

Total Disclosed Funding: $129.1M
Latest Round: Series C | $21M  | August 2016
Select Investors: Bessemer Venture Partners, Foundry Group, Techstars Ventures
Distil offers an end-to-end solution for companies to gain complete visibility and control over "human, good bot, and bad bot traffic" — all of which can be potent distribution engines for misinformation. Distil's product includes a technology platform for detecting automated threats, as well as dedicated security expertise, analysis, and customer support.
Distil also specializes in bot detection and blocking. Distil says it uses machine learning techniques to analyze attack patterns in real-time and can identify the source of a bot attack using "device fingerprinting." Distil also protects against cyberthreats of web scraping, competitive data mining, online fraud, account hijacking, and digital ad fraud.
---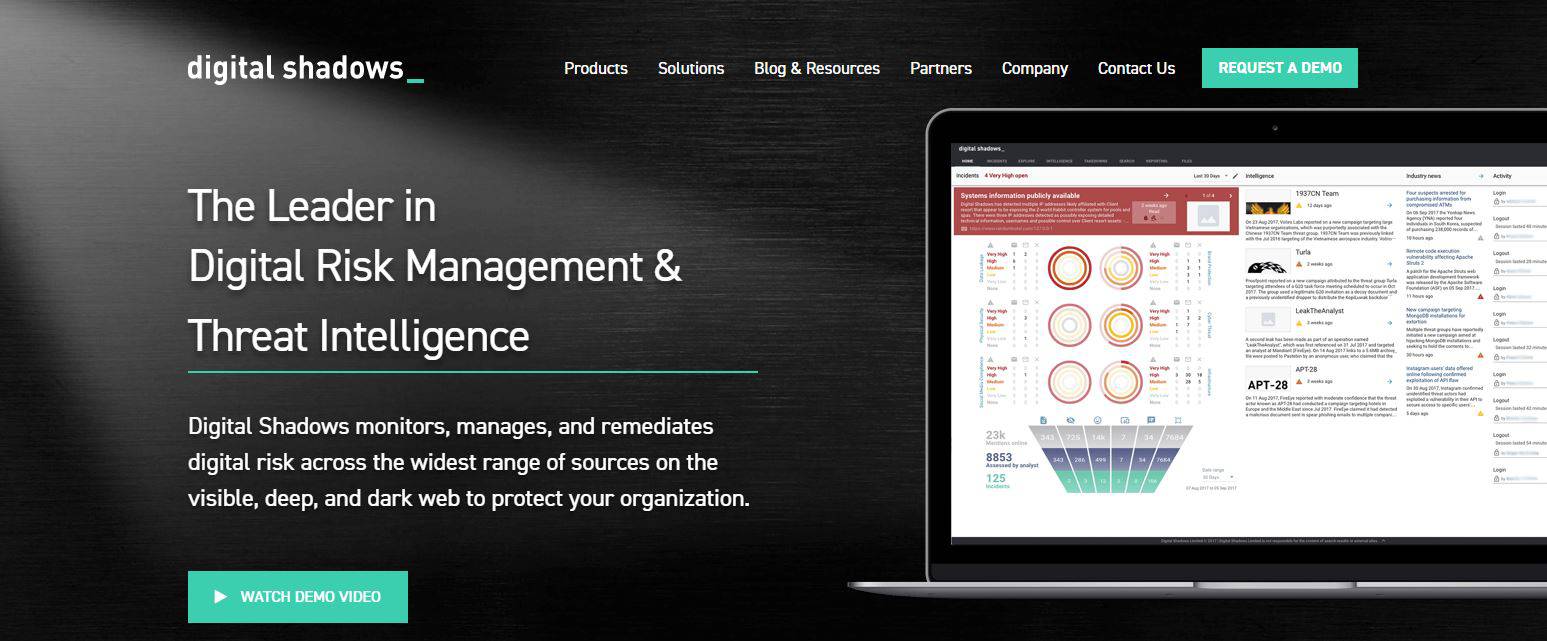 Total Disclosed Funding: $48M
Latest Round: Series C | $26M | September 2017
Select Investors: Passion Capital, Storm Ventures, Ten Eleven Ventures
Digital Shadows is a cybersecurity startup offering products that combat fake news. The company specializes in understanding what hackers and other nefarious parties are doing on the "dark web." (The dark web is a collection of websites that exist on an encrypted network and cannot be accessed through normal browsers or search engines.)
Since the dark web is a breeding ground for fake news, Digital Shadows uses a combination of tech monitoring and threat-intelligence analysis to protect the interests of broadcasters and other clients. The company identifies and issues takedown notices for fake websites, phony social media profiles, and "counterfeit" company domains set up to spoof a brand's online identity.
---

Total Disclosed Funding: $35M
Latest Round: Series B | $23M | July 2017
Select Investors: Canaan Partners, Data Collective, and Vertex Ventures
PerimeterX CEO Omri Iluz founded the cybersecurity company in 2014 to tackle the then-rising problem of automated, pre-programmed bot attacks. In the years since, bots have grown into the primary distribution engine for media misinformation: According to cybersecurity research firm Imperva, bots accounted for 52% of all Internet traffic last year.
PerimeterX tackles the problem by tracking the behavior of website visitors. Using artificial intelligence algorithms, the tech can determine which visitors are bots (and should be blocked) because they don't behave like humans online. PerimeterX's technology can integrate with media companies' existing enterprise software to help protect their websites from takeover attacks or content scraping.
---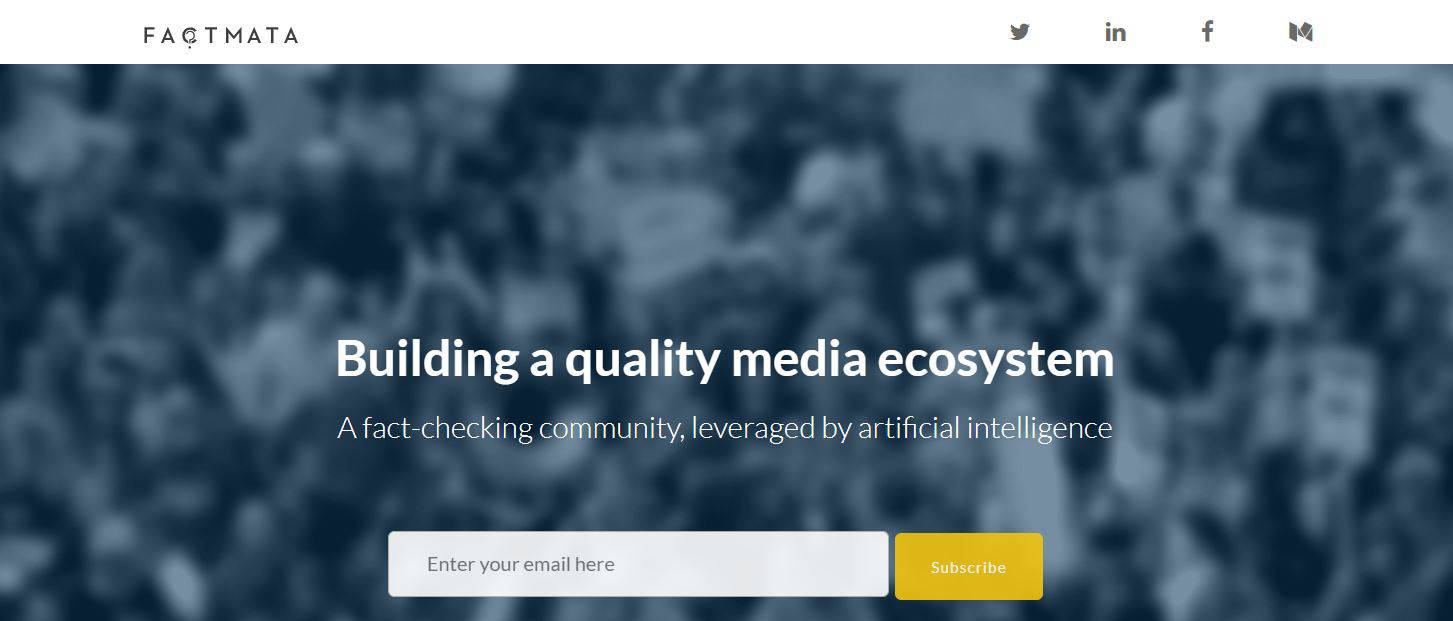 Total Disclosed Funding: $1.1M
Latest Round: Seed | $750K | September 2017
Select Investors: Mark Cuban, Mark Pincus, Ross Mason, Sunil Paul
FactMata is creating a media ecosystem and "fact-checking community" powered by artificial intelligence.
The team is developing two sets of AI-powered verification tools: One will enable journalists and newsreaders to "detect, verify and fact check media information in close to real time," and one that will offer advertisers and businesses with a "quality score" to help them avoid placing advertising on inaccurate or misleading content.
---

Total Disclosed Funding: $800K
Latest Round: Seed | $800K | January 2017
Select Investors: BlueYard Capital, Fred Ehrsam, and Piotr Smolen
The fake news problem emerged in part because social media sites allowed users' likes and engagement with content to "upvote" it toward trending status — ultimately earning it further attention from site users. Regardless of the content's accuracy, those likes and other engagement metrics can be easily manipulated by bots and other concerted attacks.
UserFeeds uses blockchain technology to create a system in direct opposition to the "trending" content consumption model. The company is developing a transparent, auditable content network that relies on "ranking algorithms" (backed by the exchange of digital tokens) to signal the quality or attention-worthiness of information. 
The aim is to create economic incentives around content integrity: If every piece of content is "tokenized," the trail of its online movement among users is backed by a verifiable, publicly viewable digital transaction. This holds content curators accountable for the accuracy of their content from the moment they place it on the distributed ledger.
---

Total Disclosed Funding: N/A
Latest Round: N/A
Select Investors: N/A
Crisp launched in 2005 to help companies manage risk as they started working with user-generated content on social media channels. As fake news began gaining speed, the company responded by helping brands protect their reputations — using an algorithm to trawl the internet to understand who is distributing content that could be damaging to their business.
Adam Hildreth, Crisp's CEO, describes the product as the opposite of a search or discovery engine: The company's work graphs all the places brands don't want to visit or advertise because associating with the content could cause reputational damage. Crisp specializes in helping companies stay in front of issues related to hate speech, racism, and terrorist-related content.
---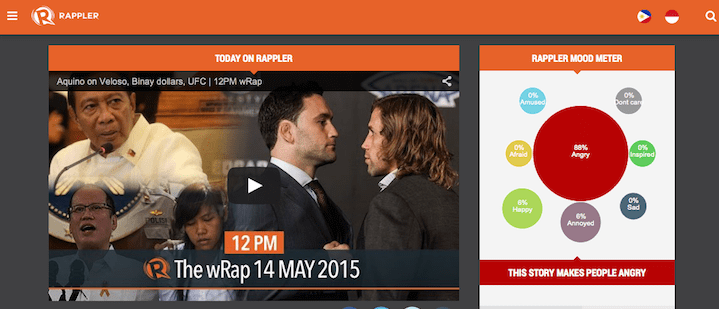 Total Disclosed Funding: N/A
Latest Round: Series A-II/Unattributed | October 2016
Select Investors: Omidyar Network, Marcus Brauchli
Rappler is a curated media site and online social news network on the front lines of investigative reporting in the Philippines. The startup is focused on activating social change by reporting stories that inspire community engagement. (Its name comes from the words "rap" and "ripple" — as in "discuss" and "make waves.")
As a result of its mission, Rappler has been both a target of fake news attacks and a vigilante against it: The company was recently awarded a 2017 Democracy Award from the National Democratic Institute for its investigative reporting on the use of "trolls" and "bots" for spreading fake news in the Phillipines and elsewhere.
---
If you aren't already a client, sign up for a free trial to learn more about our platform.