Market Map
As digital banking trends continue to accelerate, these startups are enhancing the bank's front, middle, and back office functions through automation and artificial intelligence.
Digital banking and payments are on the rise amid branch closures, rising global unemployment, and widespread social distancing practices. Banks of all sizes are reassessing their current business models with a focus on digital transformation. 
Digitizing the online account opening, lending, and customer service functions can provide a superior experience for the customer and a lower operational cost for the bank. As a result, startups and technology vendors that automate workflows or embed artificial intelligence (AI) and machine learning (ML) into bank operating models will likely continue to be in high demand.
Banking infrastructure software is a $500B global market, according to the CB Insights' Industry Analyst Consensus. Automating operations presents a significant opportunity to increase productivity while lowering employee headcounts. 
Below, we used CB Insights data to identify 95+ fintech companies automating the bank across the front, middle, and back offices. 
This market map includes active companies only and is not meant to be exhaustive of companies in the space. Categories are not mutually exclusive.
Please click to enlarge.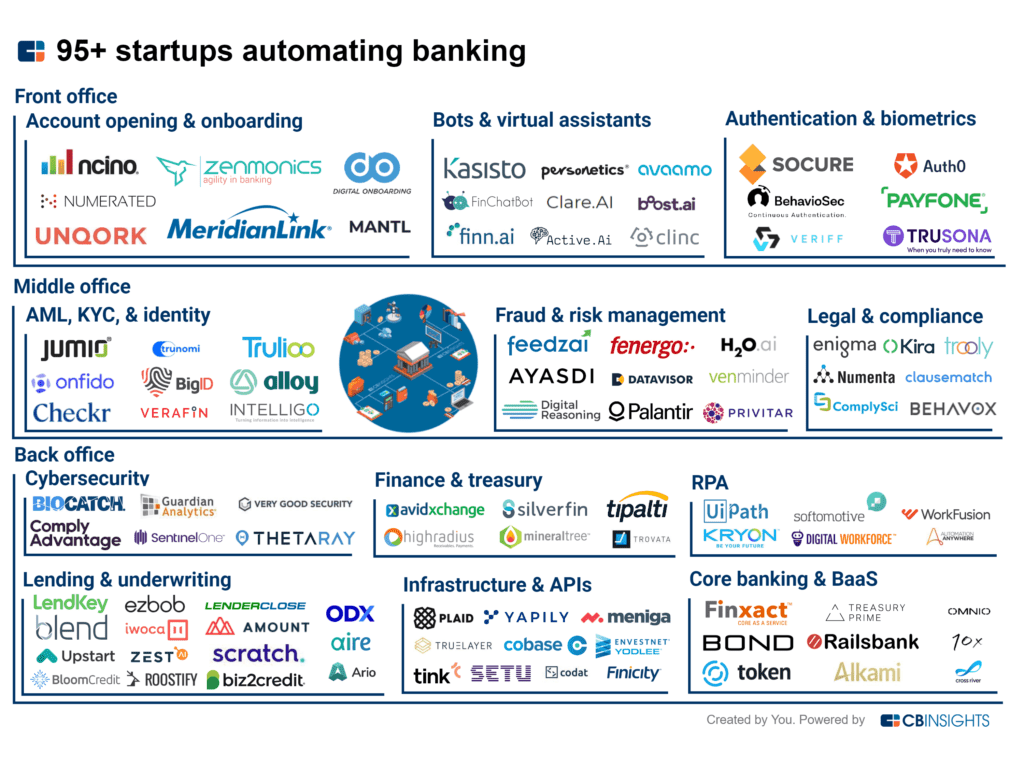 CATEGORY BREAKDOWN
Front office
Account opening & onboarding: Startups in this category facilitate digital, automated services to reduce onboarding time for banking customers. Startups like Mantl provide a streamlined, omnichannel account opening platform for financial institutions. 
Bots & virtual assistants: Companies in this category automate customer service channels between banks and their customers. Startups like Kasisto are building white-label conversational AI chatbots that allow financial institutions to automate communication with customers across multiple channels like mobile, messaging, and web.
Authentication & biometrics: Companies in this category offer digital authentication protocols to combat fraud, increase transaction security, and enhance customer experience. Startups like Payfone are creating digital identity platforms, enabling businesses to instantly verify customers. 
Middle office
AML, KYC, & identity: Companies in this category complete customer background checks and know-your-customer (KYC) processes before banks open new accounts. Startups like Onfido provide real-time identity verification and facial biometrics for KYC and anti-money laundering (AML) compliance.
Fraud & risk management: This category includes companies that provide anti-fraud and risk management solutions for banks and financial services institutions. For example, Feedzai provides banks with ML and AI-based omnichannel solutions to prevent account opening and transaction fraud.
Legal & compliance: Startups in this category work with legal and compliance organizations within banks, automating workflows and improving operational efficiency with AI and ML. Behavox, for example, is an enterprise compliance software company that provides employee surveillance to detect market abuse and internal threats. 
Back office
Cybersecurity: This category includes companies that help financial institutions protect customer data, maintain regulatory compliance, and fend off cyber attacks. ComplyAdvantage, for example, helps firms manage compliance with regulations relating to sanctions, AML, terrorist financing, bribery, and corruption. 
Finance & treasury: This category includes companies that are helping banks improve accounting and finance functions through real-time data and analytics. HighRadius, for example, automates the accounts receivable and treasury process with an AI-based platform to improve cash management, forecasting, and reconciliation. 
Robotic process automation (RPA): This category includes startups helping banks automate manual, data-intensive processes. WorkFusion, for example, combines RPA, AI-powered cognitive automation, and analytics to automate back-end operations like KYC and AML processes.
Lending & underwriting: Startups in this category automate processes throughout the lending lifecycle, such as applications, underwriting algorithms, funding, servicing, and collection. Amount and ODX are white-label lending startups that partner with banks and lending institutions to automate the loan origination workflow. Other companies, such as Zest AI, partner with lenders like Discover Financial Services to embed ML into credit underwriting models to improve loan decisioning.  
Infrastructure & APIs: Banking infrastructure startups connect financial institutions with third-party developers through APIs in order to exchange data and create financial products. Plaid, one of the largest financial infrastructure startups, was recently acquired by Visa for $5.3B. Another example is Yapily, a London-based open API platform that connects banks with service providers to access financial data and initiate payments. 
Core banking & Banking-as-a-Service (BaaS): Startups in this category provide core banking infrastructure for financial institutions. They also enable fintech startups to integrate FDIC-insured checking accounts, direct deposits, savings accounts, direct payments, and more directly into consumer apps. 10x Future Technologies, for example, offers cloud-based banking technology to improve customer experience and operations for financial institutions. 
If you aren't already a client, sign up for a free trial to learn more about our platform.