Collectively, US unicorns are worth approximately $360B. Combined, these companies have raised just over $73B.
The United States is home to 105 unicorn companies valued at $1B+. As of 7/25/2017, six private US companies are worth over $10B. The two most valuable unicorns in the US are Uber ($68B) and Airbnb ($29.3B). Palantir Technologies and WeWork, both valued at $20B, are tied for third.
Of the top four highest valued, only WeWork (which is based in NYC) is headquartered outside California. California has the highest unicorn "population" of any US state by far, with 62 billion-dollar startups inside its borders. New York ranks second with 15, followed by Massachusetts and Illinois with five each. Eight other states and the District of Columbia are also home to at least one company worth $1B+.
Using the CB Insights database and our real-time global unicorn tracker, we visualized the locations of every US-based unicorn in the map below.
Click on the image below to enlarge.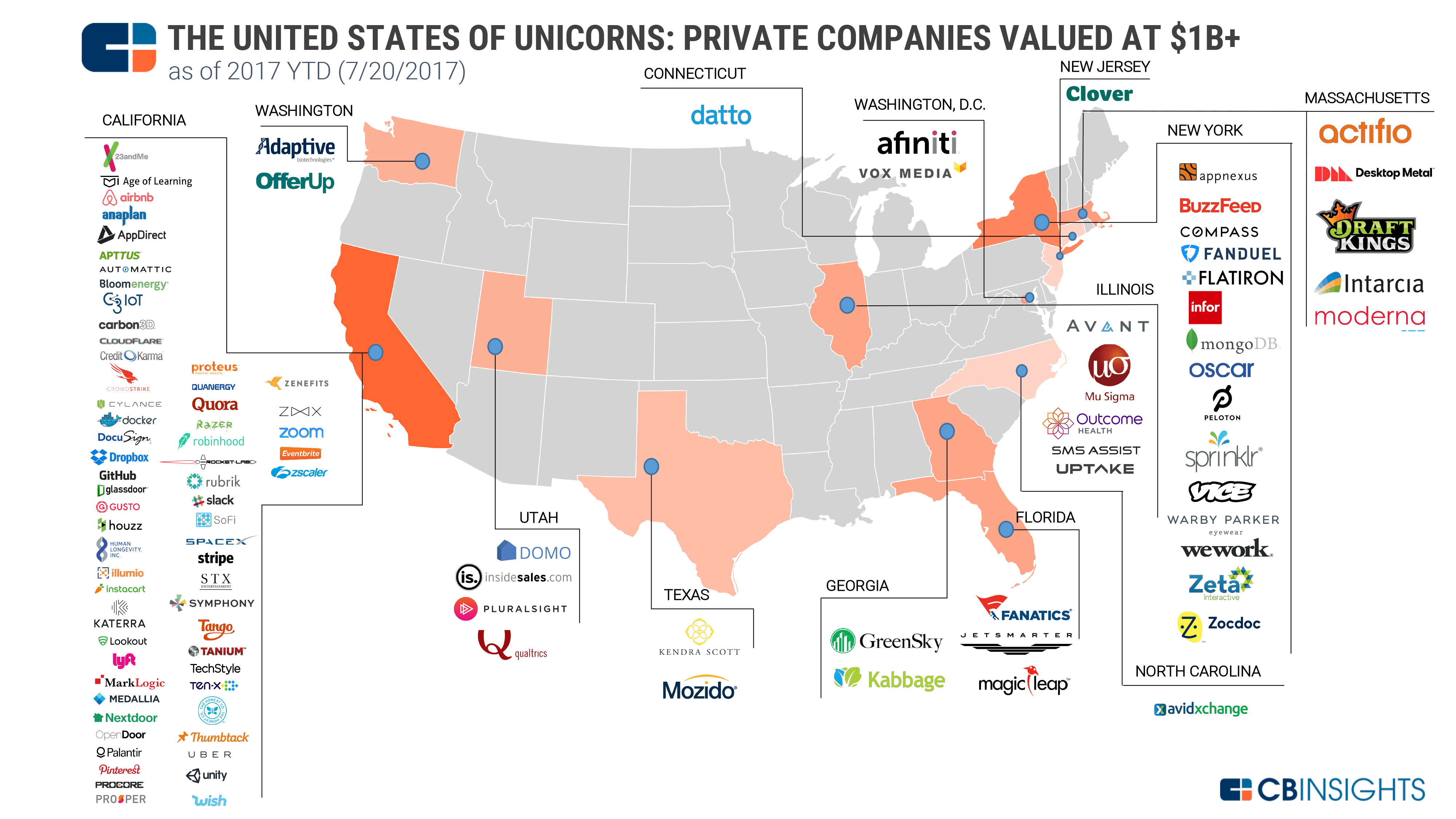 Key insights about the companies in this map:
Collectively, US unicorns are worth approximately $360B.
Combined, these companies have raised just over $73B.
After California, New York, Massachusetts, and Illinois, the next-highest unicorn populations are found in Utah (with four) and Florida (with three).
The top five most well-funded US unicorns are: Uber ($15.1B raised), Airbnb ($4.4B), WeWork ($2.76), Infor ($2.63B), and Lyft ($2.46B).
The oldest unicorn in the US is the greentech company Bloom Energy, which reached a valuation above $1B in 2009.
The newest unicorn in the US is 3D printing startup Desktop Metal, which became a unicorn in July 2017 after raising a $115M Series D.
The three most active investors in US-based unicorns, by total number of deals to these companies, are the VC firms Sequoia Capital, Andreessen Horowitz, and Tiger Global Management.
Track all the unicorns in this brief and many more on our platform
Look for Unicorns- Billion Dollar Startups in the Collections tab and search by the US or state hashtags.
Track unicorn companies
---
This report was created with data from CB Insights' emerging technology insights platform, which offers clarity into emerging tech and new business strategies through tools like:
If you aren't already a client, sign up for a free trial to learn more about our platform.