Startup funding dropped 10% in the quarter following the 2008 crash. Have VCs reacted to the 2020 economic crisis the same as they did back in the 2008 recession?   
The global economy suffered in the late 2000s as a mortgage crisis in the United States caused ripple effects through the global financial system.
Similarly, the Covid-19 pandemic yielded a collapse in the global economy as supply chains and travel were disrupted and businesses were mandated to close.
Below, we take a look how the 2008 recession impacted VC deals and dollars, and how the 2020 economic crisis compares.
The impact of economic crisis on VC
Using CB Insights data, we found that on a global basis, the disruption to deal activity caused by Covid-19 was much more severe than in the Global Financial Crisis of 2008. Funding, however, carried on. 
Global deal activity plummeted 16% QoQ in Q1'20 as Covid-19 spread. In comparison, the start of the 2008 financial crisis caused an only 8% decline in global deal activity in Q4'08.

Global VC funding rose 11% in Q1'20 despite the pandemic; in contrast, the onset of the 2008 financial crisis caused an immediate contraction in global VC funding, reflected in a 10% decline in Q4'08.
In the US, the effects of Covid-19 continue to unfold, but the data signals a downturn for startup deal activity and funding.
Startup deals in the US collapsed 16% at the onset of the 2008 financial crisis in Q4'08; in comparison, US deal activity fell 6% in Q1'20 and is set to decline further in Q2'20.

US VC funding fell 13% in Q4'08. Startup funding in the US rose 22% in Q1'20, due to an uptick in mega-rounds, but is expected to recede in Q2'20.
Global VC investment
On September 15, 2008, Lehman Brothers, then the fourth-largest bank in the US, filed for Chapter 11 bankruptcy protection. Lehman Brothers and other banks incurred massive losses in their portfolios of mortgage-backed securities, leading to a banking crisis that resulted in a global economic slowdown. 
This resulted in an immediate contraction in global VC deal activity, which lasted for three quarters.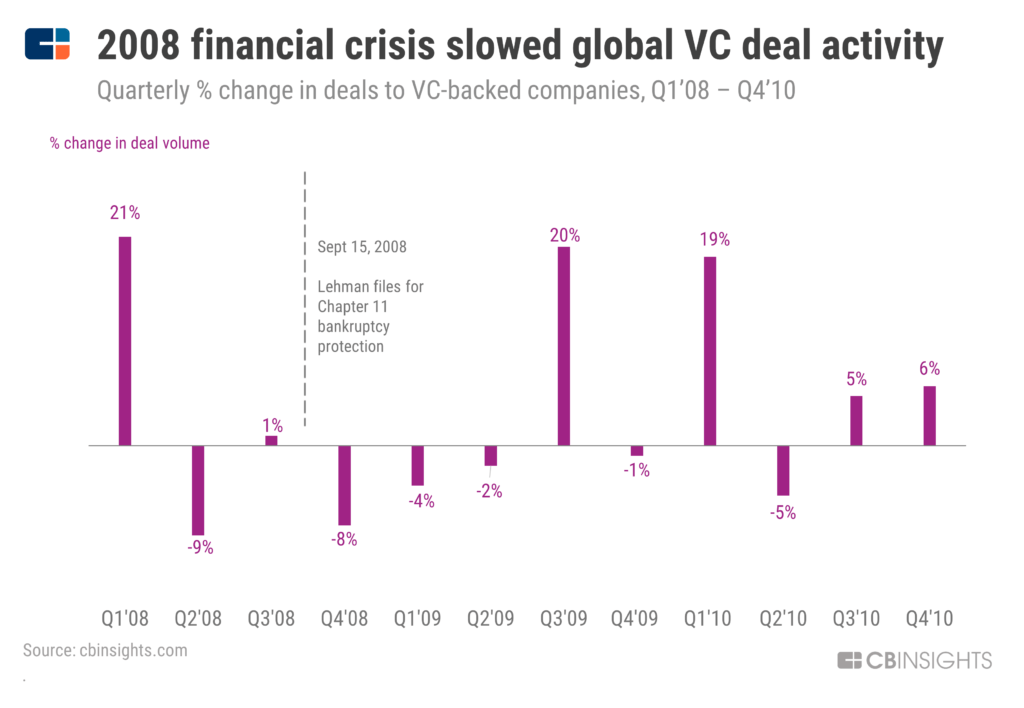 On January 30, 2020, the World Health Organization (WHO) Director-General declared Covid-19 a Public Health Emergency of International Concern, representing the unofficial start of the economic disruption associated with the virus. The Covid-19 outbreak, like the 2008 financial crisis, derailed expansion prospects for startups and caused investment activity to fall.
While the 2008 financial crisis caused global deal activity to fall 8% in the quarter after Lehman collapsed, the financial crisis stemming from the outbreak of Covid-19 caused global VC deals to plummet 16% in Q1'20.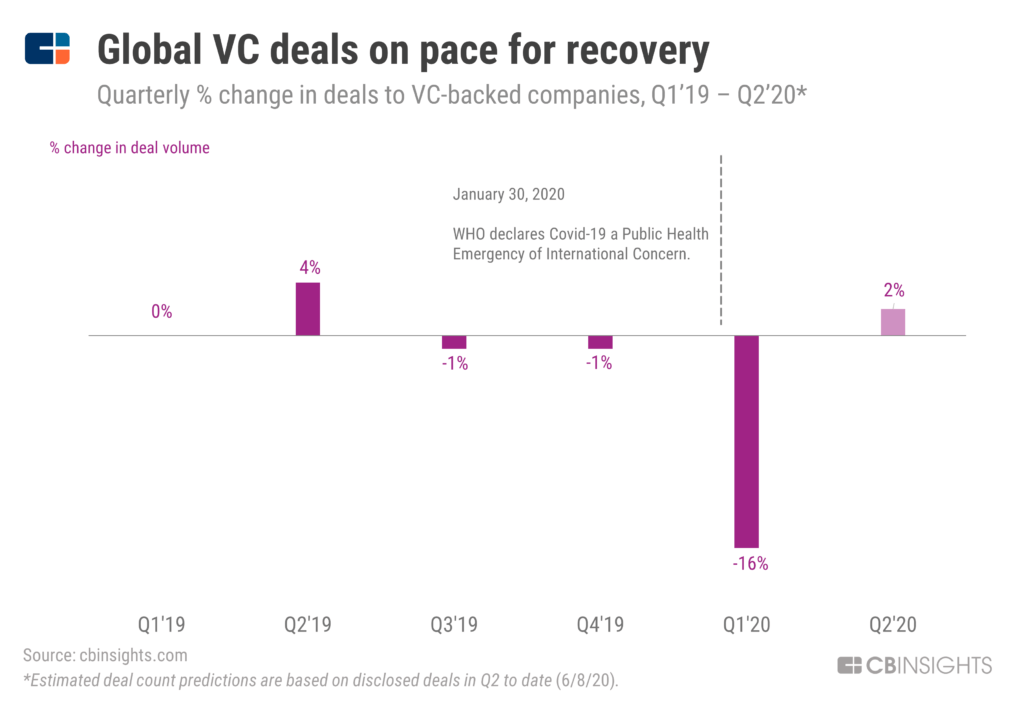 Nonetheless, global deal volume is showing signs of a steady recovery, with a forecasted 2% increase in global deal activity at its current run-rate.
The 2008 financial crisis triggered a decline in global VC funding that lasted for two consecutive quarters. Startup funding rose 59% in Q3'09, due to a spike in funding in Europe — Silver Lake invested $1.9B into Luxembourg-based Skype in September 2009, inflating figures.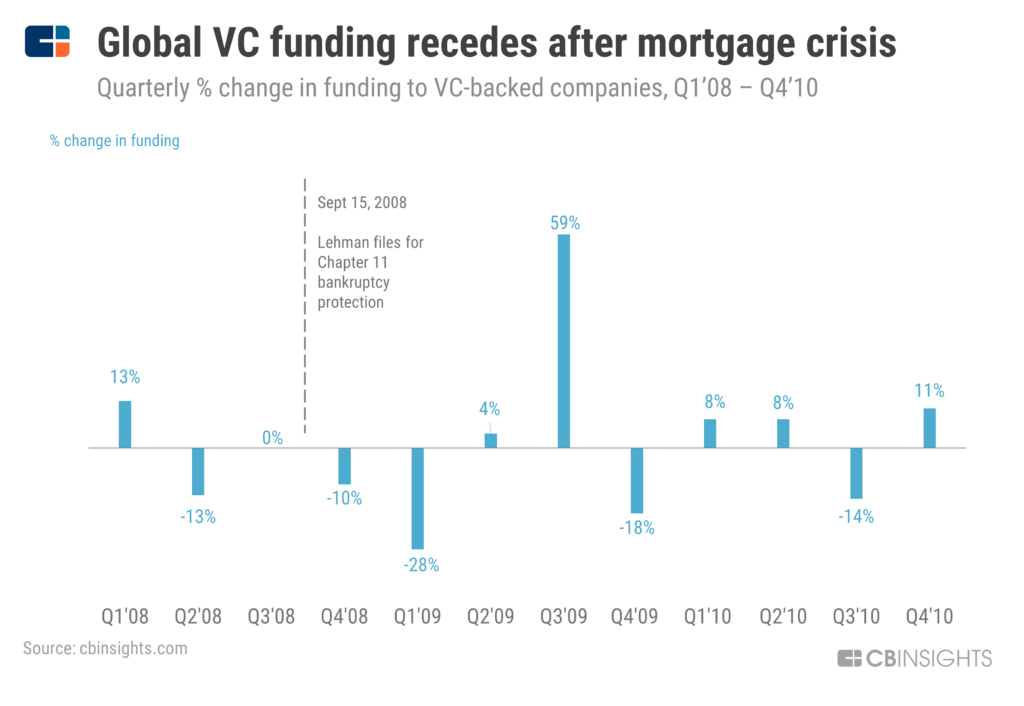 In contrast, global VC funding is on pace to increase for the second consecutive quarter in 2020 with a 27% forecasted increase, despite the outbreak, largely due to $1B+ rounds to select startups.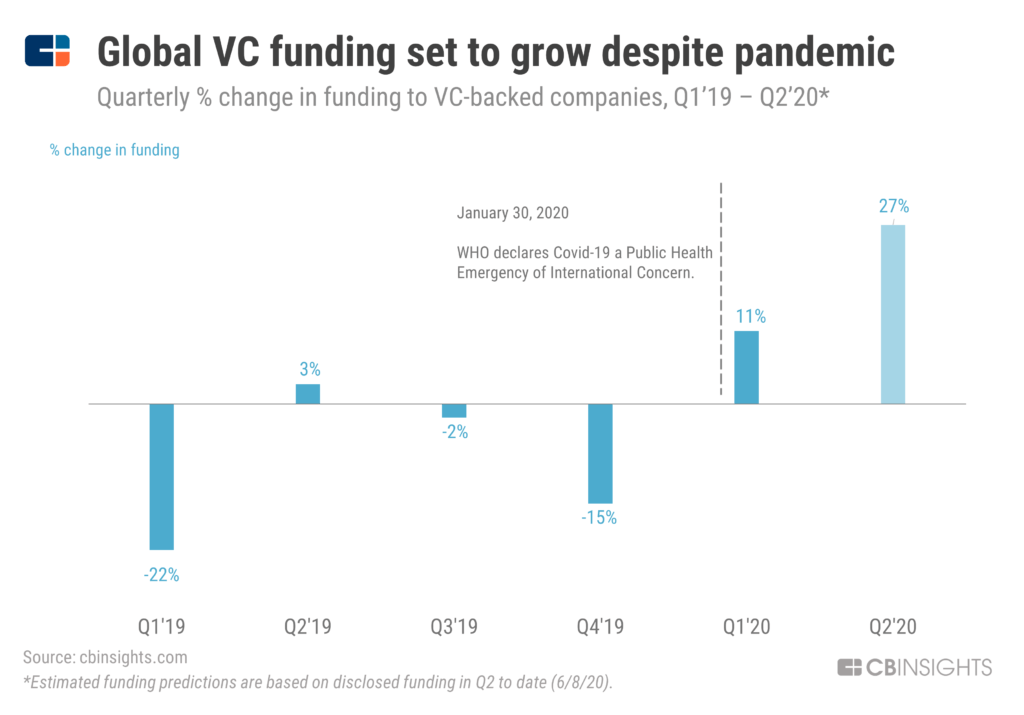 In Q1'20, funding was lifted by a series of $1B+ mega-rounds, including Waymo's $2.3B equity round, Beike Zhaofang's $1.5B Series D, and Gojek's $1.2B Series F.
In Q2'20, global funding was bolstered by $12.9B of combined funding into India-based telecom company Reliance Jio. Without the private equity rounds to Reliance Jio, Q2'20 funding would be set to decrease by 5% globally. 
As such, funding in Asia is on pace to rise 108% in Q2'20. Meanwhile, funding is on pace to rise 4% in Europe but fall 12% in North America.
US VC investment 
As the United States triggered the 2008 financial crisis, the US startup ecosystem was immediately impacted by the wave of mass credit defaults, unemployment, and restricted consumer spending. Thus, deals to VC-backed startups fell 16% in Q4'08.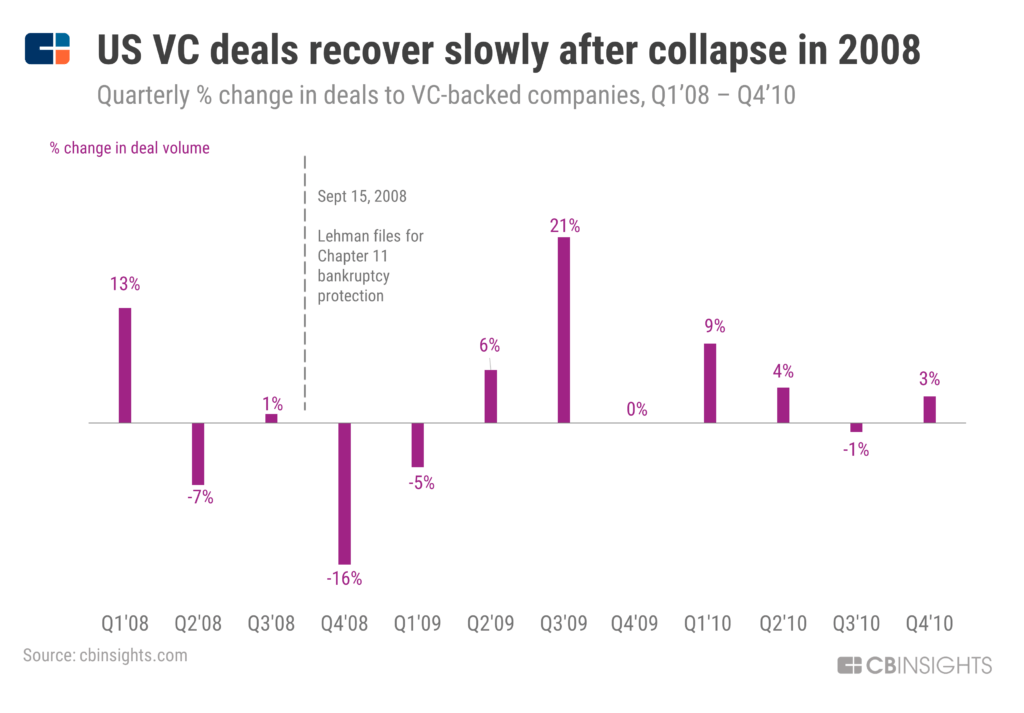 US deals rebounded in Q3'09, rising 21% due, in part, to a US fiscal and monetary stimulus that caused rising unemployment to level off and consumer spending to rebound.
In comparison, US VC deal activity in Q2'20 is set for its fourth consecutive quarter of declines.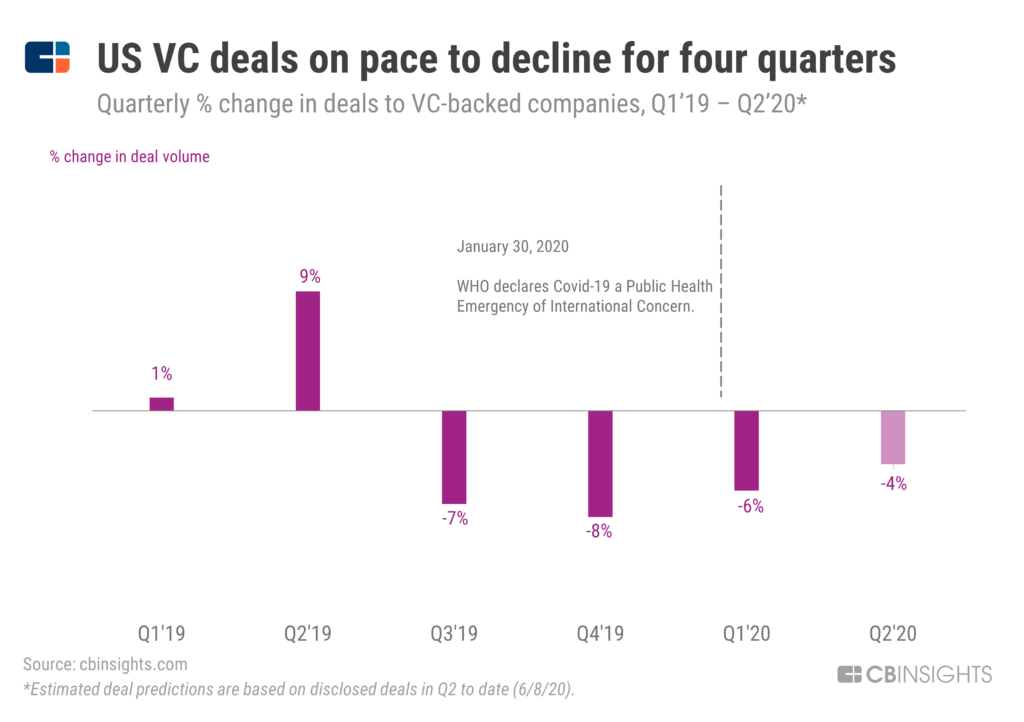 The rebound in deals in Q3'09 also corresponded with a 29% increase in funding to startups in the same quarter.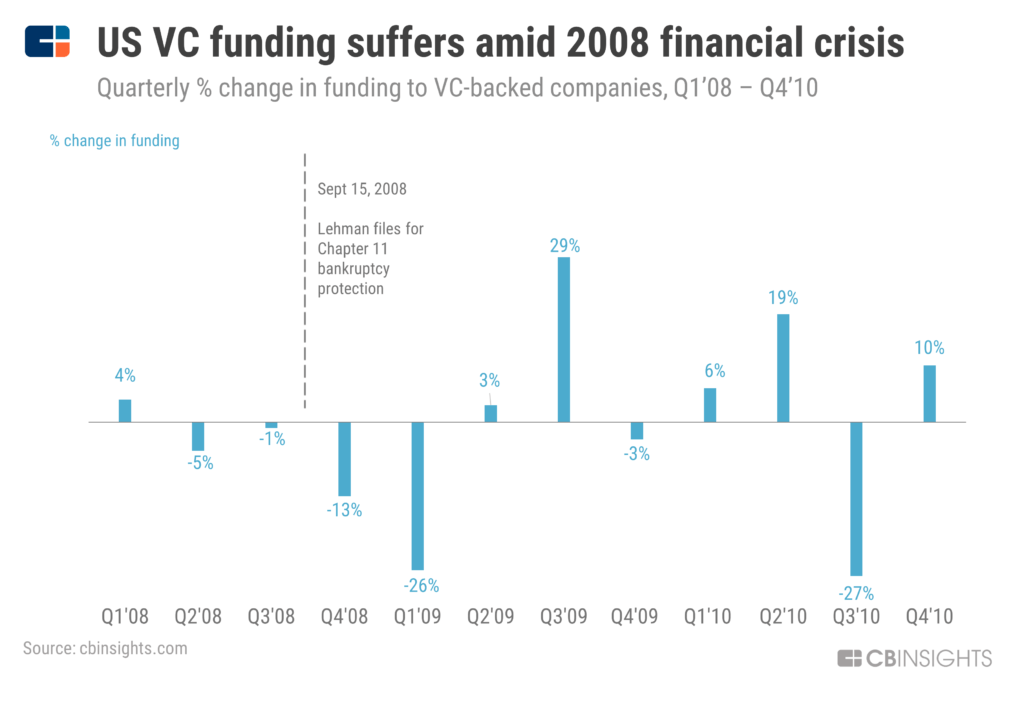 US VC funding was not demonstrably impacted by the pandemic in Q1'20, as an uptick in Covid-19 cases and the subsequent lockdowns didn't occur until the end of the quarter. In fact, mega-rounds (deals worth $100M+) to US-based startups rose to 58 in Q1'20, up nearly 50% compared to the prior quarter.
However, the economic effects of lockdowns, such as disruptions to business and rising unemployment, have taken a toll on startups in Q2'20 and caused investors to adjust their growth forecasts. As such, funding in the US is on pace to decline 13% in Q2'20.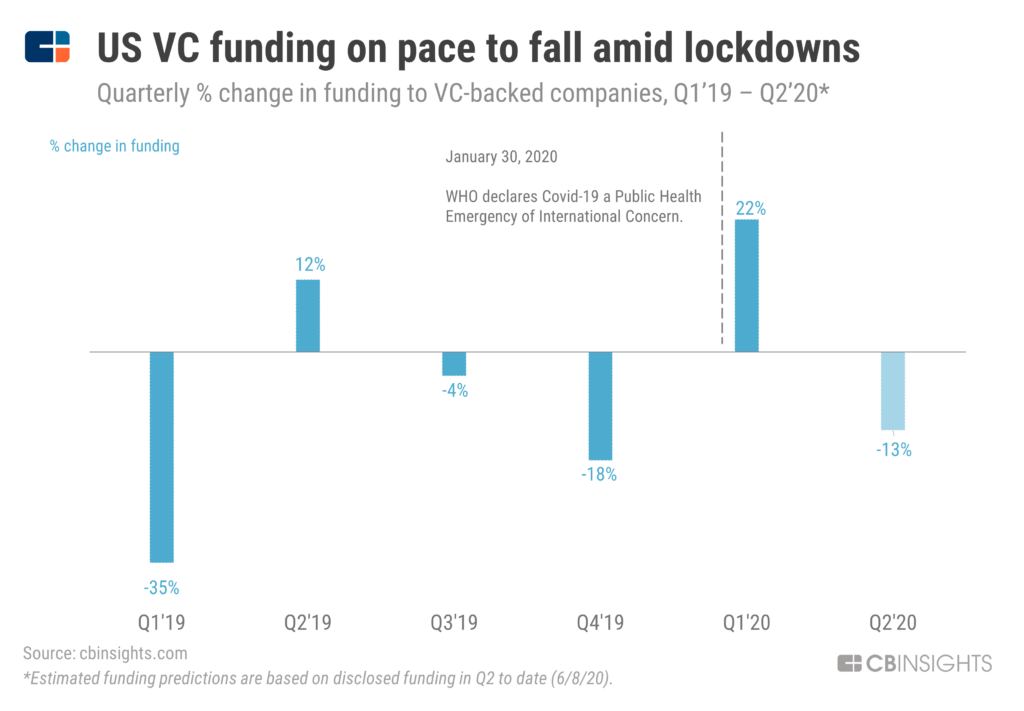 Looking forward
Globally, startup investment has rebounded rapidly from the initial outbreak of Covid-19, with funding and deals expected to rise in Q2'20 due to a surge in funding in China and India.
In the US, declines in total funding and deal activity indicate a grim forecast for US startups, as prolonged unemployment and enterprise budget cuts are expected to hamper consumer and business spending.
The recovery in the second half of 2009 produced several companies that introduced industry-shaping technologies and business models. For example, Uber raised $250K in seed funding in Q3'09, while Credit Karma raised a $2.5M Series A in Q4'09.
This year to date, startups developing supply chain and logistics technology have attracted the largest year-over-year increase in deal activity, followed by startups in digital health. Investment in these sectors is one indication that Covid-19 is accelerating the evolution of these industries, and transformational startups may emerge.
If you aren't already a client, sign up for a free trial to learn more about our platform.