In the first quarter of 2020, investors in China retreated from deal activity as Covid-19 caused an unprecedented public health crisis.
Deals to startups in China dropped significantly in the first three months of this year.
While activity had trended down after a 2018 peak, there was a sharp drop-off in Q1'20 that coincided with the virus outbreak.
The outbreak caused deals to VC-backed China-based companies to reach their lowest levels since Q2'16 (when deals reached 377). In Q1'20, deals fell 35% versus the year prior and 39% compared to Q4'19.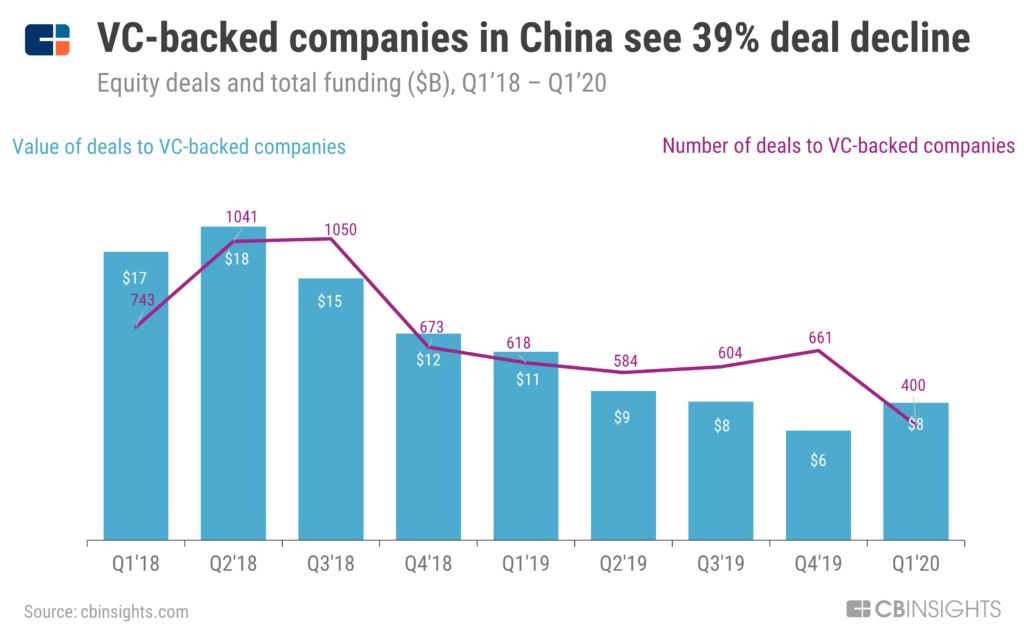 Despite the decline in deals, funding still rose on a quarterly basis due in part to 3 $1B+ mega-rounds. 
Looking beyond the standout mega-rounds, the fall-off in activity overall was not restricted to one part of the venture ecosystem: CVC investments and seed rounds also fell sharply in China in Q1'20. Mega-round deal count, similarly, experienced a decline.
Corporate activity declines sharply

As China-based corporations revised their outlooks, corporate-backed deals contracted dramatically in Q1'20. Deals with CVC or corporate participation fell 43% compared to Q4'19 and 46% versus Q1'19.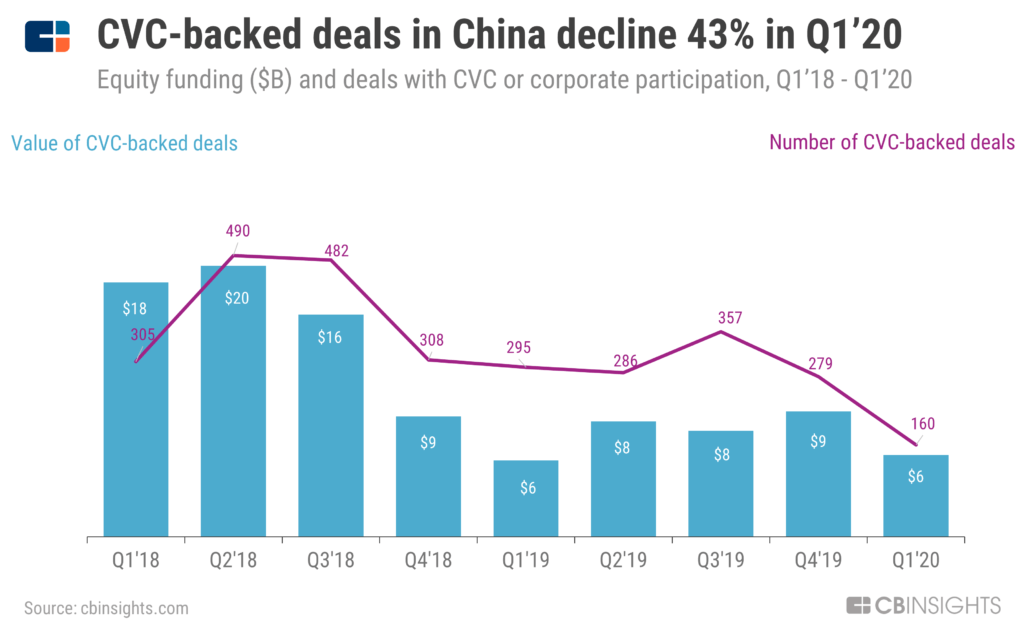 Although Tencent Holdings remained relatively active and was the most active corporate investor in China in Q1'20, participating in 15 equity deals, this reflects a decline from 19 deals in the country in Q4'19 and 18 deals in Q3'19. 
Surprisingly, some of China's corporate investors also showed a willingness to invest. 
Beijing-based consumer electronics company Xiaomi, for example, sustained its investment activity in China-based startups. Xiaomi participated in 9 equity deals in China in Q1'20, up from 8 deals in both Q4'19 and Q3'19.
Seed deals decline most
Seed-stage startups took a disproportionate blow from the Covid-19 outbreak, as early-stage investors redirected attention from deal sourcing and new companies to managing existing portfolios. 
Seed-stage deals declined 44% in Q1'20 versus the previous quarter and 55% compared to the same quarter a year ago.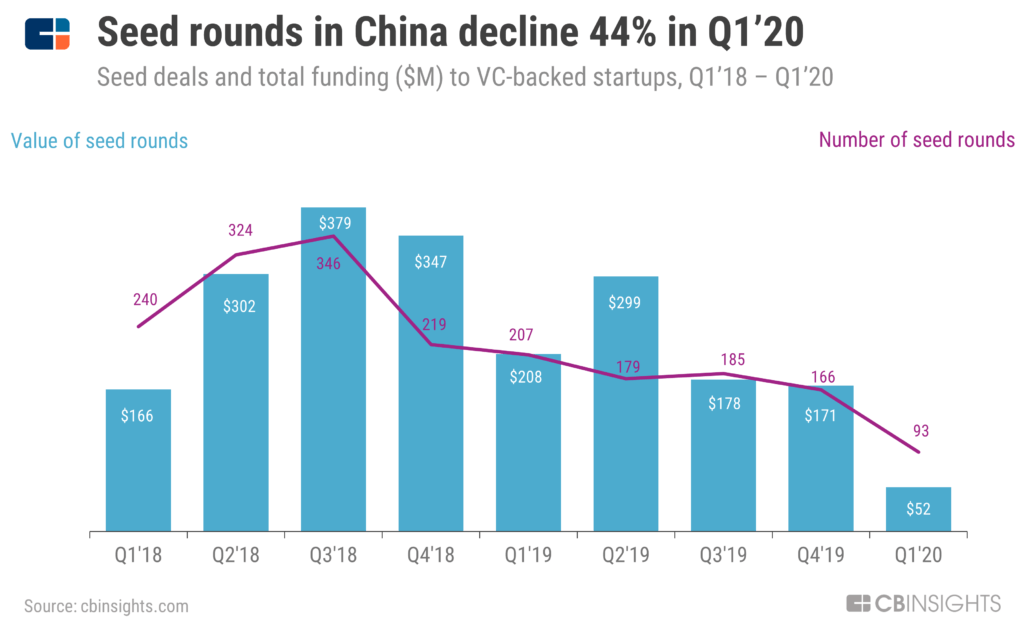 The dramatic decline in seed-stage deals was coupled with an even larger decline in seed-stage funding, which fell 70% quarter-over-quarter. 
Among seed deals with disclosed funding, the average deal size was $5.2M in Q4'19. In Q1'20, deal size fell to $2.7M as investors exercised greater caution. 
Plum Ventures and Sequoia Capital China were the most active seed-stage investors in China in Q1'20.
Meanwhile, investors that had invested in seed deals in Q3'19 and Q4'19, such as Linear Venture, QingSong Fund, and Innoangel Fund, sat on the sidelines in Q1'20.
Mega-rounds continue to decline 
The number of $100M+ deals to VC-backed startups in China fell to 14 in Q1'20, representing a 30% decline from Q4'19 and a 48% drop compared to Q1'19. 
While the Covid-19 outbreak has likely contributed to the decline in $100M+ deals, the number of mega-rounds has decreased for six consecutive quarters.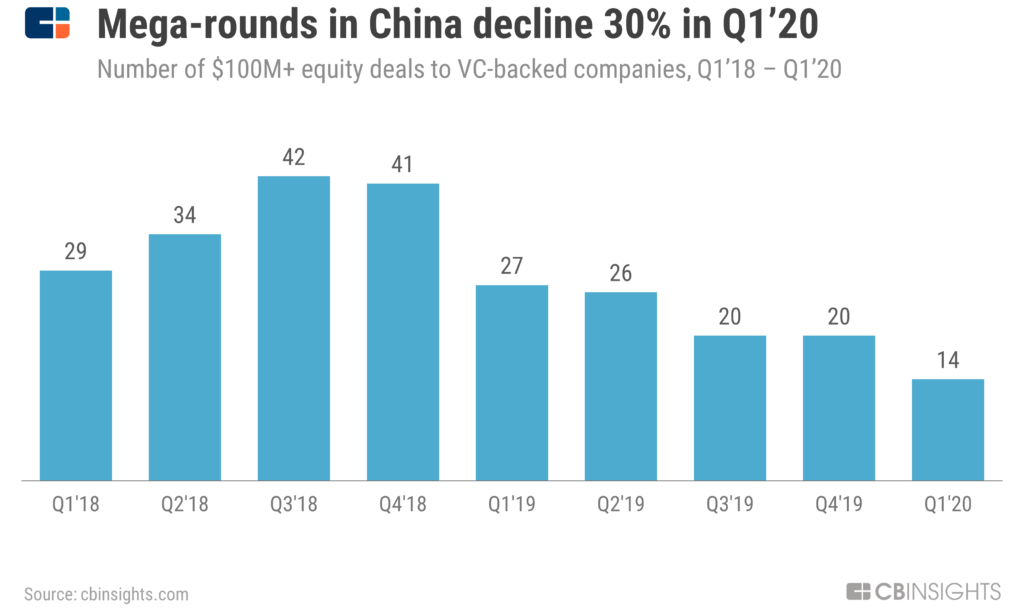 The number of mega-rounds peaked in Q3'18, as investors poured heavily into a wide variety of sectors, including facial recognition technology, transportation, e-commerce, and education.
In Q1'20, investors have continued to place $100M+ bets on startups serving the growing Chinese middle class, such as e-cigarette brand SnowPlus, dairy manufacturer Junlebao, and diabetes management app Zhangshang Tangyi.
Further, companies developing emerging technologies, including navigation systems for autonomous vehicles, advanced computer processors, and artificial intelligence solutions for government and enterprises, have attracted $100M+ deals despite the outbreak. 
Mininglamp Technology, for example, raised a $300M Series E from Tencent Holdings, Temasek, and Kuaishou. The Beijing-based startup develops AI technologies, such as facial recognition, for financial services, public security, smart city and industrial engineering applications.
If you aren't already a client, sign up for a free trial to learn more about our platform.