It can be hard to know when it's ok to be critical of a startup founder. The Walkie-Talkie Magic Matrix provide a handy 2x2 framework to help you know when it's okay and when it's not.
Written by Anand Sanwal (@asanwal), co-founder and CEO of CB Insights.
When a startup fails or hits a rough patch and there are publicly critical comments of the startup (or in some cases the founder), a debate on whether this type of critical commentary is warranted or acceptable often emerges.
In the fall of 2017, VC firm Goodwater Capital issued some data which was critical of Blue Apron right around its IPO. Blue Apron investor Phin Barnes of First Round Capital took exception with the analysis and in a Twitter exchange with Erin Griffith of Wired said that VCs should publicly be positive on startups.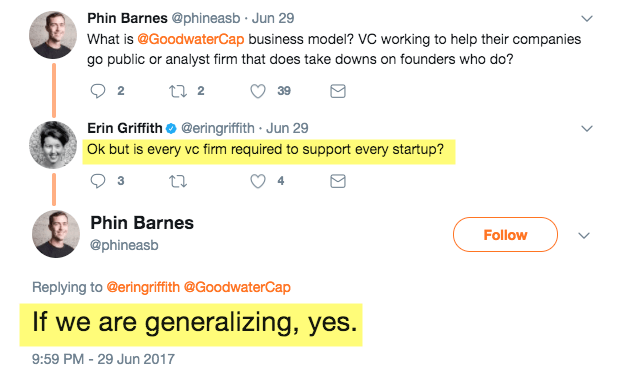 Barnes added that supporting the industry is important.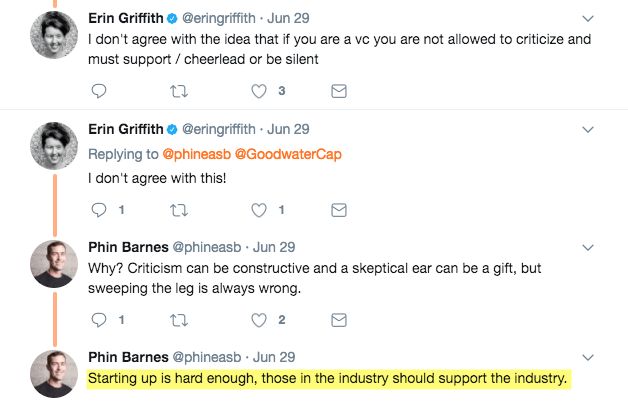 We discussed the Barnes-Griffith exchange in our newsletter and asked readers if it was okay for VCs to be critical of startups. We learned that VC criticism of startups, per our readers, is fine.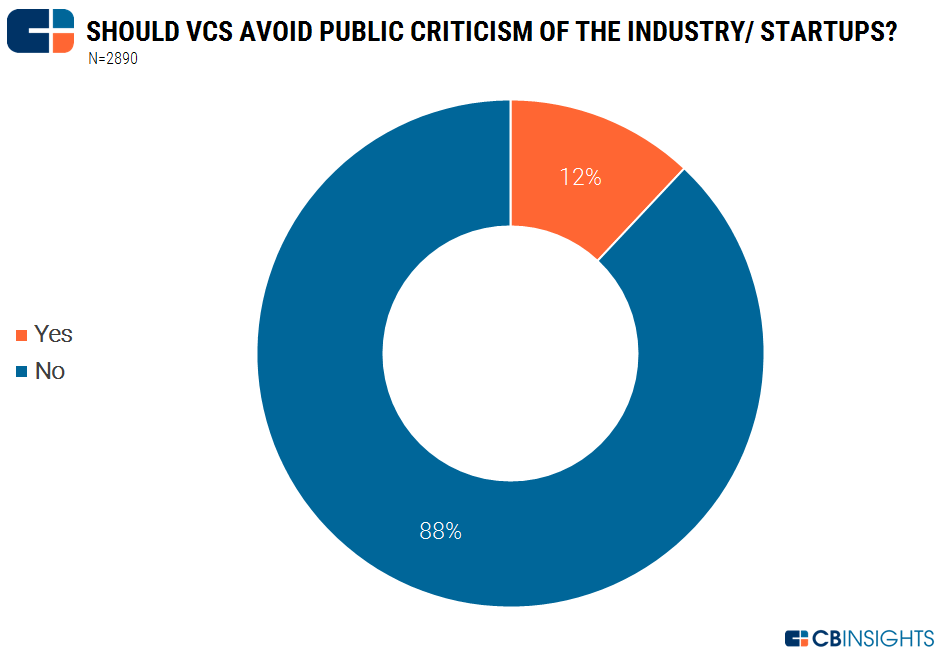 Shortly after this kerfuffle, we created a simple heuristic for when startups and their founders warrant a critical eye and dubbed it The Jobs Rule, which is defined below:
If the startup's founders, execs, or investors draw comparisons to Steve Jobs before it's clear they have an actual working business, you are allowed to be especially critical of the startup when it fails.
We discussed Juicero at the time and its violation of the Jobs Rule as evidenced below.
The Jobs Rule, despite being bulletproof, is ultimately a bit too simple.
So today, we are proud to unveil our deep-learning inspired Walkie-Talkie Magic Matrix to help you navigate when it's okay to be critical of a startup founder.
The Walkie-Talkie Magic Matrix for Founder Criticality
Here is the Walkie-Talkie Magix Matrix for Founder Criticality which we hope is easy to understand, but which we explain below just in case.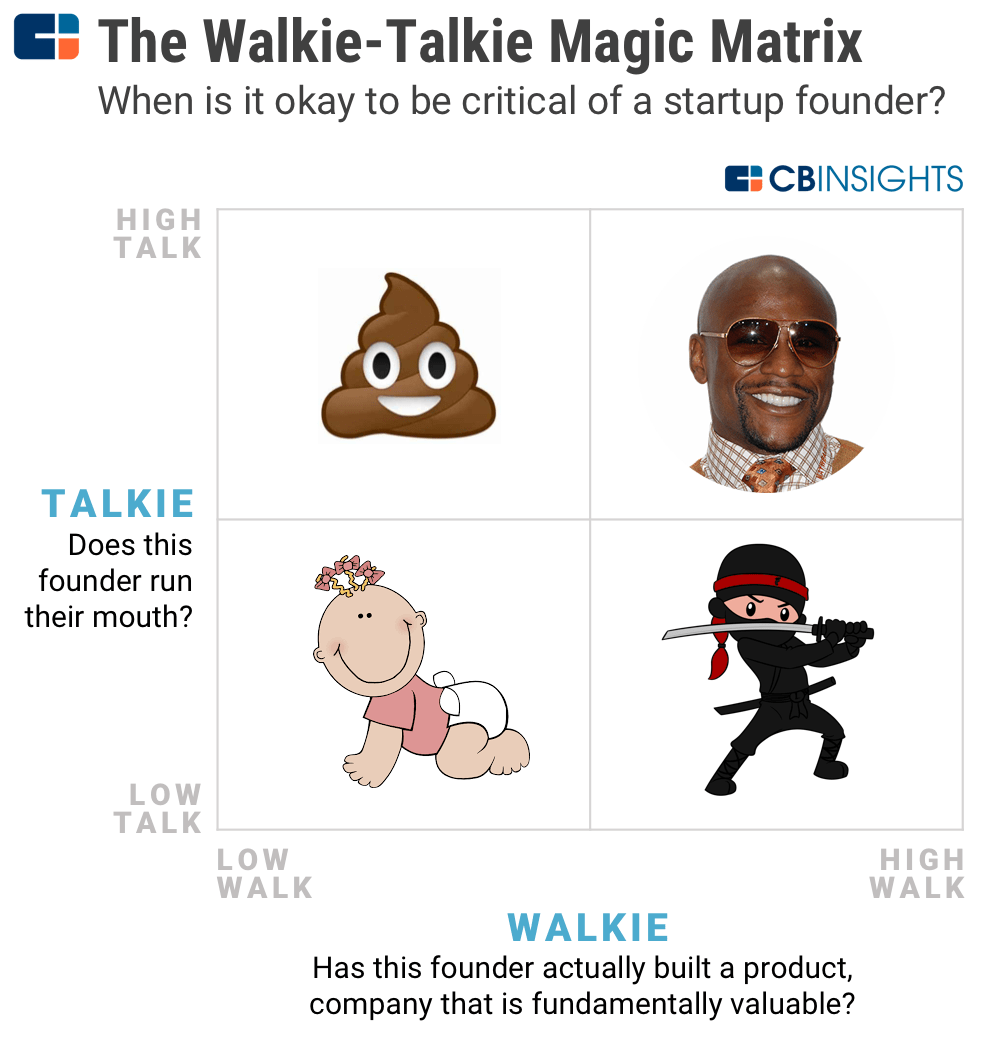 First, let's explain the axes.
Walkie – Has the founder actually built a product or company that is fundamentally valuable / useful? The further out to the right on this axis, the more proven and real an entrepreneur.

Talkie – Does the founder keep a low profile or run his/her mouth?  
Now for the types of founders.
The Mayweathers
Quadrant position: top right
High talk: high walk
This one is easy. These are founders who talk a big game and back it up.
The Shit Talkers
Quadrant position: top left
High talk: low walk
Founders who've not accomplished much but run their mouths. Lots of influencer, thought leader, influpreneur, etc types here.
The Babies
Quadrant position: lower left
Low talk: Low walk
Babies can't walk or talk and these founders don't either. Usually (but not always) earlier stage company founders who are still heads down building fall into this category. They may evolve into one of the other categories over time.
The Ninjas
Quadrant position: lower right
Low talk: High walk
Folks who build real products and real companies but don't talk a lot.
So which founders can we be critical of?
Per the Walkie-Talkie Magic Matrix, founders who are Ninjas or Babies are probably not worth, nor do they warrant, critical commentary — typically.
The Mayweathers are also harder to be critical of simply because they back it up. Of course, Mayweathers will invite criticism borne out of annoyance with their talking or through jealousy, but again, they walk the talk.
Of course, if a Mayweather stumbles, they can expect a flood of critical commentary.
So we are left with the Shit Talkers.  
How do you identify a Shit Talker?  
Candidly, it can be difficult.
Shit Talkers have a very high confidence & self promotion to accomplishment ratio. This means discerning if they are really legitimate or not can indeed be hard. Add in a couple of mentions by "influential" types in tech and id'ing them becomes harder.
But if you see a founder or those around them exhibiting multiple of the below behaviors, you may have spotted a Shit Talker.
Doling out of startup advice authoritatively while still early in his/her own startup's development

Talking isht about others

Focus on fundraising as a success barometer

Exaggerated (borderline deceptive) claims about company/product success

Lots of side projects — 

writing a book on startups

, angel investing

Lots of conference attending  — often to do #1

Violation of the Jobs Rule

Excessive use of the words "I, me, my"

Lots of talk about them by hangers on in the ecosystem but very little of it by people that matter aka their customers or investors
Ultimately, rooting out Shit Talker behavior will be a net positive for the startup ecosystem as it'll ensure time, attention, and resources are given to the startups and founders actually creating value.
With the Walkie-Talkie Magic Matrix, you now have a good understanding of when being critical of a startup founder is acceptable. Please use the matrix responsibly.
Notes
The Magic Matrix is focused on when it's okay to be critical of startup founders. As it relates to startups themselves (as entities/organizations), well-reasoned, structured, deliberate analyses of startup business models, products, economics, etc is something that is frankly lacking in the startup ecosystem and something we need more of.  
There is a tremendous amount of survivorship bias in coverage of startups as Alex Konrad of Forbes rightly points out.

Critical analysis of startups will educate startup founders and investors alike.
Done right, it will also help steer resources (money, talent, attention) to those industries and companies with the strongest chance of success.
2. If unsure on where a founder is on the Walkie scale, our 9 data-driven tests to assess a startup job offer maybe useful.
3. Some also argue that nobody from the outside really knows what is happening at a startup and so it's best to let the startup founders detail the reasons for failure if they so choose (the famous startup failure post-mortem).  This is fine, but our top 20 reasons startups fail highlights that sometimes founders are prone to delusion when doing such self-assessments.
Of course, it is impossible to intimately know what is going on or went on at a startup, but a look at CB Insights data on the company (Mosaic) and industry, web traffic, mobile app data, the company's website, Glassdoor reviews, LinkedIn former employee count, tweets, patents, etc paints a pretty accurate picture of how a company is actually doing.
If you aren't already a client, sign up for a free trial to learn more about our platform.