The global VC and startup ecosystem saw investment activity decline in Q1'20. We look at which geographies took the hardest hits.

In the first quarter of 2020, VC investment dropped as the spread of Covid-19 rocked the global economy. 
While deal activity and funding saw year-over-year (YoY) declines in North America, Asia, and Europe, Asia experienced the largest drop in both funding and deal activity in Q1'20.
Deal activity in Asia declined 20% YoY, compared to declines of 17% in North America and 10% in Europe.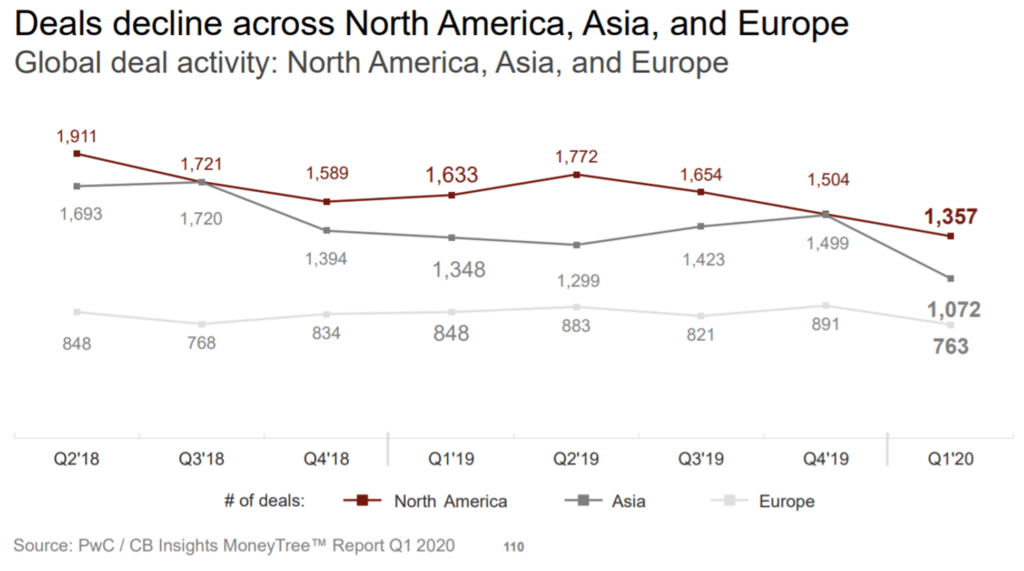 Looking at the change in deal activity on a quarterly basis reveals an even more dramatic contraction in Asia. In Q1'20, deal activity in Asia declined 28% versus Q4'19, with North America and Europe experiencing 10% and 14% declines, respectively, during the same period.
Meanwhile, total funding to VC-backed startups in Asia fell 20% YoY compared to a 13% decline in Europe and a 4% decline in North America.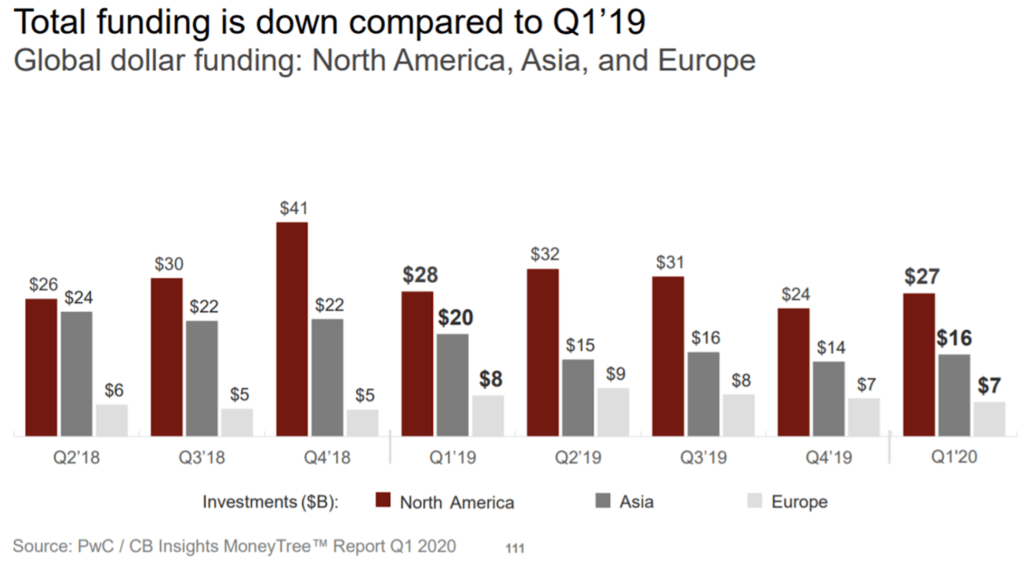 On a quarterly basis, however, funding in Asia rose in Q1'20 compared to Q4'19 due to an uptick in funding to China-based startups. 
Funding to VC-backed startups in China rose 25% compared to Q4'19, though deals declined 39% over the same period. These divergent trends emerged as most investors sat on the sidelines while select investors doubled down on successful bets by participating in large rounds to later-stage companies.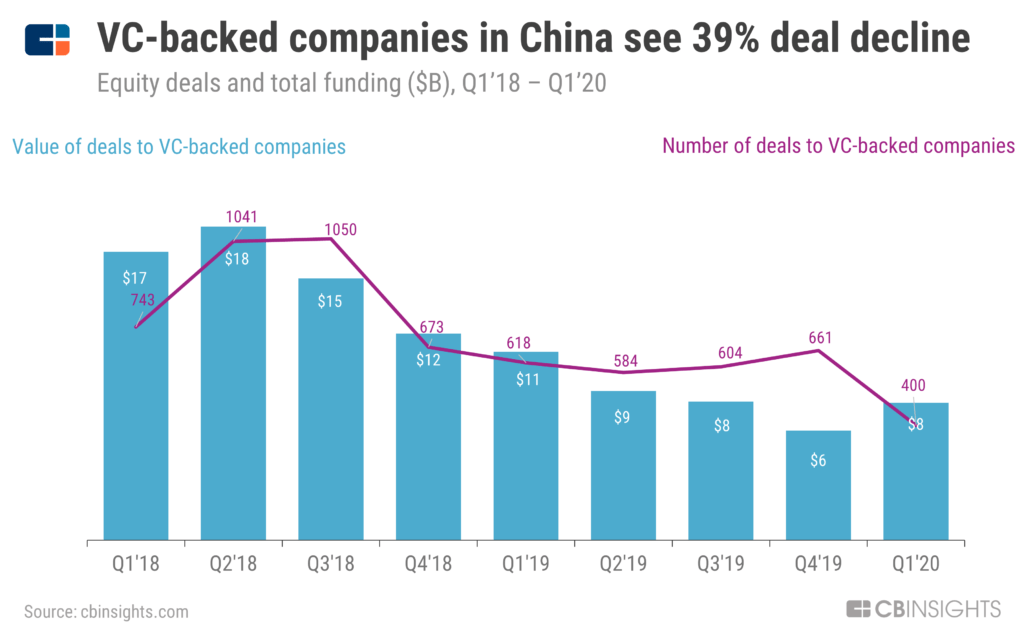 Among the biggest bets in China in Q1'20 were three $1B+ mega-rounds to each of the following Beijing-based startups: Beike Zhaofang, Ziroom, and Yuanfudao. Beike Zhaofang and Ziroom operate real estate marketplaces, while Yuanfudao is developing a personalized learning edtech platform. 
India, meanwhile, experienced a quarterly contraction in both funding and deals. Funding to VC-backed startups in India fell 26% in Q1'20 compared to Q4'19, while the number of deals fell 16%.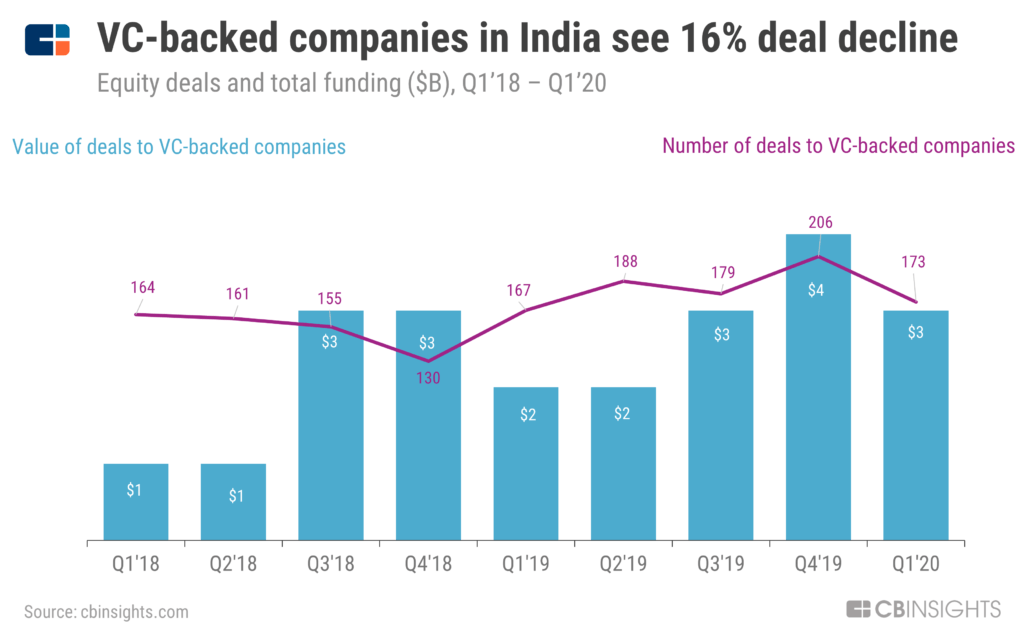 On a YoY basis, however, this reflects a 4% increase in deal activity and a 19% increase in funding — rising by about $500M to reach almost $3B — as the startup ecosystem in the country matures. 
The largest round in India during Q1'20 was OYO Rooms' $807M Series F in March 2020. The Airbnb-backed startup operates an online marketplace for renting hotels and guesthouses. 
Not including China and India, funding to VC-backed startups based in the rest of Asia fell 14% in Q1'20 versus the same quarter a year prior; deal activity fell 9% during the same period. 
Take a look at all the underlying data and more insights in the PwC/CB Insights MoneyTree Report™ Q1 2020.
If you aren't already a client, sign up for a free trial to learn more about our platform.