Taking you inside the process of forming Bose's Audio AR Ecosystem Fund
At the June CB Insights Councils session, Fuat Koro, Head of Corporate Strategy and Ventures, Bose Corp. took members inside the process of forming the company's Audio AR Ecosystem Fund.
When Bose gave a sneak peek at its AR-enabled sunglasses during SXSW in 2018, the company wasn't just announcing a new product, it was embarking on a significant business model innovation.
For its first 50 years, the company had been vertically integrated – from its in-house R&D lab to its company-owned manufacturing facilities and in-house direct-to-customer marketing operation.
Streaming audio began to change that as consumers demanded that services like Spotify and Pandora be integrated into their Bose speaker systems. Audio AR would be an entirely different challenge.
The company was excited by the new opportunities enabled by an audio AR platform, but realized that success would depend upon a robust content ecosystem that would be impractical to create in house.
A multi-part plan would stimulate that content ecosystem. Fuat took Council members through one part: The formation of a $50M Audio AR Ecosystem Fund designed to encourage third-party development on the Bose platform.
Members then participated in a live Q/A session to get to the core of the logic and method of forming of this fund. In small groups, they also crafted recommendations for some still-open challenges Fuat had presented.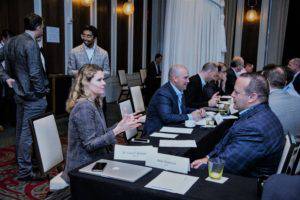 Think this kind of peer-level insight would be helpful to you? Are you an SVP or higher at a company with $1B or more in revenue? An annual membership to CB Insights Councils might be right for you. Learn more here.
If you aren't already a client, sign up for a free trial to learn more about our platform.