Starburst plans to leverage Varada's technology as well as its product and engineering talent. Here are the top-line bullets you need to know.
Starburst, a data analytics engine, has acquired Varada, a data lake analytics provider, for $50M in a cash and stock deal.
WHO ARE THE PARTIES TO THE DEAL?
Varada: Israel-based Varada makes it easier for data teams to run analytics on their data lake. Founded in 2017, the startup is currently supported by a team of 30 employees.
Starburst: Massachusetts-based Starburst offers a distributed SQL query engine capable of connecting to a range of data sources. The startup tripled its clientele, headcount, and annual recurring revenue (ARR) in 2021. FINRA, Zillow, Carrefour Brazil, Priceline, Twitter, Condé Nast, Comcast, and Standard Chartered are included among its client base. Starburst currently operates across North America and Europe and is supported by a team of about 350 employees globally.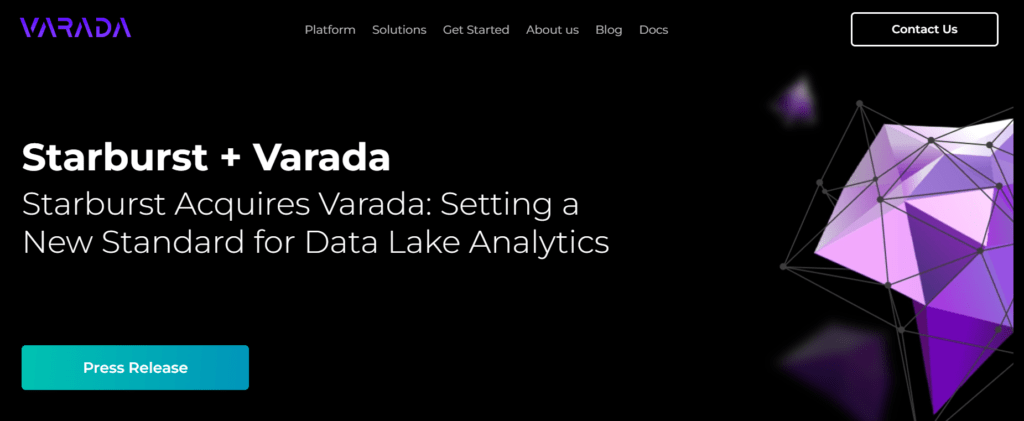 Source: Varada
WHY DOES THE MARKET MATTER?
The global data lake market is expected to reach a value of $31.5B by 2027, growing at a CAGR of 20.6%, according to Grand View Research.
The generation of increasing amounts of data across industries is contributing to market growth.