We examined the rise of "sriracha" in earnings call transcripts. For some food giants, sriracha is the magic sauce boosting late-night sales. For others, it is a menu addition keeping the brand "vibrant."
It's in chicken, chips, dips, and even strawberries. Food companies are turning to sriracha-flavored products to appeal to the modern consumer's pallet.
In fact, fast food chain Jack In The Box went as far as saying its sriracha Burger is "sort of foreshadowing of where the entire menu will go" in its Q1'15 results.
Two years later, in Q2'17, Jack In The Box was still bullish on its Sriracha-centric innovations. CEO Lenny Comma said sriracha curly fry burgers promoted late night sales and the company's delivery partnership with DoorDash.
Jack In The Box is not alone in cashing in on the Thai spicy sauce. Using the CB Insights platform, we found that around 15 food companies have mentioned sriracha 35 times during earnings calls since 2013.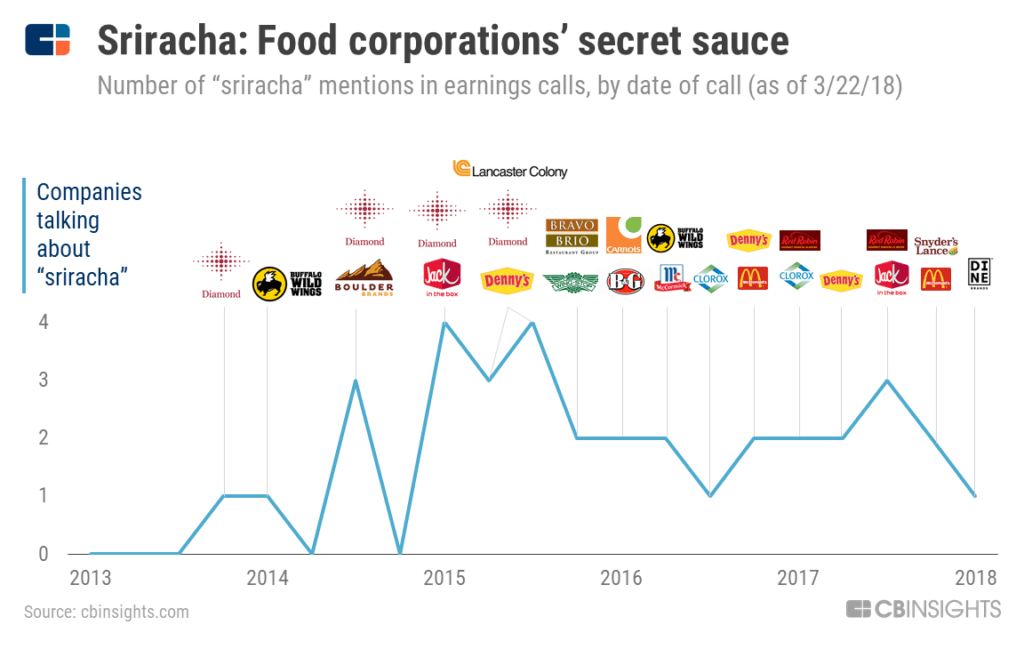 "Kettle sales increased 9.1% with our core fried chip line up 11.9%. Importantly, two of our recently launched flavors, sriracha and maple bacon have performed very well." – Diamond Foods' Brian Driscoll on Q4'14 results
Diamond Foods, a packaged food brand, mentioned sriracha the most during calls. It was also the first company to speak about the flavor, when it introduced Sriracha Kettle Chips in 2013.
The most popular quarters for sriracha were Q1'15 and Q3'15. Diamond Foods was in the process of launching sriracha-flavored cashews, Lancaster Colony, maker of dip and bread products, introduced Sriracha ranch dressing, and Denny's added a Spicy Sriracha Burger to the menu.
Brian Driscoll of Diamond Foods also credited sriracha, and other new food additions like pepperoncini, as keeping the brand vibrant and contemporary. Diamond Foods was later acquired by Snyder's-Lance, a producer of salty snacks. Snyder's-Lance speculated during a Q4'17 call that if they were to remove a Korean barbeque flavor from their product line, the demand would transfer to another flavor like sriracha chili.
More recently, announcing its Q3'17 results, McDonald's said sriracha gave the "sandwich crafted line an extra kick." (Signature Crafted Recipes is the fast-food chain's line of customizable sandwiches recipes.)
The most surprising mention of all comes from The Clorox Group, known for its bleaches and disinfectant wipes. A lesser known fact is that Clorox owns the Hidden Valley Ranch line, and recently introduced a sriracha-flavored salad dressing.
But sadly, not everyone's on-board the sriracha bandwagon. Just this year, DineEquity, owner of the Applebee's chain of restaurants, said: "We're not about niche or polarizing flavor profiles at Applebee's. So, it's unlikely you'll see sriracha, quinoa or pomegranate anytime soon."
---
This report was created with data from CB Insights' emerging technology insights platform, which offers clarity into emerging tech and new business strategies through tools like:
If you aren't already a client, sign up for a free trial to learn more about our platform.