Since its IPO, Square has grown its market cap by over $10B, using data from its core payments business to expand into loans, payroll, and more. As Square awaits the fate of its bank charter application, we analyze how its hiring, investments, M&A, and product development are informing its strategy ahead.
Square launched in 2009 with an initial product that enabled sellers to accept card payments using a smartphone-attachable magnetic stripe dongle. Since then, Square (NYSE: SQ, Mkt Cap: $13.7B) has evolved its product and service line into a much broader suite, encompassing small business loans, payroll, food delivery, P2P payments, and more.
As CEO Jack Dorsey explained on the company's last earnings call, Square's business is "not just a point of sale for retail, but a door to the larger ecosystem."
As Square has grown, the company has also proven to be an anomaly of sorts — at least in the fintech industry. While investors have plowed over $54B into venture capital-backed fintech companies since 2012, IPOs have been far and few between.
Square, which went public at a valuation of $2.9B in November 2015, is one of the fintech companies bucking that trend. And while other now publicly-traded fintech companies such as Lending Club and OnDeck have seen their market caps plummet since IPO, Square's market cap has grown by over $10B (as of 10/27/17) since its IPO. That's despite the fact that Square went public at a valuation lower than what it had seen while it was a private company.
Now, Square's ambitions extend into banking.
When asked in a 2014 Accenture survey which non-bank technology firm they would be most likely to bank with, consumers ranked Square first, ahead of Google, Amazon, PayPal, and others. Today, Square is just one of two fintech firms — the other being Varo Money — currently seeking an industrial bank charter (a third, SoFi, recently withdrew its application).
As it looks toward its next stage of growth, Square faces big challenges — and competition. PayPal, which recently surpassed the market cap of American Express, offers its own competing credit card reader called PayPal Here, and additionally acquired online lending company Swift Financial in August 2017 to expand its business loan sizes and capabilities to merchants.
Last month, Square Cash's most direct competitor, PayPal's Venmo, rolled out a nationwide feature to allow Venmo users to pay with their accounts at millions of retailers. The move comes after Square Cash launched a physical debit card product to allow users to spend their balance at different offline retailers.
As Square moves into new areas like installment loans for its sellers' customers and expands internationally, it will also face new competitors such as Affirm, iZettle, and more.
Key takeaways
This analysis examines Square's investments, M&A activity, patents, partnerships, hiring activity, and more to understand its strategy going forward. While this report will not cover every aspect of Square's business, some of the main takeaways from our analysis include:
Square is using its payments business as a wedge opportunity and may do the same with peer-to-peer payments. Square has leveraged its relationship with sellers, established through its payments hardware, to expand into lending. Now it may use Square Cash to create a wedge into other consumer financial products.
Square is expanding Square Capital via partnerships. By bringing Square Capital to more non-Square merchants, the company can gain access to more merchant data and potentially leverage Square Capital to bring more merchants into Square's core payments business.
Square's Seller and Cash teams see most job growth. Last May, Square did not have any direct job listings for Square Cash. As of 10/18/17, Square Cash is its fourth-largest team by job listings. Square's Seller team, which focuses on its merchants, has also seen jobs grow from 14 to 68 (from May 2016 – October 2017).
Job listings indicate more measured international expansion. While a May 2017 investor day presentation highlighted capturing the international market as an opportunity, just 9% of Square's job listings are outside the US.
Square could leverage strategic investments to form new partnerships. 2017 marked the first year Square has pursued a strategic minority investment, in event planning platform Eventbrite. As the company expands, it may use more strategic investments to further pursue partnership opportunities in order to build up some of its new business lines.
Table of Contents
Background on Core Square
Today, Square makes money in three primary segments:
Transaction-based revenue from fees charged to consumers and merchants via its payments products, based on gross payment volume (GPV) processed
Subscription and service-based revenue from lending (Square Capital), food delivery (Caviar), and other services, such as instant deposits and in-app point of sale for merchants 
Hardware revenue from sales of chip and contactless card readers as well as Square Stand and other hardware
Below, we visualize how revenues from these three segments have broken down thus far in 2017. Notably, Square's subscription and service revenue more than doubled from $53.5M in H1'16 to $108.2M in H1'17.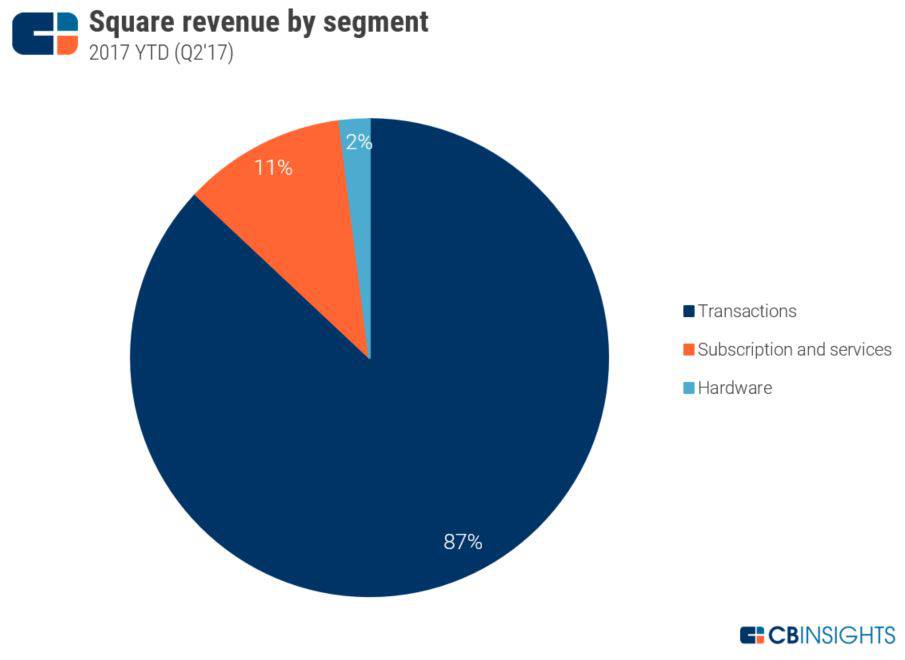 Within its transaction business, Square has placed an added emphasis on larger merchants. In Q2'17, Square's gross payment volume from sellers over $125K grew to 46% vs. 37% in Q2'15.
This month, Square doubled down by unveiling Square Register, a new point-of-sale device aimed at larger merchants. The device, which provides separate screens for the buyer and seller, costs $999, plus a transaction fee of 2.5% and 10 cents per transaction. (In comparison, Shopify's card reader costs $89 plus $79 per month for its mid-tier payments plan, in addition to an in-person transaction fee of 2.5%.)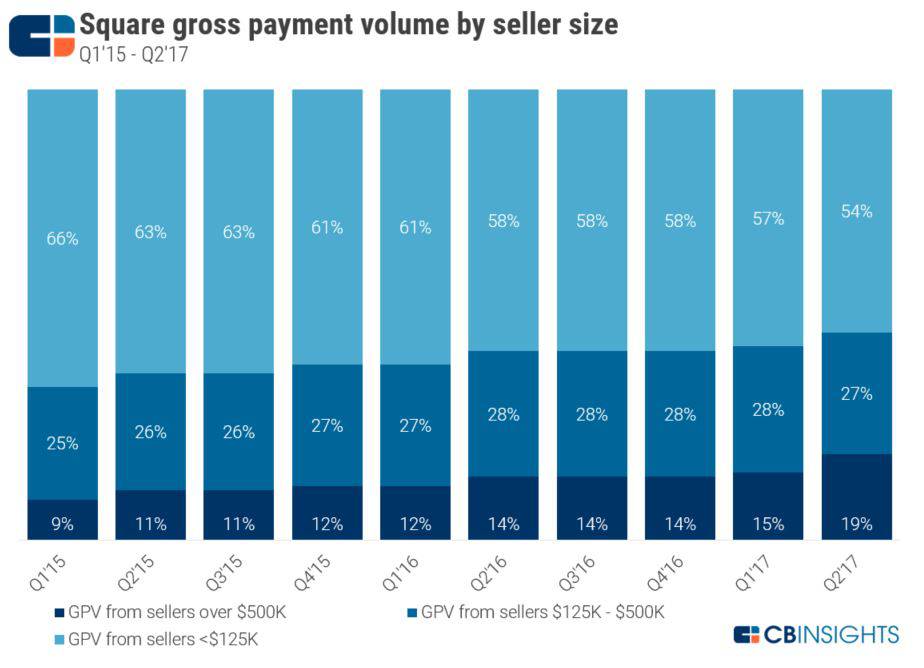 Square Capital's bigger push outside non-Square merchants
Since its launch May 2014, Square Capital has facilitated more than $1.8B in small business loans at an average size of $6,000. While doing so, it has been able to maintain a ~4% loss rate, primarily because it has used its sellers' sales data effectively in order to measure risk.
On Square Capital's last earnings call, "automation" was mentioned 7 times. As the company gains more anonymized payments data via partnerships, it will rely heavily on its machine learning capabilities to underwrite loans to a potentially much broader base of small businesses. Per Square CFO Sarah Friar,
We have clearly moved on [the machine learning] continuum and those models help us to really manage the risk prudently. And the models get better and better as the cohorts mature, and we get more and more data on that. So no change to the core business loan loss rates.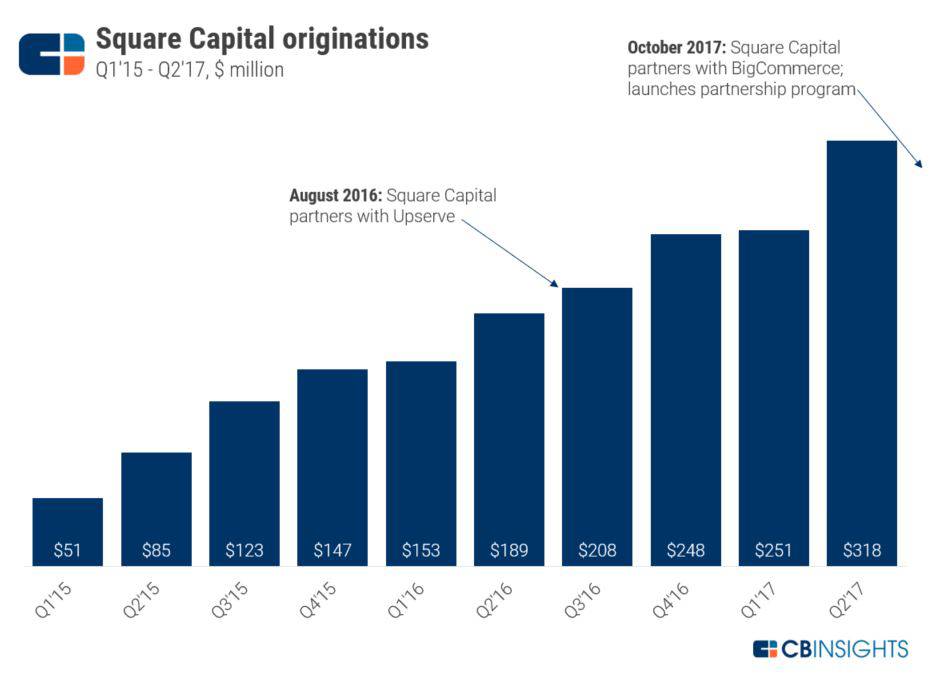 Square's application to become an industrial bank — a financial institution with a limited scope of services — can also have major ramifications. If approved, Square will be able to hold FDIC-insured deposits without having to be regulated as a bank holding company by the Federal Reserve. This would allow it to push more targeted financial products to its diverse merchant base and/or consumers.
Notably, Square is now looking to significantly broaden the reach of its lending program outside of its existing merchant base. In 2016, Square partnered with restaurant point-of-sale software provider Upserve to provide loans to its restaurants. More recently, Square created a formal partnership platform with BigCommerce to allow Square Capital to make loan offers to the e-commerce software company's small business clients.
As Square Capital expands outside the Square merchant base, its partnership program could also function as its own gateway back into Square's payments business. CFO Sarah Friar hinted at such a possibility last year, noting:
It doesn't mean at some point we won't do customer acquisition, maybe use Square Capital as its own on ramp to Square, maybe not payment processing, but starting out with something like Capital to bring you onto the platform to do things like payments.
Square Cash: A wedge to more financial services? 
Today, Square Cash or Cash App, the firm's P2P payments app, ranks among the top 50 free apps in the App Store and the #1 ranked free app in the App Store "Finance" category, ahead of Venmo and PayPal. As of 10/30/17, Square has an average App Store rating of 4.5 out of 5 across 32,052 ratings.
One avenue Square may eventually look to is creating a deeper relationship with Square Cash customers by introducing other financial services to them, similar to the way Square has leveraged its payments business to get into lending. In June 2017, Square rolled out its prepaid debit card to its users to allow them to spend the money they hold in their Square Cash account.
Today Square Cash is focused on providing a simple utility. But because it has its users' trust, debit accounts, and transaction data, it's not unreasonable to think Square Cash might eventually move beyond P2P payments into providing its users with other financial services, such as savings, wealth management, or insurance products.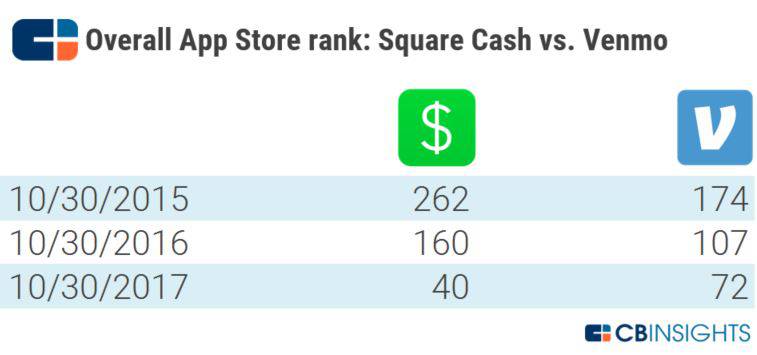 Hiring trends: Added emphasis on Square Cash
An analysis of Square's 195 open job listings highlights its emphasis on Square Cash. As of 10/18/17, 8% of all of Square's jobs were on its Cash team, the fourth most popular team for open listings. All but one of these listings were in product management, engineering, or data science capacities.
The highest percentage of jobs at Square are for roles on its Seller team, followed by Business, Finance & Analytics. Square Capital was its second smallest team by open public job listings.
Please click to enlarge.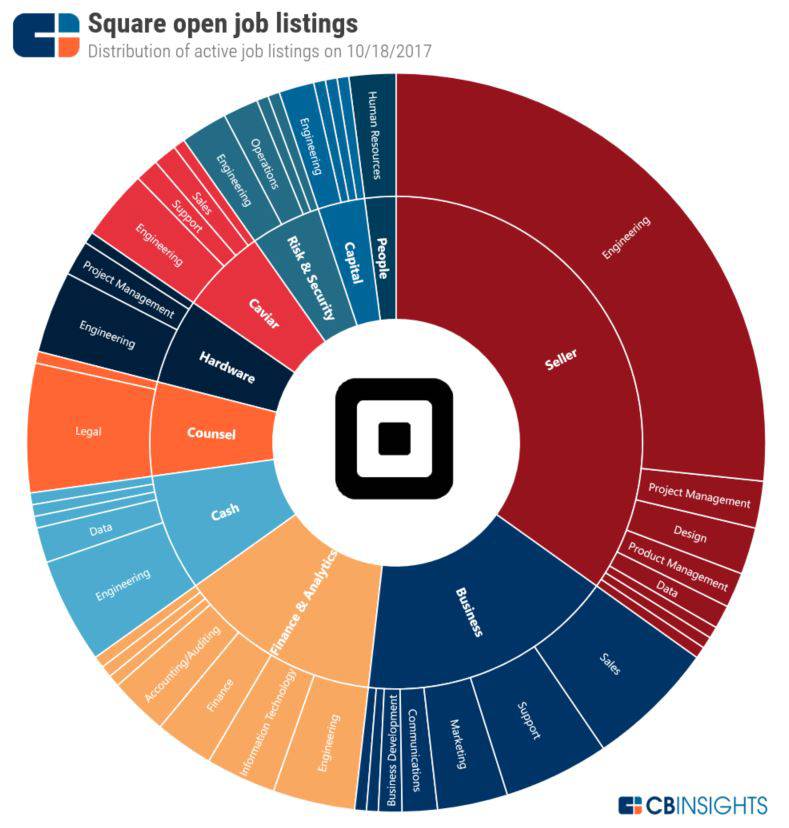 When comparing Square's job listings to last year, the growth of Square Cash stands out further. An analysis of Square's job listings on May 5, 2016 showed zero job listings or a dedicated Cash team; today there are 15.
The table below shows how Square's job listings and teams have changed and grown since last May. As Square's market value has grown, its open job listings have risen 76% between May 2016 and October 2017.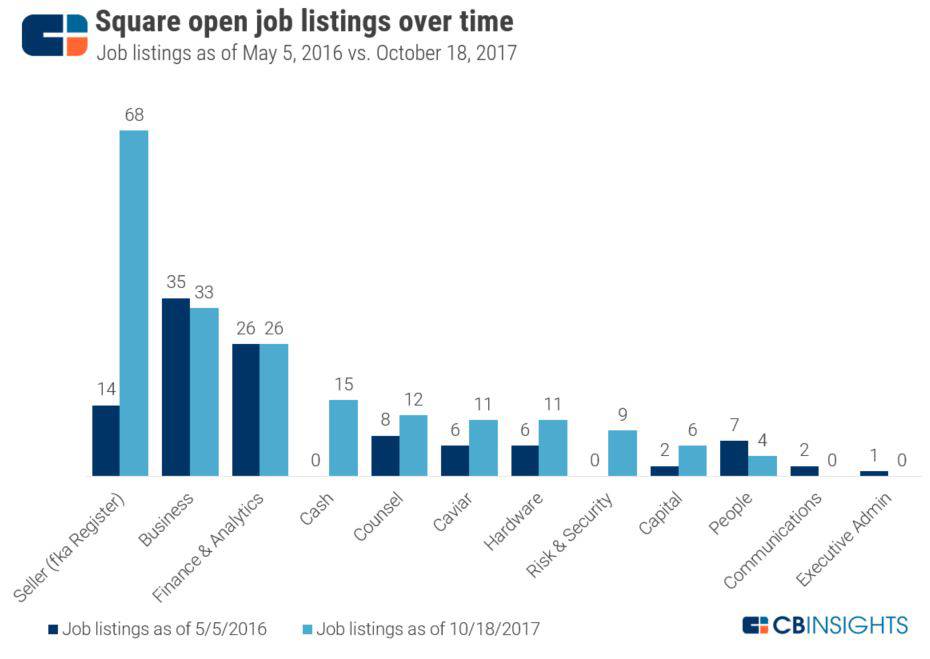 International expansion is more measured
Today, Square operates in four international markets: Canada (launched in 2012), Japan (2013), Australia (2015), and the United Kingdom (2017). Notably, Square's May investor day presentation highlighted international expansion as "a huge, untapped opportunity."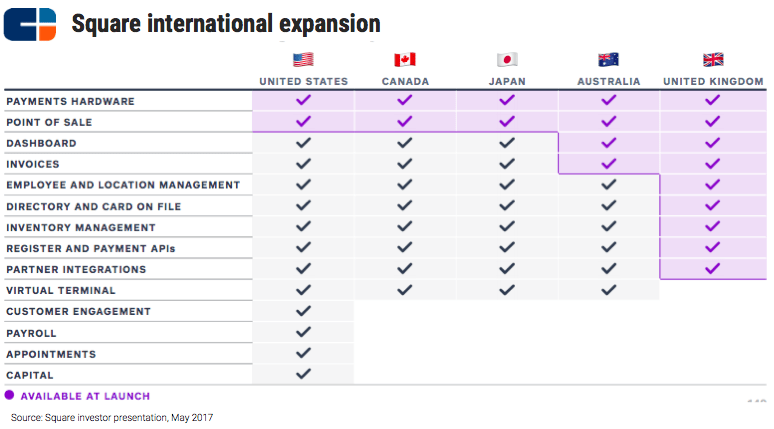 However, based on job listings, it does not appear that Square is today making a big push toward expanding its on-the-ground presence in its newer markets. Just 9% of Square job listings are outside the US, with Australia comprising 29% of Square's non-US listings.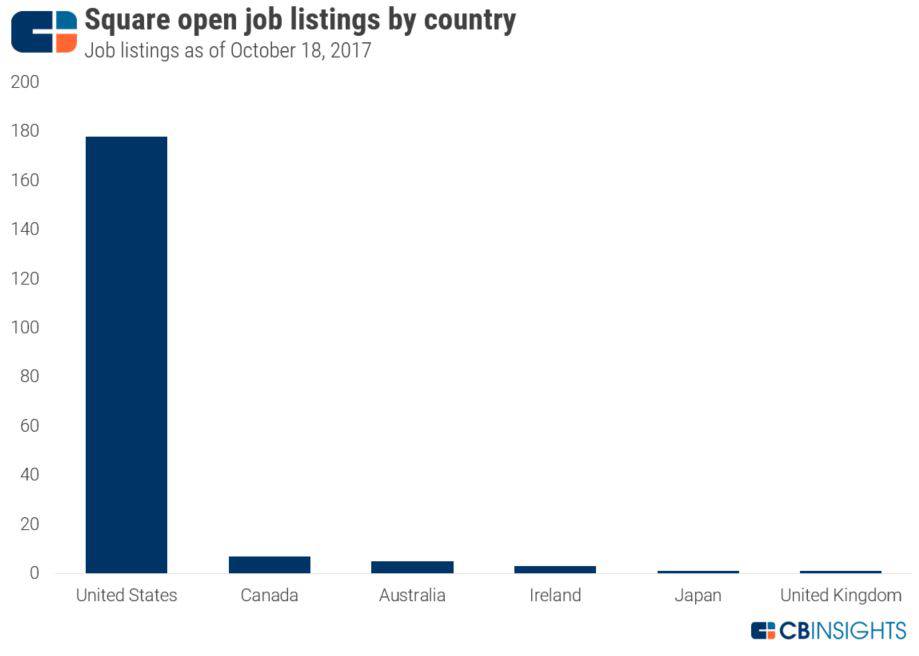 Investments and M&A
M&A trends: Ramping up Caviar
Since its founding, Square has made 13 acquisitions, most notably its 2014 acquisition of food delivery startup Caviar for $90M in August 2014.
In October 2016, reports suggested that Square management fielded offers to sell its Caviar business for around $100M. The move was rebuffed by CEO Jack Dorsey, who characterized Caviar as a business that helps the restaurants it works with sell more and opens them up to working with Square in other capacities, such as loans and payroll.
(Case in point: an announcement came last month that Square Capital would start extending loan offers to restaurants that work with Square's Caviar delivery service, even if they don't process payments with the company.)
Square has used 2 of its 3 acquisitions since Q4'16 to add to Caviar's capabilities. Last December, Square acquired Philadelphia-based food delivery service Main Line Delivery. Earlier this year, Square acquired the assets of OrderAhead's pickup business, which allow people to place take-out orders and skip restaurant waiting lines. Per Caviar lead Gokul Rajaram:
[Caviar is] going beyond food delivery to have a broader suite of offerings. Pickup is one.
Square has also used M&A to invest in Square Capital. In March 2016, Square acquired customer engagement machine learning startup Framed Data to help with Square Capital's modeling capabilities.
Overall, many of Square's recent M&A moves (Yik Yak, Framed Data, OrderAhead, Storehouse Media) have been smaller and focused on either acquiring engineering talent or assets. But since its last acquistion (OrderAhead) in March, Square's market cap has risen by over $7B. As Square seeks out growth opportunities, bigger M&A moves may follow.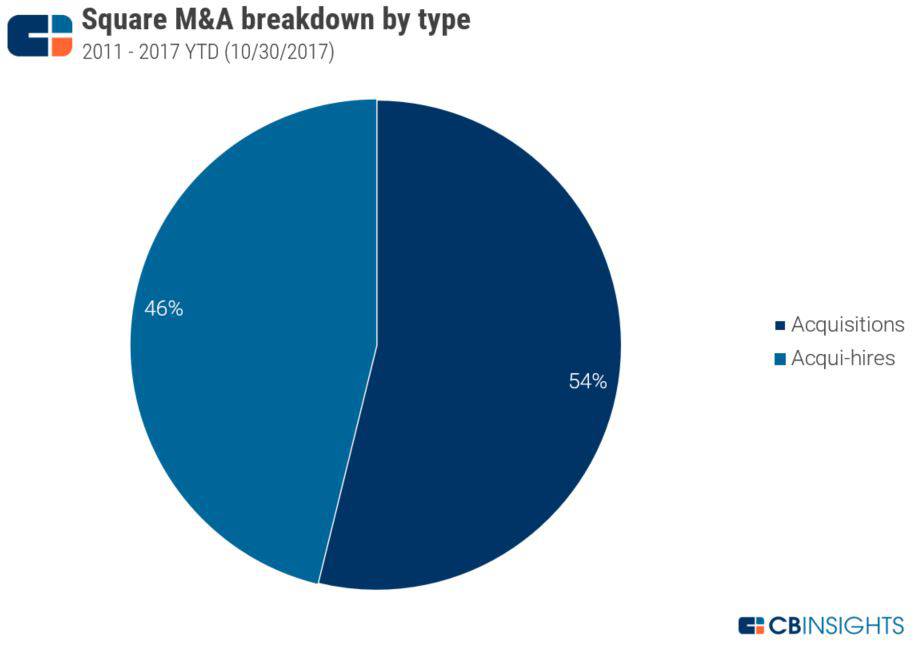 Investment trends: Square's first Bet