Square is looking to disrupt the traditional two-week pay cycle and help employees get compensated for completed work right away.
Square is betting on its payroll services.
While the payments giant is best know for its sleek POS terminal, the fintech juggernaut is quietly transforming into a full-service financial provider for its 2M+ merchants — with add-on services like Square Payroll (introduced in June 2015).
Earlier this month, the company was granted a patent that allows this payroll solution to offer employees "instant payroll deposits," which would essentially allow employees to be compensated for their work immediately.
Below, we dig into how the patent works and why it matters.
HOW The patent WORKS
Traditional payroll services typically include a 5-step process, which often translates into bi-weekly pay periods for employees.
In its patent, Square looks to use machine learning to predict the reliability of employees, as well as the risk associated with employers, in order to underwrite payroll advances.
Simply put, the patent outlines a system that studies past employee and employer trends, and subsequently offers qualifying employees instant access to select amounts of accrued payroll.
The image below showcases a payroll service and how Square plans on adding machine learning algorithms as part of its assessment.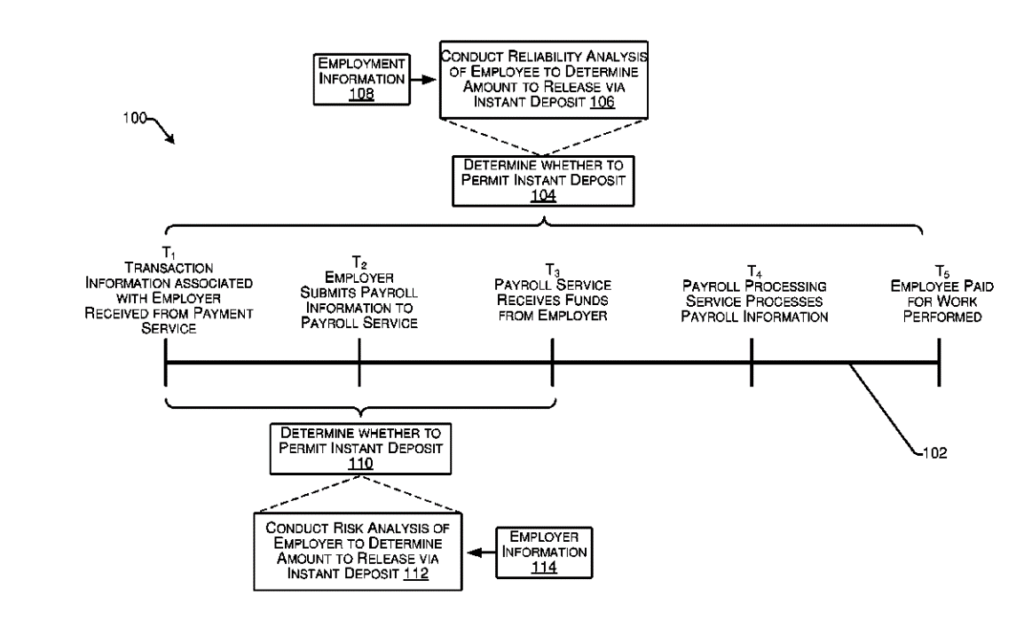 In another patent image, Square illustrates an example payroll environment, which includes all parties and systems involved.
It also provides a look into the data inputs Square uses to train its payroll underwriting algorithm. For example, the patent image highlights various employee-related datasets, including employee time info, employee sales info, and employee gratuity info.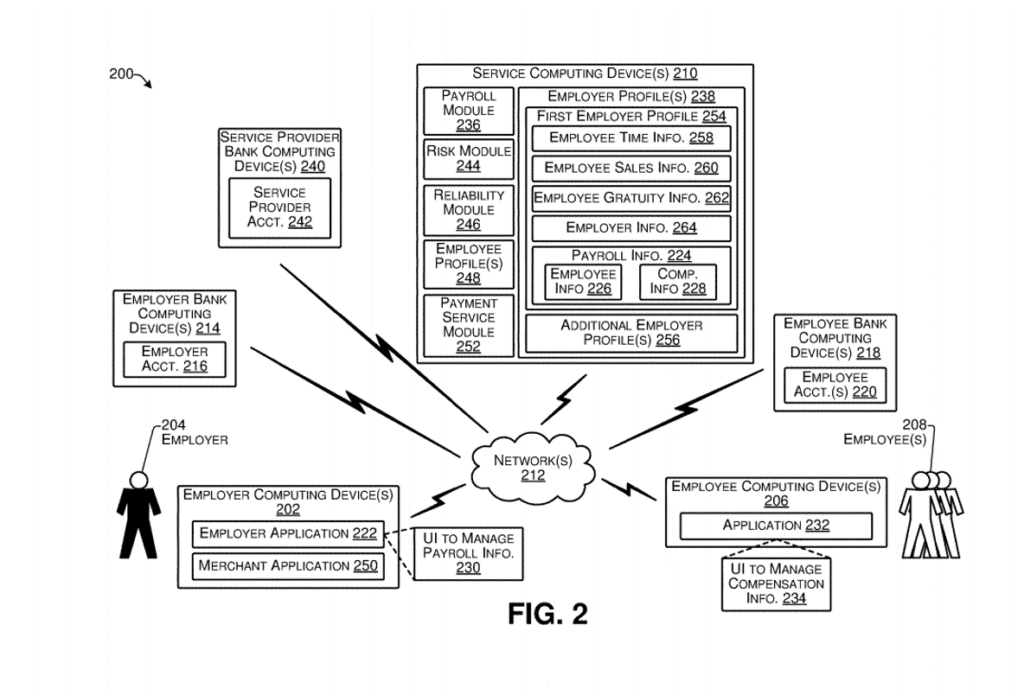 The visual below shows an employee receiving a notification around eligibility for an instant deposit.
One interesting thing to note from this process is that like Square Capital, "borrowers" will not need to apply for access to funds, but rather Square will notify eligible parties.
Also, because an employee device is required for this service, it is likely this product would require an employee to have a Cash App account for the deposit.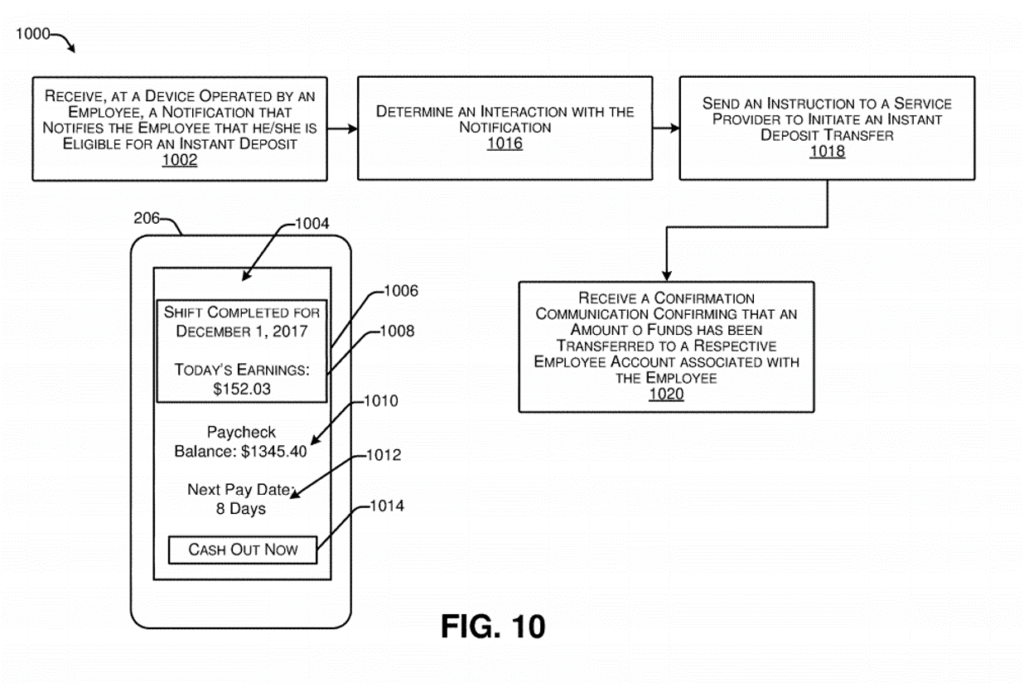 Why it matters
Early access to paychecks has emerged as a hot space at the intersection of fintech and HR tech. Because payroll is a multi-step process involving a payroll provider, employer, and employee, a broad range of companies are offering this service, including:
Payroll providers: Gusto and ADP offer employers using their services the ability to offer flexible pay periods.
Startups selling to employers: DailyPay, Instant Financial, and PayActiv offer solutions directly to employers, as a perk to offer employees.
Despite multiple players in the space, Square's payroll offering is uniquely positioned for success given its platform of 2M+ merchants. Payroll accounts payable on the balance sheet already points to significant traction for this product extension.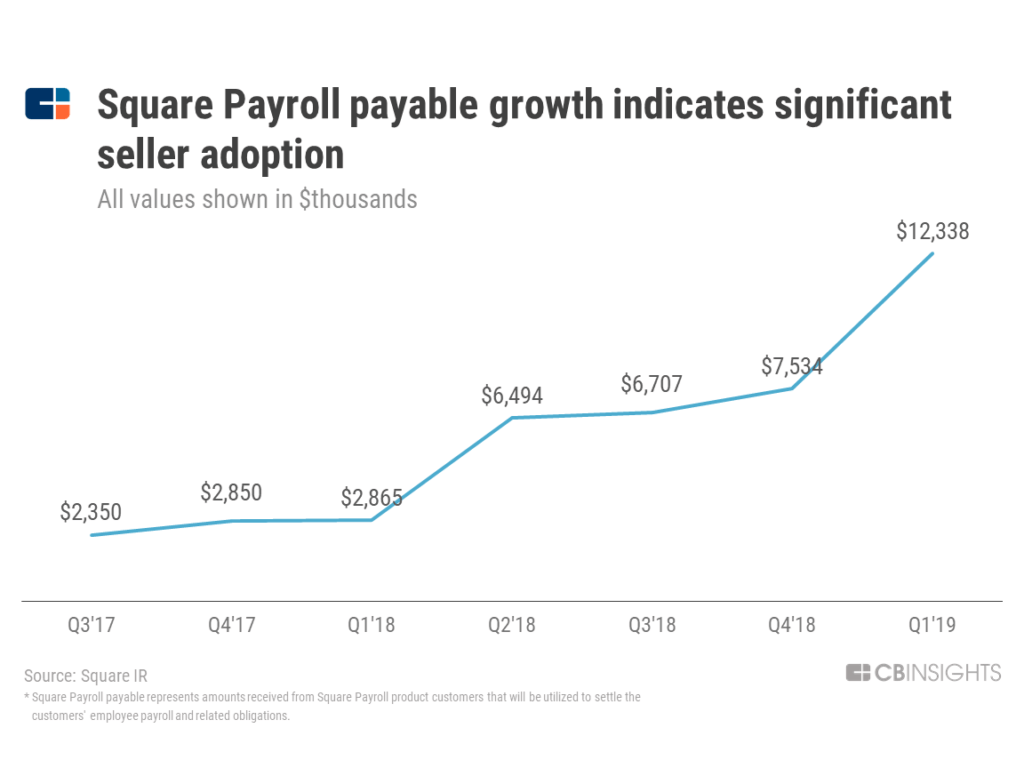 As a result, up-selling and on-boarding customers into Square Payroll could be relatively simple.
What's NExt?
Using the CB Insights Job Posting tool, it looks like Square Payroll is a strategic priority for the company.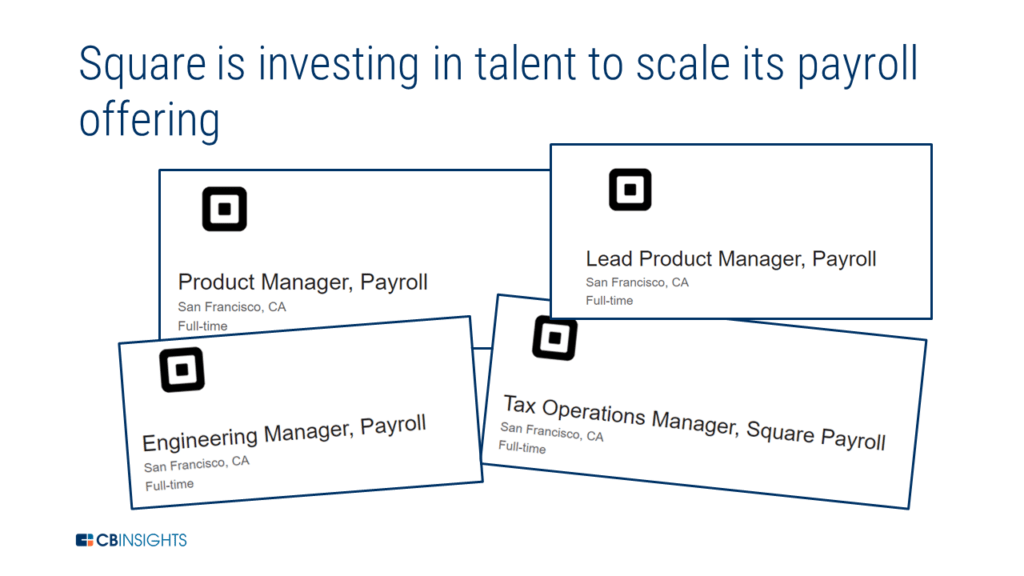 In addition to general product improvements, we can expect Square to build a "closed-loop" payroll system, in which Square will attempt to keep all funds inside of its ecosystem — facilitating payroll from an employer's Square account into employees' Cash App accounts.
Instant access to paychecks is an early indication that Square believes it can be the sole financial provider for both merchants and consumers.
If you aren't already a client, sign up for a free trial to learn more about our platform.