Your coffee shop's next espresso machine might be crowdfunded by Square.
Is Square considering a move into crowdfunding? A patent filed in March 2015 and granted in September 2017 suggests that might be the case.
The patent, titled "Mobile point-of-sale crowdfunding," outlines a method for merchants to request crowdfunding from patrons based on their processing history.
download the STATE OF FINTECH Q2 2022 report
Square has already facilitated more than $1.8B in small business loans through its Square Capital unit. But as the patent notes, "A merchant using a mobile payment system may require additional capital, but may not desire to fill out a loan application, be subjected to a credit check, or be required to make regular loan payments."
The recently granted patent details how a merchant might make the request through its point of sale terminal, include specific terms (e.g. return on investment), and be evaluated based on its processed transactions history.
If approved, the merchant can collect funds from investors, including from buyers at the point of sale — for example, a coffee shop owner presenting a crowdfunding offer for a new espresso machine to someone buying a cup of coffee. The funds are then sent to the merchant after the goal has been met or as the funds are collected.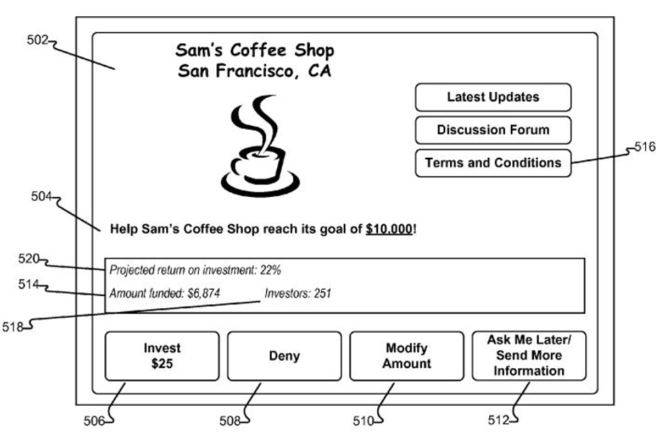 The patent reads:
"Thus, the merchant has conveniently acquired a new espresso machine, customers may benefit from the new espresso machine, and investors have received a return on investment with the added security that the techniques described herein provides (e.g. underwriting of the crowdfunding project by the payment processing system and direct repayment to the investors from POS transactions processed for the merchant by the payment processing system)."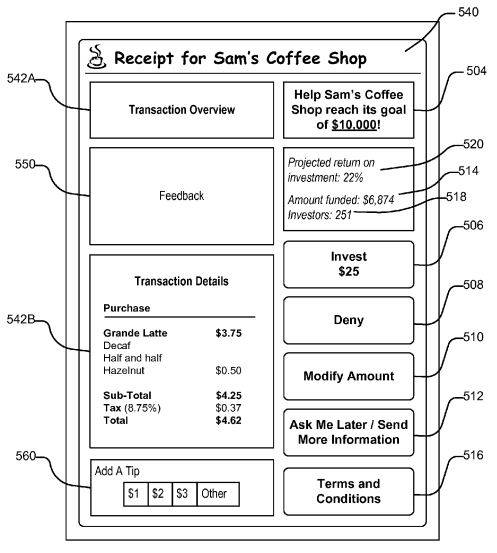 After the campaign, Square might then take a fee for facilitating the crowdfunding.
On Square's last earnings call, CEO Jack Dorsey said Square's business is "not just a point of sale for retail, but a door to the larger ecosystem." Crowdfunding could be one of the next iterations of services enabled by Square's transaction data and offered to its ecosystem for sellers.
Read the full teardown on how Square's hiring, investments, M&A, and product development are informing its strategy ahead.
If you aren't already a client, sign up for a free trial to learn more about our platform.