Square patented a technology that enables consumers to open up a flexible venue tab with their devices, pushing the company towards its goal of dominating payments in every arena. 
Square is patenting technology to dominate payments throughout venues.
In September 2017, Square invested in Eventbrite, the online event management and ticketing service.      
Square now processes all payments for the company, but ultimately it aims to provide event creators a single platform for accepting online, mobile, and in-person payments.
Alyssa Henry, Seller Lead at Square, described the partnership, saying, "As the lines that separate online and offline business fade, we look forward to helping [Eventbrite] further simplify all aspects of commerce, so they can stay focused on their core business of powering great live events."
A recent patent shows that Square is doing just that.
The company is building technology to automate customer payments at venues, simplifying the purchasing process at events for both consumers and retailers.
The patent describes technology that allows consumers to open up a tab with their device for an entire venue, which is then closed out when a consumer leaves the geo-fenced location, as shown below.
This channel makes transactions at live events seamless, and would likely increase total spend.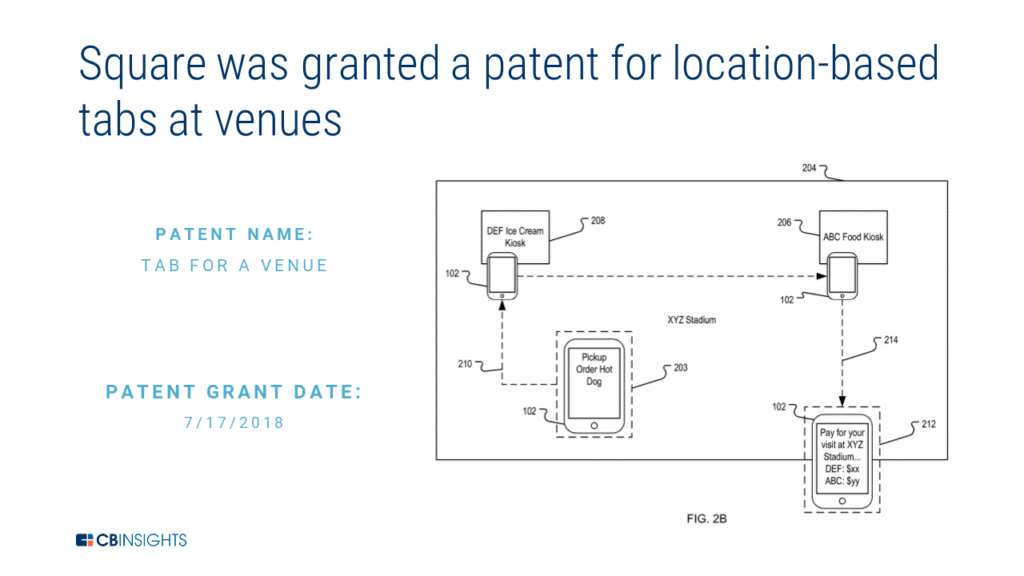 This patent — discovered using our patent search engine — fits into Square's larger payment strategy: to master omnichannel transactions for both consumers and merchants.
If you aren't already a client, sign up for a free trial to learn more about our platform.