Spiders that ingested graphene and carbon nanotubes produced silk that was tougher than Kevlar – potentially paving the way for a new class of high-performing bio-enhanced materials.
The natural strength and toughness of spider silk makes it one of the most complex and fascinating materials on earth. And with a little chemical enhancement, researchers just created a version that's three times stronger and ten times tougher.
Scientists from the UK and Italy recently investigated whether incorporating various nanomaterials – namely graphene and carbon nanotubes – into the biological protein structures of spiders could create a superpowered silk.
In their results, the researchers say they created a silk with the "highest fiber toughness reported to date" and a strength comparable to that of the world's strongest carbon fibers. Their work could open a door to the production of reinforced, bionic silk fibers (developed through the natural spider-spinning process) that could serve as a high-performance material for things like flak jackets, suture threads, or bulletproof clothing.
Certain biominerals that occur naturally in insects' protein structures and hard tissue (such as zinc, manganese, and copper) create incredible strength and hardness in their jaws, mandibles, and teeth – which is one reason spider silk is so strong and versatile.
Since spider silk is also biodegradable and heat-conducting, enhancing the power of its natural mechanical properties could make spider silk useful in a vast range of commercial applications – as a super-strong garment fabric, for example, or a biodegradable medical dressing.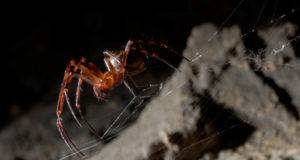 Incorporating synthetic substances into naturally occurring materials, such as spider silk, is one way to augment their organically derived qualities.
The bio-enhanced spider webs are an example of what one leading polymers researcher refers to as "biologically-inspired" composites (or composite materials). Developing such materials is a key focus area of the Graphene Flagship, which conducted the spider-silk study with a collaborative team from the University of Trento in Italy and the University of Cambridge in the UK.
By incorporating graphene and related synthetics into naturally occurring materials, the researchers are seeking to pave the way for a novel class of high-performance, bionic composites that "surpass the deficiencies of conventional man-made materials."
The researchers believe that imbuing spider silk and with carbon-based nanomaterials (using the process shown below) is the first step toward producing spider silks that could be used in place of synthetic fibers in things like clothing or medical supplies.
The Graphene Flagship is an international, European Commission initiative focused on the development and use of graphene and related two-dimensional materials. Graphene is an artificial, carbon-based material that some say is the strongest material on the planet: Despite being lighter than paper and just one atom thick, graphene is 200 times stronger than steel and more conductive than copper.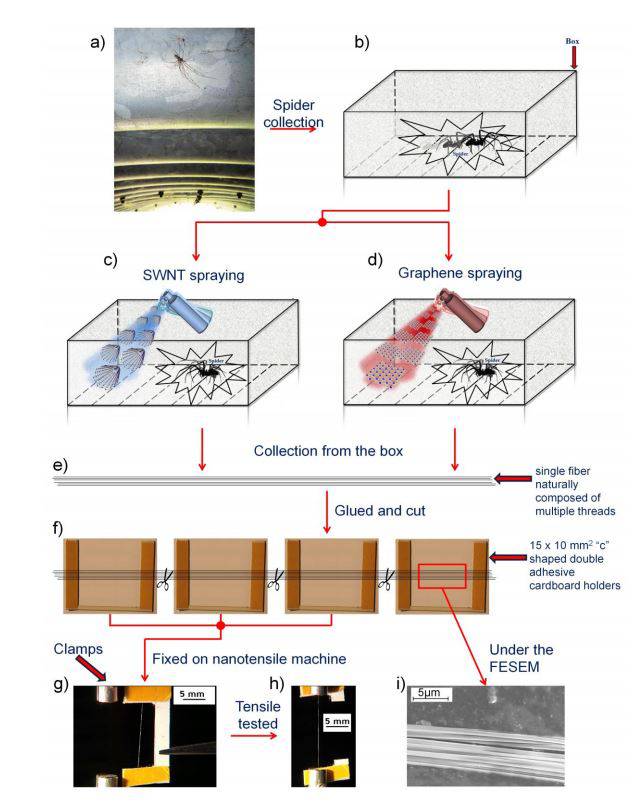 To get spiders to produce the super-strong silk, the Graphene Flagship researchers had to first prepare solutions containing either microscopic flakes of graphene, or single wall carbon nanotubes (SWNTs), which are microsopic, rolled-up sheets of graphene.
After giving the spiders time to naturally ingest the graphene and SWNT that had been dispersed in their environment, the spiders produced silk according to their usual natural production proess. The silk was then collected from the spiders and tested for graphene/CNT content and mechanical properties.
Compared to control silks collected prior to testing, substance-infused silks showed significant increases in strength, toughness and elasticity. The strongest silk threads had a fracture strength of up to 5.4 gigapascals (GPa), which is more than three times as strong as the GPa of the unmodified silks. The strongest threads also showed a tenfold increase of their "toughness modulus."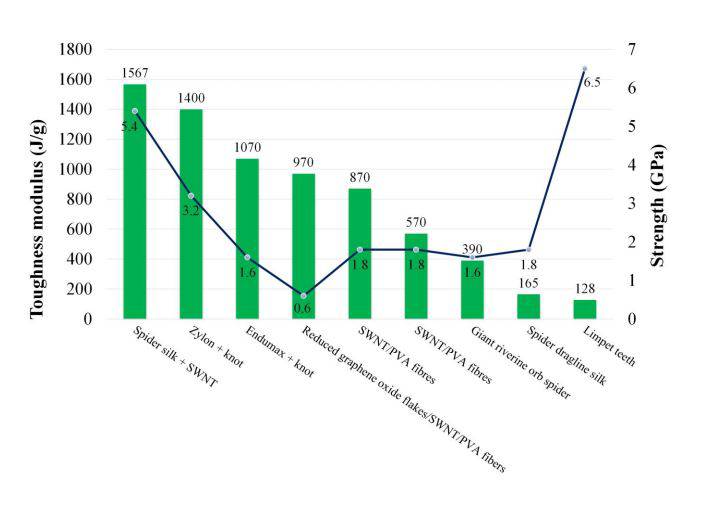 Two collections were performed, but four of the 15 spiders died after the first collection round and before the second. Even among those that lived, the samples collected in the second round performed poorer upon testing; the researchers attributed the diminished second-round outcomes to a likely "physiological spider weakening" during the study, since the spiders had no access to normal nutrients during the experimental period. (Only graphene- or carbon-containing water was made available.)
In fact, one of the deceased (Spider 5) produced the third most mechanically impressive silk in the study. The Collection 1 sample from Spider 5 also showed the largest incremental increase in its mechanical properties compared to the control sample, jumping from a GPa of 3.2 with the control sample to a GPa of 37.9 after ingesting graphene or SWNT.
The spider that produced the highest-scoring, strongest silk (Spider 7, per figures below) did live long enough to produce two samples, and survived the experimental period.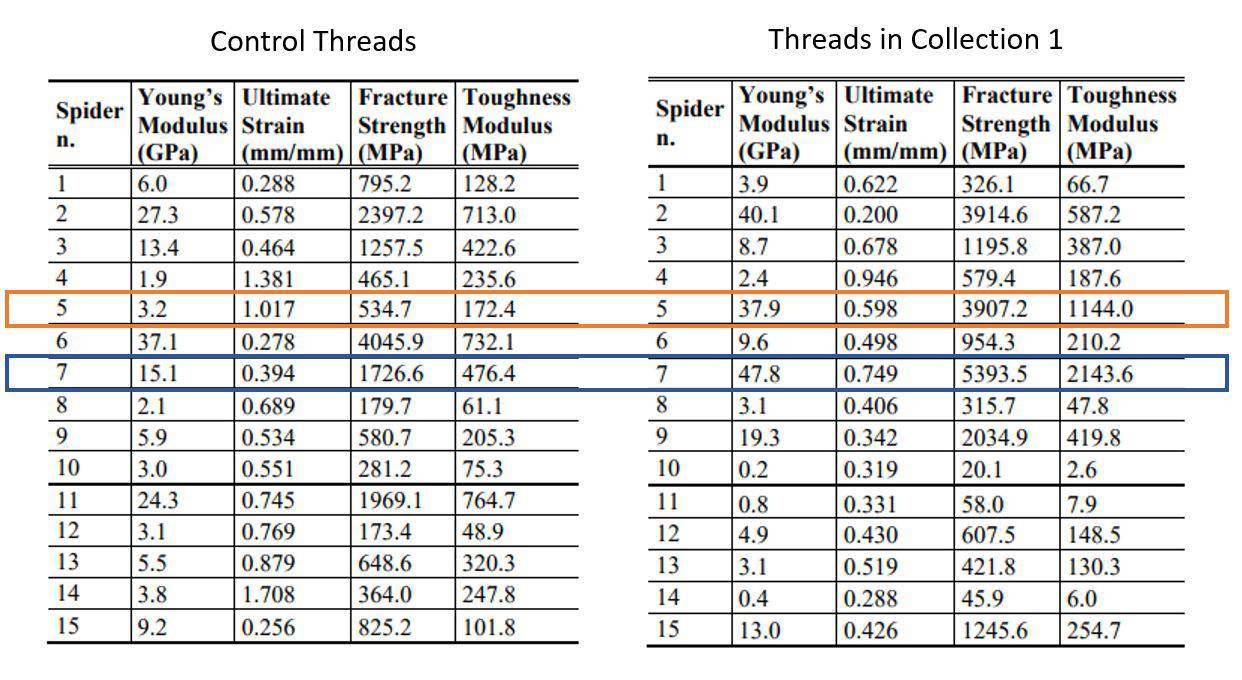 Of course, the deaths and observed physiological "weakening" raise important moral and ethical concerns about the research and its potential application in commercial settings.
The concept of spiders being force-fed carbon-laden water for the purposes of pumping out biosilk is distasteful to some – especially if some of the best silks come from spiders that die after producing the enhanced material.
As "biologically-inspired" composites become a more active research area, more scientists will be grappling with these questions. But bolstered by the results of this proof-of-concept research, the Graphene Flagship hope to extend their study's "reinforcing procedure" to other animals and plants, potentially leading to a new class of bionic materials.
---
The original research "Spider silk reinforced by graphene or carbon nanotubes was published in the journal 2D Materials. Full information is available here.
If you aren't already a client, sign up for a free trial to learn more about our platform.