The space tourism race is heating up. From on-the-ground virtual reality experiences to high-altitude balloons and space flights, space travel is set to become a multi-billion dollar industry.
Could we be only months away from mass tourism in space? While delays are the norm for the nascent space travel industry, the race to send tourists into space is definitely accelerating.
For now, space tourism seems accessible only to the extremely wealthy; but companies are already trying to bring space travel down to Earth via VR and near-space travel opportunities. As the industry expands, it could represent a big opportunity for travel companies.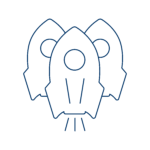 In 2001, Dennis Tito became the first space tourist, paying $20M to Space Adventures for his trip. He was followed by 6 other space tourists, all of whom paid between $20M and $40M.
Since then, a number of private companies have been working toward making space travel cheaper: Virgin Galactic pre-sold $250K tickets — some over a decade ago — for a suborbital flight that has still yet to launch.
Now, after receiving a $1B investment from the Public Investment Fund of Saudi Arabia in Oct'17, Virgin Galactic says it may start those commercial space flights by the end of 2018.
More recently in Feb'18, SpaceX launched a Tesla into space using an heavy-lift rocket, which it says could eventually help launch crews into space. This would be the company's first step to space tourism
Billionaires are playing a big role in making space tourism more affordable: Richard Branson launched Virgin Galactic, Elon Musk founded SpaceX, and Jeff Bezos has been selling shares in Amazon to fund Blue Origin.
If these high-profile founders are successful in making space tourism more affordable — and safe — it could be the start of a multi-billion dollar industry.
While the activities & touring industry is likely to see the greatest impact from a growing space tourism industry, airlines may also jump into the mix. Japan Airlines and All Nippon Airways have already invested in space tech startups.
As we may only be a few months away from the first commercial space flight, we analyzed the current state of the space travel industry from astronaut bootcamps to spaceships and trips to the moon.
Click to enlarge.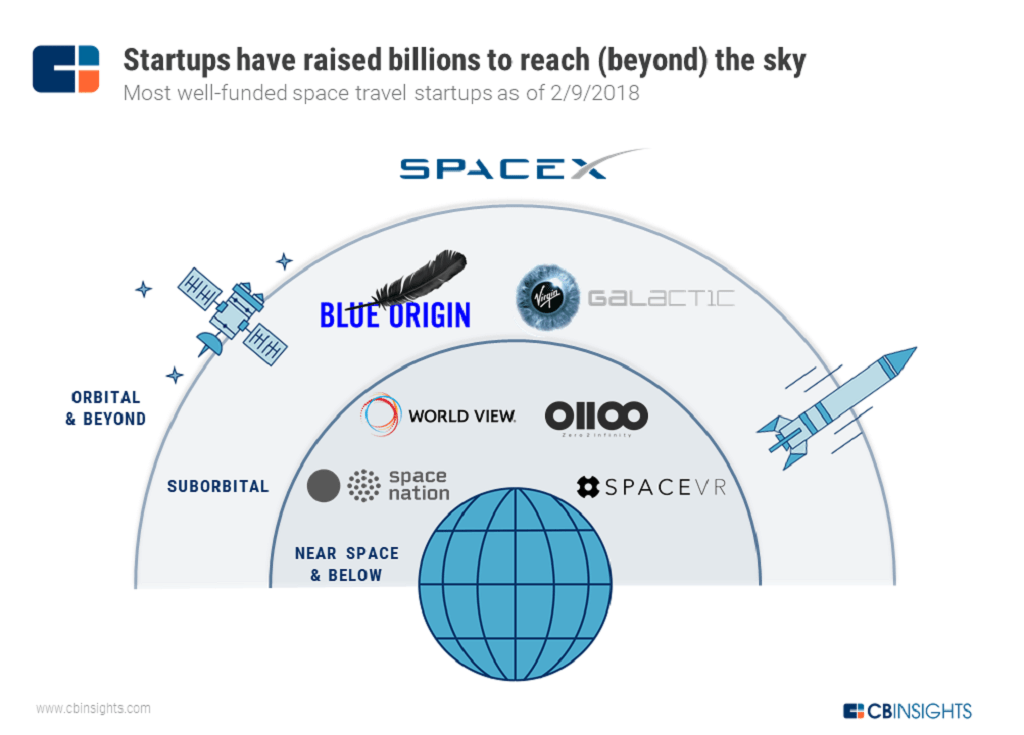 Near-space & below experiences
While weekend getaways to the moon are not yet available on Expedia, some startups are already offering space travel experiences right here on the ground.
To give aspiring space tourists a first taste of what being in space might look like, SpaceVR wants to use virtual reality. The startup has raised $1.4M to equip a small satellite with virtual reality cameras to record views from the space. The footage will then be available on VR headsets, giving people a chance to see through the eyes of an astronaut. SpaceVR has yet to confirm a launch date for the satellite.
For those with bigger ambitions for space flight, Finland-based startup Space Nation offers an astronaut training program. The program consists of 3 phases: mobile app basic training, real-life bootcamp for physical training with experienced astronauts, and finally a trip to space for those who perform best during bootcamp. Space Nation plans to launch its program in early 2018.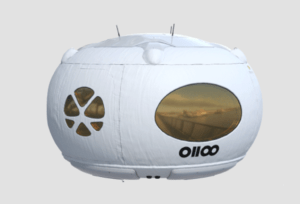 Balloons are also being used to make near-space experiences possible. ("Near-space" refers to traveling up 30 to 40km in altitude.) US startup World View and Spanish company Zero2Infinity are using helium-inflated balloons to elevate pods, such as the one on the left, to near-space altitude. Tourists will not need any specific training to get into these pods, but will have to pay between $75K (for early birds) and $135K for a single trip.
Suborbital flights
Suborbital flights aim to provide space views and weightless, zero-gravity experiences at an altitude above 100km. Both Jeff Bezos' Blue Origin and Richard Branson's Virgin Galactic are competing at this altitude.
Blue Origin expects to start sending tourists to space in 2019. The company has built a reusable rocket, similar to SpaceX, with a capsule on top for up to 6 people. This capsule would detach from the rocket at a suborbital altitude.
Once above 100km, passengers in the Blue Origin capsule will be able to experience zero gravity, floating around the capsule freely, while enjoying views from windows 3x as big as in an airplane. The capsule would then land back on Earth with a parachute, as shown below.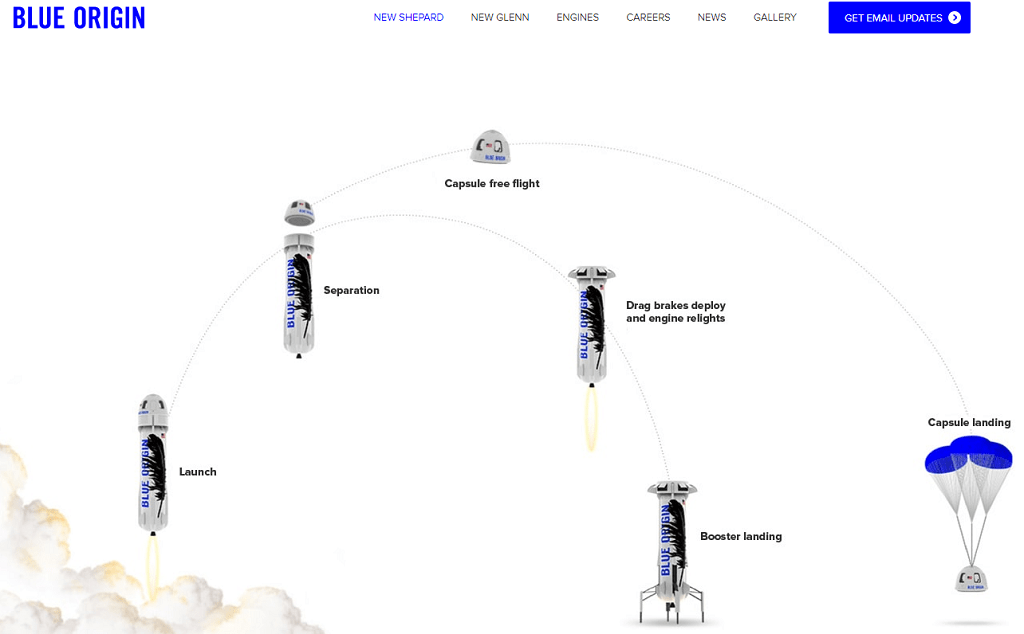 Its competitor Virgin Galactic has already raised $1.4B and sold 700 tickets for suborbital flights at $250K each. The company has used this funding to build a spaceship that can carry up to 6 passengers and 2 pilots, and fly back to its original location after spending some time in space.
Similar to Blue Origin, passengers will be able to float freely in the ship during their time at 100km+ of altitude. After several years of delay, Virgin Galactic now plans to launch its first commercial flights by the end of 2018.
Orbital TRIP & beyond
Both near-space and suborbital experiences represent a major step in space travel, but Elon Musk's SpaceX wants to go further and fly 2 tourists around the moon this year. This is expected to be an important step for SpaceX, as it plans to send a crew to Mars by 2024.
In Feb'17, SpaceX announced that it had received a significant deposit from 2 aspiring space tourists to fly them around the moon. The original plan was to use the Falcon Heavy, SpaceX's heavy-lift rocket that successfully launched a Tesla into space in Feb'18. However, Elon Musk announced earlier this month that the Big Falcon Rocket (BFR) — a larger rocket — would be used for launch instead, delaying the mission.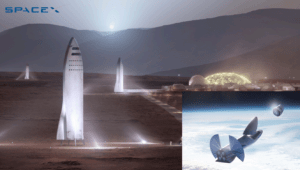 The BFR is still in development, but SpaceX intends to use it for the company's Mars mission as it will be able to transport payloads heavier than any other rocket. The BFR will be reusable like other SpaceX rockets, which will make it cheaper to launch.
More recently, the company has suggested using the BFR to fly passengers from one city to another. A trip from New York to London would take less than 30 minutes — compared to the current 6-hour airplane flight — while providing passengers with a space travel experience. While this might be appealing, the idea raises a number of questions around cost, infrastructure requirements, and safety, so we don't expect BFRs to replace 767s anytime soon.
If you aren't already a client, sign up for a free trial to learn more about our platform.