This year's largest financing round to date was a $75M Series D to Rocket Lab, which aims to develop lightweight commercial rocket launch services.
With Elon Musk's SpaceX and Jeff Bezos' Blue Origin making headlines, space tech has seen an increase in both media attention and investment activity: total funding ballooned to more than $2B in 2015, and last year deals hit a record high of 49.
Using CB Insights data, we examined funding trends to startups working in space tech. We define space tech to include companies involved in the construction and launch of satellites or rocketry into outer space (including low earth orbit, medium earth orbit, high earth orbit, and geostationary orbit), in addition to ancillary companies working to aggregate, analyze, and sell data collected from outer space.
Annual Deals and Dollars
To date, 2017 has seen 25 deals totaling $371M in disclosed equity funding. At a full-year run rate, this would equate to 47 deals and about $700M in funding, which would put deals nearly level with 2016 numbers (49 deals) but would also mean a substantial decrease in total funding. However, this sector is known for outlier mega-rounds (greater than $500M). While there have been no mega-rounds yet in 2017, if we see one or more in the second half of the year it would significantly boost annual numbers.
This year's largest financing round to date went to rocket launch services developer Rocket Lab, in a $75M Series D that included participation from top investors Bessemer Venture Partners and Khosla Ventures, among others. The second-largest round went to satellite tech company Kymeta, which saw Intelsat take a corporate minority stake for $73.6M.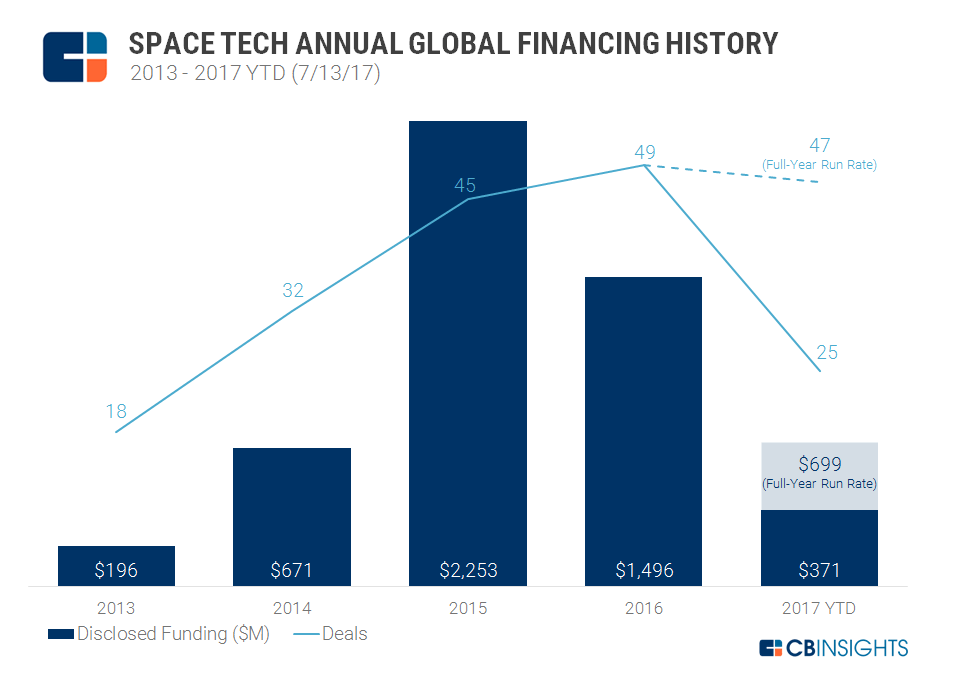 Track the space tech companies in this brief and many more on our platform
Startups working on the new frontier have the potential to disrupt a number of verticals, ranging from precious metals to telecommunication. Look for Space Tech in the Collections tab.
Track Space Tech
QUARTERLY DEALS AND DOLLARS
On a quarterly basis, deals rose from 12 in Q1'17 to 13 in Q2'17, making it the third-highest quarter ever. However, dollars continued to slide in Q2'17 down to $157M, a 27% decrease from $215M in the previous quarter.
Notable deals last quarter included a $50M Series C to Orbital Insight, with participation from Sequoia Capital, CME Ventures, and Google Ventures, among others, and a $30M round to Virginia-based Omnispace, with participation from investors including Intelsat Holding Corporation. Early-stage companies also saw activity, with four Series A deals closing for under $15M each.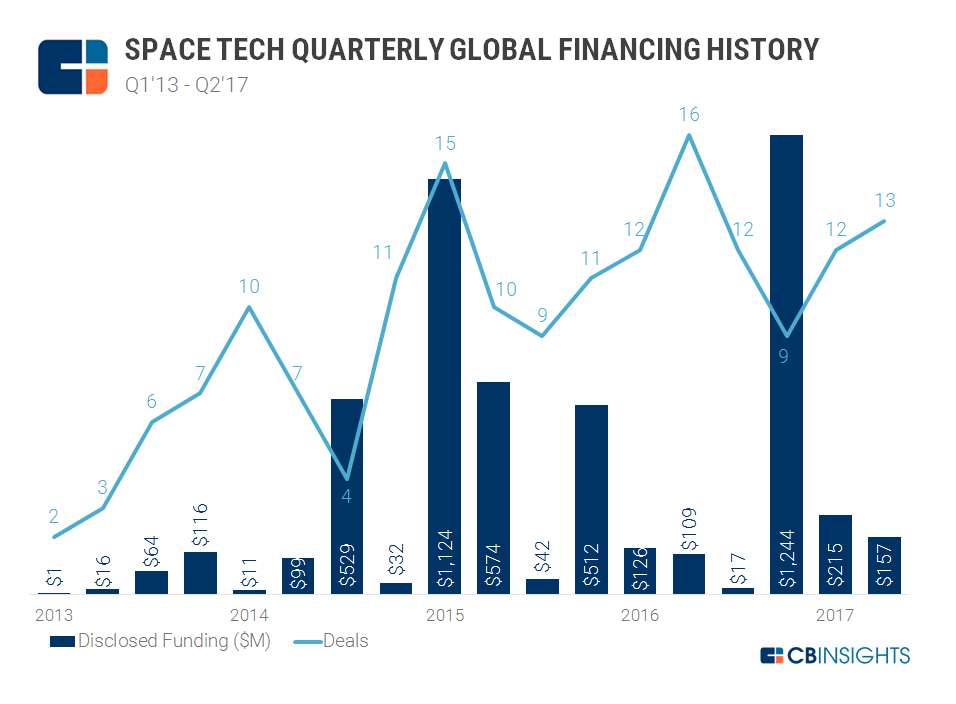 If you aren't already a client, sign up for a free trial to learn more about our platform.