After a wave of deals in the ride-sharing space, sovereign wealth funds are diversifying into new areas of auto and mobility, including everything from autonomous driving to auto commerce.
With the rise of self-driving technology and the impending commercialization of electric vehicles, sovereign wealth funds are looking to invest in new areas of auto tech.
Funds have historically focused solely on ride-hailing and car-sharing, but recent investments in startups such as SenseTime, a startup working on object recognition for self-driving technology, and Kalray, a manycore processor developer for autonomous driving, suggest funds are branching out.
We mapped out sovereign wealth investment by subsector over time, distinguishing ride-hailing and car-sharing from other areas of auto tech, which include autonomous driving, electric vehicles, connected car technology, and auto commerce.
The share of deals going to ride-hailing startups has plummeted: in 2017, ride-hailing made up 29% of sovereign wealth fund investments in auto tech, well below the 86% just two years prior.
Deals in 2017 saw activity across an array of new areas in the auto space. Temasek invested in CarTrade, an India-based developer of a B2B used car marketplace, in February, and e-scooter developer Gogoro in September ($300M Series C). The Government of Singapore Investment Corporation (GIC) participated in AV/EV developer NIO's $600M Series D round in March 2017.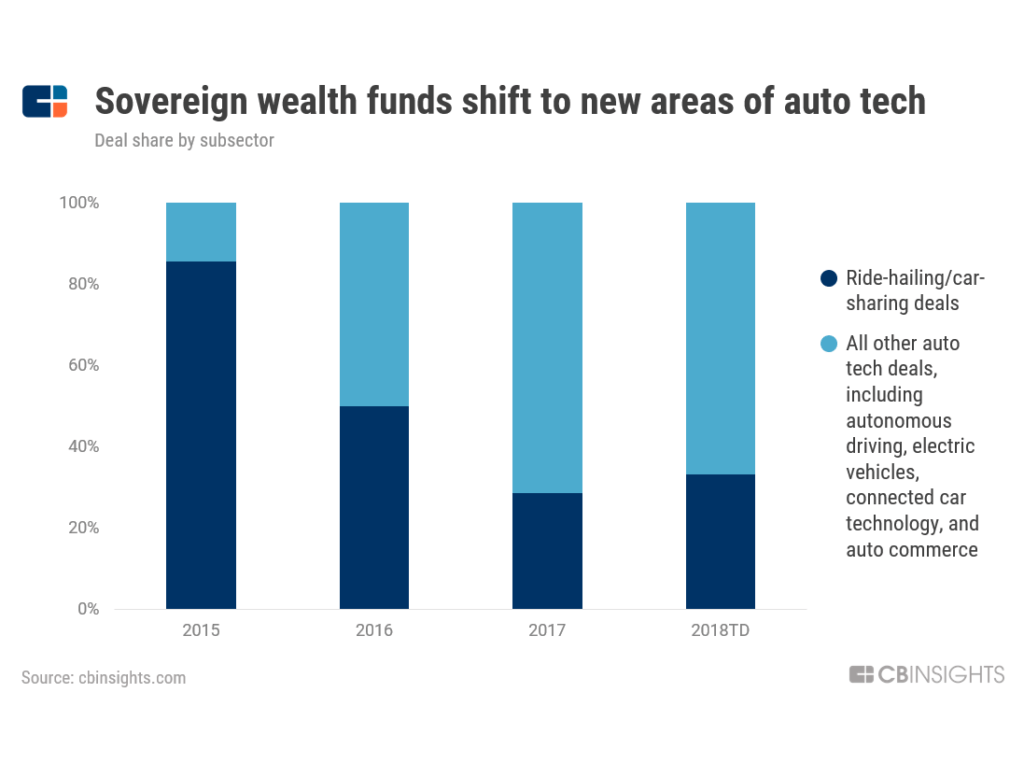 This shift away from ride-hailing investments continued through 2018. In January, GIC invested in Chehaoduo, a Beijing-based startup operating an online C2C used-car trading platform ($818M Series C round). Temasek was also involved in SenseTime's $600M in Series C funding in April 2018.