Philippines-based tech company Xurpas and Norway-based telecom company Telenor are among the most active acquirers in the region.
With the help of Chinese tech giants and highly active venture capital funds, Southeast Asia's tech startups have seen increased investor interest over the past few years. 2017 has already seen $5B in total funding through July — an annual record propelled by select mega-rounds.
While there have not been many exits yet in the space, there are a handful of companies that have been acquiring Southeast Asian tech startups over the last few years. We used CB Insights data to visualize the region's most active acquirers since 2012.
Our definition of Southeast Asia includes Brunei Darussalam, Cambodia, Christmas Island, East Timor, Indonesia, Lao People's Democratic Republic, Malaysia, Myanmar, Philippines, Singapore, Thailand, and Vietnam.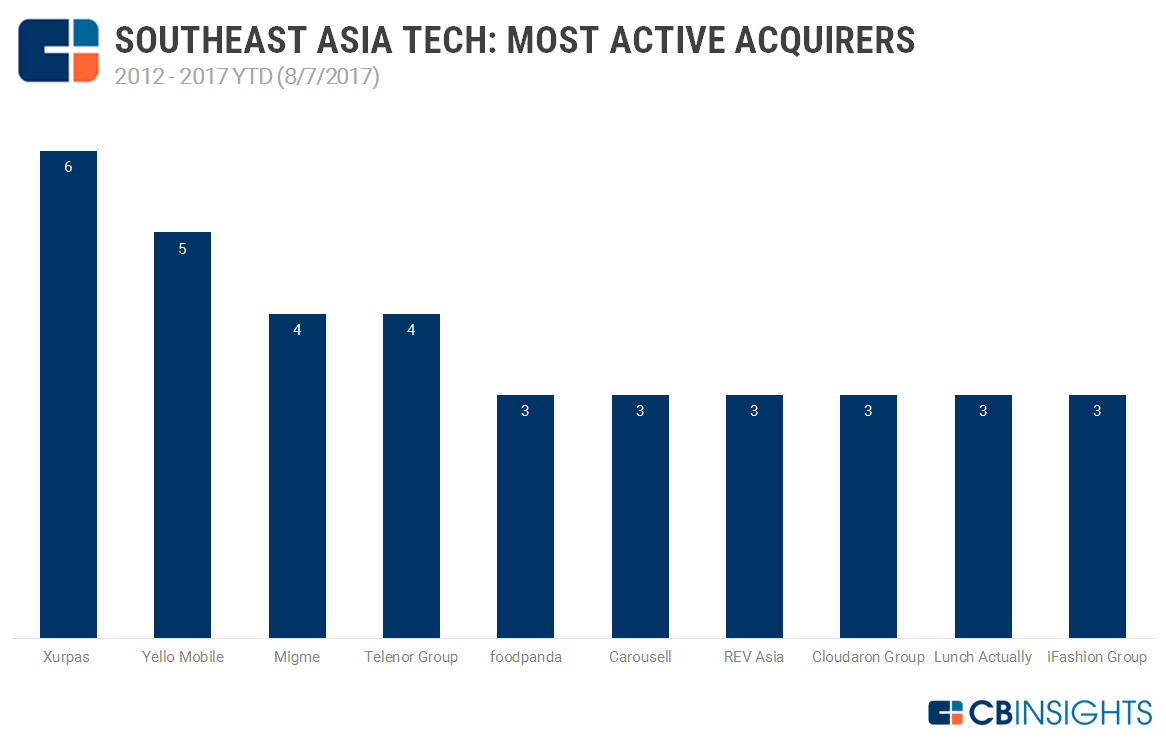 Notable acquirers include:
Xurpas: Since the start of 2012, Philippines-based tech solutions company Xurpas tops the list with six acquisitions of Southeast Asian tech firms. It held an IPO in 2014 and was the first-ever Filipino company to do so. Among its acquisitions, four of the companies are based in the Philippines. Its latest acquisition was in October 2016, when it bought Singaporean mobile ads and marketing company Art of Click. In September 2015, Xurpas bought Phillippines-based Yondu, an IT software development company, for $19.2M.
Yello Mobile: In second place is South Korean unicorn Yello Mobile, which operates as an umbrella company that buys mobile startups and allows them to continue to exist independently. In Southeast Asia, it has made five acquisitions — two in Indonesia, two in Thailand, and one in Singapore. Four of these operate in the ad, sales, and marketing industries, including online marketing company Adyim.
Migme: Migme, a Singapore-headquartered digital media company, has made four acquisitions in the region. It was founded in Australia and is listed on the Australian Securities Exchange. Migme has bought a diverse set of startups, including Singapore's LoveByte, which is an app that allows couples to record their lives and memories, and Indonesian media company Hipwee.
Telenor Group: Telenor Group, a multinational telecom company that the government of Norway has a 54% stake in, has made four acquisitions across Southeast Asia, including two in Malaysia, one in Vietnam, and one in Myanmar. All four of its acquisitions have been classifieds sites, including Myanmar's OneKyat.
Carousell: Singaporean P2P marketplace Carousell has acquired three startups in the region. It has raised $42M in funding, with its latest round a Series B worth $35M from investors including 500 Startups, Japan's Rakuten Ventures, and Sequoia Capital India. Carousell has bought Singapore-based auto classifieds marketplace Caarly and two Malaysian startups: Duriana, which lets users buy and sell items in the vicinity, and an acquihire of Malaysia's Watch Over Me.
Other active acquirers of tech companies in the region include Malaysian digital media group Rev Asia, Singaporean cloud technology company Cloudaron Group, and Singapore's Lunch Actually, which has bought three dating apps since 2012. Singapore's iFashion Group has also bought three startups, including Singaporean indie brand marketplace Megafash, which it acquired in February 2017.
Foodpanda — which was seeded by Rocket Internet and acquired by German food delivery company Delivery Hero in 2016 — has made three acquisitions in the region, one of which was Thailand-based Food by Phone, which delivers food from restaurants to businesses.
If you aren't already a client, sign up for a free trial to learn more about our platform.