We dig into Southeast Asia's burgeoning tech ecosystem, from financing trends by country to major investors making bets in the region.
While Southeast Asia often gets classified as a single, homogenous region, the dynamics in each country within the region are extremely varied.
Singapore is one of the world's wealthiest country-states. Indonesia, despite having the highest GDP of countries in Southeast Asia, is home to a large unbanked population, with many people still relying heavily on cash. In 2017, the Philippines — despite an unpopular president and political unrest — was highlighted by Forbes as the 10th fastest-growing economy in the word.
Using CB Insights data, we outlined the deals, VCs, investors, and tech trends defining the region. Our classification of Southeast Asia includes Brunei, Cambodia, Christmas Island, East Timor, Indonesia, Laos, Malaysia, Myanmar, Philippines, Singapore, Thailand, and Vietnam.
SOUTHEAST ASIA FINANCING TRENDS
Every year since 2012, Southeast Asian startups have pulled in more and more money. This year is no different: as of 2017 YTD (9/13/2017), tech companies in the region have pulled in $6.5B in disclosed equity funding. That's already more than twice as much as the $3.1B brought in in 2016, and more than 3X the $1.7B raised in 2015.
Deals are also on pace for record numbers in 2017, after a slight dip in 2016. 2016 brought in 347 deals. This year is on track to see over 500 deals to the region.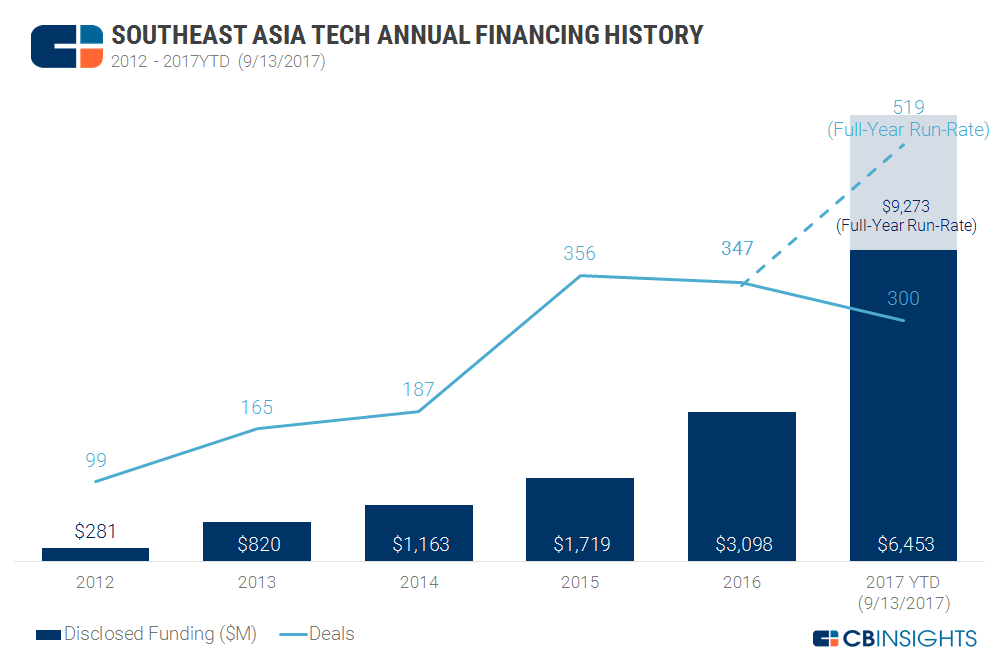 Mega-rounds and Unicorns
Funding numbers in 2017 have been buoyed by a number of $100M+ mega-rounds, some of which are the biggest rounds to a Southeast Asian tech companies to date.
Singaporean ride-hailing company Grab raised the largest round in the region yet: a $2B Series G in Q3'17. Participants included Japan's SoftBank Group, Chinese ride-hailing startup Didi Chuxing, and Toyota Motor Corporation.
Another ride-hailing company to raise a notable mega-round was Indonesia's GO-JEK, which raised a $1.2B Series C in Q2'17 from Chinese tech giants Tencent Holdings and JD.com. Indonesian travel bookings site Tokopedia raised a $1.1B Series F from Alibaba Group in Q3'17.
Southeast Asia is now home to four unicorns: two Singaporean companies, ride-hailing app Grab and online gaming company Sea, and two Indonesian companies, travel bookings site Traveloka and ride-hailing app GO-JEK.
Top Rounds in Southeast Asian Tech (2012 – 2017 YTD (9/13/2017)

| Rank | Company | Amount ($M) | Round | Date |
| --- | --- | --- | --- | --- |
| 1 | Grab | 2000 | Series G | 7/24/2017 |
| 2 | GO-JEK | 1200 | Series C | 5/4/2017 |
| 3 | Tokopedia | 1100 | Series F | 8/17/2017 |
| 4 | Grab | 750 | Series F | 9/20/2016 |
| 5 | edotco Malaysia | 600 | Private Equity | 12/14/2016 |
| 6 | Sea | 550 | Series E | 5/8/2017 |
| 6 | GO-JEK | 550 | Series B | 8/4/2016 |
| 8 | Traveloka Indonesia | 500 | Series B | 7/27/2017 |
| 8 | Matahari Mall | 500 | Corporate Minority | 2/25/2015 |
| 9 | Grab | 350 | Series E | 8/14/2015 |
Breakdown by Region: INDONESIA gains steam
From 2012 – 2017 YTD, Singapore has attracted the most investor money of all countries in the Southeast Asian region. Investment totals have reached over $7.2B to Singapore-based tech startups, with the second most active country, Indonesia, clocking in at $4.6B.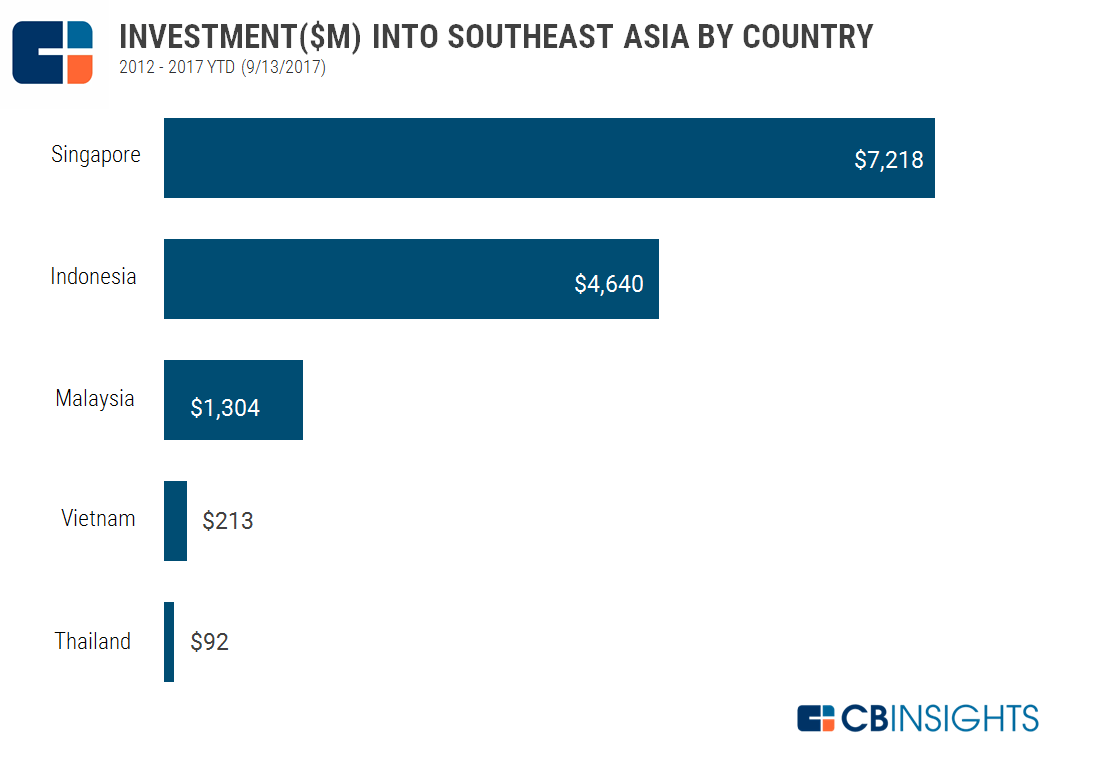 While still lagging Singapore, activity in Indonesia has recently picked up the pace, propelled in part by a few of the mega-rounds highlighted above. Indonesian tech startups have raised nearly $3B in funding in 2017 YTD alone, on par with Singapore's $3.1B raised this year.
Indonesia's 2017 funding numbers are boosted in part by the above-mentioned mega-rounds, which were among the largest rounds ever to the region: the $1.2B Series C to GO-JEK and the $1.1B Series F to Tokopedia.
Thailand, in fifth place, has raised a large chunk of its total funding in 2017: $78M of its total $92M raised (or 85% of total funding) has been raised this year to date. Noteworthy recent deals to Thai startups include video livestreaming platform Kitty Live's $21 Series A in Q1'17 and e-commerce startup Zilingo's $18M Series B in Q3'17.
Other countries have seen funding fall off. Although Vietnam's funding total since 2012 is $213M, making it the fourth most well-funded country in Southeast Asia, in 2017 YTD startups in Vietnam have raised less money than either Thailand and the Philippines. Vietnam's two biggest rounds to date were both closed in 2016: a $28M Series B to e-wallet MoMo and a $17M Series C to e-commerce site Tiki.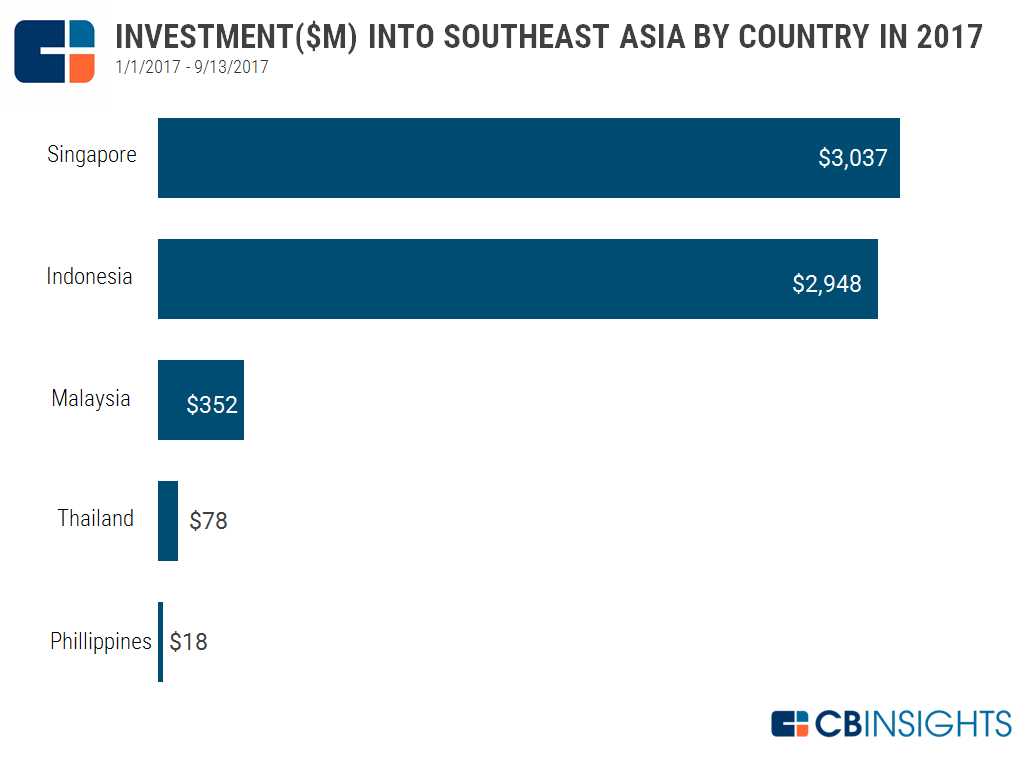 Deal activity followed a similar pattern as funding, with Singapore taking the lead in the number of deals it has closed since 2012. For overall deal activity, Vietnam did not rank in the top five.
Despite raising just $18M in funding since 2012, however, the Philippines saw significant deal activity, closing 100 deals over the years. This was just 14 fewer than Thailand, which has closed 114 deals totaling $92M.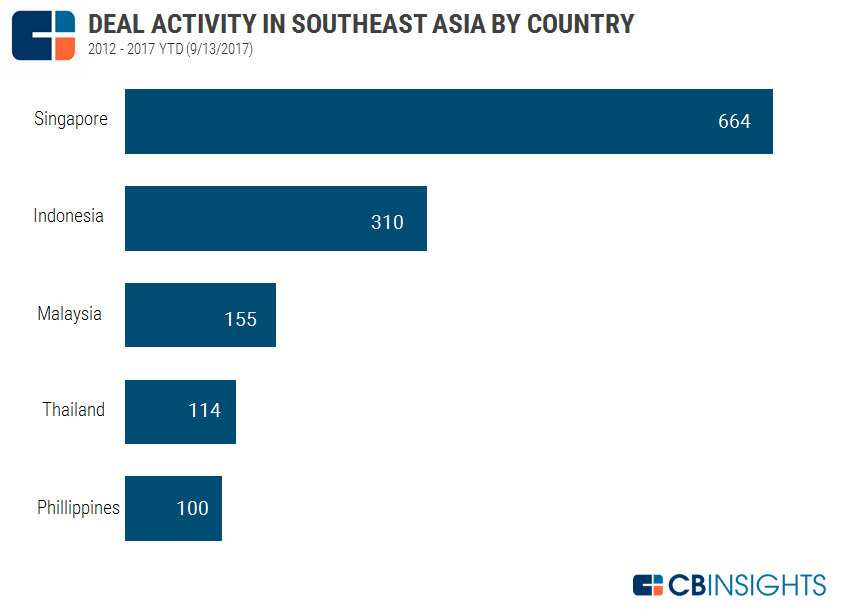 The Philippines has seen increased activity in recent years, with major deals in 2017 including a $9.7M round to online pawn shop PawnHero and a $5M tranche of Series A financing from South Africa's Naspers to bitcoin e-wallet Coins.ph. In 2017 YTD, the region has closed 24 deals.
EMERGING TRENDS
Social media: With a massive boom in smartphone usage, social media in Southeast Asia is a major trend, with Indonesia leading the way. Instagram's most popular geo-tagged city is Jakarta, Indonesia. In 2012, Jakarta won the title of "Twitter City" for having posted the greatest number of tweets of any city in the world.
Earlier this month, Chinese unicorn ByteDance — a startup similar to Musical.ly in that it lets users post short videos — expanded into Indonesia with the launch of local app Tik Tok. In Q2'17, Singaporean dating app Paktor merged with Taiwanese startup 17Media to add live-streaming and content production to its list of offerings.
Payments: Another emerging trend is an increase in payments startups attempting to provide many of the same services as banks — including holding money, digital payments, and remittances.
According to the World Bank, only 27% of people in Southeast Asia have a bank account — a number that falls as low as 5% in countries like Cambodia. Startups in the payments space have the potential to offer financial services to a largely underbanked population.
Filipino company Coins.ph runs a bitcoin wallet that focuses on improving ease and efficiency of remittances sent between countries, while Singapore-based InstaReM claims to charge lower fees for remittances than traditional services like MoneyGram or Western Union.
In July 2017, Thailand-based payments solution Omise raised $25M in an ICO intended to help build out Omise Go, which its cryptocurrency-powered e-wallet and cross-border money exchange. Omise has also raised $20.4M in traditional disclosed funding, and its backers include 500 Startups and East Ventures.
E-commerce: Another trend is the rise of niche e-commerce sites. Despite the existence of local, well-funded e-commerce sites (such as Tokopedia) and the entrance of marketplace giants into the region (like Chinese tech giant Alibaba's purchase of Singaporean e-commerce retailer Lazada last year), investors have continued to fund sites that sell specific goods.
In Q3'17, fashion & lifestyle marketplace Zilingo raised $18M in a Series B round from Sequoia Capital India and Burda Principal Investments, among others. In the same quarter, Indonesian fashion startup Sale Stock raised a $27M Series B.
Muslim apparel site Muslimarket raised a Series A from 500 Startups, among other investors, in Q2'17, while Qlapa, an Etsy-esque marketplace for handmade products, raised a Series A in Q1'17 from Aavishkar and KapanLagi Network.
Multi-purpose ride-hailing: Southeast Asian big-wigs like Grab and GO-JEK operate on multiple fronts. Grab, whose initial offering was taxis, now offers two-wheeled vehicles (such as electric scooters) as well. GO-JEK, which started by offering two-wheelers on-demand, has now partnered with a local taxi firm Blue Bird, and also offers its own private car service, GoCar.
Both companies also have dedicated fintech offerings: GO-JEK with the popular Go Pay, and Grab with GrabPay. Grab has also bought online-to-offline fintech startup Kudo, which lets customers deposit cash at kiosks and put it into their wallet.
GO-JEK, which is backed by WeChat operator Tencent, is also moving toward multi-platform capabilities that are comparable to WeChat. It delivers food with Go Food and even delivers massages to parts of Jakarta with its on-demand spa Go Massage.
ACTIVE INVESTORS: VCs, CONGLOMERATES, AND CHINESE TECH GIANTS
The most active investor in Southeast Asia since 2012 is 500 Startups. The early-stage fund has closed more than 200 rounds in Southeast Asia, backing startups including Singaporean consumer-to-consumer marketplace Carousell and Indonesian offline-to-online fintech startup Kudo.
In second place is Japan-based VC firm East Ventures, which has participated in over 90 deals in the region. It was an early investor in Indonesian booking site Traveloka, which has raised $500M in disclosed funding over the past year. Traveloka's other investors include Expedia, Chinese e-commerce site JD.com, and Sequoia Capital, among others.
East Ventures also invested in Indonesian marketplace Tokopedia's seed and Series C rounds.
Conglomerates owned by some of Southeast Asia's richest families are also active in the region's tech ecosystem, each with different strategies.
Indonesia's Sinar Mas Group, which is founded by Eka Tjipta Widjaja, ranked the fourth richest man in Indonesia in 2016, has launched its own investment arm: Sinar Mas Digital Ventures. The firm has invested in 7 companies in Southeast Asia to date. Sinar Mas Group has also invested in Thai venture capital firm Ardent Capital.
Another active conglomerate is Ayala Corporation. (The Ayala family was ranked 5th on Forbes Phillippines' 50 richest list in 2017.) Ayala Corporation is a principal shareholder in Globe Telecom, which operates Kickstart Ventures as a corporate venture capital carm.
Kickstart has invested in 19 companies across the region, including participating in a $5M Series A to Filipino bitcoin wallet Coins.ph. Ayala Corporation also invests in startups directly. It took a minority stake in Globe Telecom-owned Mynt along with Ant Financial Services in Q1'17. In the same month, Ayala, Kickstart Ventures, and BPI Capital (the investment banking subsidiary of the Bank of the Philippine Islands) came together to take a 49% corporate minority stake in fashion and footwear e-commerce site Zalora Philippines.
There also has been an increased presence of Chinese tech giants investing in the region.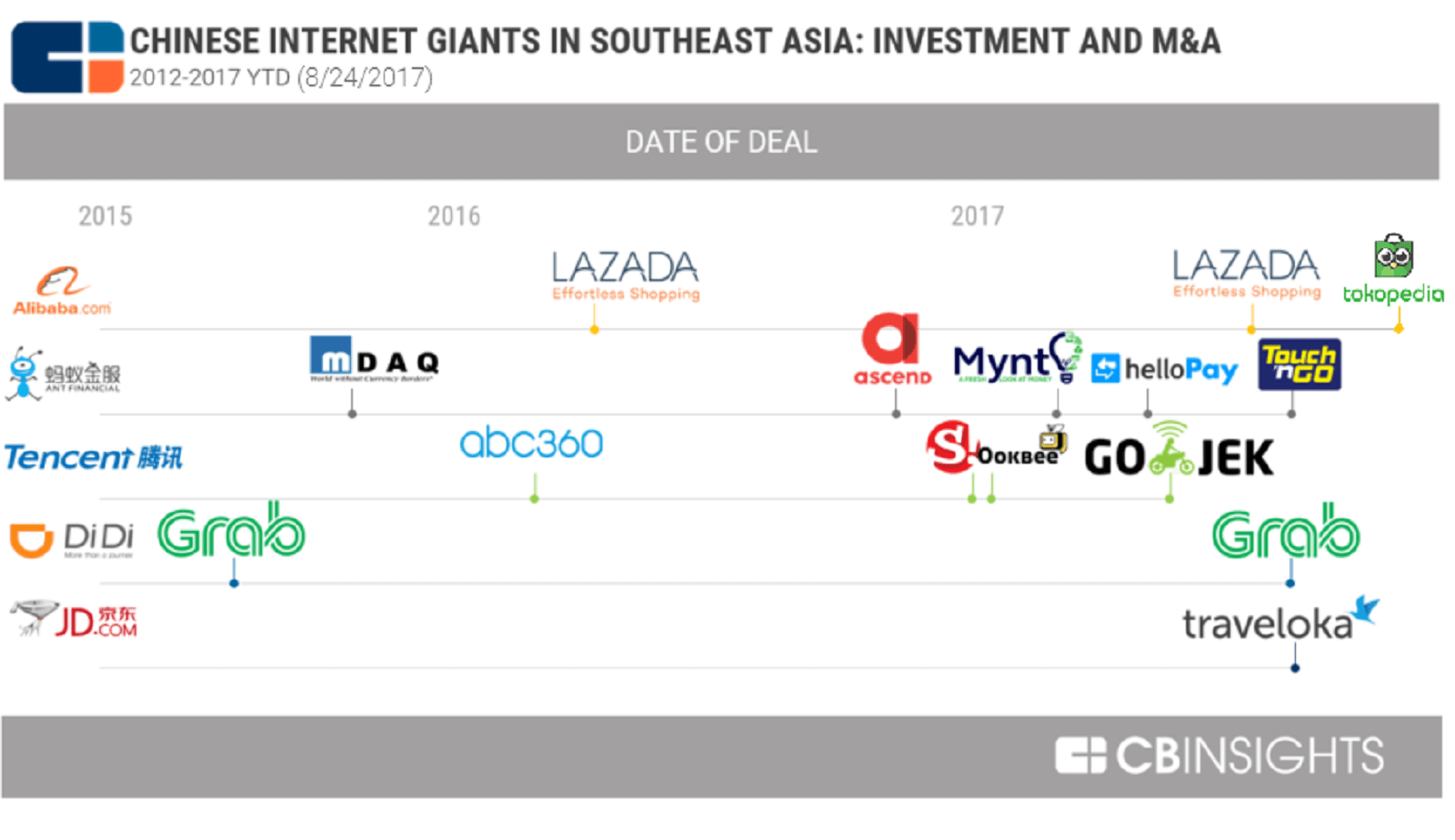 Alibaba has been active in the region, both as Alibaba Group and though its financial arm, Ant Financial.
Alibaba Group has made two investments in Singapore-headquartered e-commerce site Lazada. First, in Q2'16, it invested $1B in Lazada, valuing it at $1.5B. In Q2'17, it upped its existing 51% stake to 83%, giving Lazada a valuation of $3.2B.
In April 2017, Ant Financial acquired Lazada's payments arm, HelloPay, which it rebranded locally to Alipay Singapore, Alipay Malaysia, Alipay Indonesia, and Alipay Philippines in these respective markets.
In August 2017, Alibaba Group also pumped money into travel bookings unicorn Tokopedia, participating in its $1.1B Series F round.
Other notable investors include Chinese ride-hailing startup Didi Chuxing, which participated in Singaporean ride-hailing startup Grab's $350M Series E in Q3'15 and $2B Series G in Q3'17.
NEW VCS and active acquirers
Several new investors are raising funds to enter the region, while old investors are propping up their existing funds.
Yinglan Tan, the former partner of Sequoia Capital Asia, has launched Insignia Venture Partners, a $25M fund that focuses on Southeast Asia. The firm's first investment is in Indonesian coworking startup Ev Hive.
Private equity investor Warburg Pincus announced plans in September 2016 to focus on the region, particularly Indonesia and Vietnam. In Q3'16, it participated in ride-hailing company Grab's $2B Series G round.
Intudo Ventures, founded by Eddy Chan and Patrick Yip, launched a $10M fund to invest in Indonesia, with the goal to invest in 12 – 16 early-stage startups.
In Q3'17, Vertex Ventures, the venture capital arm of Singaporean state-owned company Temasek Holdings, launched a new fund and announced plans to focus 75% of its capital on Southeast Asia. The fund is reported to exceed $150M. Vertex Ventures was one early investor in Grab.
Indonesia-based early-stage investor Kejora announced the first close of its second fund in February 2017, with $80M earmarked for investments in Southeast Asia.
German media company Hubert Burda's entrance into the region comes after its investment arm opened an office in Singapore. Albert Shyy, who will be leading the firm in Southeast Asia, has explained that it will be looking to back Series B deals worth ~$5M.
500 Startups, the region's most active investor until date, has launched a second Southeast Asia-focused fund, 500 Durians II, which will be worth $50 million. 500 Startups managing partner Khailee Ng has said that checks will range from $50K – $150K to about 200 seed-stage companies, with the possibility of follow-on funding of up to $500K.
Singapore's Jungle Ventures, Accel Partners, India's RNT Associates, and Infocomm Investments (which is the Infocomm Development Authority of Singapore's investment arm) came together in May 2016 to launch SeedPlus. In April 2017, SeedPlus closed its fund at $18M with plans to close 5 – 6 deals a year, averaging $360K to $750K per deal.
In August 2017, China's Gobi Partners and Malaysia Venture Capital Management Berhad reached a $50M close of the Meranti ASEAN Growth Fund. In total, the firm plans to raise $200M and participate in Series B and Series C rounds worth $5M – $20M.
KK Fund announced the completion of a first close for its second fund for early-stage investments in Southeast Asia in Q3'16. General partner Koichi Saito, who formerly worked with Japan-focused investment firm IMJ Investment, explained that the new raise would allow the fund to close larger deals than they previously had, in the range of $400K – $500K.
While acquisitions in Southeast Asia are still gaining traction, a few firms have been leading the way.
Publicly held Filipino tech company Xurpas tops the list, with six acquisitions of Southeast Asian tech firms since 2012. Four are based in the Philippines, including Yondu, an IT software development company, that it bought for $19.2M.
Xurpas' latest acquisition was in Q4'16, when it bought Singaporean mobile ads and marketing company Art of Click.
Another active acquirer is South Korean unicorn Yello Mobile, which operates as an umbrella company that buys mobile startups and allows them to continue to exist independently. In Southeast Asia, the company has made five acquisitions: two in Indonesia, two in Thailand, and one in Singapore.
Of the acquired companies, 4 operate in the ad, sales, and marketing industry, including Thailand-based online marketing company Adyim.
If you aren't already a client, sign up for a free trial to learn more about our platform.