Tech startups in Southeast Asia have already pulled in nearly $2B more in funding this year than in 2016, and deals are also on track for an all-time high.
With active interest from investors and close proximity to India and China, Southeast Asia is gaining prominence as a tech hub. Every year since 2012, Southeast Asian startups have pulled in more money than the last. In 2016, that number hit $3.1B across 343 deals. In 2017 YTD (7/31/2017), funding has already well surpassed the annual record, at nearly $5B.
Funding numbers are pulled up by Southeast Asia's most well-funded startups, two of which are ride-hailing companies: Singapore-based Grab, which has raised $3.44B in total funding, and Indonesia's GO-JEK, which has raised $1.75B in investment money. Both are unicorns (startups valued at $1B+).
On the other hand, deal activity dipped slightly in 2016, with the number of deals closed in the region dropping slightly from 349 in 2015 to 343. However, 2017 has already closed 244 deals. If activity continues at this pace, the region will close more deals than any year before it.
We used CB Insights data to analyze the number of deals closed annually and quarterly in the region, and the amount of investment money that went into them in total. Countries we include in our definition of Southeast Asia are Brunei Darussalam, Cambodia, Christmas Island, East Timor, Indonesia, Lao People's Democratic Republic, Malaysia, Myanmar, the Philippines, Singapore, Thailand, and Vietnam.
Annual DEALS AND DOLLARS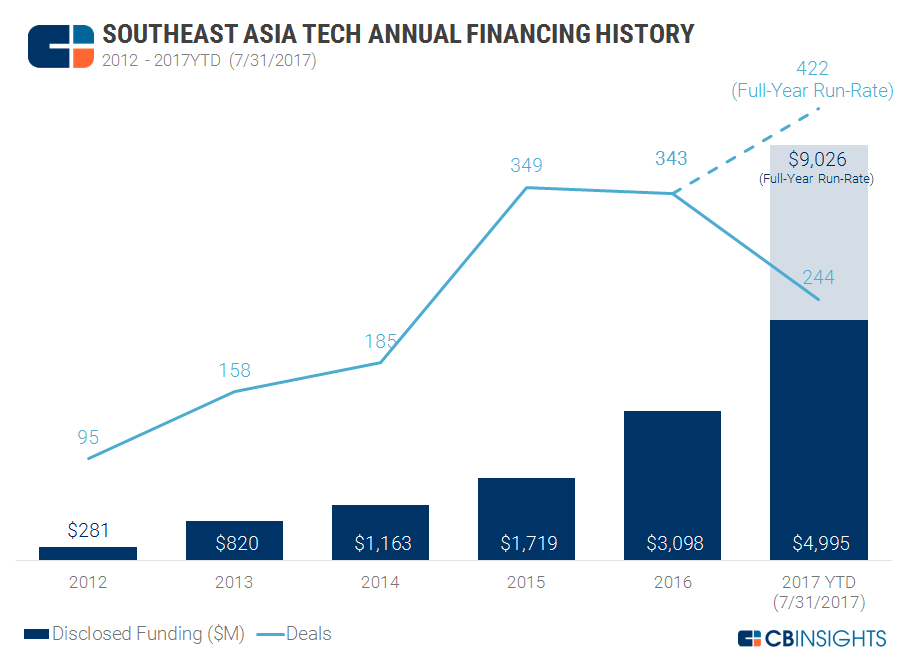 After three years of deals and dollars increases to tech startups in the region, 2016 saw a slight deal slow down, even as the region pulled in nearly double the amount of investment money as in 2015.
Two of 2016's biggest deals went to Grab and GO-JEK. Grab raised a $750M Series F round from Honda and Softbank Group. GO-JEK raised a $550M Series B round, which came from a large group of global investors, including Russia's DST Global, Sequoia Capital India, Japan's Rakuten Ventures, and New York-based private equity firm Warburg Pincus. Another major deal went to Malaysian telecommunication infrastructure company edotco, which closed a $600M private equity round from the Innovation Network Corporation of Japan and the sovereign wealth fund of the Malaysian government, Khazanah Nasional Berhad.
2017 has already closed 244 deals this year (through 07/31/17), putting the region on track for a new annual high of 422 for the year. And with $4.99B in investment totals, the region has already racked up more funding than any year before it.
Grab and GO-JEK account for a majority of this money. Grab's Series G round worth $2B closed in July, and GO-JEK closed a $1.2B Series C in May. Booking startup Traveloka also completed its ongoing round of $500M in funding, with Expedia announcing a $150M contribution in July. The deal made Traveloka Indonesia's second unicorn.
Quarterly DEALS AND DOLLARS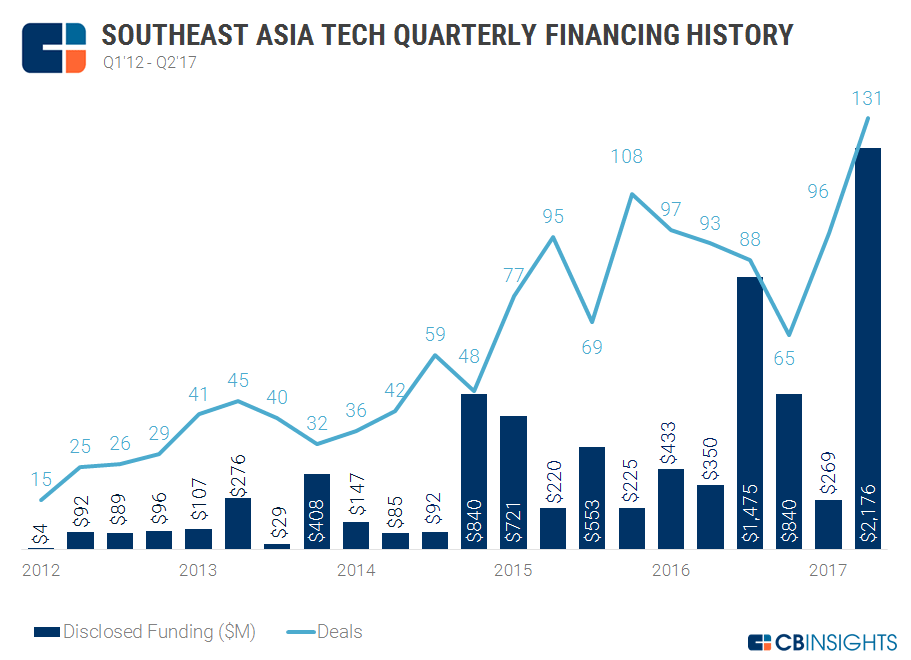 This past quarter was the most well-funded quarter in Southeast Asian tech yet, both in the number of deals the region closed and the total dollars invested. Some major rounds from the quarter went to two of Southeast Asia's unicorns: a $1.2B Series C to Indonesia's GO-JEK (mentioned above) and a $550M Series E into Singaporean gaming startup Sea, formerly known as Garena.
DEALS AND DOLLARS BY COUNTRY
Within Southeast Asia, a large part of deal share continues to go to Singapore. It saw over 700 rounds since 2012, the most of any country in the region. In second place was Indonesia, which closed less than half the deals that Singapore did, followed by Malaysia, Thailand, and Vietnam.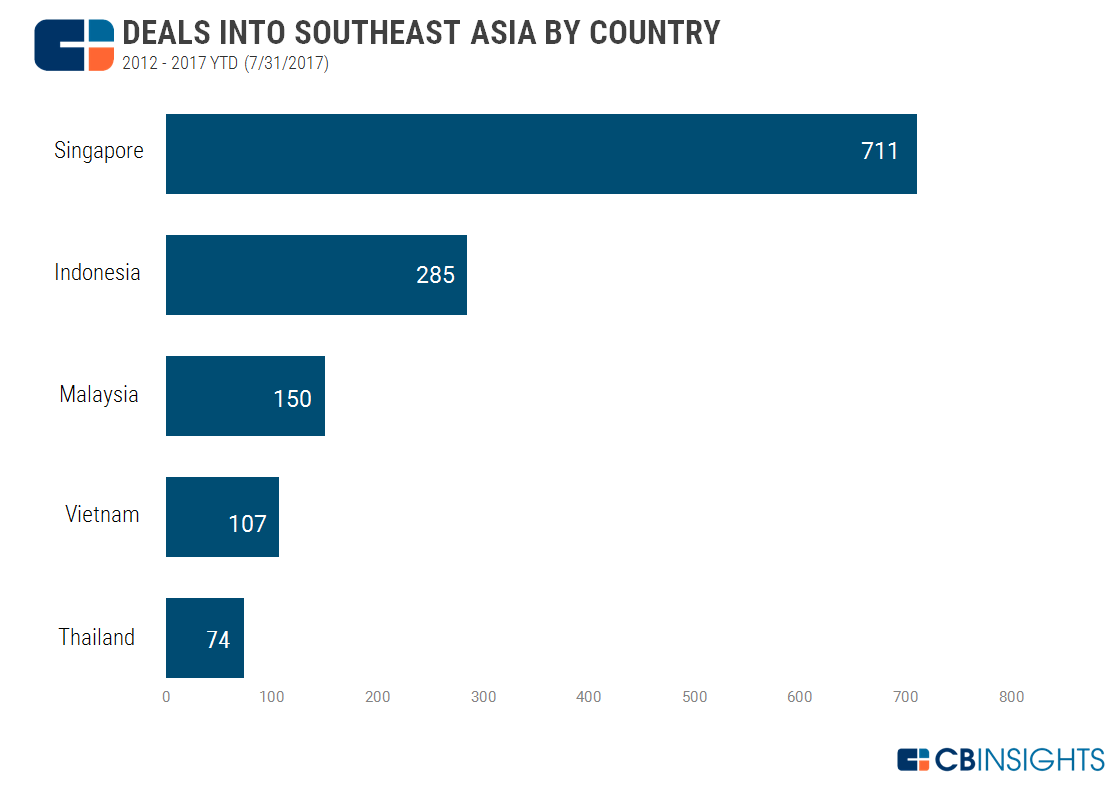 In terms of total investment money, Singapore again led the way. It saw more money than the amount invested in Indonesia, Malaysia, Thailand, and Vietnam combined.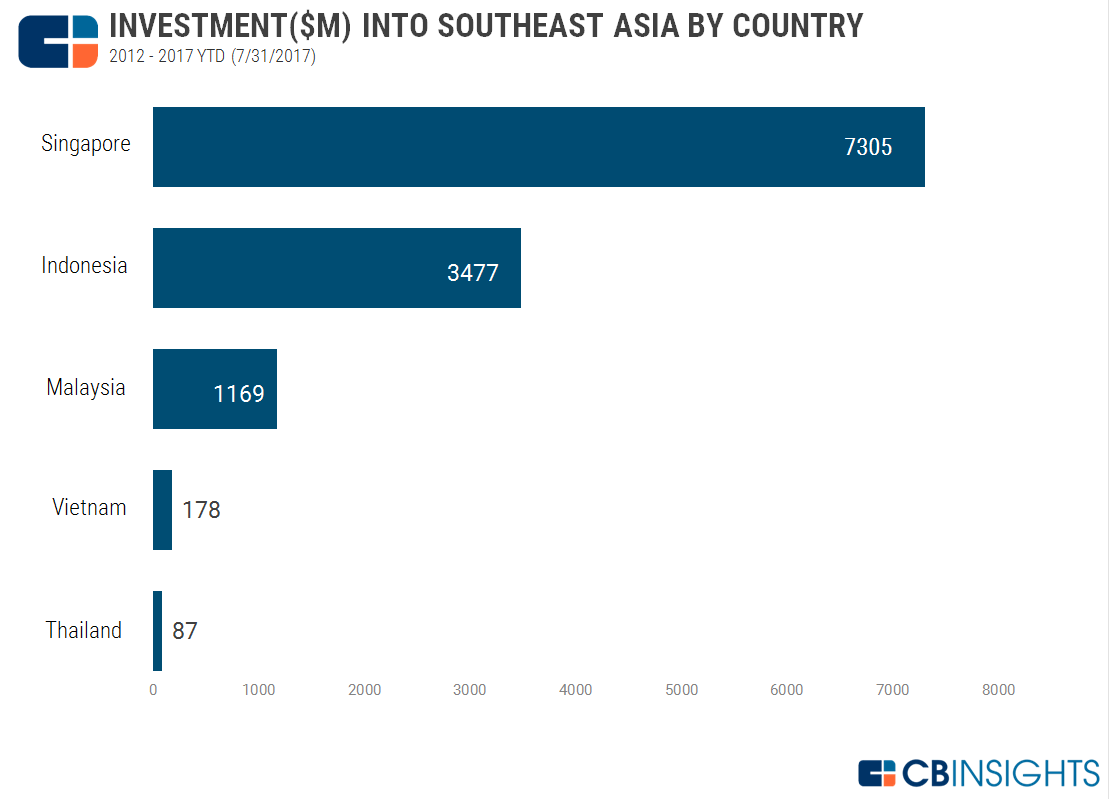 If you aren't already a client, sign up for a free trial to learn more about our platform.