Despite major shutdowns, some solar companies have managed to survive. Sunnova tops the list with $1.64B in total funding.
Since 2013, solar startups have raised nearly $6.4B in funding, buffered by mega-rounds to a select few startups. But funding is not necessarily an indicator of success in the solar industry, with the now-defunct Solyndra (previously raised $1.2B) as a leading example.
Rapidly evolving solar technology, a competitive pricing market fueled by low-cost global competition, and ease of access to conventional fossil fuels like coal have made for a challenging business environment.
We used CB Insights data to analyze the most well-capitalized private companies that have weathered the headwinds in the solar industry. While there are companies that operate broadly across the renewable energy industry, we've only included those that focus on the solar energy sector.
Startups in our analysis fall into two categories: those that own and manage solar projects end-to-end — like Sunnova and Brightsource Energy — or those that are either selling solar panels or finding ways to make them cheaper.
Most WELL-FUNDED SOLAR STARTUPS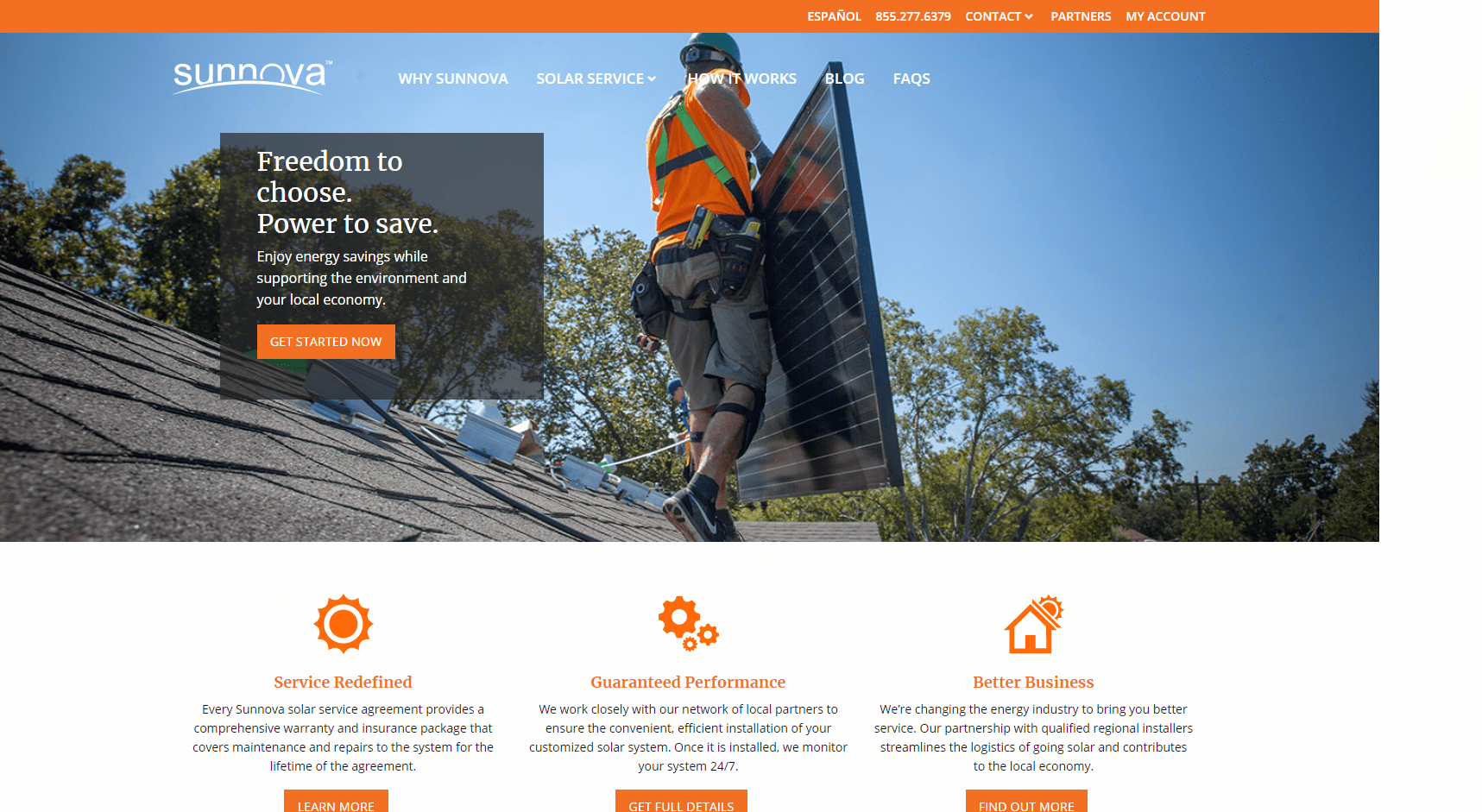 Total funding raised: $1.64B
Select investors: Credit Suisse, Blackstone Group, Energy Capital Partners
Texas-headquartered Sunnova provides low-cost solar power to homes. It owns the equipment, installs it, and also eventually sells the electricity it creates to customers.
Sunnova has raised several rounds of debt, including one from Credit Suisse, as well as a private equity round from Blackstone Group, Energy Capital Partners, and Triangle Peak Partners, among others.
The company played a major role in helping Puerto Rico get back into pace after Hurricane Maria wiped out the region's grid earlier this year.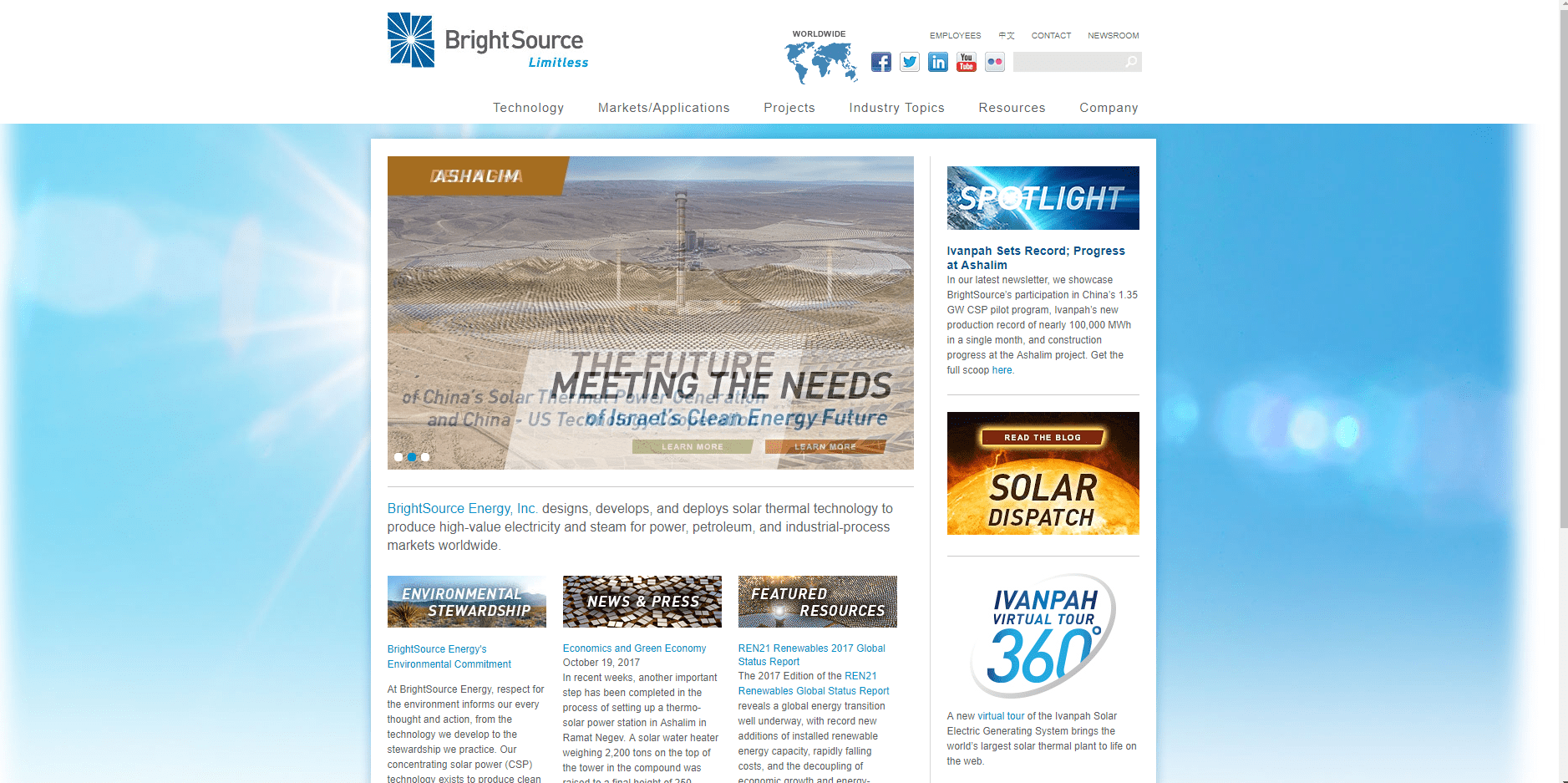 Total funding raised: $1.14B
Select investors: Draper Fisher Jurvetson, Goldman Sachs, BP Ventures
Oakland, California-based BrightSource Energy designs, develops, and installs solar thermal technology. Its projects are generally utility-scale, which involves the transmission of power from producers to consumers via a utility grid.
In 2011, Google spent $168M sponsoring one of the company's projects in the Mojave Desert in California. At the time, it was considered the largest solar project in the world. The project, known as the Ivanpah Solar Electric Generating System, uses a system of mirrors to direct solar energy to power towers, which in turn generate electricity.
In recent years, the company has begun to focus on overseas projects. In Q3'16, its Delingha project was one among 20 projects chosen by China's National Energy Administration. The selection ensured that BrightSource's technology would be deployed through multiple thermal energy storage towers that would then produce clean electricity.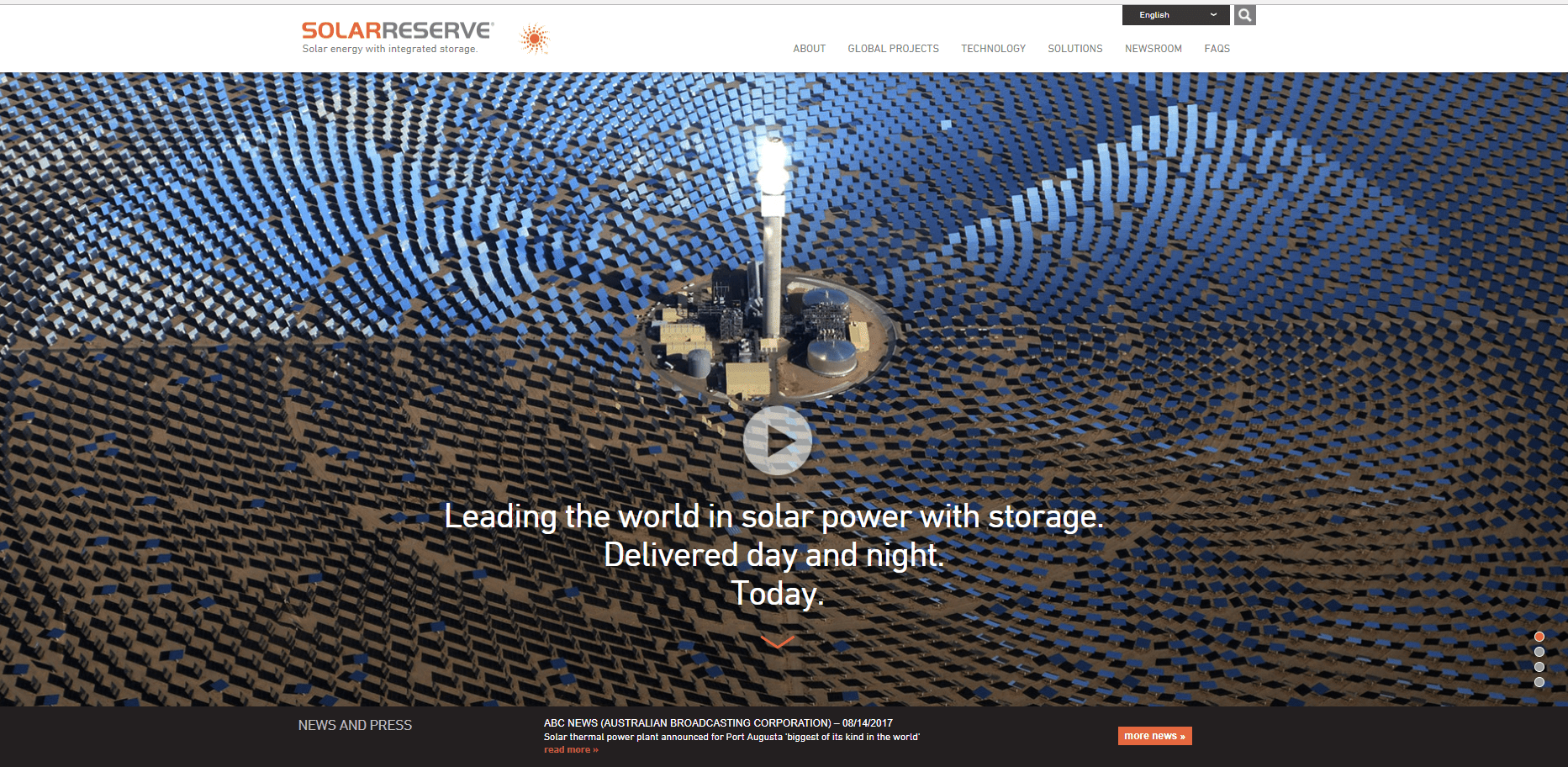 Total funding raised: $981M
Select investors: U.S. Department of Energy, US Renewables Group
California-based SolarReserve builds large-scale solar projects at the utility-scale. It claims to have commercialized a specific type of method to store solar power, in which molten salt in a liquid state captures the energy. The liquid salt turns water in a turbine into steam, which in turn generates electricity.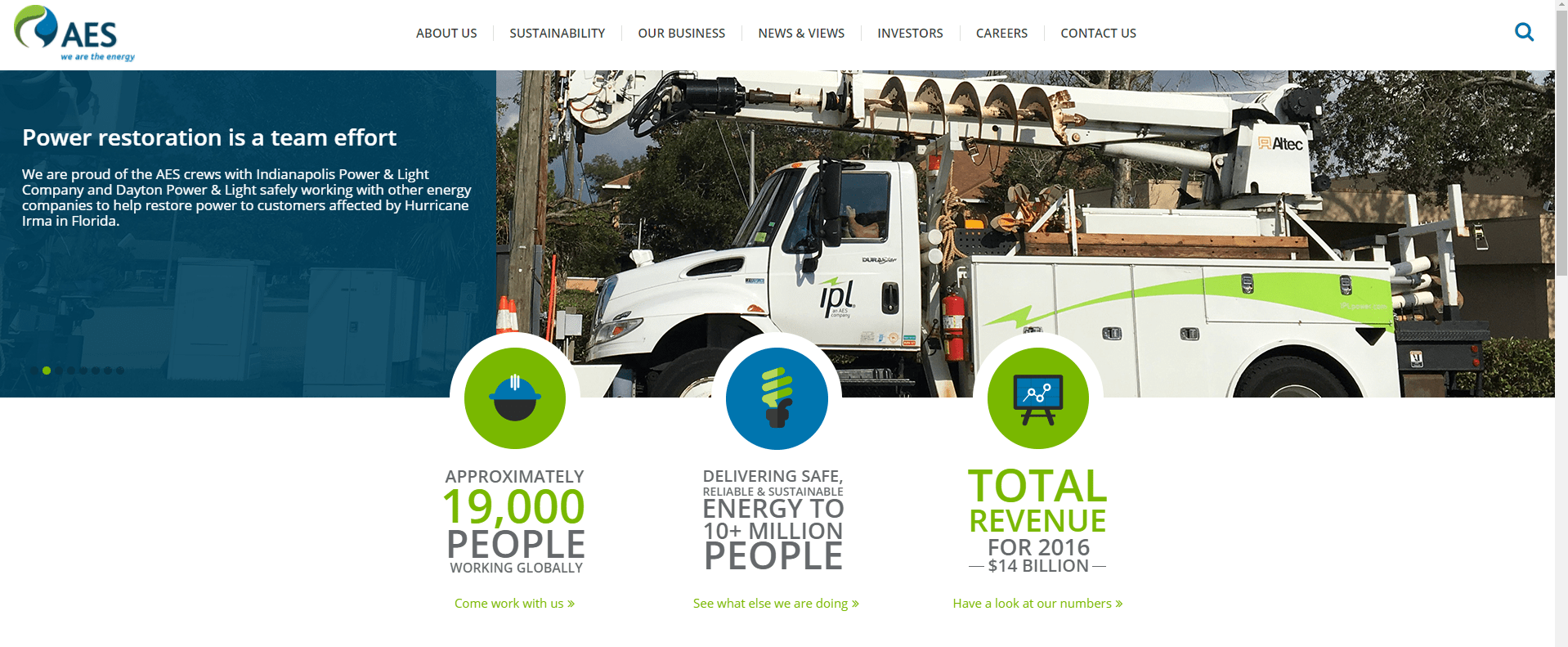 Total funding raised: $700M
Select investors: Goldman Sachs, ING, Societe Generale Group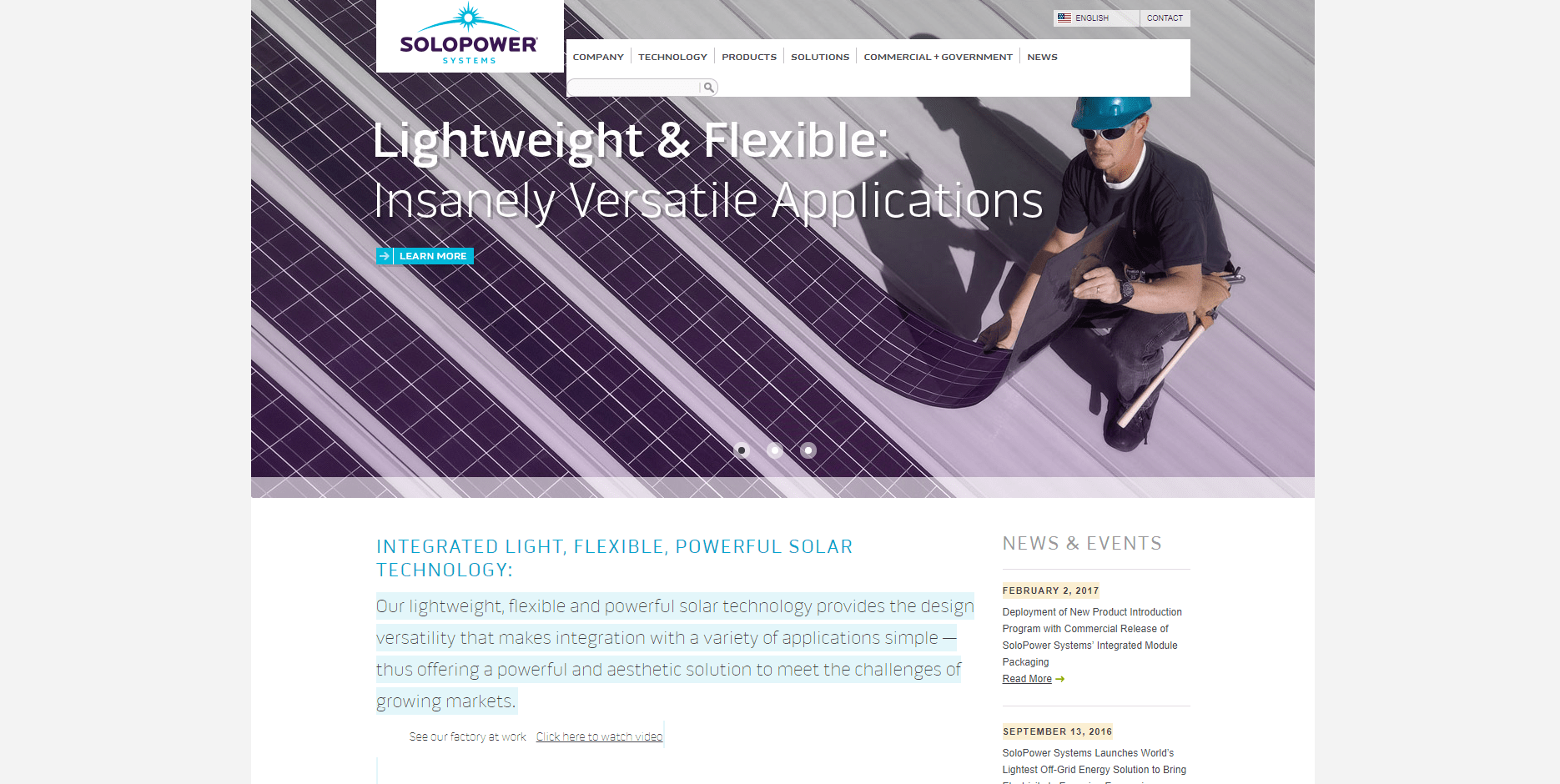 Total funding raised: $462.5M
Select investors: U.S. Department of Energy, Convexa Capital, Crosslink Capital
SoloPower creates thin-film solar panels. These panels operate like other solar panels, absorbing sunlight to generate heat or electricity. At one point, the material was cheaper than the silicon that a solar cell was built on.
The company was recently in the news for defaulting on a $10M loan it took out from the state of Portland, causing the city to foot $5M of the remainder of the loan. Before that, it shut down its Oregon operations in 2014.
While it was reported for a while that UK-based Opera Investments had bought the company for $220M, later reports indicated that the deal had fallen through.

Total funding raised: $384M
Select investors: Hudson Clean Energy Partners, Advanced Technology Ventures, Ventures West
San Jose-based Silicor Materials manufactures solar silicon and aluminum alloy with a method that it claims is cheaper and more energy efficient than conventional methods of silicon purification. These materials are then used in solar panels.
Conventional purification methods require several phase changes. The Silicor process removes the gas phase completely, allowing silicon to move directly from a solid to a liquid, and then back to a solid.

Total funding raised: $300M
Select investors: Bank of America, Farallon Capital Management
Once known as Moser Baer, Hindustan Powerprojects Pvt. Ltd. has several energy arms, including thermal, solar, hydro, and mining. Its solar business was incorporated in September 2008, and the company has since set up a number of solar projects across India.
Australia's Macquarie Group is rumored to be in talks with HPP to acquire its solar unit by the end of the year.

Total funding raised: $299M
Select investors: Greystone Infrastructure Fund, Partners Group
Tennessee-based Silicon Ranch Corporation develops, manages, and owns solar power plants across the United States. Its clients span commercial, industrial, utilities, and other solar energy developers. In September 2017, it partnered with Mississipi Power to produce solar energy for its grid. The facility is expected to have 200,000 panels with the ability to power around 6,500 homes.

Total funding raised: $263M
Select investors: North Bridge Venture Partners, Novus Energy Partners, Polaris Partners
Massachusetts-based 1366 Technologies' primary differentiator is that it has developed a specific technique to produce low-cost silicon wafers — the conventional building blocks of solar cells.
The company says that this brings down the cost of solar to roughly equal that of coal. In June 2017, 1366 announced that its technology had its first commercial usage at a small power plant in Hyōgo, Japan.

Total funding raised: $250M
Select investors: Equis Funds Group, Babson Capital Management, Partners Group
Nippon Renewable Energy is a Japanese solar energy developer and operator.
Among its investors is Equis Funds Group, which operates Equis Energy — considered Asia's largest independent renewable energy producer. Equis Energy is valued up to $5B.
A primary catalyst behind solar adoption in Japan was the 2011 earthquake, which hit the Fukushima Daiichi Nuclear Power Plant. It led to three nuclear meltdowns and the release of massive amounts of radioactive material.
Despite adoption, recent reports have signalled that a lack of land for new solar installations and high government tariffs have slowed down solar growth.
If you aren't already a client, sign up for a free trial to learn more about our platform.