SoftBank is based in Tokyo, but its investments are all across Asia.
Japanese tech and telecom giant SoftBank invests out of a huge $100B fund. While its investments now span the globe, the company has always maintained a focus on Asia.
The top 3 Asian cities with companies that have received Softbank investments:
Seoul, Korea: Japan's Softbank has invested in 20+ companies based in the Seoul region, including B2B meat wholesaler, Meatbox, and electronic parts manufacturer, Derkwoo.
Beijing, China: Softbank has invested in popular ride-hailing service, Didi, as well as Android app store, Wandoujia.
Shanghai, China: Softbank invested in King Yee.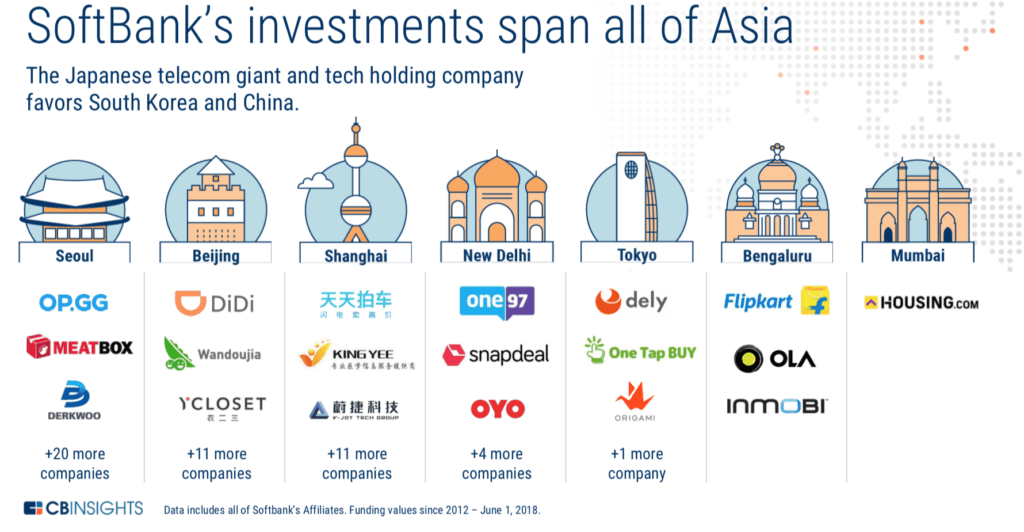 First announced in October 2016, the SoftBank Vision Fund is one of the largest tech investment funds in history. This graphic above shows investments made by SoftBank Group and is inclusive of the Vision Fund.
The fund is backed by SoftBank itself, Saudi Arabia, and other investors.
With both Saudi Arabia and the UAE — which have contributed sovereign capital to the fund — counting on the Vision Fund's investments to diversify their national economies, the stakes are high. Other high-profile investors are also placing bets with the Vision Fund; the fund has closed contributions of $1B or less from Apple, Qualcomm, Sharp, Foxconn, and Larry Ellison's family office.
If you aren't already a client, sign up for a free trial to learn more about our platform.