As retailers and brands integrate more parts of the social media experience, funding to the social commerce space has hit an all-time high. Below, we discuss the sector's market drivers as well as emerging trends and their key implications.
As the Covid-19 pandemic forced consumers to stay home and caused many shops to close their doors, social commerce saw a huge boost.
Social commerce is the subset of e-commerce that introduces social elements (such as group buying, peer-to-peer selling, chat, video, and discovery) to the online purchase experience. Funding to these companies has continued to rise, even as restrictions lift post-lockdown. More brands and retailers are integrating elements of the social media experience, like shoppable livestreaming, chat, product discovery, and community influence. 
These technologies have become increasingly valuable, as retailers look to connect virtually with customers shopping at home from their devices.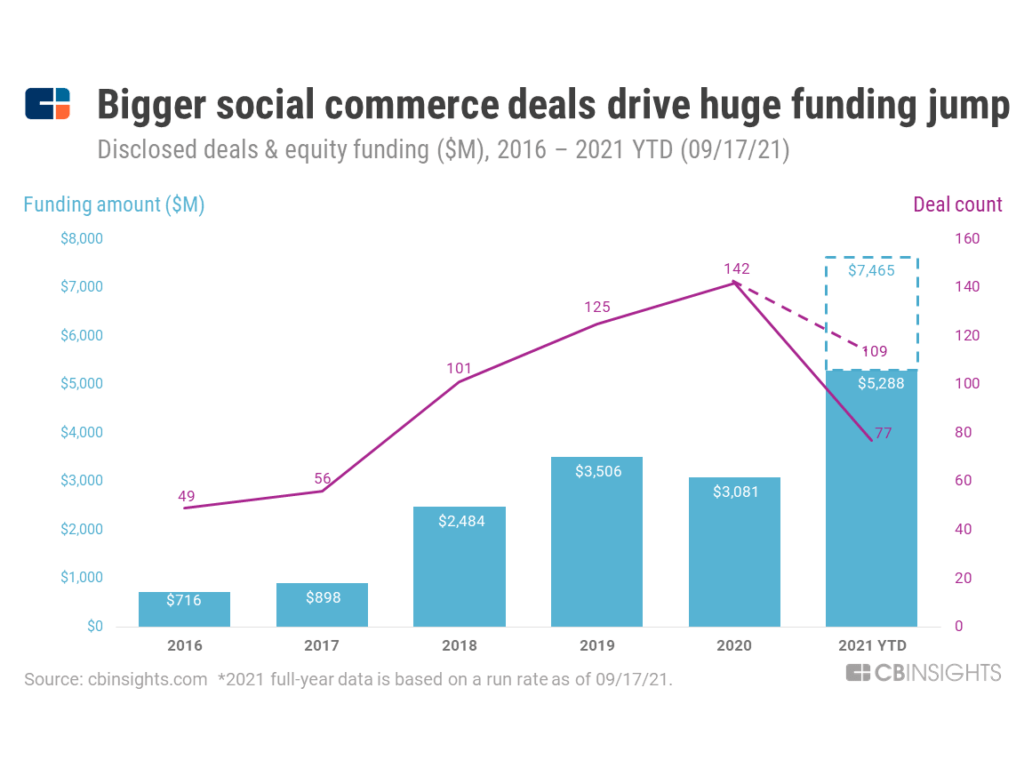 Already at a record high, social commerce tech funding is projected to reach over $7B by the end of the year. Mega-rounds to companies in Asia have boosted this investment trend, making up a third ($1.7B) in funding so far this year. 
However, despite this rise in funding, deals have slowed to half of 2020 totals.
In this brief, we'll look at:
Topline findings and implications 

The market drivers underlying this activity
The categories receiving the most attention
To dig into all of the underlying data in this brief, sign up for a free trial to CB Insights here.