Since 2017, healthcare Smart Money investors have participated in genomics deals worth over $6.5B in total, driving applications in gene sequencing, diagnostics, precision medicine, and more.
Since the Human Genome Project started in 1990, genomics has presented a massive opportunity to improve and personalize healthcare. More recently, the establishment of DNA biobanks (collaborative repositories of genome sequences) and the rise of direct-to-consumer genetics testing companies like 23andMe has fueled an explosion of genomic data. 
Top healthcare investors — like Sequoia Capital and Deerfield Management — are recognizing that this data has unlocked significant commercial opportunities across healthcare verticals. 
Below, we examine which opportunities leading healthcare VCs are pursuing in genomics — and what their investments can tell us about the next decade of growth in the sector.
FREE DOWNLOAD: THE COMPLETE DIGITAL HEALTH 150 LIST
Get an Excel file with the entire Digital Health 150, CB Insights' annual ranking of the 150 most promising digital health startups in the world.
We define genomics to include companies involved in the capture, sequencing, and/or analysis of genetic data, such as sequencing technology company 10X Genomics and telegenomics platform Genome Medical. 
For more on our 25 healthcare Smart Money VCs, please see the explanation and full Smart Money list at the bottom of this post.
FUNDING STAYS STRONG amid the COVID-19 PANDEMIC
Annual funding from healthcare Smart Money VCs to genomics companies grew over 400% from 2016 to 2017, as precision medicine applications for genomics began to see traction.
Two prominent genomics startups gained significant commercial traction in the years prior: 23andMe, which partnered with Genentech in 2015, and Helix, which partnered with Illumina in 2015-2016.
Then, in 2017, liquid biopsy company GRAIL raised an unprecedented $914M in its Series B round — led by Smart Money VC ARCH Venture Partners and including Johnson & Johnson — to continue product development and validation for its early-stage cancer detection blood tests.
While Smart Money-backed funding to the space has yet to reach 2017's totals, deal count has held at a consistently higher level.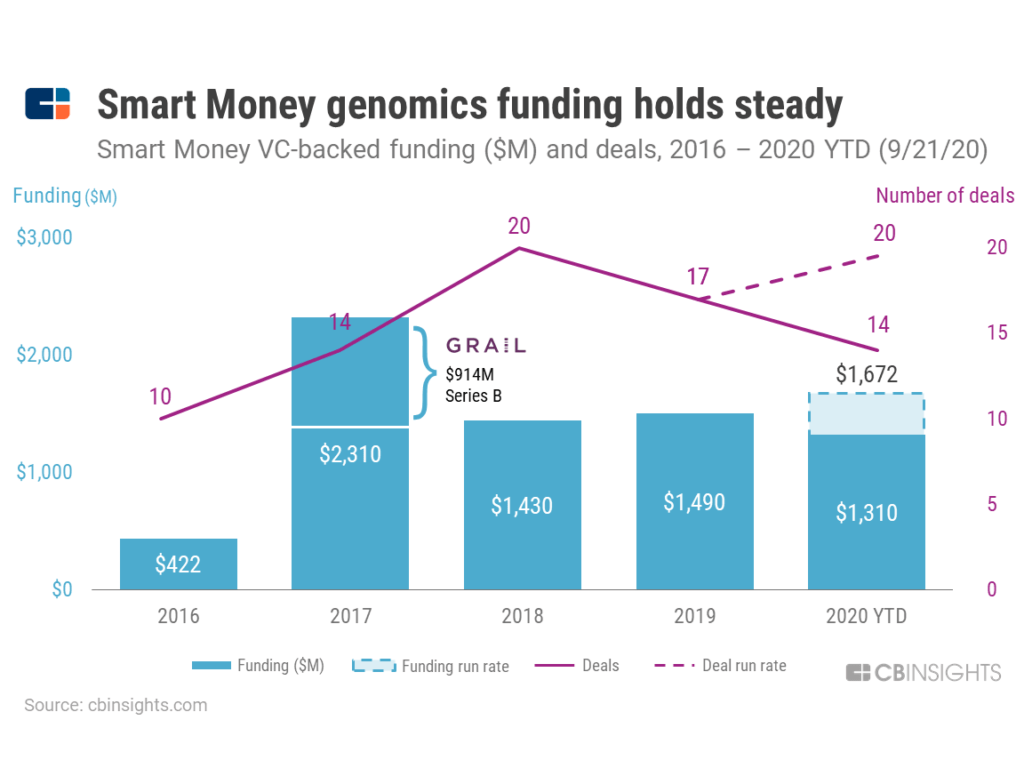 Even despite the uncertainty brought on by the global pandemic, Smart Money-backed funding to genomics companies is projected to grow in 2020 year-over-year. Smart Money VCs are making bigger bets in the space, as the median deal size has jumped from $60M to $100M over the past 2 years.
MOST ACTIVE HEALTHCARE SMART MONEY VCS IN GENOMICS
Genomics exploded onto the scene for healthcare Smart Money VCs in 2017, with annual funding growing over 5x from 2016. This interest has stayed strong in the years since, with 17 of the 25 healthcare Smart Money investors placing bets in genomics since 2018. 
ARCH Venture Partners is the most active healthcare Smart Money VC, with 12 unique genomics deals since 2018, including rounds to Encoded Therapeutics and OmniOme. It is followed by Foresite Capital with 9 deals and Casdin Capital with 8.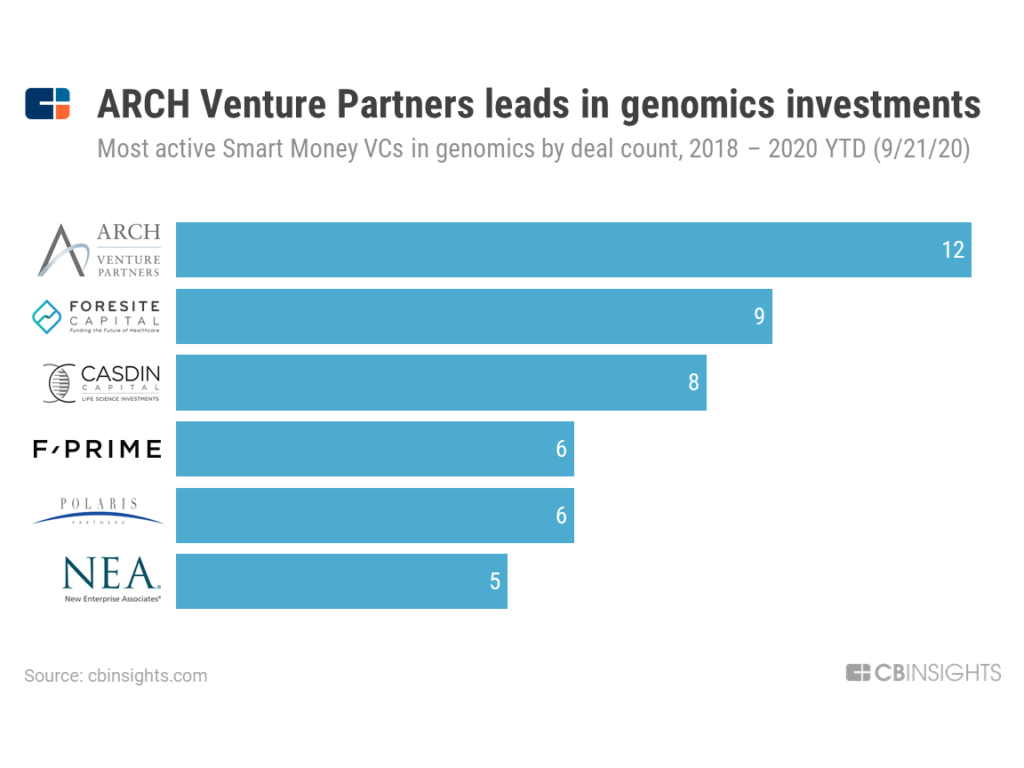 After 13 Smart Money-backed genomics exits across 2018 and 2019, only 2 such companies have exited this year: China-based oncology diagnostics company Burning Rock Biotech (IPO; backed by Sequoia Capital China) and GRAIL (acquired for $8B by Illumina; backed by ARCH Venture Partners, Qiming Venture Partners, Kleiner Perkins Caufield & Byers, and Sequoia Capital China).
Healthcare Smart Money VCs have backed 3 current unicorns (private companies valued at $1B+): personalized cancer care company Tempus ($5B valuation; backed by New Enterprise Associates), consumer genomics company 23andMe ($2.5B valuation; Sequoia Capital, Casdin Capital, and New Enterprise Associates), and clinical diagnostics company Sema4 ($1.1B; Deerfield Management).
R&D informatics platform Benchling ($850M; backed by F-Prime Capital) and cell-free DNA sequencing company Karius ($700M; General Catalyst) are also approaching unicorn status.